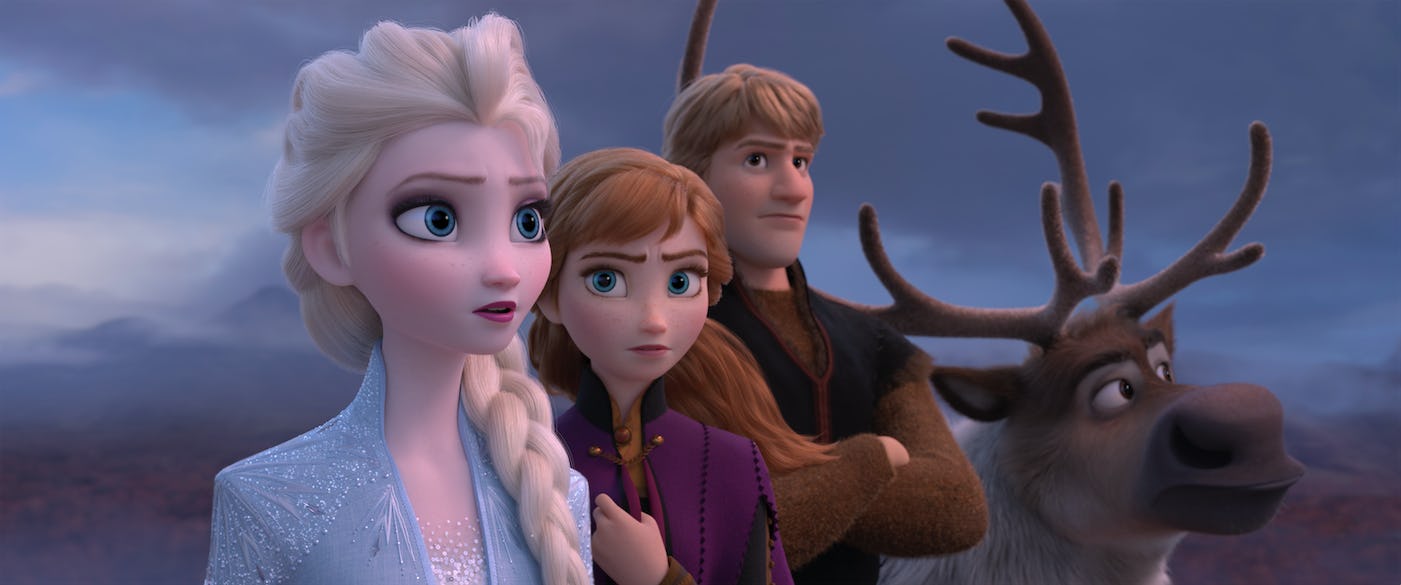 The cold never bothered Elsa anyway, but what about water? From the looks of this new Frozen 2 trailer, it's not a problem either. In this new teaser, Elsa (Idina Menzel) is more powerful than ever. Seriously, she's walking on water now, which is very impressive. But, it's also clear that she's still figuring out how to harness her instant freeze powers in the Frozen sequel, hitting theaters November 22.
To do that, Elsa's going to have to revisit her past to understand why she was born with these magical powers. Turns out, the past might not be what it seems and she's ready to find the truth Luckily, she's got her sister Anna, Kristoff, Olaf, and Sven to join her on this journey outside of Arendelle. The gang is going north this time around, across the enchanted lands and into the unknown. And no surprise, it isn't going to be an easy journey.
The new Frozen 2 trailer hints at what they're up against once they go to this unchartered territory. There's dead-drop waterfalls, purple forest fires, Stonehenge-like magical rock formations, and a shadow monster that has Elsa looking pretty scared.
Perhaps the scariest thing in this movie, though, is Elsa's powers, which have always been too powerful for her to contain. But, now, as everyone's favorite troll shaman Bulda says, everyone "hopes they are enough" to save the world. From what? Well, fans will have to until this fall to see.
Walt Disney Animation Studios on YouTube
More to come…
Read more: bustle.com