Welcome to Tarot Tuesday – December 2018
Tarot Tuesday appears on the first Tuesday of every month with world and personal predictions from Kyra Oser. Kyra's work has featured on Yahoo! Finance, The Wall Street Journal, NBC News, CBS News, ABC News, CBS Radio and more. You can discover more of Kyra's predictions at her website.
Kyra Oser and Jessica Adams first worked together on a radio show broadcast across Los Angeles and Seattle and now join forces on the first Tuesday of every new month to combine Kyra's Tarot skills with Jessica's combined use of Pamela Colman Smith's deck, Arthur Waite's occult brilliance and the ancient field of astrology. For Premium Members only, the chance to ask Jessica Adams questions in the comments below, for detailed Tarot replies.
First Week of December – The Devil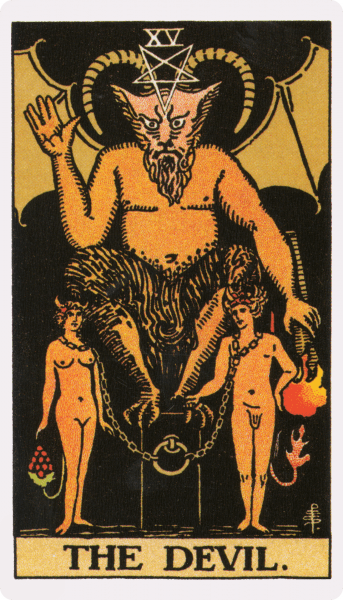 A devil wears a pentagram on his forehead as he holds a torch, signifying passion, that lights one of the human's tails on fire. Two people with antlers are bound by chains to the devil's altar. One of their tails ends in grapes, which represents the intoxication of pleasure.
News headlines will feature a celebrity couple broken apart by mutual cheating, as well as evidence of politicians in multiple European and American countries who have been taking bribes from Russian oligarchs in order to cheat in previous elections.
If you are feeling uncertain about a business or relationship decision, take comfort in the fact that there may be a purpose behind your indecision. If you get seduced into making a decision too quickly, you might wish you had taken more time. Any delay can allow a third option to arise, or it may turn out that less effort is better when it comes to taking action in this situation.
Second Week of December – King of Pentacles Reversed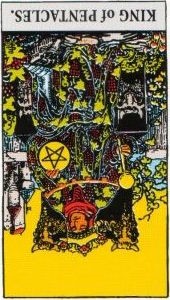 The fabric of this King's robes is decorated with grapes, denoting his connection to an abundance of worldly pleasures. His coin represents authority in financial matters. He is surrounded by plants, earth, and a home in the distance, as he rules over the domain of physical matters. Bulls carved into his throne are a sign that he tends to be stubborn and self-directed.
In global news, this card portends the downfall of a financial emperor and empire. Mueller's investigation will soon issue indictments against Donald Trump, Jr. and, eventually, other members of the Trump family. There will also be legal news concerning the outcome of a Roger Stone plea deal. This week's events will create a domino effect that results in financial loss for some high-profile corporations owned by prominently wealthy families in America, although the effects of these setbacks won't be published until January.
A flexible state of mind can be beneficial to your social life this week. This is not an ideal time to make large purchases, but it is a good week to start doing research or making vision boards about vacation plans for 2019.
Third Week of December – Strength Reversed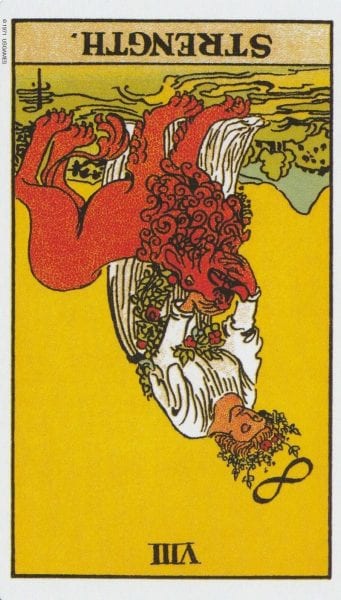 Strength features a woman with a crown opening the mouth of a lion, demonstrating that she has the ability to overcome physical challenges with the power of her mind. Her crown chakra is imbued with an infinity sign, denoting a universal, spiritual strength that surpasses the limitations of her physical body. No matter what is happening in your life, the infinite power of the soul will re-main strong despite any external struggles.
In this week's health news, expect an attempt to suppress an epidemic. New scientific solutions to public health issues will develop as a result of this crisis. Environmental science news will re-veal an innovative solution to climate change that features what appears to be an "accelerated recycling system."
This week provides you with an opportunity to pay attention to your health, especially if you can set aside enough time for rest, self-reflection, and connecting with people who bring you happiness or make you laugh. It's also an excellent time to practice tapping into a higher consciousness through meditation. You can access a spiritual source at will, at any time, with the power of your mind.
Fourth Week of December – 7 of Wands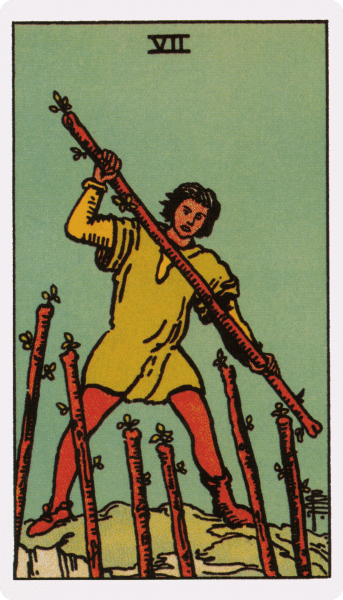 A man with one staff manages to successfully subdue six other staffs. He is the only human in the image on this card, which means that the cause he is fighting for is on behalf of humanity. The man is on the edge of a cliff, so the task is dangerous, but he is determined and continues to fight.
This week's news headlines feature a breaking story about a legal battle between the public and an administration. There will be a triumph in the judicial systems of more than one country, with one case in particular featuring a very large group of citizens suing their own government in court. This victory will be a sign of more protests and legal battles in 2019 that will result in creative forms of communal justice.
When the 7 of Wands shows up right after the Strength card, you are being particularly encouraged to stand by your personal convictions and speak up for yourself, or for the highest good of a community or group. If you continue to stand up for your beliefs despite any opposing forces, others will eventually form an alliance with you that will help your cause to prevail in a meaningful and productive way.
Premium Members – you can ask Jessica Adams questions in the comments below for the chance to have a detailed Tarot reading. Please specify the time-frame you are asking about – days, weeks, months or years into the future.
Read more: jessicaadams.com