Meghan! True Predictions, New Predictions
Meghan Markle, the new Duchess of Sussex, chose to get married during stormy Taurus weather. Unlike Princess Diana, and in fact Queen Elizabeth I, she obviously didn't have an astrologer when she chose the date with Prince Harry. She is great at choosing wardrobe items (like this Burberry coat, below) but not so great, perhaps, at astrological timing.
I'm not the only horoscope columnist out there to look at the Uranus-Mars squares in the sky, now through June, and shake my head. You wish this couple well, but those patterns in the heavens are not wedding-friendly. Meghan Markle wore BURBERRY Double-breasted tartan wool and cashmere-blend coat www.newmyroyals.com
The Markle Debacle
This has been a Markle Debacle, as some journalists have coined it. Just six days ago, we found out that Meghan's father Thomas staged photographs for the paparazzi, probably for money. Maybe for a sum as high as £100,000 according to some estimates from those in the business of buying and selling photographs. Meghan's sister Samantha claimed to have set up the photo shoot.
Meghan Markle's father staged photos with paparazzi | Daily Mail Online
You have to feel sorry for Thomas Markle, being set up in this way. Yet, from this initial thunderbolt we saw the stormy Taurus weather get worse.  Much worse. One lightning bolt after another appeared to disrupt Harry's happy day.
Meghan's father Thomas Markle said yes – then no – to attending the wedding. Then he was apparently taken seriously ill with heart problems. Meghan's mother became the betting favourite to guide her daughter down the aisle. Then, shock! Prince Charles stepped in. As you may know if you're interested in astrology, Taurus is the sign we associate with money. It's particularly linked with questions about cashing in. The focus on betting is typical and in fact well-known betting agency Paddy Power shares skyrocketed during this pretty unedifying spectacle. It's all totally Taurus.
Spot Taurus the Bull on this road sign which has been changed to celebrate the wedding. (Janey Cotton/BBC/Pinterest). Meghan Markle True Predictions – Stormy Taurus Weather for The Royal Wedding
This is what you read on 9th May –
"The Archbishop of Canterbury is preparing for Royal wedding by listening to Stormzy. One of the horses pulling the royal carriage is called Storm. That's astrology at work. I don't for a minute think the Archbishop reads his horoscope or even has any time at all for astrology. Storm is a key word for Uranus.
I am posting this on Tuesday 8th May, and the Royal Wedding is scheduled for Saturday 19th May. Venus will sextile Uranus at 6.30pm in London at exactly 0 degrees. Stormy weather, stormy wedding.
Uranus at 0 Taurus is sending a big message to us in May. And it's about very, very rich people and very expensive weddings. It's also about charity, at the other end of the scale. And it's about taxation and tourism revenue. Values!" Meghan Markle and Princess Margaret – Time Twins
Born with Chiron at 22 Taurus, the money sign, very close to Neptune at 22 Sagittarius and Pluto 21 Libra, Meghan Markle has a chart uncannily similar to the late Princess Margaret. This is going to cause serious risks to the stability of the marriage, a few years from now, as we'll see in a moment. This is what you read six months ago –
Sister Issues and Sibling Rivalry
Like Princess Margaret, the 'spare to the heir', her sister, Queen Elizabeth, Meghan also has sister issues as her half-sister Samantha Grant/Samantha Markle has been accused of sibling rivalry in some newspapers. It was not clear, at the time Meghan's engagement was announced, if she would even be invited to the wedding. This sibling rivalry could go on for years! The sibling issues between Margaret and Elizabeth were recently fictionalised in The Crown (Netflix).
Nobody could have known this at the time that astrological prediction was made about Meghan, but her sister (currently writing a tell-all book, according to Perez Hilton and ITV, below) would be the prime mover behind a right royal wedding debacle. www.perezhilton.com/Pinterest
Samantha Markle and the Sister Pattern in Meghan's Horoscope
If, as The Daily Mail claims (below) Prince Harry and Meghan Markle were in 'floods of tears' during the wedding rehearsal, over her father Thomas Markle not being able to be there for their big day, then it seems the bride's sister is partly to blame – if it's true that she manufactured the paparazzi shoot with their father Thomas.
This is the kind of drama upon which The Crown is based. Given the horoscope patterns here, it's crazy that nobody at Buckingham Palace thought to issue wedding invitations, with all costs covered, for Meghan's entire extended family.
Were they too miserly to want to pay those bills? That's another classic Taurus question for this time!
These sister issues are not going to go away.
Prince Harry and Meghan 'in floods of tears' during wedding rehearsal
Burberry, Big Business and Taurus Weather
When you watch stormy Taurus weather, you also watch big business and what happens there. Within hours of  the online media reporting Meghan Markle's mother flaunting a Burberry's suit bag on her flight from America to England, the U.K. market reached an all-time high, partly thanks to Burberry, whose stocks rose.
Taurus Weather in May 2018 – Branding, Big Bucks and Royal Warrants
The big Burberry wedding dress tease has been going on for a while. Of course, it makes sense. Burberry has a Royal Warrant arrangement with Prince Charles, now also the star of the wedding show – as does Her Majesty the Queen. Pinterest/www.popsugar.com
It's not only a favourite on the London Stock Exchange, where shares soared as the Thomas Markle and Doria Ragland story escalated, it's a global fragrance brand worth a fortune to Britain. One of the least romantic aspects of the whole Meghan-Harry love story has been endless questions about how much the wedding is costing – and how much it is worth to British trade and tourism.
Obviously, nobody except Meghan and her close friends know who the wedding dress designer will be. Burberry emerged as a new front-runner after Meghan stepped out in a £1,995 blue-and-green tartan coat for an engagement in Edinburgh in February. Her good friend Isabel May, was Burberry's director of communications.
Whenever we see Taurus storms, which we have through May and June, we have major questions about selling out, selling your soul, being 'cheap', being stingy or miserly, generous or charitable, and the rest.
When Meghan's father was removed from pole position at the wedding, as some said, if her mother Doria had walked her down the aisle, it would have meant even more air time for Burberry. That label has attracted a lot of interest during Taurus weather!
Here's the thing. And this is a classic Taurus weather question. If it was morally wrong for Thomas Markle to take money for innocently advertising himself reading a good old British tourism book in front of a Paparazzi lensman outside an internet cafe – then what opinion do we have about others fronting up to the cameras with a product – for whatever reason?
Essentially, Thomas Markle did nothing worse than hold up a book on British tourism to the cameras. There is a great deal of confusion about the Royal Family and those financial/ethical/moral issues which swirl around this famous bastion of inherited wealth. Taurus weather brings it out. And – of course, – The Queen is a Taurus. Burberry suit bag and Mother-of-the-Bride (vanityfair.com/Pinterest).
Charity – The Big Taurus Weather Question
The public loved it when Meghan and Harry refused wedding presents in favour of donations to charity, as the BBC reported.
Not so much, perhaps, when it was discovered that the Royal Family had asked charity workers to provide their own food at the wedding celebrations.
This kind of issue is really typical when you have Uranus with all his disruption moving through Taurus, the sign ruling values.
Samantha Markle is part of that too. She appears to be cashing in on her sister. Yet, there has been wide criticism of Prince Harry and Meghan Markle for giving members of the public a 'golden ticket' to the royal wedding while telling them to provide their own picnic lunch. The invited crowds will be on camera – but unlike most extras – not paid. And not even fed, unless things change in the next few hours!
The new Duke and Duchess of Sussex have invited 2,460 people to gather in the grounds of Windsor Castle on the big day. But – and this is a bit but – the Queen's lord lieutenants have suggested everyone brings his or her own food, as it will not be possible to buy food and drink on site. Buy food and drink?
The Daily Telegraph reported, "Those invited inside the castle walls include charity workers and others nominated for their bravery or work in the local community. Saeed Atcha, founder of a youth charity in Bolton, Greater Manchester, told The Guardian that some of the disadvantaged people he worked with were bemused at the lack of hospitality offered by the Royal family.
"They were saying, 'How come they have this money and you have to bring a picnic?' I am of the same opinion. It's unfathomable," he said.
"There's a McDonald's [nearby] but I'm not sure I'll be able to bring in a Filet meal."
This is in sharp contrast to the luxury brand/high-end marketing that we're seeing at the Royal Wedding and the matched branding that Royal Warrant companies like Burberry (below) are doing. It's a classic Taurus weather disconnect!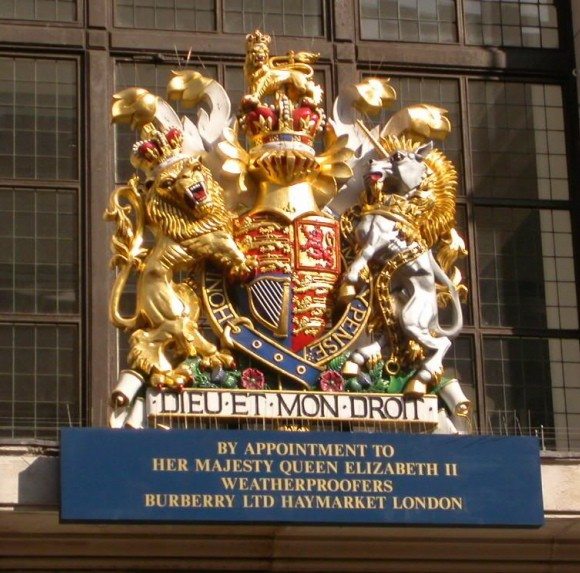 Stormy Weather for Meghan Markle and Prince Harry in April 2024
Astrology is really about the cycles of time and all this stormy Taurus weather, with its focus on finances and values, builds to a tornado in April 2024. Uranus is the planet to watch here, as it has been behind all the shocks of May 2018. Six years into the future as I write this in lovely London, we're going to see Meghan's horoscope rocked sideways by issues about the marriage itself, her control of it, her power within it – and the price of love. In many ways the karma of the wedding from May 2018 will come back to her in (virtually) six years' time. This has, after all, been a love match made on quite disruptive Taurus weather.
The bigger message for all of us, no matter how we might feel about the Royal Family and this wedding, is Taurean in nature. So in our own lives we're being asked questions right now about –
*Our legacies and wills.
*Our business contracts.
*Our banks.
*Our feelings about rich people and poor people – inherited wealth and self-made wealth.
It goes on! If you have strong Taurus chart patterns (like Meghan Markle) or a stellium in Taurus, then you can find out more about this sign and its rulership of the Second House by hitting Search. We can also exchange ideas on Pinterest where these photographs are sourced.
Read more: jessicaadams.com