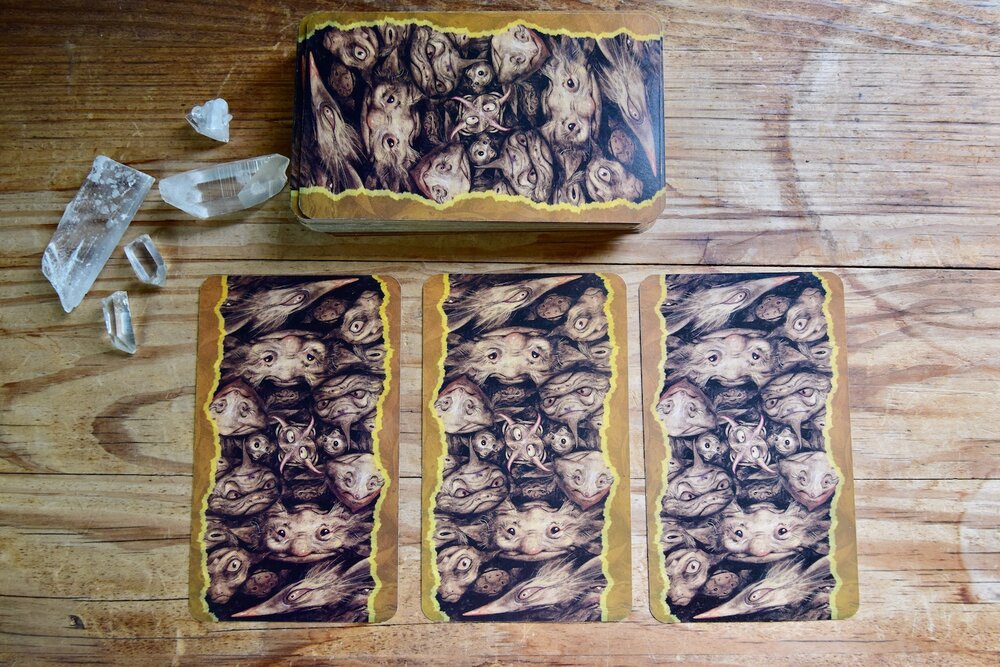 Photo of the backside of the Faeries Oracle Cards, three in a row, and then deck on top, and quartz crystal on a wooden table by Amanda Linette Meder
July 2020 // Cards of the Monthamanda linette meder
This post includes affiliate links.
For this month's cards, being that in the Northern Hemisphere much of the world is outside and in nature, I thought we'd do the Cards of the Month for July with The Faeries' Oracle.
The Faeries' Oracle was printed in 2000. Illustrated by Brian Fround and written by Jessica MacBeth, it comes in a large box set with a hardcover book.
The book is long and symbolic, and provides just as much detail as the cards do, so it's one of my favorite decks to read from. You will always know what the reading means when you pull from this deck due to all the support materials.
To me, the more symbolic the card, the easier it is to understand what it means, even if you and the person you are reading for, speak different languages.
You can just point to the images on the card, and with the emotion and detail present, if they know how to use clairvoyance or their own symbolic sight, as most people do, they will be able to see their message.
Likewise, without the cards, just by reading the book, you will have a well thought-out idea of the message.
I've been reading from this deck for a little over a year and it's become one of the decks I reach for most when I need a nourishing, thoughtful, and optimistic though grounded reading.
This is a great deck for nature lovers, for those looking for a unique oracle deck to work with the Faery Realms and if you love symbolism, as the cards are rich with imagery.
So that's a little backstory on this deck.
To learn more about it or purchase this unique and colorful deck, read my post on The Faeries' Oracle from last year.
For July's Cards of the Month, I'm going to demonstrate a reading with a card-reading style suggested on page 40 of the book:
Card one below will represent the present situation
Card three will represent where things are headed
Card two will represent the bridge that needs to be crossed to get out of card one into card three
If you want to read this Cards of the Month as a reading for you, think of one wish you'd ask the Faery Realms now.
If you have a question or are concerned about another, The Faeries would like you to know that you can also donate your wish, and read this post with a wish in mind you have for another.
So think of your wish for yourself or one person in your mind and let's start with card one –
Card One The Present Situation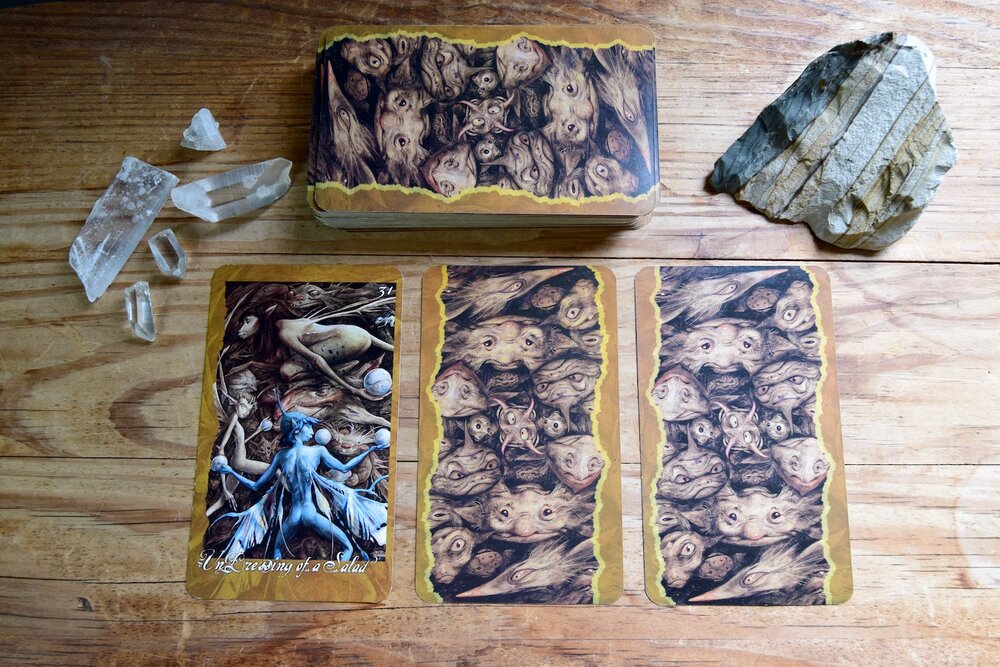 Photo of The Faeries Oracle Card, Undressing of a Salad, with quartz crystal, desert jasper, and three backsides of cards on a wooden table by Amanda Linette Meder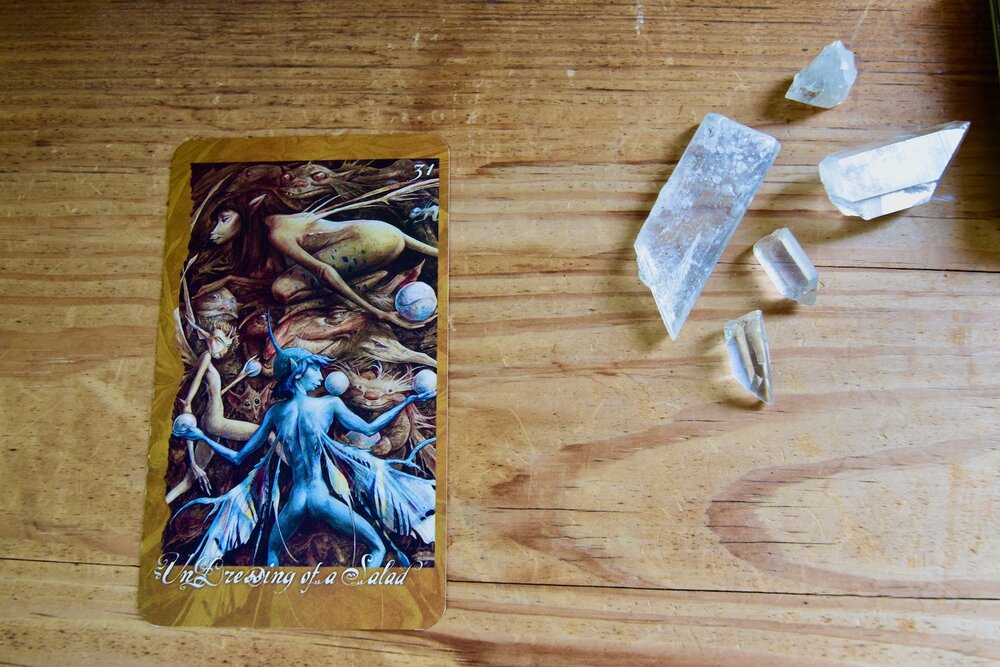 Photo of The Faeries Oracle Card, Undressing of a Salad with quartz crystal and selenite chips on a wooden table by Amanda Linette Meder
31 – Undressing of a Salad
In the book, at the top of the passage for this card, in bolded words, it reads:
Balance. Avoiding Extremes. Achieving the impossible. Being the impossible.
To me, whenever I see this card, it represents someone who is the absolute master of balancing balls, and it shows that what has led us to this point, is a lot of balls being held gracefully and masterfully in flux.
The main character in this card is a Blue Faery who looks like a young male, with his back to us. He's from the Faery Guides and Guardians tribe of Faeries, according to the book.
Other members of his family include Penelope Dreamweaver, Ta'Om the Poet, Iris of the Rainbow, Nelys the Alchemyst, and The Faeries of the Future.
It looks like he's in the middle of some balancing act and he's handling it just fine.
This card represents a need for continued balance which is necessary in the present, and that you are doing it. You are somehow, being the impossible and achieving the impossible related to your question. You are juggling all the balls.
You, doing the impossible has led us to this wish, and balance was needed and you did it.
If you feel like a lot has been going on in your life, the cards show the present is still quite active, but the Blue Fairy on this card indicates you are doing the impossible to reach this wish.
Go, you. This card basically says you are giving it all you can, and it's working, kind of nicely. Other Faeries are holding some of the balls, trading them to you, so you also have a few members of the Fae contributing to this balance.
This is a nice community card, but it definitely shows a balancing act is underway but it's okay, it's flowing.
Card ThreeWhere Things Are Headed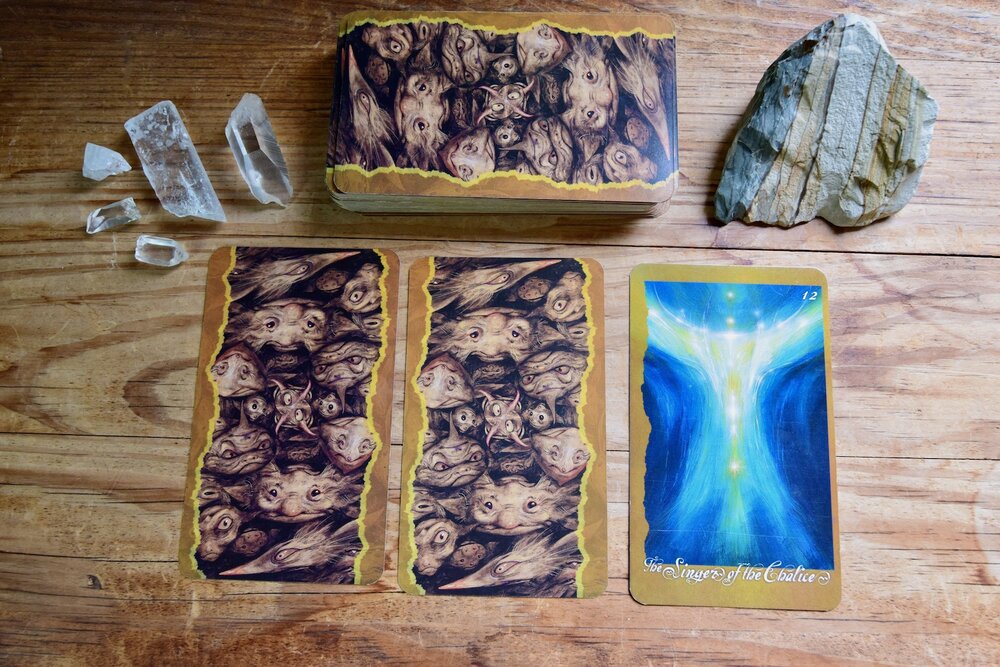 Photo of The Signers of the Chalice with quartz crystal, desert jasper, and three backsides of cards on a wooden table by Amanda Linette Meder
Photo of The Signers of the Chalice with quartz crystal on a wooden table by Amanda Linette Meder
12 – The Singers of the Chalice
Our next card is card three. Card three represents where things are headed.
To recap, to get from card one you are going to card three, you have to cross bridge two, to get there, which is the card we'll cover next.
Given all, I thought it might be nice to first get excited about what's to come, before we discuss what to do to get there.
Which, based on the energy of card one, you'll likely be able to handle as well.
For card three we have, The Singers of the Chalice, which in the book, the top bolded call outs that symbolize this card in words are:
Trust. Joy. Patience. Creativity. Hope. Miracles
This card represents all the good feelings in one. Imagine a choir of Angels singing the single tune of ultimate Joy and Redemption. That is this card.
In The Faeries' Oracle, there are thirteen Singers of the Realms, and they all represent some sort of ultimate spiritual achievement.
Unconditional love, trust, hope, healing, patience and redemption, total healing and joy is the Chalice.
Being open to this feeling is one way to achieve this, but in this case, it also suggests that the outcome of your wish also includes this ultimate bliss or perhaps, if this is your wish, this card suggests it has been achieved.
The Singers of the Chalice Card represents this blissful rainbow feeling, where all the chakras are aligned and you feel totally at peace.
This card appears right before the final Singer of the Realms, Solus, which is the Faery that represents achievement of ultimate knowledge, consciousness and spiritual empowerment.
So if your wish was something in pursuit of some Holy Grail this card strongly suggests that you will be reaching at or close to ultimate enlightenment as it is realized.
The wish will bring you or the person you ask for total peace and happiness.
It suggests that on the journey to achieving this wish, be prepared for patience, happiness, hope, and miracles and all the things a good story consists of.
To me, this card strongly says that if you were questioning your personal motives for making the wish, worry not, because this is a wish that is bringing you these good feeling things. It's a wish worthy of pursuit and having the Singers of The Chalice appear as the outcome of it, basically tells you the answer.
Angels sing with this card, and Angels want bliss, it is showing that bliss is happening.
So think back to your wish. It's happening. Strong positive card for that.
To find out what we need to do to get from balancing act, however graceful, to miracles and joy, let's now look at our final card, Card two.
Card TwoThe Bridge That Needs To Be Crossed To Get From One To Three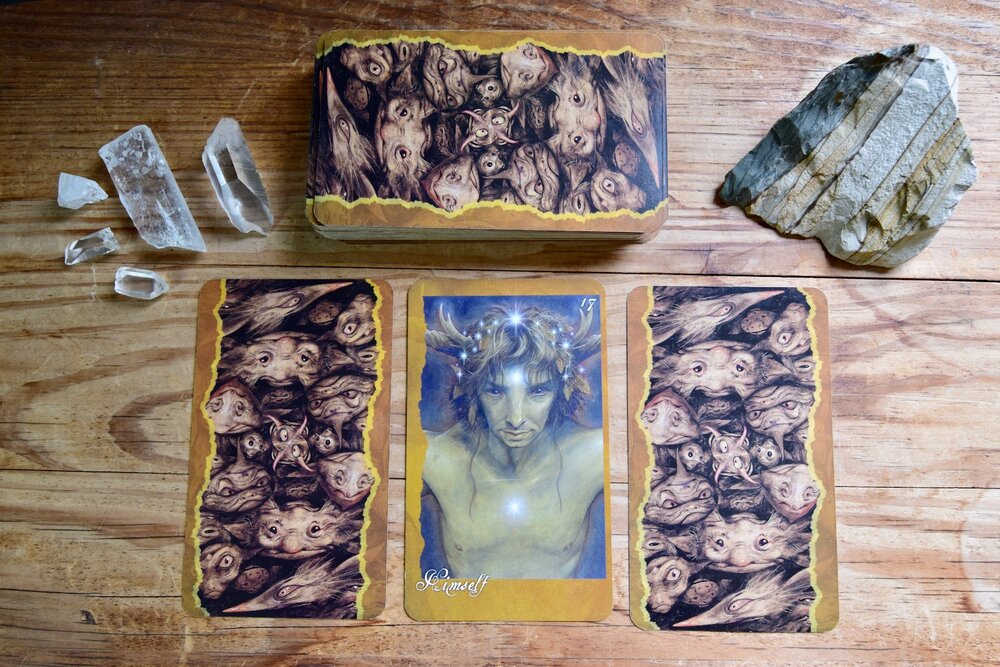 Photo ofThe Faeries Oracle Card, Himself, and surrounded by three cards with backs up, quartz crystal and desert jasper on a wooden table by Amanda Linette Meder
Photo ofThe Faeries Oracle Card, Himself, and a desert picture jasper on a wooden table by Amanda Linette Meder
17 – Himself
The bolded call out in the book for this card reads:
Natural Law. Life force. Magic. Shamanic Power.
What an incredible card for card two.
This Faery Character comes from the family of Faeries known as The Sidhe, which are described as the People of the Hills, the lords and ladies of the Faery.
They are considered the Old Ones, even if some of them appear very young.
Some of the Sidhe related to Himself include The Maiden, The Journeyman, The Lady of the Harvest, The Sage, The Piper, and The Green Woman.
These Faeries know what they're talking about and to me, represent the Major Arcana of Faeries, if such a thing existed in Faery Realm.
These Faeries are known to enjoy creating frequent miracles, and they love to bring manifestation into the world for the pure joy of it.
The Sidhe are thought of as the elder race, and some people see them as the Gods and Goddesses of the Fae.
Whenever you see a Sidhe, it means to me that magical elder Faery power is with you, activating within you and available for your advantage.
So for card two, we have Himself, representing the bridge you need to cross to reach your wish.
This is the Faery energy available for you to step into to help you cross that bridge.
The Himself card is a shamanic man with antlers.
He looks like he may be in an altered state of consciousness, due to tireless work or play whatever you want to call it, or just pure focus.
His Heart Chakra, Third Eye Chakra and Crown Chakra are all lit-up blue, symbolizing truth and total alignment in his upper chakras.
This card always says to me the truth is being yourself with total focus.
To me, this card symbolizes you have this total truth and focus right now. Tap into it, and your wish is yours.
It suggests some focused, upper Chakra-aligned yang-action is available to you now to use to reach your wish.
Go at yourself or your wish with total focus and masculine-shamanic action is what this card says. Faery magic and elder wisdom is there to help you with this.
If any time was the 'tap into the focus of being and acting in yourself,' this card says that doing that will bring your wish.
With the three blue lights, it symbolizes that this action or focus is being taken via an alignment with a loving truth so meditating moving forward can improve your ability to tap into this energy.
So to recap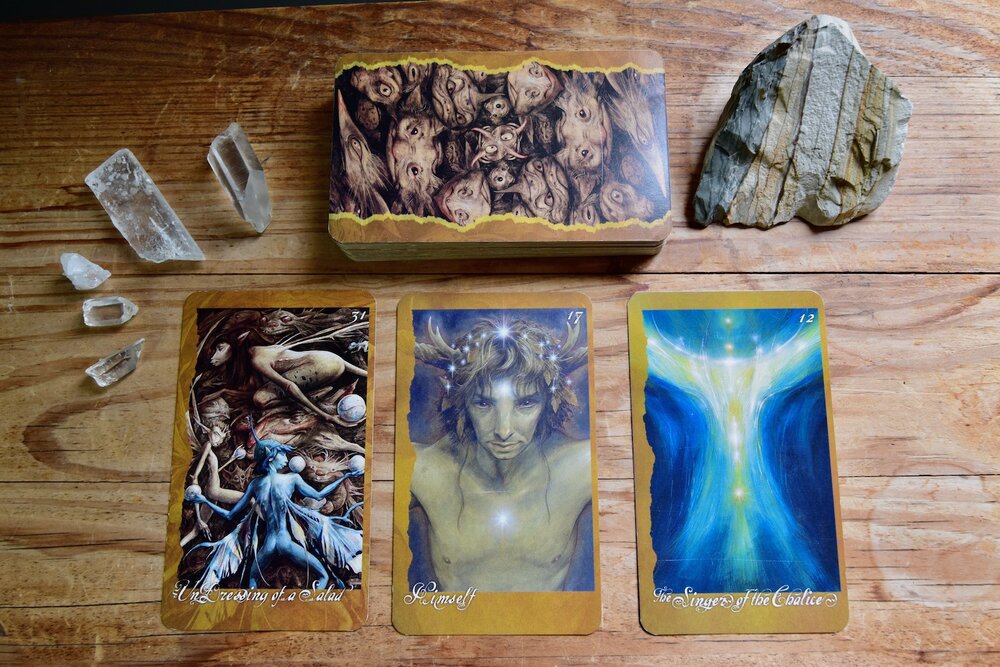 Photo of three of The Faeries Oracle Cards, Undressing of a Salad, Himself, and The Signers of the Chalice on a wooden table by Amanda Linette Meder
The present situation is represented by Undressing The Salad, which shows movement and that doing the impossible is happening.
To get from here to card three, near-perfect enlightenment, the realization of ultimate bliss, we have the Himself card.
This reading strongly suggests that tapping into your own version of Himself shamanic power will move you from A to C, and that doing so with total shamanic, truthful, divine intent is necessary.
Overall, tapping into your inner truth and shaman will realize the wish you made at the beginning of the post and get you pretty close to enlightenment, or dream realization in the process.
If this reading was for you or another, this says that whatever you wished for is worth pursuing.
For July, expect to have a focused month, but one where movement is happening from a somewhat chaotic yet very well balanced situation to one of near perfect enlightenment in the area of your wish.
As you know, when you wish for good in one area, it usually affects at least three more, so expect to see other movements in your life occur as a result of this single wish.
Liked this series?
Embed Block
Add an embed URL or code.
Cards of the Month is a 2020 Series highlighting the beautiful art and literature of Divination Decks, and provide an interpretation for the month demonstrating these gorgeous Divination tools.
Each month, all of 2020, on or before the first Friday of the upcoming month, a new Cards of the Month is released.
To receive next month's Cards of the Month to your inbox, please add your name to the free monthly newsletter.
To purchase The Faeries' Oracle and do your readings with this deck, visit this link to purchase it on Amazon. It's been one of my go-to decks since receiving it several years ago.
If you like Faeries, and nature, this deck is definitely a deserving one for your collection.
Amanda Linette Meder
www.amandalinettemeder.com
Other Articles You May Enjoy:
Oracle Cards: How To Use Oracle Cards To Connect With Spirit
Spiritual Books For Oracle Cards – How To Divine With Library Books
June 2020 // Cards of the Month
May 2020 // Cards of the Month
April 2020 // Cards of the Month
Liked this post? Share it –
Oracle Card Reading. Photo of Faeries Oracle on wooden table with text overlay of July 2020 Cards of the Month.
As an Amazon Associate I earn from qualifying purchases.
Read more: amandalinettemeder.com