April 05, 2019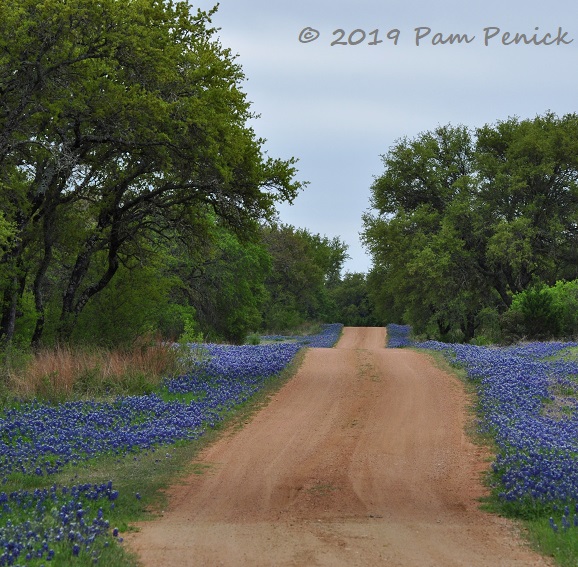 Bluebonnets peak a little later in the Hill Country than in Austin and San Antonio. The superbloom I photographed south of San Antonio two weeks ago whetted my appetite for more, and since Austin's roadside 'bonnets have faded, I headed into the Hill Country on Wednesday. Cruising west on Highway 290, north on Ranch Road 1323, and along the picturesque, 13-mile Willow City Loop, I saw plentiful bluebonnets lapping up against dirt roads.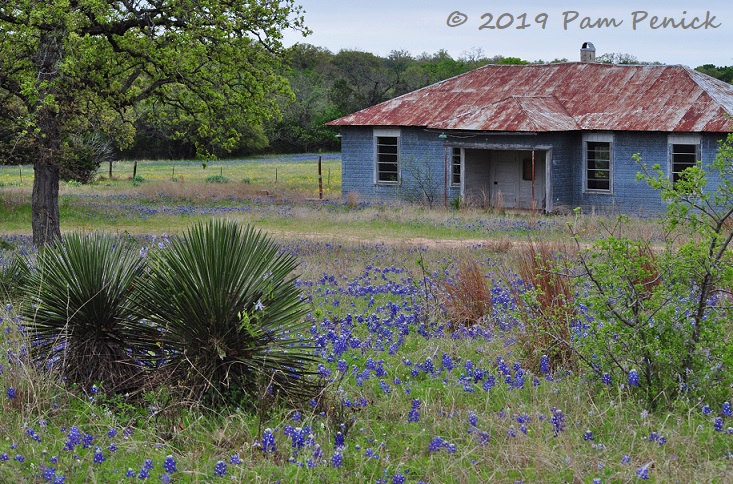 Bluebonnets sparkling in the meadow at the old abandoned Sandy schoolhouse.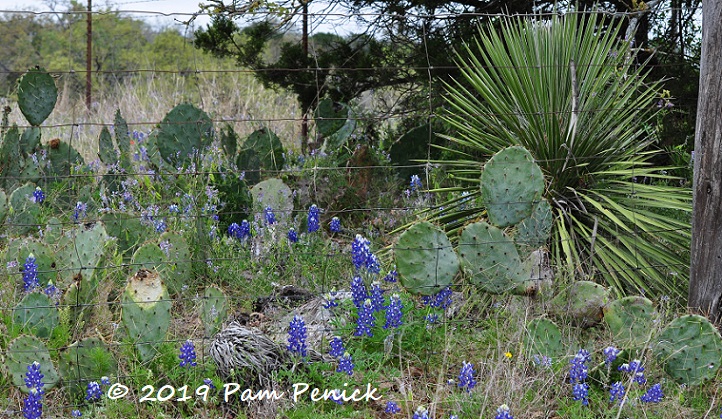 Bluebonnets brightening a spiky vignette of prickly pear and yucca.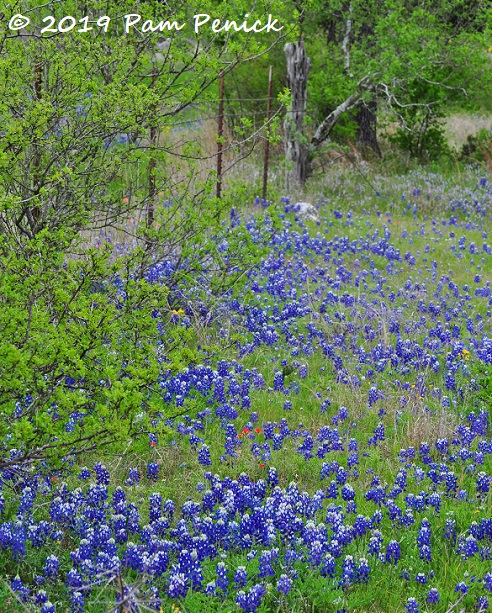 More blue!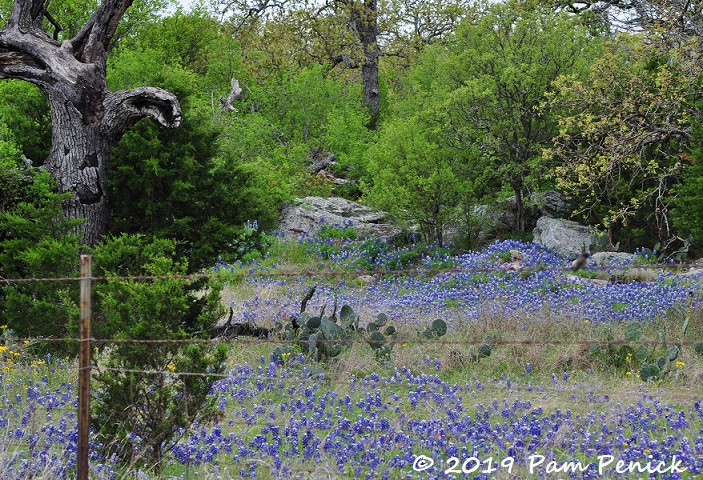 And more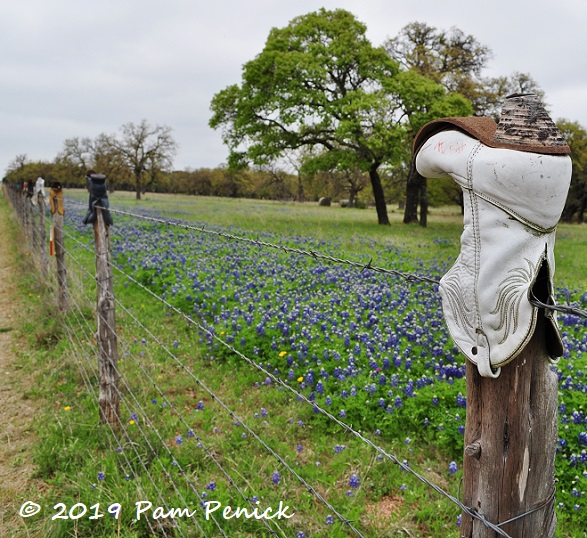 I always enjoy seeing the fence of upturned cowboy boots on the Willow City Loop.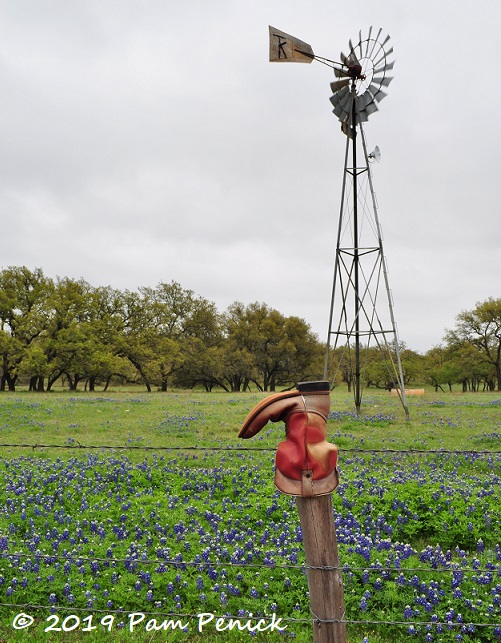 Quintessentially Texas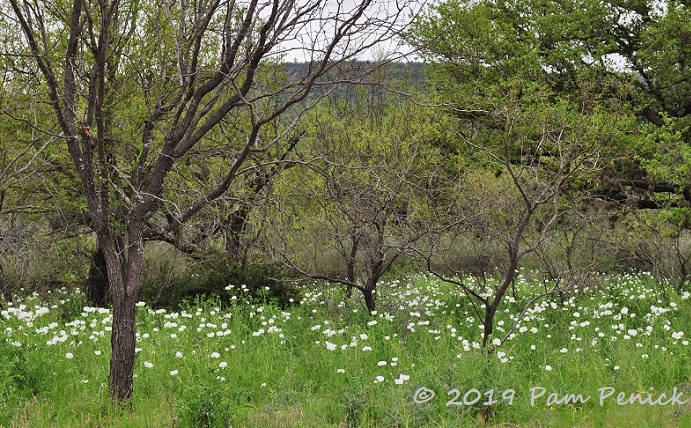 White prickly poppies are making a good showing too.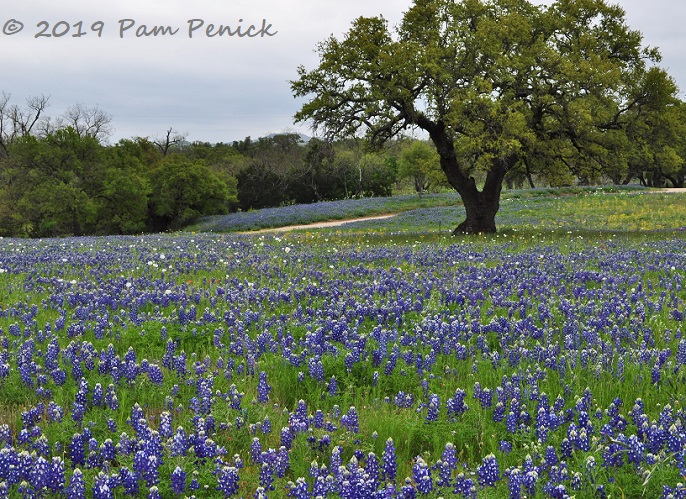 Bluebonnets, white prickly poppies, and a live oak — a classic Hill Country scene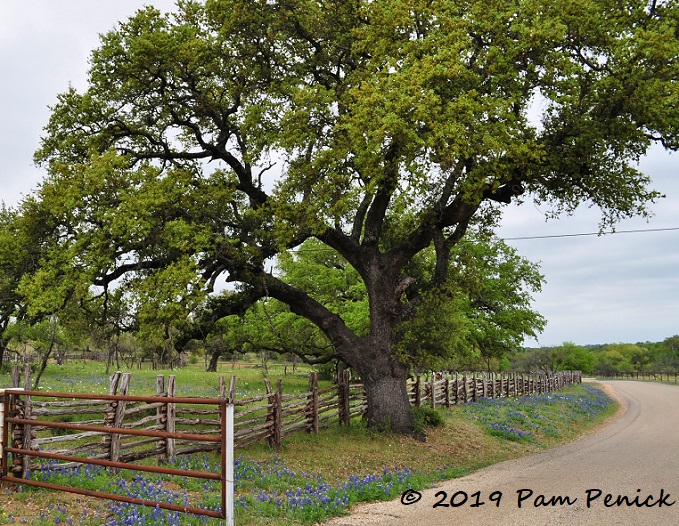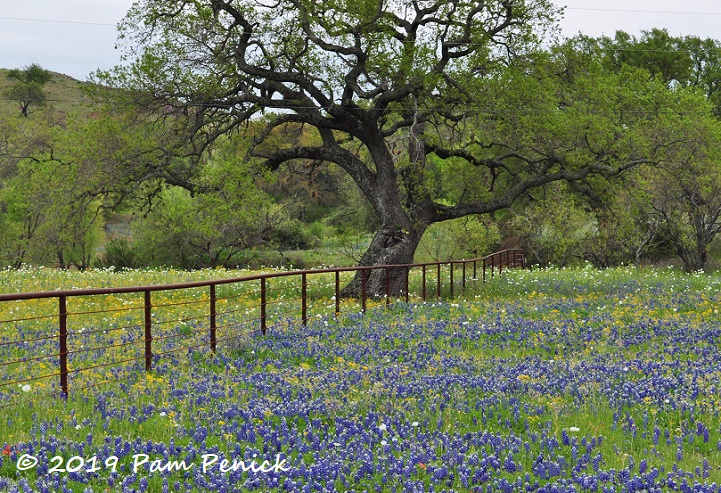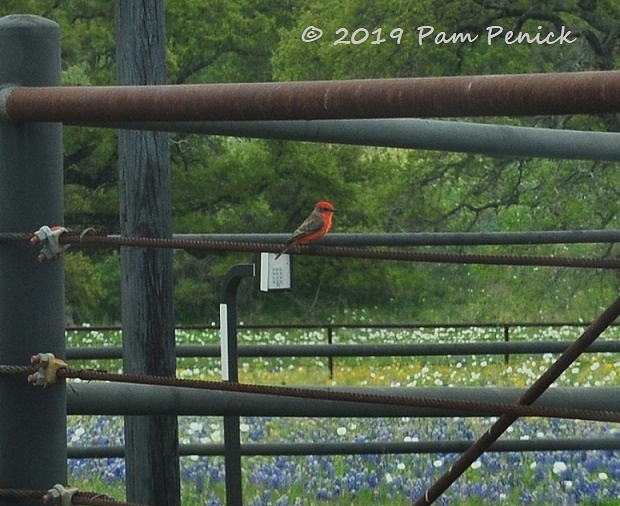 I was thrilled to see a vermilion flycatcher for the first time! What a beautiful bird.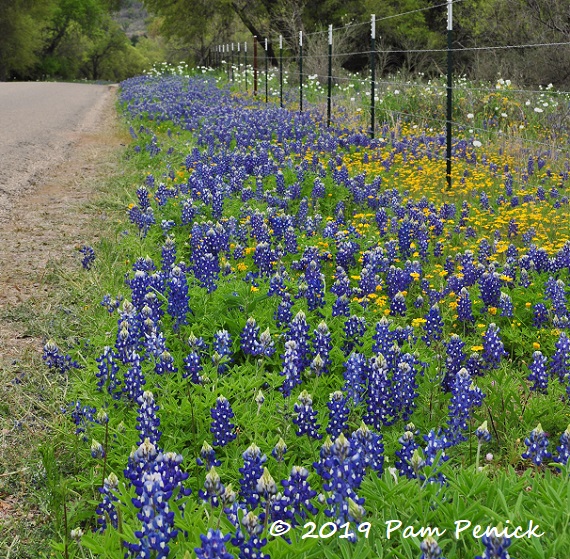 Roadside rainbow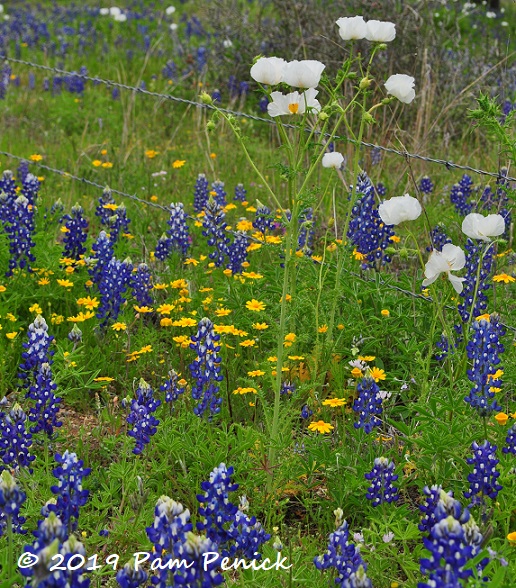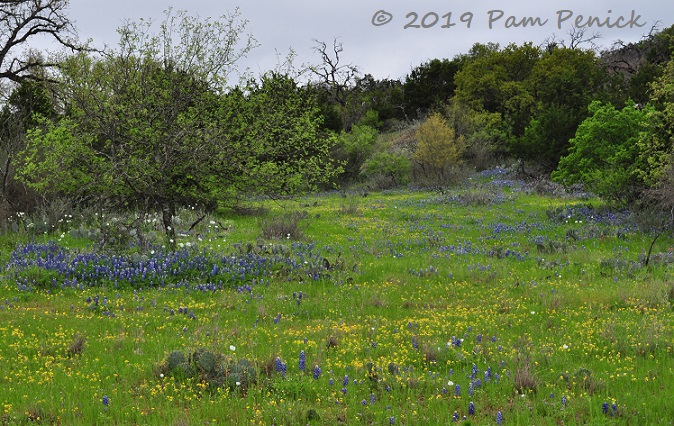 The wildflowers here aren't as thick as I saw in the San Antonio area, nor as prolific as they've been in other years on the Willow City Loop.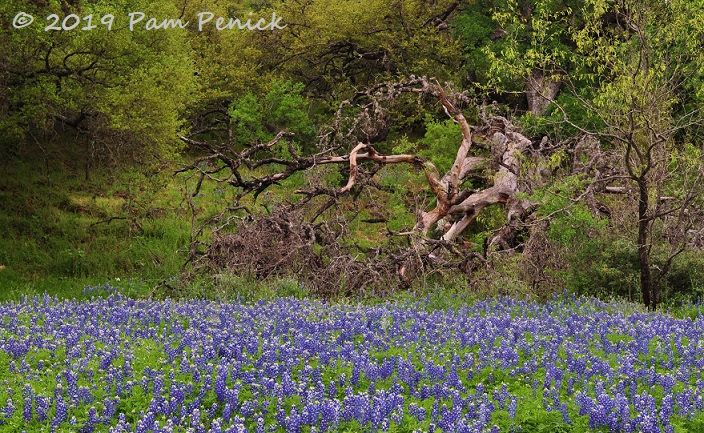 But there are many good stands of our diminutive state flower.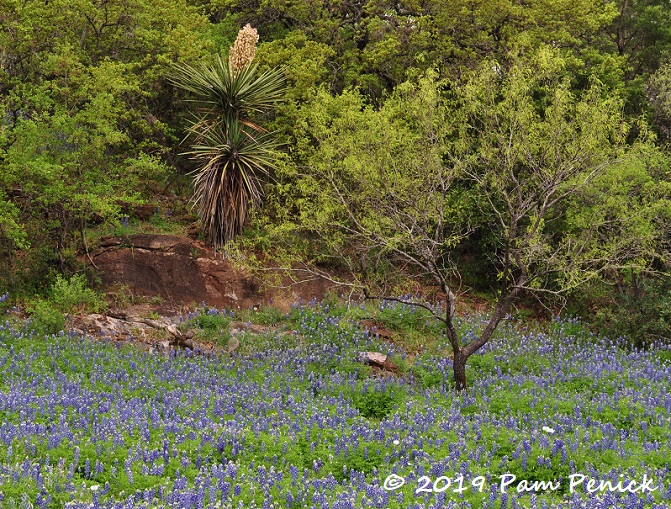 Plus flowering yuccas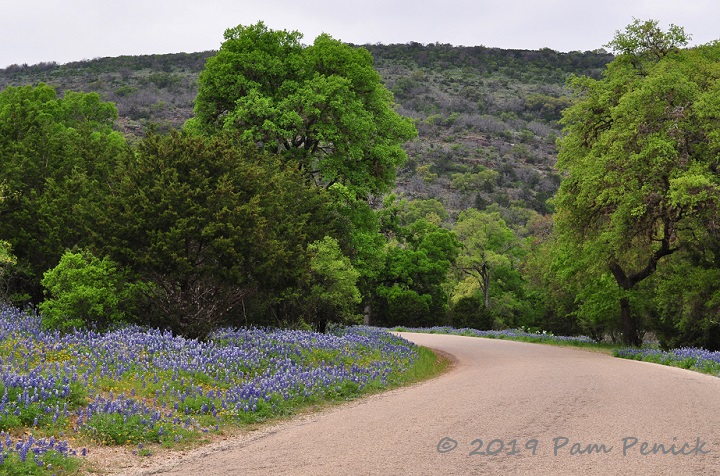 The loop is scenic at any time of year, but especially at bluebonnet time. It's best to go on a weekday to avoid crowds.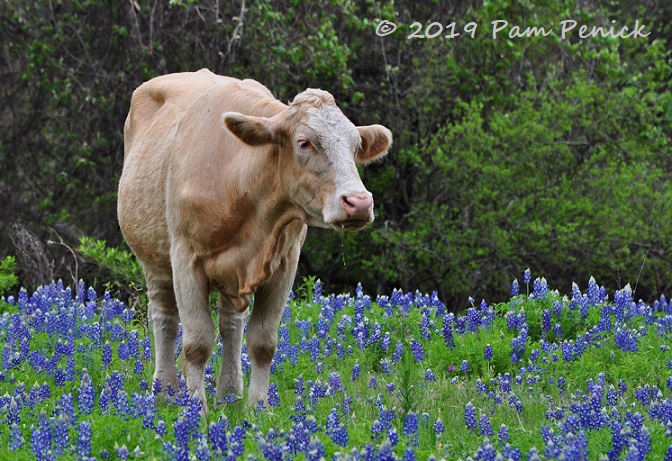 Parts of the loop have free-ranging cattle.
A pair of white calves were head-butting each other in a flowery meadow — a case of spring fever?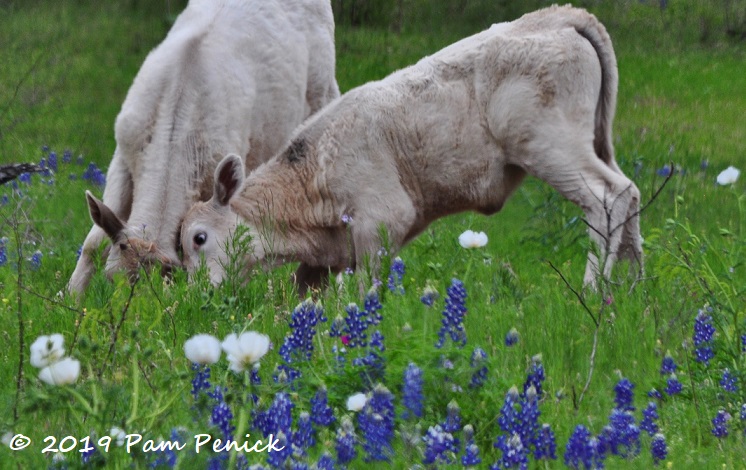 They were frolicking and having a good time.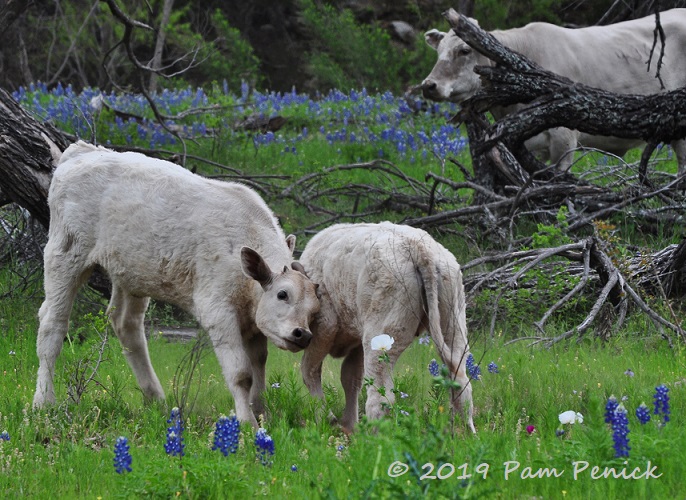 So cute! Mama stood by patiently.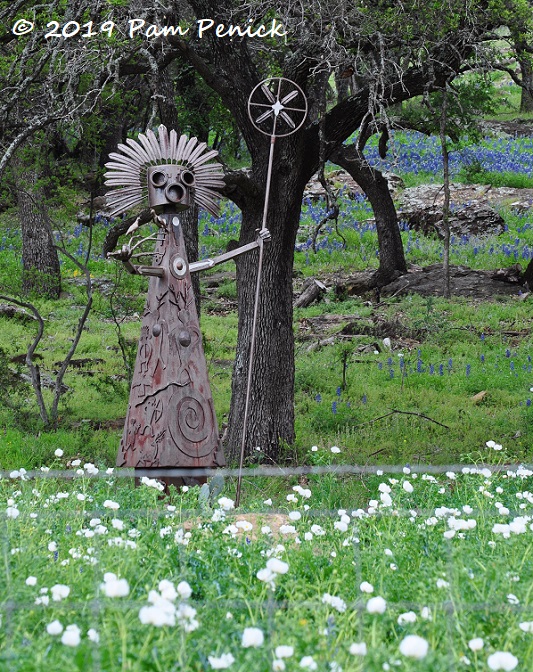 A shaman figure keeping watch over prickly poppies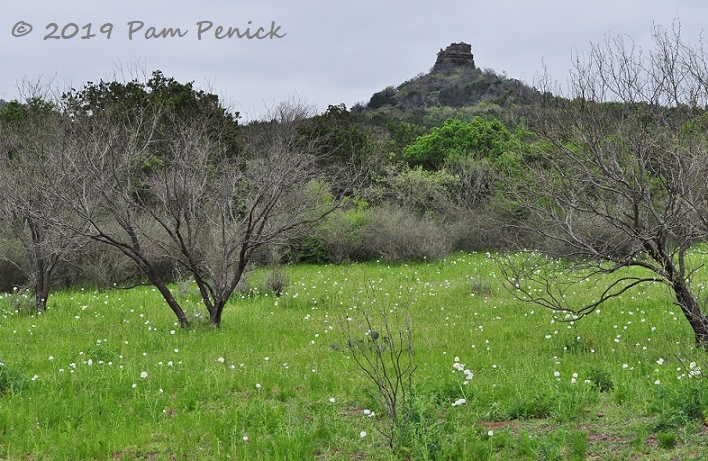 A chimney-like butte along the loop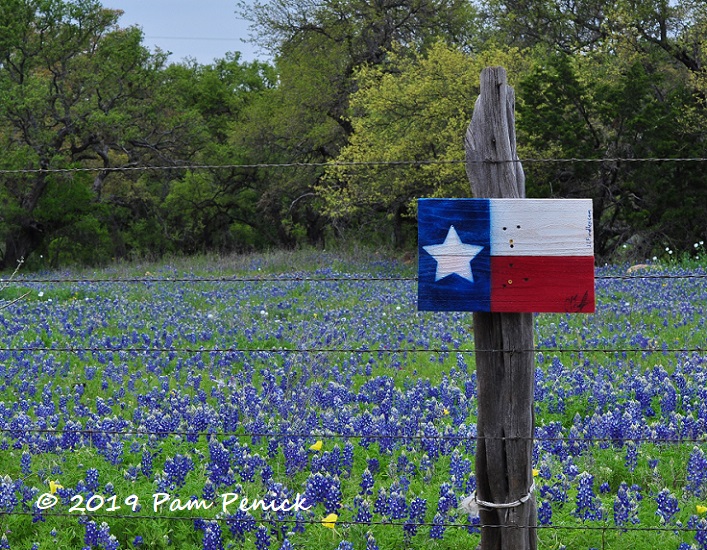 It's been a particularly good year for bluebonnets and other wildflowers in Central Texas. I'm happy that I was able to see so many on my wildflower drives. I hope you enjoyed them too!
I welcome your comments; please scroll to the end of this post to leave one. If you're reading this in a subscription email, click here to visit Digging and find the comment box at the end of each post.
_______________________
Digging Deeper: News and Upcoming Events
Attend Zilker Botanical Garden's 3rd annual Starlight Social on April 11th from 6:30 to 9:30 pm. Tour the garden at twilight; sample sushi, sake, craft beer and local wines; experience the authentic chado (tea ceremony); groove to live music; indulge at the dessert and coffee bar; get lucky at the silent auction. Tickets are $100 until April 5, then $115.
Join the mailing list for Garden Spark Talks! Hungry to learn about garden design from the experts? I'm hosting a series of talks by inspiring garden designers, landscape architects, and authors. Held in Austin, the talks are limited-attendance events that sell out within just a few days, so join the Garden Spark email list for early notifications. Simply click this link and ask to be added.
All material © 2006-2019 by Pam Penick for Digging. Unauthorized reproduction prohibited.
The post Hill Country bluebonnet drive appeared first on Digging.
Related Posts
Spring evening at home
Wildflowers revving up at Wildflower Center
Read This: Wildflowers of Texas
Austin Garden Bloggers Fling kicks off today!
Glorious wildflowers and agaves in Jenny Stocker&#…
jQuery(document).ready(function( $ ){
jQuery('.yuzo_related_post .yuzo_wraps').equalizer({ columns : '> div' });
});

Read more: penick.net