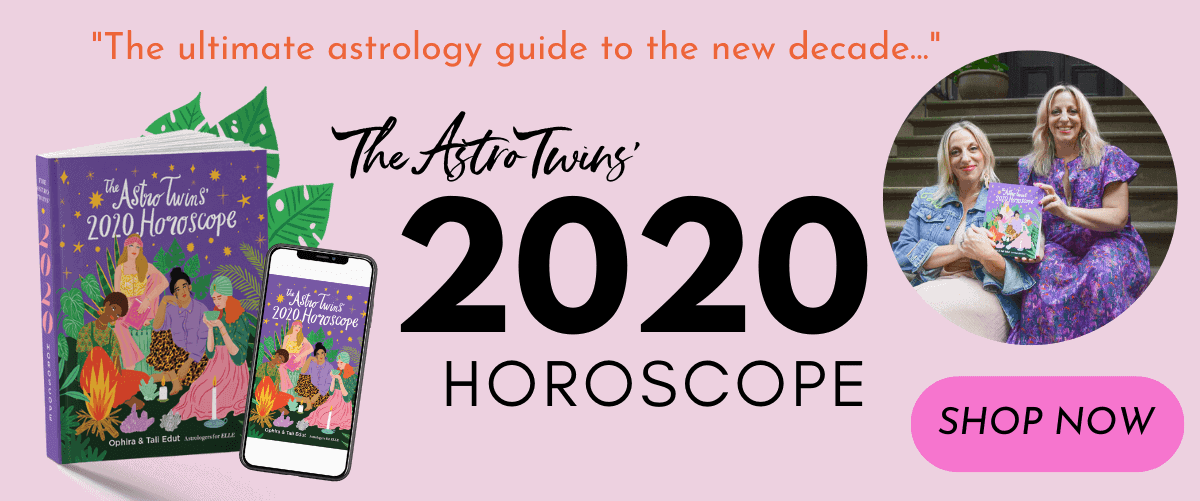 Dialed in? As mental Mercury in Scorpio trines psychic Neptune in Pisces, intuition and empathy are running high.
Born on a cusp? Please note that dates for the zodiac signs can vary from year to year. To confirm your actual Sun sign, do a free chart here.
Illustrations by Grande Dame


Aries (March 21 – April 19)
Is it time to give a relationship some space, Aries? Set firmer boundaries under today's trine between mindful Mercury and soulful Neptune. You've made excuses for this person's actions in the past, but where has that gotten you? Today, you may be forced to admit that their behavior is having a negative impact on your life. Remember that no matter how toxic a situation has become, there is always wisdom to be gained from it. Don't worry about what actions to take. Today, just turn inward and reflect. A guided visualization or group meditation can trigger a life-changing insight. See the full week >


Taurus (March 21 – April 19)
If you're feeling scattered, turn to your community for support. Some days, even the most capable Bulls could use an extra pair of hands or a second set of eyes to review your work. With Mercury trining soulful Neptune, advice you receive could move you on a deeper level, especially if you've been prioritizing material matters over relationships. And it goes both ways: If a friend or colleague is having a hard time, chill with the tough love. What people need today is a compassionate ear. Once you've validated their feelings, THEN you can dole the practical wisdom that's been on the tip of your tongue for days. See the full week >


Gemini (May 21 – June 20)
Whether or not you care to adopt the title, people see you as an influencer, Gemini. And today, as your ruler, savvy Mercury, trysts with imaginative Neptune, your innovative ideas will be infectious! Please don't hold back from disrupting the status quo. Yes, you'll ruffle some feathers, but what's worse: Having people temporarily annoyed at you (then praising you for your genius) or wasting hours trudging down a conventional path that doesn't light your fire? Speaking up may feel risky, but if you articulate the end goal instead of just the process, people will get onboard faster. See the full week >


Cancer (June 21 – July 22)
Ask and you shall receive, Crab, but don't just put this request out to "the universe," okay? Today's alignment of articulate Mercury and enchanting Neptune can grant your wish…IF you're willing to speak up for what you want. Instead of writing about it in your journal (again), engage with live humans who can bring you closer to your goal. From coworkers to coaches, get proactive about moving the needle in the direction you want. And here's a challenge to Crabs with a history of underestimating yourselves: Supersize your "order" by requesting a little more than you think you can get! See the full week >


Leo (July 23 – August 22)
Do you truly believe you deserve love and happiness, Leo? Sure, it's easy to say, but it's a lot harder to put into practice. As today's metaphysical Mercury-Neptune trine illuminates your shadow, you may uncover your own limiting beliefs. Your inner voice may be saying things like, "I'll never have what she does," or "I'm not ready for that." Today's challenge: Catch those thoughts BEFORE they turn into actions! Not only will this help you interrupt old patterns, Leo, but you can take it a step further. Turn 'em into affirmations like, "I will learn from successful people," or "I'm excited to discover what's next for me." See the full week >


Virgo (August 23 – September 22)
The best relationships aren't always the easiest ones, so don't turn your back on someone who is "perfectly imperfect." Today's trine between mental Mercury and enchanting Neptune can strengthen your most soul-soothing bonds. Challenge yourself to be more patient with a partner's annoying habits. Set aside time for a close friend who's been relentlessly attempting to find a space on your busy calendar. Act from a place of generosity and compassion and watch people open themselves up more than usual. Once you stop trying to change everyone, you'll realize that—just like you—they're fine just as they are. See the full week >


Libra (September 23 – October 22)
Today's starmap tips the scales toward self-care and satisfaction, giving you permission to spoil yourself. This won't take much nudging for your extravagant sign! But as Mercury in your decadent second house dances with healing Neptune in your well-being zone, opt for healthier indulgences. Are you long overdue for a lavish spa day? Book an exfoliating full-body scrub or a 90-minute therapeutic massage. Even if you're meeting friends for cocktails, work up a good sweat at a cardio class first to offset the impact of your hedonist indulgences. See the full week >


Scorpio (October 23 – November 21)
You may be driven to distraction as quicksilver Mercury in Scorpio sings a dreamy duet with hedonistic Neptune in your sensual fifth house. Don't even bother trying to pull your head out of the clouds. Instead, get busy adding magic and romance to your day. Under this charmed alignment, you could schmooze your way onto a VIP guest list or ferret out an amazing (and currently underground) arts scene. Whether you're single or coupled, you are luminous under today's stars. Take a little extra time to curate a look that makes you feel confident—and make sure it's almost as easy to take off as it is to put on. Meow! See the full week >


Sagittarius (November 22 – December 21)
Even you, the zodiac's nomad, could use a day off from all the wandering. As Mercury syncs up with Neptune in your stay-at-home zone, you're longing to stay in and putter or get lost in a good book. But duty calls—so why not bring creature comforts to your job instead? Invite a few coworkers into your office/cube for some tea and healthy nibbles and a philosophical conversation. And who says you can't be rocking a pair of cozy slippers underneath your desk? Give your workspace a touch of home with a live plant or diffuse some invigorating essential oils. Your neighbors won't mind a bit—in fact, they might feel more enticed to swing by for a stimulating chat. See the full week >


Capricorn (December 22 – January 19)
You love to cut to the chase, Capricorn, but that's just not in the cards today. With a pensive trine between mental Mercury and nebulous Neptune, you'll weigh the pros and cons of every possibility rather than make quick decisions. Your usual all-business approach won't take you very far in your interactions either since you're more inclined to listen wholeheartedly before drawing conclusions. Not every situation needs you to fix it, so adopt a practice of compassion under this cosmic alignment. Sometimes, a person just needs your ear—and not your analytical, problem-solving expertise. See the full week >


Aquarius (January 20 – February 18)
You're a magnet for success, Aquarius, as today's Mercury-Neptune gives your manifestation skills a star-powered jolt. Be clear about what you want, then ask for it. Your thoughts really do have the power to shape your outer world. Use the Law of Attraction as your North Star—and point directly to the life you wish to create. With a mindset of abundance and a well-developed strategy, your path will become clear. If your home could use a little streamlining, get rid of anything that's weighing you down. A cluttered environment equates to a cluttered mind, so make some space for creativity to flow freely. See the full week >

Pisces (February 19 – March 20)
Everything doesn't have to be an uphill battle, Pisces. Try swimming with the current of life instead. Today's alignment of mindful Mercury in Scorpio and your ruler, Neptune, in Pisces heightens your intuition and urges you to go with the flow. Once you stop trying to control the outcome, you'll feel a surge of renewed energy and insight. Your bewitching nature is radiating cosmic fairy dust, so use today's starmap to pitch your most creative ideas. With Neptune giving you that added sparkle, even your loftiest visions may come to fruition…if you can learn to trust—and enjoy!—the process. See the full week >
What do the stars have in store for you this November? Read your monthly horoscope now
Get horoscope updates straight to your inbox! Sign up for The AstroTwins newsletter
The post Daily Horoscopes: November 28, 2019 appeared first on Astrostyle: Astrology and Daily, Weekly, Monthly Horoscopes by The AstroTwins.
Read more: astrostyle.com