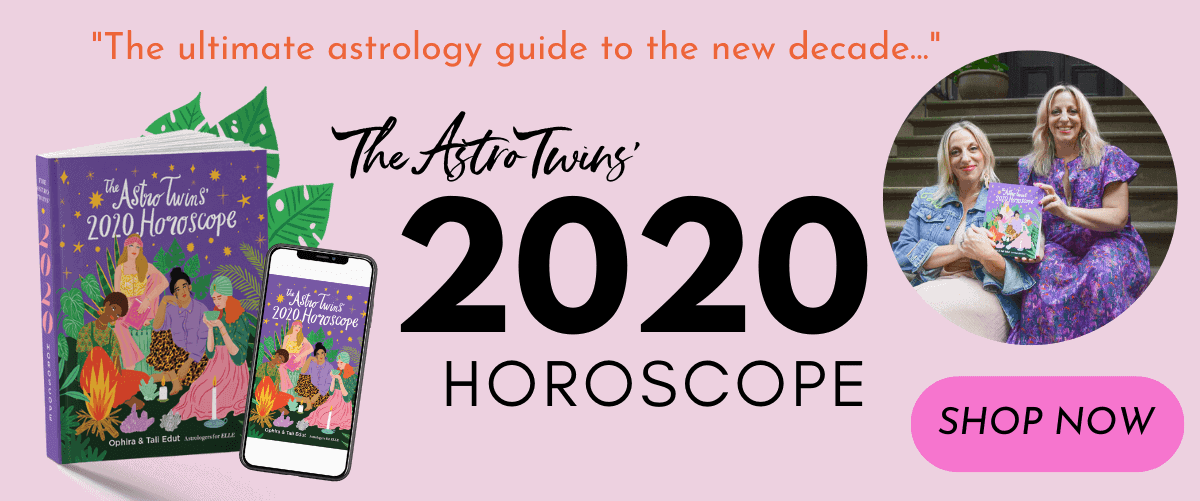 This morning's Gemini moon helps us share ideas and catch up on communication before la luna makes landfall in its home sign of cozy Cancer at 11:40am EST.
Born on a cusp? Please note that dates for the zodiac signs can vary from year to year. To confirm your actual Sun sign, do a free chart here.
Illustrations by Grande Dame


Aries (March 21 – April 19)
This morning's moon in your chatty third house amps up your natural gift of gab. Reserve the first half of the day for conference calls, returning emails and briefing colleagues on your achievements of the week (while you walk to get coffees, yes). But don't expect these social vibes to linger. Late morning, the moon moves into your domestic fourth house, and you could wrap up early to head home. Your perfect Friday night might involve curling up on the couch to munch on takeout and FINALLY watch that Netflix series everyone's been talking about forever. If you do make plans to go out, head to a venue that's tucked away and perfectly staged for intimate conversations. See the full week >


Taurus (March 21 – April 19)
Mission: efficiency! With the moon lingering in your nose-to-the-grindstone second house until midday, devote the morning to tying up loose ends and streamlining systems. Prioritize organizing things so you can enjoy the weekend without pending details hanging over your head. Tonight, steer clear of people who are just…extra. A friend who fits this bill could churn up conflict among your inner circle. Also, keep your own rabble-rousing ways in check. Subtle shade could hit a friend where it hurts. Rewind and be kind! See the full week >


Gemini (May 21 – June 20)
Who says you can't rule with a velvet-gloved fist instead of an iron one? You're an exceptionally appealing royal this morning while the moon lingers in Gemini. Be approachable, especially where you hold authority. The people working underneath you may have valuable feedback to share. Why not ask them for their "from the trenches" insights? The camaraderie this builds comes in handy late morning, when the moon heads into your industrious second house and summons all hands on deck. When the job is done, an amazing meal is all you need to get your Friday-night fix. See the full week >


Cancer (June 21 – July 22)
You may be feeling a bit scatterbrained this morning, which can leave a ton of tasks on your to-do list come lunchtime. But not to worry: The moon will move straight into your sign late morning, giving you the energy to power through until every last item is checked off. If you can, reserve the morning for yoga and creative tasks and target the afternoon as time for action. Tonight, check out a brand-new venue or mingle with a different crowd—just do something you've never tried before. See the full week >


Leo (July 23 – August 22)
Who says office hours actually have to take place in the office? As the moon whirs in your innovation zone this morning, plant yourself somewhere ideal for generating new thoughts. Maybe that IS the conference room, surrounded by your hivemind. But you could just as well meet your team OUT for breakfast (and pop into a bookstore or inspiring exhibit on your way back to your desks). Take off the thinking cap this afternoon as the moon downshifts into your dreamy twelfth house. A restorative night at home (or the spa!) is calling. But note: If you take a disco nap, you might get a second wind for dancing long after dusk. See the full week >


Virgo (August 23 – September 22)
Your day begins on a motivated note, thanks to the moon illuminating your ambitious tenth house. Don't let the workweek wrap without grabbing that low-hanging feather for your cap. You might have to take charge and delegate tasks to your colleagues. Don't play favorites—match people with assignments that jibe with their strengths. Just in time for Friday night, the moon moves into your convivial eleventh house, and you'll shift out of work-mind and into play mode. The more might actually be the merrier under these skies. Open up your guest list to friends of friends and see who shows up! See the full week >


Libra (September 23 – October 22)
Possibilities seem endless this morning as the moon zooms through your expansive ninth house. Before you finalize any decisions, do one more round of comparative research. You could discover a more effective option or receive confirmation that you're on the right track. The moon heads into Cancer and your goal-focused tenth house late morning. Not exactly killer timing for a Friday, but with the progress you're making, it might make sense to stay a little later at the office. Socialize strategically tonight. Is there an industry holiday party you could pop into? See the full week >


Scorpio (October 23 – November 21)
Privacy, please! As this morning's moon activates your ultra-focused eighth house, you'll do your best work in solitude. If you work in an open office, those giant headphones and the white-noise app will come in handy. But don't start making plans to head straight home tonight. Late morning, la luna floats into Cancer and your adventurous, optimistic ninth house. A night on the town—or OUT of town—will quickly reignite your joie de vivre. How about Greek food at the restaurant with the belly dancers? On a night like this, you might hop up on the bar to shimmy along with them. See the full week >


Sagittarius (November 22 – December 21)
Can't get THAT person out of your mind, Sagittarius? Reach out this morning, even if it's been ages since you've connected. With the Gemini moon hovering in your "people first" seventh house, you may finally have the hindsight to see this relationship with 20/20 vision. No, it didn't work out exactly as you'd hoped, but suddenly you can appreciate what you gained from the experience. Late morning, the moon slips into Cancer and your intimate eighth house. Who is the main VIP in your world, like, now? Treat them to dinner to thank them for having your back. See the full week >


Capricorn (December 22 – January 19)
Take a morning detour to the juice bar, Capricorn, or fire up the cold-pressed appliance on your counter. With the moon in your wellness zone this morning, the extra shot of dark leafy greens and warming ginger will be the perfect fuel to power you through those end-of-week tasks. If you need to get centered, slip off for a yoga class or do a two-minute meditation at your desk. Here's some motivation for getting 'er done. Late morning, la luna flows into Cancer and your seventh house of partnerships, setting the stage for a romantic Friday night dinner or a lively night out with a BFF. See the full week >


Aquarius (January 20 – February 18)
With the moon hovering in your over-the-top fifth house this morning, you could find yourself propped up on the drama-queen throne. By all means, feel free to vent, but don't ignore how it affects your nearest and dearest. Your emotional waves could cause them to stress and worry about you. Perhaps it would be wiser to get advice from someone who isn't QUITE so invested in your happiness? When the moon moves into your sixth house of healthy living late morning, a pre-party workout could clear your head. As you fete Friday night, you might even prefer a glass of bubble water over the bubbly. See the full week >

Pisces (February 19 – March 20)
Though you're bound to hit the snooze button when you rise, that's no indication of what the rest of the day holds. The moon grooves into your festive fifth house late morning, setting the celebratory tone for your Friday night. Pack a change of clothes before you leave the house. Your evening plans demand more glitter and glamour than you'll anticipate in the morning. While you're painting the town crimson, Cupid might just shoot a few arrows your way. Single Pisces could set off sparks that burn well into the weekend. Attached? A play date is in order, power-couple style. See the full week >
What do the stars have in store for you this November? Read your monthly horoscope now
Get horoscope updates straight to your inbox! Sign up for The AstroTwins newsletter
The post Daily Horoscopes: November 15, 2019 appeared first on Astrostyle: Astrology and Daily, Weekly, Monthly Horoscopes by The AstroTwins.
Read more: astrostyle.com