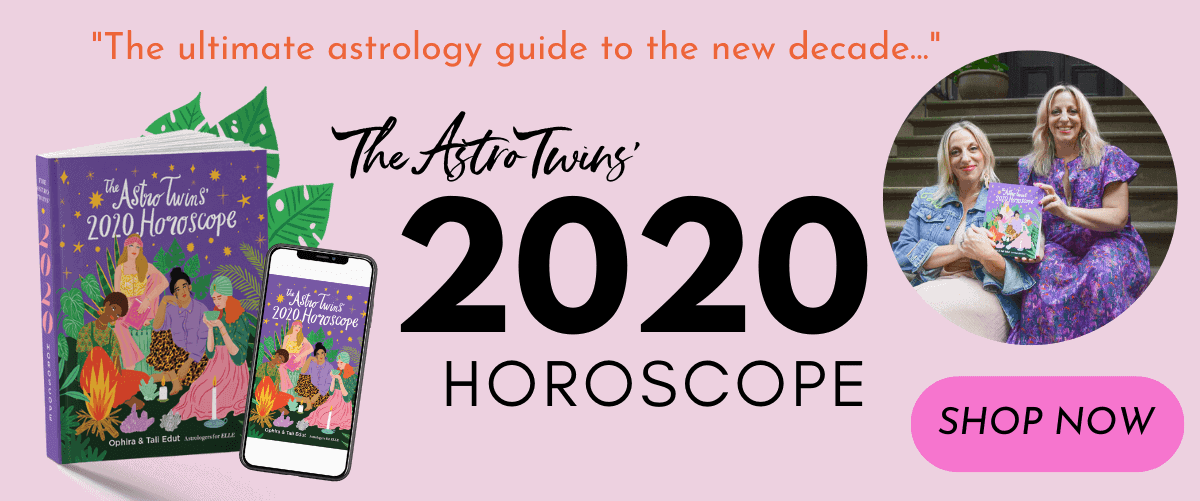 Nostalgia (and a touch or paranoia) permeates the air as Mercury retrograde trines Neptune in water signs.
Born on a cusp? Please note that dates for the zodiac signs can vary from year to year. To confirm your actual Sun sign, do a free chart here.
Illustrations by Grande Dame


Aries (March 21 – April 19)
Fortify those boundaries! It's great to be generous, Aries, but not if it negatively impacts your own well-being. Just say no to an emotional vampire under today's buffering Mercury-Neptune trine. You're always ready to come to this person's rescue, but when is the last time they returned the favor? If your dynamic is off, have a candid talk about your relationship. If you've been struggling with an unresolved issue from your past, you don't have to wallow in those bad feelings. Schedule a session with a therapist, energy healer or your BFF to work through this. No matter how bad things may have been, you survived. Now it's time to learn from your past and move forward into a brighter future. See the full week >


Taurus (March 21 – April 19)
Draw strength from your inner circle, Taurus. Your nearest and dearest could provide some soul-nourishing support today, thanks to an empathetic Mercury-Neptune trine. But help will only come if you ask for it! Let yourself be vulnerable and open up about things that have been stressing you of late. Your loved ones could offer some valuable guidance. Today's sensitive starmap encourages you to reciprocate any generosity you receive. If a close friend or relative is also struggling with a problem, listen to them with an open mind and heart. Bring on the full-circle healing! See the full week >


Gemini (May 21 – June 20)
Unleash your inner influencer, Gem! You've got a cutting-edge vision, and people will be eager to hear it today, as your ruler, savvy Mercury (retrograde), hosts a cosmic power lunch with innovative Neptune. Big, noisy ideas will be rewarded, and you've no doubt got PLENTY of them brewing. Engage creative collaborators who can help make your wild hare an incredible reality. You shouldn't have trouble finding viable candidates—most people will be eager to get onboard! Hitting a roadblock on a major project? Apply some of this cosmic ingenuity to your stalled venture. Is there an out-of-the-box solution that could help you reach the finish line? See the full week >


Cancer (June 21 – July 22)
You could get a few steps closer to turning a dream into a reality today, thanks to a fortuitous alignment between strategic Mercury and soulful Neptune. But don't expect the universe to just show up on your doorstep with good news. Under these skies, you've got to seek out opportunities. Fire off any "favor" emails, DM industry insiders on Twitter or ask a mentor for guidance on an important project. Just make sure your intentions are pure as you're out there hustling. No taking shortcuts to get ahead, Cancer! Instead, focus on creating quality work that you're proud to stand behind. And if it has a positive impact on other people, all the better! See the full week >


Leo (July 23 – August 22)
That RuPaul wisdom is real under today's Mercury-Neptune trine. "If you can't love yourself, how in the hell are you gonna love somebody else?" If your confidence recently took a hit, it's time to stop dwelling and work toward forgiving yourself for any miscalculations or missteps. You'll never get past this if you keep beating yourself up or obsessing over what went wrong. Instead, resolve to do better next time and turn your focus to the future. Do you know anyone who's been through a similar struggle—and also made it to the other side? See what lessons you can learn from their journey, whether you hear about it over dinner or read their inspiring autobiography. See the full week >


Virgo (August 23 – September 22)
Tend to your relationships as nostalgic Mercury retrograde and compassionate Neptune strike a heartfelt chord. If certain connections haven't been blossoming as you'd hoped, evaluate how much effort you've been putting in. All that emotional gardening takes energy, so you want to make sure you're planting in fertile soil. You may realize that it's time to pull back from someone who isn't reciprocating much, if anything. On the other hand, if you've been "laying in wait" for a new contact to make a move, it's YOUR play today, Virgo. Initiate! See the full week >


Libra (September 23 – October 22)
Enter the "soothe zone" today, as Mercury retrograde in your indulgent second house trines holistic Neptune in your well-being sector. Under the healing influence of this starmap, seek experiences that boost your health and wellness. Schedule some healing energy work like Reiki or acupuncture, meditate at a sound bath or splurge on a day at the spa. Enhance your restorative efforts with some stress-zapping exercise, like an outdoor run through what's left of the fall foliage. All these endorphins will send you soaring through your day and help you score a feather in your fedora. See the full week >


Scorpio (October 23 – November 21)
Trouble concentrating, Scorpio? That's probably due to the daydreamy influence of today's Mercury-Neptune trine. It's going to be hard to be productive, so put off any work that can wait until tomorrow and start researching fall-flavored happenings in your hood. Is there a nearby orchard where you could do some apple picking? Or maybe a haunted mansion is more your style! The cosmos will also give you a sensual confidence boost. Don a sexy new look, and you'll be turning heads in no time. You're feeling yourself, Scorpio! See the full week >


Sagittarius (November 22 – December 21)
You could have trouble extracting yourself from Chez Sagittarius this morning as thoughtful Mercury retrograde spoons sleepy Neptune in your domestic zone. If telecommuting isn't an option, why not carry the homey vibes into your office? Skip the Keurig cups and brew a French press of your favorite roast to share with your "work wife." Adorn your cubicle with snuggly artifacts from home like your favorite meditation stones or a sweet little succulent. Once you've fully "Hygged" your office, get to work! You'll want to plow through your tasks so you can return to your abode for a relaxing evening. See the full week >


Capricorn (December 22 – January 19)
Decisions, decisions! You may be faced with some tough choices today. Consider all your options carefully since pensive Mercury retrograde is getting zapped by ambiguous Neptune. Instead of jumping to hasty conclusions, do some independent research and make sure you're getting your facts from credible sources. Your colleagues could provide valuable guidance if you engage them in an honest dialogue. If someone comes to you with a problem, hear them out before jumping in with advice. It's possible that they're simply looking for a shoulder to lean on—not a life coach to fix their issues. See the full week >


Aquarius (January 20 – February 18)
You've got the Midas touch today as a fortuitous Mercury-Neptune trine imbues you with serious manifesting power. But in order to tap into that abundant energy, you need a clear vision of what you're going after. Not sure where to begin? Making a Pinterest board or a collage can help stimulate your imagination. What would it look like when you've accomplished your dream scenario? Hold that picture in your mind, then identify actions to start moving toward that goal. Even if all you take is one baby step, you'll be moving in the right direction. Do something small to forward this dream before your head hits the pillow tonight. See the full week >

Pisces (February 19 – March 20)
Trust in the universe, Pisces! There is only so much that you can control, so you might as well let karma prevail. Surrender to the life-shaping momentum of the stars today as Mercury retrograde forms a harmonious alignment with your ruling planet Neptune. The uplifting vibes of this starmap will infuse everything you do with a natural vitality. No, not everyone will be in tune with your ideas, but that's okay! All you need is one yes to move forward with your plan. Even if you don't reach the finish line right away, don't go to bed without celebrating any milestones you achieve today. See the full week >
What do the stars have in store for you this November? Read your monthly horoscope now
Get horoscope updates straight to your inbox! Sign up for The AstroTwins newsletter
The post Daily Horoscopes: November 13, 2019 appeared first on Astrostyle: Astrology and Daily, Weekly, Monthly Horoscopes by The AstroTwins.
Read more: astrostyle.com