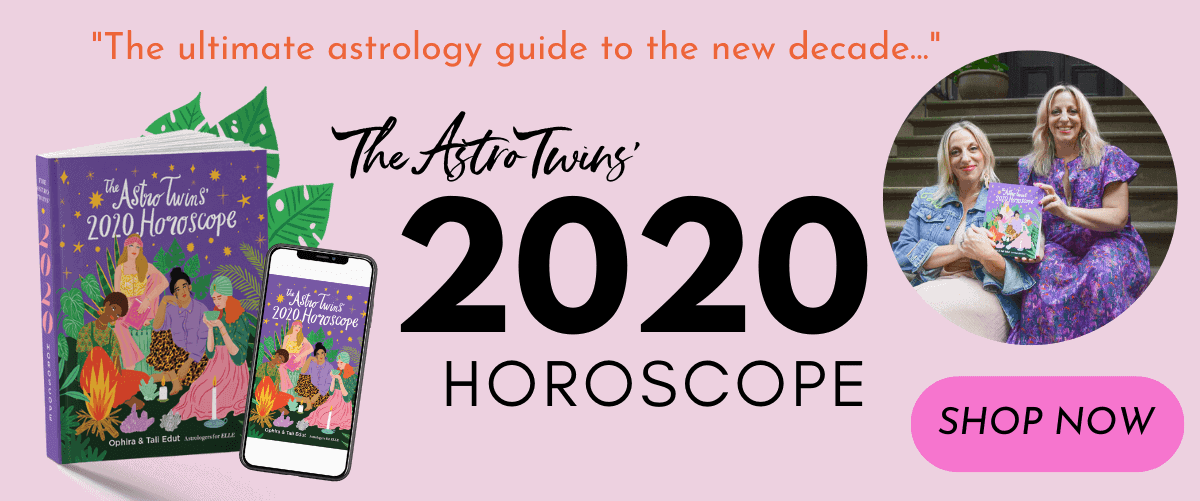 Talk it out! The full moon beams into articulate Virgo and communicator Mercury ends its three-week retrograde (at last!).
Born on a cusp? Please note that dates for the zodiac signs can vary from year to year. To confirm your actual Sun sign, do a free chart here.
Illustrations by Grande Dame


Aries (March 21 – April 19)
Loose the confusion and bring on the efficiency! As Mercury ends its three-week retrograde, the year's only Virgo full moon lights up your sixth house of organization, prompting you to eliminate the excess. Streamline your systems and declutter any part of your life that's tipped into chaos. Here's the motivation you need to launch your spring cleaning—and spring training—whether you're finally kicking that vice to the curb or getting serious about a yoga practice. Be it bourbon or bonbons, remove temptation from your space and bring on the sun salutations. Fully commit to success, and you'll get there faster. See the full week >


Taurus (April 20- May 20)
Today's Virgo full moon—the only one this year—activates your fifth house of fame, glamour and romance, drawing admiring eyes your way. With Mercury officially ending its three-week retrograde, you're in the clear to enjoy this attention! The coming two weeks are prime time for showcasing your skills and promoting your talents. If your image needs a refresh, start Pinning looks and consulting style savvy friends, but wait a week or so before making any major changes to your look. Single or spoken for, love is in the air. A promising new prospect could enter your orbit, or the spark with your sweetie could reignite. See the full week >


Gemini (May 21 – June 20)
Tufted pillows, removable wallpaper, oversized mirrors—oh my! As the year's only full moon in Virgo activates your domestic sector, you may be struck with the urge to change…everything. And with Mercury snapping out of retrograde, you're in the clear to start those decor plans. Before you swing any hammers, take a minute (or a week) to plan. Make a mood board of furniture styles and color schemes. Searching for a new "home sweet home"? Use the next two weeks to hunt down a new locale to hang your hat. Already achieved those #DesignGoals? The coast is clear to entertain, so get a dinner party at yours on the books. This lunar light can help you close the chapter on a long-standing family matter. See the full week >


Cancer (June 21 – July 22)
You adore your inner circle, but today's Virgo full moon electrifies your curious third house and beckons you to branch out. And with Mercury pivoting out of retrograde after three agonizing weeks, you are more than ready to connect to people without any friction or awkward misunderstandings. Start by exploring new venues close to home, from a yoga studio to an evening meetup or class. Today, you'll easily click with kindred spirits—and who knows where that could lead? If you've been negotiating a deal or pondering a joint project, you can start talking contracts again now (or soon!). Since the third house rules transportation, some Crabs might look into a new set of wheels. Check out hybrids and e-bikes for a sustainable twist. See the full week >


Leo (July 23 – August 22)
Lay down your sword, Leo! Tension in your closest relationships begins to dissolve as Mercury pivots out of its three-week retrograde. You can soon clear the air, but for now, Leo, keep your mind on your money. Today, the year's only Virgo full moon lands in your finance sector and accelerates your earning power. If you've been living hand-to-mouth or don't feel like you're putting your talents to good use, start putting out feelers. Gainfully employed but ready to level up? Invest in the tools, tech or software to make your days more efficient. Keep your ear to the ground over the next two weeks—this lunar light could manifest a promotion or an exciting job opportunity. See the full week >


Virgo (August 23 – September 22)
Get ready for your cosmic coming-out party! Not only is your ruler, messenger Mercury, ending its three-week retrograde, but today also marks the only Virgo full moon of 2020! La luna shines its beams on a bright new path, which is a direct result of six months of hustling. (Well played, Virgo!) The next two weeks could bring a lot of change. Embrace the shifts as positive signs. With this lunation happening only once a year, take advantage and promote thyself. If you're poised to break out on your own, don't wait around for others to give you the green light. Ready, set, GO! While these moonbeams stoke your indie spirit, just remember that you don't HAVE to do it alone. See the full week >


Libra (September 23 – October 22)
Time to leave the past behind you, Libra. For one thing, Mercury is spinning out of retrograde, directing your focus back to the future. And today's full moon in your twelfth house of completions could speed a situation to the finish line. Maybe you've known for a while that it was time to let go, but nostalgia has prevented you from completely letting go. Today's stars help you surrender so you can welcome in new energy that's more congruent with your core values. An "earth angel" type could appear, sending you down an illuminating road of discovery. Lighten your psychic load, and everything else will fall into place. See the full week >


Scorpio (October 23 – November 21)
Your popularity is rising strong as the year's only Virgo full moon electrifies your social-networking sector. Good news: With Mercury ending its signal-jamming retrograde today, you don't have to put everyone through any severe loyalty tests before meeting them for coffee or inviting them to hang out with your crew. If you're still searching for your soul circle, these moonbeams can light the way to kindred spirits. But it's up to you to put yourself out there. With this lunar light spotlighting technology, it's a great time to upgrade your devices—or start shopping around while you wait a few days for Mercury's smoke to clear. Got an online venture in the works? If you can, get it up to speed and ready to launch in the next two weeks. See the full week >


Sagittarius (November 22 – December 21)
Up, up and away! Today's full moon in your ambitious tenth house sets the stage for a momentous career victory. A leadership role could land in your lap, bringing both prestige and new responsibilities. Don't place undue pressure on yourself to be "perfect," though. You're a fast learner, and you'll pick it up as you go—just like you always do. This newfound position can also pave the way for a more public role. Put your best face forward, Sagittarius, and don't be shy about promoting whatever you're working on. With Mercury wrapping up a three-week retrograde, your message won't get lost in translation. See the full week >


Capricorn (December 22 – January 19)
Today's Virgo full moon activates your adventurous ninth house, dialing up your independent streak. Liberate yourself from restrictive situations and welcome fresh experiences that broaden your horizons. An opportunity to expand your business more globally or take (or teach!) a workshop could manifest over the next two weeks. Have you been hemming and hawing about advanced certification? This lunar light illuminates the right path forward. With Mercury officially ending its three-week retrograde today, the coast is clear to start researching programs or writing your program. See the full week >


Aquarius (January 20 – February 18)
Got the urge to merge? Over the next two weeks, there will be an "officializing" energy in the air thanks to the Virgo full moon in your eighth house of permabonding. And with Mercury shifting back into drive after a three-week retrograde (which has been going on in YOUR sign since March 4), you'll soon find the right time—and the best words—to express your desires. Whether you're carpooling, co-signing a lease or putting a ring on it, combine superpowers for mutual gain. This lunar light also sets the stage for sensuality and seduction. A friendship could develop into a love connection or a promising collaboration. See the full week >

Pisces (February 19 – March 20)
Tap into the power of two! With the Virgo full moon illuminating your seventh house of commitments, you might be ready to make things official. Be it for business or romance, the next two weeks will bring opportunities to sign on the dotted line. Good thing Mercury is waking up from its three-week retrograde today, putting you in the clear for contract negotiations! From inking a business deal to booking a civil ceremony at City Hall, some Pisces will take a big leap over the next two weeks. This full moon could also sound the call to make a swift exit from wishy-washy people and unsatisfying arrangements. Been carrying more than your fair share of the load? Start searching for collaborators who can pull their weight and really go the distance. See the full week >
What do the stars have in store for you this March? Read your monthly horoscope now
Get horoscope updates straight to your inbox! Sign up for The AstroTwins newsletter
The post Daily Horoscopes: March 9, 2020 appeared first on Astrostyle: Astrology and Daily, Weekly, Monthly Horoscopes by The AstroTwins.
Read more: astrostyle.com