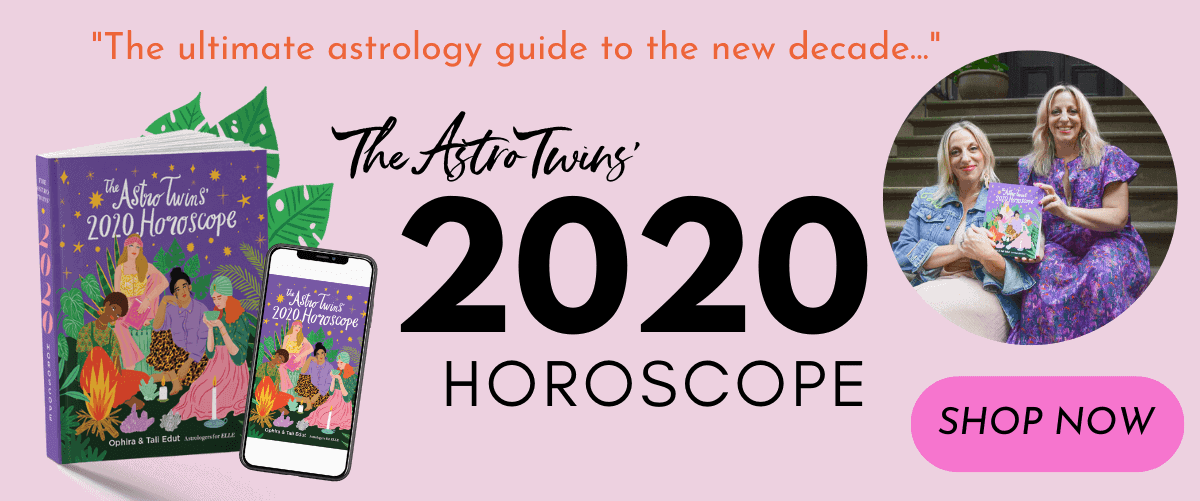 Sat: Don't reveal all your secrets and superpowers yet! The Leo moon forms an awkward angle to crafty Pluto.
Sun: Creativity runs high but our grip on reality is slippery at the annual Sun-Neptune meetup in Pisces. Opt for a sweet escape!
Born on a cusp? Please note that dates for the zodiac signs can vary from year to year. To confirm your actual Sun sign, do a free chart here.
Illustrations by Grande Dame


Aries (March 21 – April 19)
A richly creative Saturday is in store as the Leo moon activates your fifth house of passion and self-expression. What talent can you share with the world, Aries? When you're feeling this vibrant, you're magnetic, so don't be surprised if you attract an admirer or three. But as eager as you are to follow your bliss, respect your boundaries. A shadowy beam from Pluto could harsh your buzz a bit. In the long run, though, this reality check might save you from rushing into something you haven't fully considered. As if the world didn't seem bizarre enough already, on Sunday, the Sun spins into alignment with dreamy Neptune, loosening your grip on reality even more. You may not be able to balance your checkbook, but your imagination will be working overtime. Pursue creative, reflective pursuits, like writing poetry or taking a voice lesson. Feeling a little off-center physically? Book a bodywork—or hypnosis—session and allow yourself to flow at a languid pace throughout the day. It's the perfect time to release unnecessary obligations and take the whole day off! See the full week >


Taurus (April 20- May 20)
With the moon in Leo and your sensitive fourth house, you might want to tuck yourself away all Saturday with a mug of tea and a cozy cashmere throw. The world seems too harsh, and you just don't have the steam to deal with criticism or rejection. Before you go off the grid, check: Could hiding yourself away cost you an opportunity? With sultry Pluto in your ninth house of risk-taking, you may need to push past these nervous feelings. Don't let insecurities or fears get the better of you. Take a break to nurture yourself, then get out to enjoy some cultural activities and a little bonus flirting. Be discerning about who you trust on Sunday as the blinding Sun links up with muddling Neptune in your collaborative eleventh house. Their combined effect can be a lot like a smoke machine, masking a group's agenda or a so-called friend's less-than-honorable intentions. Someone might not be carrying their weight on Team Taurus—or undermining an important mission. Even if you (and your famous patience) can handle their stupid human tricks, the rest of your squad shouldn't have to. You're still free to hang out together one-on-one, but don't subject others to their antics. See the full week >


Gemini (May 21 – June 20)
There's a time to share your opinions…and a time to keep quiet and listen. Under Saturday's stars, a wise Gemini must discern the difference. Today's Leo moon in your communication house ramps up your chatty side. Yet a challenging beam from tight-lipped Pluto in your private eighth house warns you not to turn every conversation into a tell-all tea party. It's fine to be transparent and authentic, but wait for people to earn your trust before you spill any state secrets. Put a little soul in your Sunday goals, Gemini. The ego-boosting Sun and soulful Neptune connect in your career sector—an annual pairing that may bring a longing for more meaningful work. You're probably not ready to quit your day job and join the Peace Corps, but there ARE things you can do now. How about some pro bono work with an organization you admire? This can satisfy your desire to give back—and, when they do have an opening for a paying gig in the future, they might just call you first. See the full week >


Cancer (June 21 – July 22)
You're feeling productive as Saturday's Leo moon energizes your work and money house. But your results will be limited if you don't ask other people for help. An uncooperative beam from rigid Pluto in your interpersonal zone could make you hesitant to speak up or hold people accountable. What are you worried about, Cancer? You deserve the support—and there's no reason to shoulder the hard work alone. Sunday's union of the Sun and deep-diving Neptune can pique your interest in life's enigmas. Give your analytical left brain the day off and let your heart and intuition be your guides. Stroll through your favorite part of town, ducking into shops, galleries and maker's markets. With your mind so thirsty for knowledge, pop into a bookstore and wade through the metaphysical or travel section. If there's a talk or an author appearance or if someone is doing card readings, give it a go. You never know what source will lead you to your next important discovery. See the full week >


Leo (July 23 – August 22)
Saturday's moon in Leo turns up the dial on your already magnanimous personality. And while a strong dose of your big-cat magic can be exciting, you might serve up too much of a good thing. In your haste, you risk overlooking key details that will result in retracing your steps and doubling your workload. As la luna fumbles with an awkward beam from manipulative Pluto, being too helpful could make people feel suspicious of your motives. Pace yourself and don't push (or take it personally) if anyone turns down your offers of support. On Sunday, you'll be the one to leave people guessing during the year's only meeting of the Sun and esoteric Neptune. Shift into observer mode. The insight you'll glean on your own will be way more on-target than what anyone else can tell you. Need to prime the epiphany pump? Open your journal and free-write or sketch in your pad without censoring or limiting yourself in any way. This enchanted alignment takes place in your eighth house of seduction. Make eyes at that intriguing soul or smile mysteriously and say hi. It doesn't have to go further than a casual conversation—unless, of course, you want it to. See the full week >


Virgo (August 23 – September 22)
With the moon in your sleepy twelfth house, you're definitely dragging this Saturday. But don't be so quick to cancel evening plans, especially if they involve a loyal person who always shows up for YOU. As prickly Pluto sends a reproachful beam to la luna, think twice before you make an excuse or cancel at the last minute. That said, is there a valid reason for turning someone's invitations down? Distance yourself from dramatic divas who drain your energy and don't take "no" for an answer. Relationships should be founded on choice, not guilt and obligation. A nagging ache or phantom migraine could be your body's way of telling you a situation is awry. On Sunday, the Sun makes its annual connection with dreamy Neptune in your seventh house of relationships, helping you heal any romantic rifts you've been struggling with. The key? Being fully compassionate to your partner's side of the story—even if you're feeling a little defensive about your own. Single? Widen your search parameters and stay open to someone who doesn't fit your usual type. A little experimentation could lead you straight into the welcoming arms of a potential soulmate. See the full week >


Libra (September 23 – October 22)
Saturday's Leo moon activates your butterfly wings as it beams into your outgoing eleventh house, but duties on the home front could interrupt your flow. You can't please everyone, Libra, so do your best to meet your networking needs before you rush back to the nest. Some Libras may feel a wave of self-protectiveness in a group, especially as possessive Pluto throws shade at la luna. Perhaps you feel out of place or sense this isn't your true squad. Don't let these insecure thoughts get the better of you. Smile, make eye contact and introduce yourself. For all you know, the other people could also be socially anxious. Check in with yourself on Sunday: How are you actually feeling, both inside and out? The year's only mashup of the Sun and Neptune in your sixth house of wellness bumps all kinds of self-care up to highest priority. Get your body moving in any way you enjoy, whether dancing in your living room or strengthening your core at the Pilates studio. Eat warming whole foods (ideally that you prepare yourself) and drink plenty of water and herbal tea. With the radiant Sun in the mix, it can't hurt to turn up the heat. Treat yourself to a trip to a health club (or day spa), where you can soak in a hot tub and sweat in the sauna or steam room. See the full week >


Scorpio (October 23 – November 21)
Scorpio on a mission! You want to stay in your hard-working zone this Saturday, and the moon in your industrious tenth house amps up your ambition. Still, adopting an all-work-no- play stance (especially on a weekend) could leave you sidelined from an important conversation. Break away from your duties to jump on a FaceTime call or have coffee with a friend. With an awkward angle between the moon and your ruler, private Pluto, interruptions will seem irritating. But with the right people, taking that time to connect could pay off. Sunday marks the year's only meetup of the bold Sun and dreamy Neptune in your passionate fifth house. Cast aside your skepticism and give people the benefit of the doubt. Being able to drop your guard is how you'll find (or rekindle) a serious love connection. And how about beaming that amorous energy toward your own reflection? The Sun sharpens Neptune's blurry boundaries. Cut ties with people and activities that lower your self-esteem. Accentuate the positive! See the full week >


Sagittarius (November 22 – December 21)
When you get swept up by a big new idea, it can fully command your attention. And with the Leo moon lighting up your starry-eyed ninth house this Saturday, your inner seeker is having a field day. What visionary, world-changing project are you cooking up now, Archer? But don't neglect those other duties. A harsh jostle from Pluto in your work sector reminds you that time management, budgeting and planning are what lay the foundation for success. Maybe you're not there yet, and that's okay. If you're thinking of starting an indie venture, pace yourself. Don't abandon your daydream—but don't quit your day job prematurely, either. Rallying yourself to get out of the house won't be easy on Sunday as the Sun hooks up with dreamy Neptune in your domestic corner. Instead of pushing yourself to achieve, allow your imagination to roam where it will. You might be surprised by what comes through when you switch off your analytical brain and open your intuitive channels. Your motivation—and energy levels—may flag, but that's okay,. Cancel plans, cook up a big pot of soup and take a long, hot bath. Once you're in the robe and slippers, meander down memory lane by pulling out a photo album or reading old letters. Nostalgia could trigger a creative breakthrough! See the full week >


Capricorn (December 22 – January 19)
Keeping your cards close to your vest is a smart strategy—to a degree. But if you're so opaque that people can't figure out who you are or what you stand for, you risk alienating them. Saturday's Leo moon in your secretive eighth house butts up against unapologetic Pluto in your sign. Maybe it's time to "own it," Capricorn, instead of doubting yourself or worrying about being judged. If you've been silently stewing instead of speaking up, stop expecting others to read your mind. Let 'em know what you REALLY think…but please, be kind. Sunday's muddling alignment of the Sun and nebulous Neptune could fog up the facts. Suddenly it's hard to tell who's speaking the truth, who's peddling snake oil and who's just yanking your chain. Don't make any major commitments today—and save that scathing social media post to drafts until you've done more due diligence. Then put on your researcher's cap and try to find out what's really going on. Make sure you check the source of your information and back it up with at least two other credible claims. The last thing you need to do is be the unwitting propagator of fake news. See the full week >


Aquarius (January 20 – February 18)
Are people energizing you or draining your reserves? On Saturday, it could be a bit of both. With the moon in Leo and your interpersonal zone, the spotlight is on one or two of your closest alliances. Are they getting enough of your quality time? A nudge from nefarious Pluto alerts you of a few "energy vampires" in your midst. These needy types are zapping your attention, and it's time to set a few firm boundaries. Otherwise, you'll never be able to nurture the high-quality relationships that fill your tank and feed your soul. Try putting THOSE people first instead of the ones whose lives are a perpetual hot mess. Don't make any hasty purchasing decisions on Sunday, Aquarius. The annual alignment of the Sun and foggy Neptune in your money house can skew your judgment. Savvy marketers rely on reaching you emotionally, but today you could bleed red ink on an impulse buy that's much more of a luxury than an actual need. Give yourself 48 hours to cool down. If you still "can't live without it," find a responsible way to finance the splurge. Can you give up your cable TV or turn a spare room into an Airbnb? Or maybe start an eBay or Etsy store? The Sun-Neptune duo can electrify your imagination. The more you scratch your head about this, the more genius ideas you're likely to hit on. See the full week >

Pisces (February 19 – March 20)
With the moon in Leo and your get-'er-done sixth house this Saturday, you've got a mile-long to-do list that you're itching to tackle. While you should definitely knock off some essential items, don't fall too far down the taskmaster rabbit hole. A jostle from transformational Pluto in your eleventh house of teamwork reminds you to delegate a few of those duties. If you find yourself slipping into martyr mode, stop and send up smoke signals. Certain jobs might be better handled by a pro. Outsource, Pisces. Even if you THINK you could watch a YouTube video and figure it out, the hours you'll waste going the DIY route won't be worth the few dollars you'd save. Sunday marks the annual connection of the Sun and your ruler, dreamy Neptune, in your sign. You are enchantment personified: utterly irresistible and absolutely magnetic. Don't waste this precious gift making small talk with basic bores. Scout out the local rock stars and find your rightful place among them. You might even turn the day into a personal retreat, with morning yoga or a meditation class followed by a hot-stone massage, then lunch or dinner with your BFF or S.O. With an open-ended agenda, you could serendipitously download some amazing epiphanies! See the full week >
What do the stars have in store for you this March? Read your monthly horoscope now
Get horoscope updates straight to your inbox! Sign up for The AstroTwins newsletter
The post Daily Horoscopes: March 7-8, 2020 appeared first on Astrostyle: Astrology and Daily, Weekly, Monthly Horoscopes by The AstroTwins.
Read more: astrostyle.com