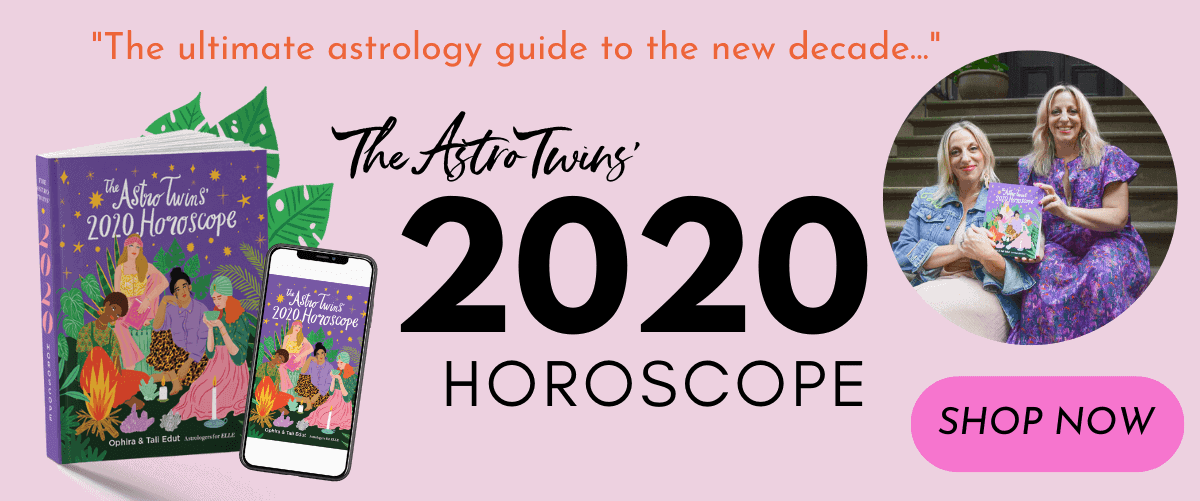 Spring has sprung! The Aries new moon gives us all a fresh start.
Born on a cusp? Please note that dates for the zodiac signs can vary from year to year. To confirm your actual Sun sign, do a free chart here.
Illustrations by Grande Dame


Aries (March 21 – April 19)
Celebrate, good times, come on! Today brings the year's only new moon in your sign, which is kind of like a bonus birthday and New Year rolled into one. New moons are about fresh starts and new beginnings, so before you just shift into "going through the motions" mode, press pause for a little blue-sky dreaming! What are your top three goals to hit before summer? Are you on-course and pace to reach them? If there are any adjustments to make, do so in the next two weeks, aka peak manifesting time! See the full week >


Taurus (April 20- May 20)
Take it down a notch, Bull. Today, the year's only Aries new moon sends a frisson through your twelfth house of introspection, healing and rejuvenation. This offers you a rare and powerful chance to recharge your drained battery. If you've been going full-strength and haven't had time to recover, consider this THE moment to rebound. Even if you can't go off the grid for an extended period, you can surely find a half hour here and there to kick back and do… anything you wish—or, better yet, nothing! See the full week >


Gemini (May 21 – June 20)
It's a far cry from the weekend, Gem, but you're already feeling the urge to rally friends for some interactivity. That could be because you're tapping into the uber-social vibes of 2020's only new moon in Aries, which hotwires your eleventh house of friendships and teamwork. If you feel comfortable organizing a small gathering, commune with friends for a glass of wine and some crafting. And since this chart sector rules technology, the digital realm might be where you might find your kindred spirits—platonic or otherwise! See the full week >


Cancer (June 21 – July 22)
Eyes on the prize, Cancer—and don't waver. Today's new moon in Aries, the only one of the year, powers up your tenth house of career ambition and success. Since the moon is your galactic guardian and Aries is the trailblazer of the zodiac, you could make a strategic move today or over the next two weeks that positions you to crush a major professional goal. Actually, this lunar-fueled lift will last six months, but there's value in getting a jump-start on things NOW! See the full week >


Leo (July 23 – August 22)
The year's only new moon in Aries arrives today, turning the key in the ignition of some of your most adventurous fantasies. You're ready to expand your horizons, literally and figuratively, and now's the time to start exploring that in earnest. Explore classes and workshops online, whether you're going for a degree or just studying to deepen your knowledge around one of your extracurricular passions. Got something to teach? This could be the cue to start developing a virtual master class. Check out platforms like Teachable or Udemy. See the full week >


Virgo (August 23 – September 22)
Has your mojo has been in slow-mo, Virgo? That's about to change—on a dime—today as the year's only Aries new moon electrifies your eighth house of seduction and intimacy. Regardless of your current relationship status, you can shift into the fast lane under the deft direction of this lusty lunation. Don't wait for someone else to make overtures. If you're keen to advance to the next stage of the game, grab the reins. A sexy WhatsApp session could be hotter than you think. See the full week >


Libra (September 23 – October 22)
Bring on the dynamic duets! You'll be singing a fierce tune thanks to today's annual new moon in Aries and your seventh house of committed partnership. Your sign is the natural ruler of that house, and this lunation of "fresh starts" bodes well for all Libras, whether you're in a LTR or not. Single? The next six months should usher in some intriguing connections—stay open to some different types. Attached? Where would you like to see change or growth? Initiate an upbeat chat—on "neutral turf"—starting with all the things you adore about bae. See the full week >


Scorpio (October 23 – November 21)
Today's new moon in Aries—the only one of the year—lands in your sixth house of wellness, self-care and organization and could signal a major turning point in one (or all) of those areas. But change doesn't happen by itself, Scorpio, and if you're serious about turning some things around, you have to do more than take one token first step. To sustain these improvements, you need to light a fire in your belly and keep it (and you!) stoked. Luckily, this lunation's influence lasts six months, which should be plenty of time to get you up to speed. See the full week >


Sagittarius (November 22 – December 21)
Relationship reboot! The year's only Aries new moon hotwires your fifth house of passion, giving you an acute case of spring fever. Free-flying Archers might meet someone who inspires you to stop flapping your "free as a bird" wings and come in for a landing. (Swoon!) Even if you're not instantly swept off your feet, give an intriguing person a chance to show their true (and irresistible) colors. Couples will enjoy adding more unstructured play time into life. Take turns making stimulating suggestions. See the full week >


Capricorn (December 22 – January 19)
If "spring cleaning" is the main thing on your mind, Cap, you may have to take action on that, stat! The year's only Aries new moon fires up your fourth house of domesticity, and you know if your house isn't in order (literally or metaphorically), you can't put 110 percent into your work. Take some time today—and as much as needed over the next two weeks—to get Chateau Chevre straightened out. Who knows? You might find that all-important paper you've been searching high and low for! See the full week >


Aquarius (January 20 – February 18)
Today's new moon in Aries lights up your communication sector, so get ready to capture all the wise and witty downloads that flood in. Maybe it's time to get that blog started or try your hand at memoir writing. Want to get more comfortable on camera? Join a virtual toastmasters group. The influence of this lunation lasts for six months, and whether you can see it today or not, your very own podcast or YouTube channel could be firing on all cylinders by fall. See the full week >

Pisces (February 19 – March 20)
Budgets, saving plans, investment strategies: Suddenly those concepts don't send you running for the nearest designer boutique! Today marks the year's only new moon in Aries and your second house of money and security, and this time around, you're ready to do the grown-up thing and take all that seriously. Perhaps you've got an exciting MAJOR goal that's sparking your interest—or just a desire to watch your nest egg grow. If you're not sure where to start, poll your friends for names of a smart and affordable adviser. See the full week >
What do the stars have in store for you this March? Read your monthly horoscope now
Get horoscope updates straight to your inbox! Sign up for The AstroTwins newsletter
The post Daily Horoscopes: March 24, 2020 appeared first on Astrostyle: Astrology and Daily, Weekly, Monthly Horoscopes by The AstroTwins.
Read more: astrostyle.com