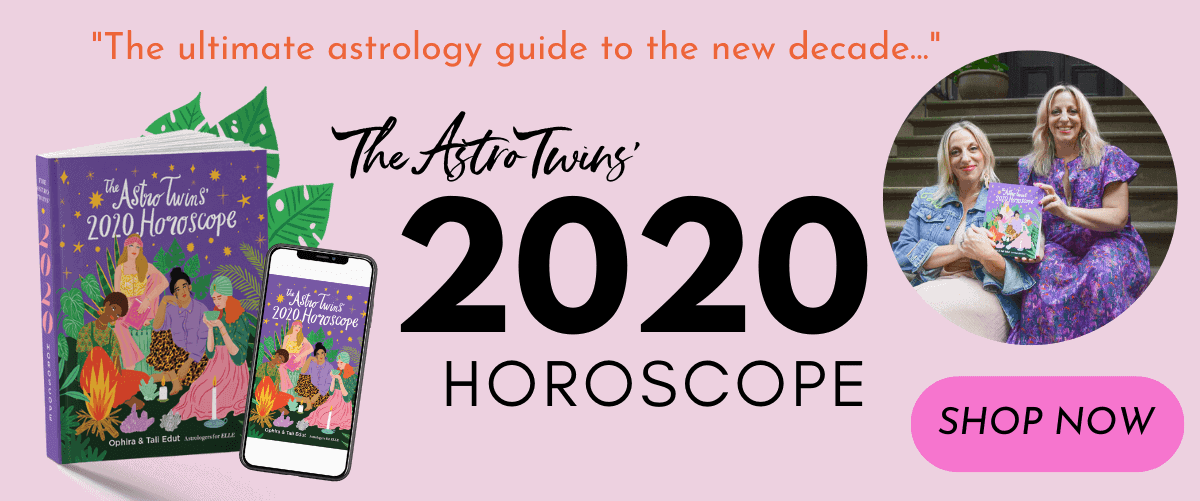 Hold on tight! A volatile Mars-Pluto conjunction in Capricorn could shake up our stability.
Born on a cusp? Please note that dates for the zodiac signs can vary from year to year. To confirm your actual Sun sign, do a free chart here.
Illustrations by Grande Dame


Aries (March 21 – April 19)
You don't always need to "win," but a power-tripping authority figure might take things one step too far for you to continue to ignore it. Today, two of the more aggressive planets, fiery Mars and manipulative Pluto, mash up in your tenth house of career, reputation and men. Whoever is playing these head games needs to be neutralized, so find a way to do that without stooping to their level. You might want to rally the support of like-minded folks, then approach this trickster as a unified front. See the full week >


Taurus (April 20- May 20)
Passive-aggressive is still aggressive, Taurus, and you do NOT want to go there today! Under a rare (once every two years) meetup of competitive Mars and obsessive Pluto, you won't be in the mood to put up with anyone's bad behavior today. But ignoring or quietly resisting them will only add fuel to the fire. Since they're not likely to take the high road, that job may fall to you. Focus on what's most important here, and in pursuit of accomplishing that, find the most diplomatic (yet unyielding) way of letting them know where you stand. See the full week >


Gemini (May 21 – June 20)
Thou giveth fever! You're on FIRE today, Gemini, under a potent, super-rare conjunction of passionate Mars and irresistible Pluto—in Capricorn and your intense and erotic eighth house! These two game-changers only connect once every two years, and when they do, it can be equal parts transformational and combustible. Use your powers consciously—and conscientiously. It won't be hard to attract admirers, but loving-then-ghosting is bad karma you could do without. Follow your emotional GPS, and you could be guided to someone VERY special. A potent business alliance could also heat up. See the full week >


Cancer (June 21 – July 22)
Live and let live? Good luck with that today, Crab. A super-rare mashup of passionate Mars and obsessive, possessive Pluto in your partnership zone could send your emotions on a roller-coaster ride. Don't let your inner screenwriter start wildly penning imaginative scenarios. Check in with your gut—of course—but be a watchdog about the subtle difference between feeling and fearing. Need more attention? Be direct about it instead of hinting or getting all passive-aggressive. See the full week >


Leo (July 23 – August 22)
Someone is holding their cards rather close to their chest—and might even have an ace up their sleeve. No sweat, Leo: You've got this! But under today's edgy starmap, keep your guard up. Manipulative Pluto is mashing up with competitive Mars—something that happens only once every other year—and this year it's in diligent Capricorn and your house of work and service. You don't want to let anyone steal your thunder. So take them aside and, in straight language, let them know that you WILL be taking credit for your work! See the full week >


Virgo (August 23 – September 22)
A planetary PSA for humble, hard-working Virgos everywhere: Rise and shine! A potentially game-changing mashup of daredevil Mars and irresistible Pluto in your fifth house of amour, glamour and fame is calling you out from the sidelines. You don't always let your flamboyant, theatrical side out to play, but on the rare occasions that you do, it feels pretty awesome. Today, fan your peacock feathers and enjoy the warm glow of the spotlight. You've earned this! See the full week >


Libra (September 23 – October 22)
Is "home" your sanctuary, Libra, or just another four-letter word? Peace and quiet might be hard to come by today as two intense planets make a rare and combustible mashup in your domestic sector. Provocative Mars bangs into manipulative Pluto, something they only do once every other year. Relationships and situations may suddenly feel fraught with tension. Making it harder is the fact that you're keyed into people's moods and feelings. The more you can close yourself off, the less stressed you'll feel. Don't ghost anyone, but do feel entitled to duck out whenever necessary. See the full week >


Scorpio (October 23 – November 21)
Not everyone's playing with a full deck today, Scorpio, so if you don't get the answers you're looking for, cut 'em some slack. Competitive Mars is mashing up with manipulative Pluto in your communication sector for the first time in two years, and you may find people's evasions maddening. Pushing for a straight answer probably isn't the best tactic. Instead, focus on getting what you need and then being strategic in your quest for the info—or working on something else until tomorrow, when this transit will have passed! See the full week >


Sagittarius (November 22 – December 21)
What you focus on expands, Sagittarius. Today, action planet Mars is mashing up with transformative Pluto in your second house of career and finances, boosting your money-magnetizing mojo. By getting clear and visualizing what you want to manifest, you can tap into the Law of Attraction to raise your own bottom line. Stop undercutting yourself by not pricing your services high enough! It's a good day to take a peek at your credit card statements to make sure everything is on track and flowing. See the full week >


Capricorn (December 22 – January 19)
Get ready for a red-letter day! Today, impassioned Mars forms a potent conjunction with game-changing Pluto in Capricorn—something that hasn't happened in two years and will only occur in YOUR sign a couple more times in your life. You've been working steadily to reach a higher level, and this could be the moment others see you in your full, radiant splendor. Speak from your heart, stand out from the pack and let yourself shine. While you might prefer to hide out on the sidelines, it's time to take your place among the influencers. See the full week >


Aquarius (January 20 – February 18)
Don't cruise along on autopilot today, Water Bearer. Strong emotions and unconscious motivations could derail you if you don't stay on your guard. A powerful meetup of erratic Mars and shadowy Pluto in your elusive twelfth house can trigger behaviors you aren't fully conscious of. Things might get said in anger that you regret the minute you utter them. Avoid people who push your buttons, and if you feel inner tension, don't numb out with mind-altering substances. Talk to a friend or therapist to get to what's at the core of this. See the full week >

Pisces (February 19 – March 20)
Shield your field! Today, you may be overly affected by the comments and behavior of colleagues and people in your social sphere. Aggressive Mars syncs up with shadowy Pluto in your teamwork sector—something that only happens once every two years—and you could be feeling a little thin-skinned. Remind yourself that most of what people say is a reflection or projection of THEIR feelings—generally about themselves. Bolster your confidence by surrounding yourself with folks who love you and have your back and stop yourself from fixating on the "he-said-she-said." See the full week >
What do the stars have in store for you this March? Read your monthly horoscope now
Get horoscope updates straight to your inbox! Sign up for The AstroTwins newsletter
The post Daily Horoscopes: March 23, 2020 appeared first on Astrostyle: Astrology and Daily, Weekly, Monthly Horoscopes by The AstroTwins.
Read more: astrostyle.com