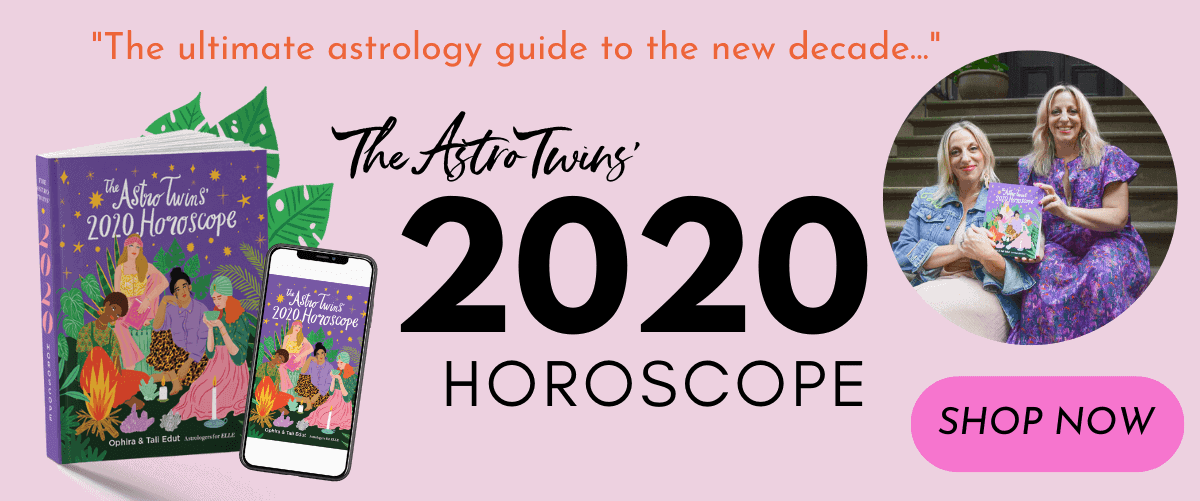 Sat: It's a momentous day as structured Saturn enters Aquarius for the first time since 1994, staying until July 1, then returning for a long trip in December.
Sun: Dream a little dream? The emotional moon and nebulous Neptune hold court in Pisces today.
Born on a cusp? Please note that dates for the zodiac signs can vary from year to year. To confirm your actual Sun sign, do a free chart here.
Illustrations by Grande Dame


Aries (March 21 – April 19)
Your inner circle, as well as some of the outer rings, will become a new priority—perhaps an obsession—starting this Saturday as master teacher Saturn leaves your career corner after three rousing years and jolts into Aquarius and your eleventh house of community until July 1, 2020. During this three-month preview of the next three-year Saturn cycle (which resumes again from December 17, 2020, to March 7, 2023), you'll team up with loyal allies who can help you live out some of your wildest dreams. It's as scary as it is exciting, but this Saturn cycle can help you find your true tribe. Drop the grudge this Sunday! A healing connection of the moon and Neptune helps you release resentment. Could it be that the "offending" party simply couldn't meet your standards? If forgiveness still feels elusive, challenge yourself to stop venting about it. Change the conversation and free up your focus for more positive things. See the full week >


Taurus (April 20- May 20)
Ready, set, goals! Starting Saturday, structure-loving Saturn moves into Aquarius and your tenth house of professional success until July 1, 2020—a preview of a longer cycle that picks up again from December 17, 2020, to March 7, 2023. After three years of personal growth while Saturn was in Capricorn and your expansive ninth house, you're now ready to apply your hard-won wisdom to a profitable new role. Set your sights high and prepare to climb. While you're at it, drop your power suit at the dry cleaner (or buy a new one!) because your career gear will be in heavy rotation for the next few months. On Sunday, steer clear of people who leave you feeling guilty or drained. You don't owe them an invitation, especially if they're going to exhaust you with demands or the same old complaints. Connect to a high-vibe crew instead. Maybe it's time to form a weekly mastermind Zoom group or join a virtual book club.. See the full week >


Gemini (May 21 – June 20)
Are you ready for some serious growth and personal development, Gemini? On Saturday, life coach Saturn marches into Aquarius for a three-month preview period, activating your ninth house of expansion. Between now and July 1 (and again when Saturn re-enters Aquarius from December 17, 2020, to March 7, 2023), you'll become more visible and prominent in the public eye. You could publish something that hits a huge national nerve, launch a successful business (or grow the one you have), return to school or become a fixture on the lecture circuit yourself. And since the ninth house rules education, you may be getting some long-desired advanced training or perhaps a shiny new certification! On Sunday, if you sense that someone is dissatisfied with you, don't just let it linger. Address it head-on instead and ask for constructive feedback. Be forewarned, Gemini: You might end up receiving some tough feedback, but there's still plenty of room for improvement. It's far better to know where you're going wrong so you can power forward in the right direction. See the full week >


Cancer (June 21 – July 22)
For the past three years, you learned some important lessons about bonding and relationships, thanks to Saturn's tour of Capricorn. On Saturday, the taskmaster marches into Aquarius and your intense eighth house until July 1, 2020—a prelude to its longer visit here from December 17, 2020, to March 7, 2023. Money, power, passion and merging: You'll face these monumental themes now, for business and very much for pleasure. Pay attention and you'll come out of this cycle a whole lot richer, both in terms of money and interpersonal connections. The hardest part for you, Cancer, may be pacing yourself when you feel the love. Slow and steady (and yes, sexy) will win this race. On Sunday, don't stick your head in the sand like an ostrich. A therapeutic moon-Neptune conjunction sets the stage for a healing heart-to-heart. But don't underestimate the importance of choosing the right time and place. Find a private atmosphere—or one that's so noisy, no one can overhear your conversation! See the full week >


Leo (July 23 – August 22)
Loneliness, begone! This Saturday, wise, mature Saturn parks in Aquarius and your seventh house of committed relationships until July 1, 2020. Whether you're single or spoken for, you'll be focused on dynamic duos for the coming three years. (Saturn will return to Aquarius again from December 17, 2020, to March 7, 2023.) If you are unattached, a special AND serious someone could enter your world soon—and you'll happily trade some fierce independence for the joys (and challenges) of companionship. Already snagged a good one? Your relationship could evolve to a more serious phase, perhaps expanding into working together or starting a family. On Sunday, you won't be satisfied with shredded abs or a pretty face. With the moon nuzzling Neptune, lust won't last without emotional synergy to back it up. Coupled? Resentment is a real romance killer, so speak up about your needs. If you're sick of picking up after bae or would like more "just the two of us" time, stop dropping hints and ask directly. See the full week >


Virgo (August 23 – September 22)
On Saturday, as "personal trainer" planet Saturn lunges into Aquarius and your wellness zone until July 1, 2020, start treating your body like the temple (and extraordinary machine) that it is. Virgos who are willing to put in the hard work could get into the best shape of your life over the coming three years. (Saturn will return to Aquarius again from December 17, 2020, to March 7, 2023.) But the ringed taskmaster doesn't give anyone a free ride. Hustle builds muscle! This transit might also bring a career shift. Going back to school—or taking online courses—could figure in, especially if that's what will bring the pro-level credentials you need to break into the industry. A rocky relationship can find its way to smoother waters on Sunday, thanks to a meetup of the emotional moon and Neptune. This cosmic confab helps you get to the root of the problem. Instead of playing the blame game, take an honest look at your own expectations and demands. Work out a plan where each of you contributes to the areas that you're respectively strong in. Dividing up duties 50/50 may look good on paper, but it doesn't always translate well to the real world. See the full week >


Libra (September 23 – October 22)
Starting Saturday, masterful Saturn moves into Saturn, sending a wakeup call to your fifth house of fame, romance and glamour until July 1. Want to make a bigger name for yourself? Consistency is key, from initiating DMs with prime contacts to handing in work on time to posting to social media on a regular schedule. Develop your craft, enhance your skills and rehearse your lines before you make your big reveal—Saturn in this position calls for a polished presentation. This transit is also powerful for love, redirecting you to people with lasting potential or leading you toward a serious milestone with your S.O. The ringed planet returns here again from December 17, 2020, to March 7, 2023, so whatever heats up over the next couple months could blaze on again at the end of the year. Treat your body like the temple it is this Sunday. As the moon and watery Neptune sync up, keep that hydro-flask filled with fresh H2O and "sweat your prayers" with a high-intensity workout. Clutter could be weighing down your spirit. Tackle a closet or junk drawer that's spilling over with stuff. See the full week >


Scorpio (October 23 – November 21)
Are your social butterfly wings feeling a little weary, Scorpio? This Saturday, grounded Saturn moves into Aquarius and your domestic fourth house until July 1, 2020—a preview of a longer cycle that resumes from December 17, 2020, to March 7, 2023. Is it time to put down roots or break an ancestral pattern? And maybe create a more adult relationship with a parent you've been blaming for your troubles? Get ready,because Saturn's about to teach a master class in all things "home and family." Real estate could become a stabilizing investment and possibly a new source of income for you over the coming three years. Sunday's moon-Neptune conjunction could put stars in your eyes, but careful not to romanticize. Under this illusory mashup, you could project qualities onto people that just aren't there. On the flip side, don't let self-doubt take down your confidence. Keep your head up, Scorpio! See the full week >


Sagittarius (November 22 – December 21)
Your social life, especially your community interactions, will feel more meaningful starting Saturday as serious Saturn moves into Aquarius until July 1, 2020. Who are the people in your neighborhood? And moreover, how can your creative and organizational skills make a difference? Saturn returns to this zone again from December 17, 2020, to March 7, 2023, which means over the next three years, you will be happiest in a city where you feel seen, accepted and inspired to develop your personal interests. Relationships with community, friends and siblings may undergo a sea change. Your communication style has a strong effect on these connections, so reflect not only on what you say but on how you say it—AND everything you're not saying. Writing and media projects get a stabilizing boost from Saturn. Get structured and organized! Sunday's moon-Neptune mashup calls for a dietary detox. Maybe you've been snacking and drinking indiscriminately—or stuffing down your feelings with food. Instead cutting out ALL the "good stuff" out of your diet, perhaps you need to bid adieu to something that consistently puts your stomach in knots. See the full week >


Capricorn (December 22 – January 19)
Ready to manifest some ambitious financial goals? These next three years could be your most profitable yet—provided you pursue your objectives in a grounded, reasonable way. Today, your ruler, masterful Saturn, leaves your sign, where he's been imparting some tough lessons since December 2017. As the ringed taskmaster marches into Aquarius and your income sector until July 1, 2020—and again from December 17, 2020 to March 7, 2023—you're ready to set those wealth-generating plans into motion. Take all that hard-won wisdom from the past few years to the bank! Saturn insists that you pay your dues, so be proactive AND patient with the process. Sunday's social interactions lure you way below the surface as the moon nuzzles deep-diving Neptune in your communication zone. If you catch yourself making superficial small talk, challenge yourself to be more vulnerable. You'll never move the needle on relationships until you take a risk! See the full week >


Aquarius (January 20 – February 18)
Ready for a serious new chapter of life? Today, your secondary ruler and "personal trainer" to the entire zodiac, Saturn, moves into your sign until July 1, 2020. This is a HUGE deal since the ringed taskmaster hasn't visited your sign since January 1994! This preview period to a longer cycle (Saturn heads back to Aquarius from December 17, 2020, to March 7, 2023) might also feel a bit like boot camp. As you work to strengthen the very foundation of your life, you'll need to deal with issues on the most grounded, practical and future-oriented levels. Challenging? Yes, but far from futile. Saturn's goal is to make you stronger, wiser and more resilient than you've ever been. Embrace this planet's legendary tough love as you warm up for the big leagues. Sunday's moon-Neptune merger warns against being too casual around your cash. It actually IS a big deal if the same friend hits you up for 20 dollars, even though she already owes you a few hundred. If you wind up footing the bill for a group expense, make sure everyone is prepared to Venmo you back right away. It's not just about the money; it's about self-respect. See the full week >

Pisces (February 19 – March 20)
Get ready to kick off a new chapter of life today, Pisces, as structured Saturn leaves your teamwork zone and treks into Aquarius and your twelfth house of healing, spirituality and surrender until July 1, 2020. This may represent a whole new way of interacting with people—and yourself—which also feels beautifully familiar for your dreamy, soulful sign. For the next three months (and three years, since Saturn returns here from December 17, 2020, to March 7, 2023), you'll have the opportunity to explore your inner terrain and gain greater power over your impulses. Now's the time to work with master teachers and practitioners to heal any past hurt AND develop your own intuitive and artistic gifts. On Sunday, the sensitive moon merges with Neptune in your sign, making it hard to focus on what's truly right for you. You want to initiate change and your friends are cheering you on, but you can't quite get out of the starting gate. Don't rush yourself to make a decision. A day of meditating, relaxing and unstructured flow time can bring you back to center. Don't be surprised if the answer shows up in an unconventional way, like while you're pulling a tarot card or making a vision board. See the full week >
What do the stars have in store for you this March? Read your monthly horoscope now
Get horoscope updates straight to your inbox! Sign up for The AstroTwins newsletter
The post Daily Horoscopes: March 21-22, 2020 appeared first on Astrostyle: Astrology and Daily, Weekly, Monthly Horoscopes by The AstroTwins.
Read more: astrostyle.com