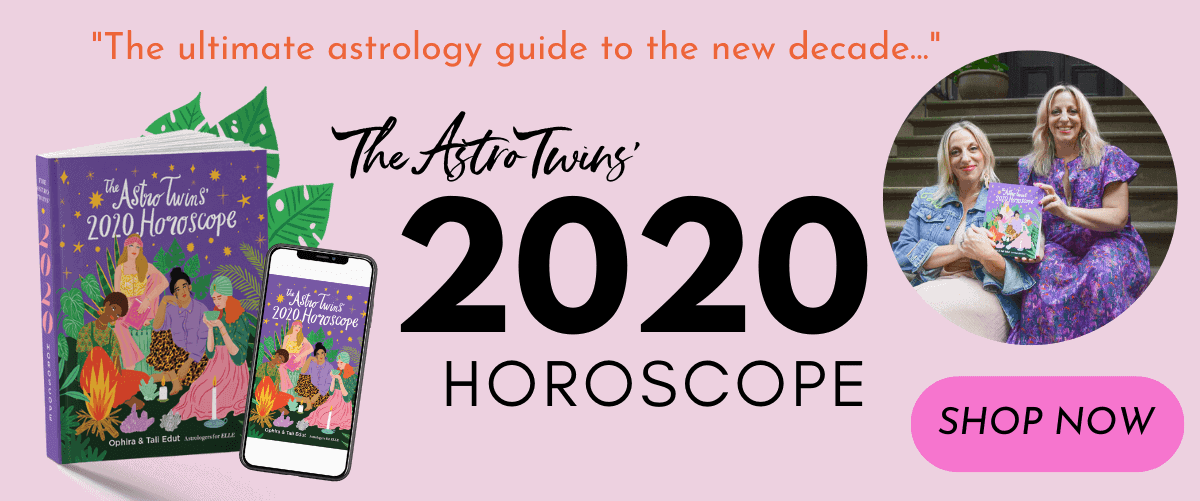 Intensity ignites! Expansive Jupiter and driven Mars unite in Capricorn, a powerful and combustible combo.
Born on a cusp? Please note that dates for the zodiac signs can vary from year to year. To confirm your actual Sun sign, do a free chart here.
Illustrations by Grande Dame


Aries (March 21 – April 19)
Under today's rare and dynamic mashup of your ruler, powerhouse Mars, and auspicious Jupiter in your tenth house of professional ambitions, you can't afford NOT to think about building your empire. Don't apologize if you have to stay late at your desk or dash off a few important emails in the middle of a Friday night get together. If this is what it takes to accelerate your goals, so be it! Find a way to manage the stress that's an inevitable byproduct of this fiery configuration. Newsflash: You can blast ahead without engaging in power struggles. Don't let your emotions get the best of you, Ram. That righteous email you're ready to send to your dictatorial boss or never-satisfied client? Write it, but save it as a draft. On Monday, when your blood pressure is back to normal, re-read it and then write a way more tempered version.See the full week >


Taurus (April 20- May 20)
Put your cautious Taurus persona on ice today and test-drive a whole new approach. A rare meetup of go-getter Mars and gambler Jupiter falls in your ninth house of expansion and risk. If you're going to make any headway, you will have to step out of your comfort zone. Even if this speculation doesn't pay off immediately, it can plant seeds that'll sprout in good time. (Your Taurean patience will come in very handy!) Nothing ventured, nothing gained, Bull, so hold your nose and dive in! With these two unbridled planets in your candid ninth house, you could dole out your truth serum in too large a dose, so as a counterbalance, go to the other extreme and soft-pedal your message. See the full week >


Gemini (May 21 – June 20)
Passion ignites as lusty Mars teams up with limitless Jupiter in your eighth house of intimacy and intense emotions. Single Geminis could meet a soulmate in one of those gob-smacking moments of instant karmic recognition. Couples could wade into deeper emotional waters now. If you've reached an impasse in your relationship, honesty mixed with an equal amount of vulnerability will get you past anyone's impenetrable gates. Since the eighth house also governs shared resources, you and a partner (business, romantic or familial) could decide to go forward with a joint venture or a collaborative project. If you're just launching such an initiative, take your time and do proper planning, testing and due diligence. The impatience of these reckless planets could cause you to rush in when caution is actually advised. See the full week >


Cancer (June 21 – July 22)
Could you use a breakthrough in the partnership department, Cancer? Good news comes today with the feisty confab of lusty Mars and bold Jupiter in your seventh house of relationships. No wonder you're uncommonly motivated to team up, whether for business or pleasure—or both! Truly, with the right game plan, you COULD take over the world (or at least your corner of it). But don't rush things. Mars and Jupiter can be headlong AND headstrong and might force your hand when you're better off biding your time. Also, take pains to consciously direct your energy. Starting or strengthening a daily meditation practice can help you now. If you're feeling backed into a corner, clearly communicate your desire for a more chill timeline. See the full week >


Leo (July 23 – August 22)
There's no point in doing things halfway today, Leo, so plan to either go big or go home. An empowering alignment of motivator Mars and expansive Jupiter in your sixth house of wellness can help you set some new goals and hit the ground running—perhaps literally. There could be a mini marathon in your future or strength training. Your body will enjoy any kind of new fitness challenge, and this Mars-Jupiter meetup gives you the resolve to try something outside of your normal range. Your sign tends to dive in paws first, so avoid a careless injury by pacing yourself and staying aware of your surroundings. See the full week >


Virgo (August 23 – September 22)
Do you feel the fire Virgo? As passionate Mars locks into an embrace with candid Jupiter in your fifth house of love, it'll be hard NOT to make romance your top priority. After a busy week, you could use a little chill-out time with your special someone. If a new connection is just beginning to blossom, don't keep your feelings to yourself, Virgo! This rare mashup of the two of the most impatient, risk-taking planets helps you get over your fears and express yourself. It may not be your usual M.O., but see what happens if you throw caution to the wind and reveal what's in your heart…or maybe share a secret fantasy. See the full week >


Libra (September 23 – October 22)
Today a potent mashup between passionate Mars and lucky Jupiter powers up your home and family sector. This could bring a huge breakthrough in your personal life, like a rapprochement with a feuding relative or roomie or good news about your living space. If you've been thinking about making some home improvements—or a move—things could happen quickly now. The assertive energy of this Mars-Jupiter mashup could instigate an air-clearing moment of truth. Since the fourth house rules women, an inspirational female may come to you with an incredible opportunity, possibly one that involves relocation. If this happens, don't waste time overthinking it, Libra. You need to strike while the iron is red-hot! See the full week >


Scorpio (October 23 – November 21)
Today's rare and brilliant alignment of motivational Mars and optimistic Jupiter blesses you with the gift of gab. So, Scorpio…what do you want to say? Now more than ever, you need to know what your message is and how to best deliver it. It's not enough to utter inspirational phrases. What is the end result you want to achieve? This is go time, and you need to be 100 percent on your game. If the mere thought of that makes you break out in a cold sweat, consider using the weekend to test things out. Invite a sibling or neighbor to be your sounding board. Ask them to be honest but kind, and you'll get some helpful feedback. Don't squander this moment and allow your inspired visions to turn into pipe dreams. Even if you have to scale back a bit or launch slowly, seize the moment. See the full week >


Sagittarius (November 22 – December 21)
YOU know it's the end of the workweek Sag, but tell that to assertive Mars and your ruler, bountiful Jupiter, who are holding their own private conference in your second house of work and money. Your thoughts might casually wander to an unfinished assignment or a financial idea you're kicking around. Don't be caught unaware if a major offer comes your way or a project you've been pitching finally gets preliminarily green-lighted. Because of the impatient nature of these planets, you might be forced to make a decision on the spot. If something seems worth the risk, be ready to take a leap of faith! This confidence-boosting alignment makes it an auspicious time to launch an entrepreneurial venture or make a big ask—like for a raise or promotion. See the full week >


Capricorn (December 22 – January 19)
Your hardworking sign isn't always comfortable in the spotlight, but you might not have much choice in the matter thanks to the irresistible alignment of plucky Mars and lucky Jupiter in your sign. You might as well draft an acceptance speech—or at least be ready to hold forth on one of your pet projects. You could become a social media star, especially if one of your posts or pictures goes viral. Suck it up, o' modest one: These 15 minutes of star power are not to be squandered. If you've been biting your tongue about a certain issue, candid Jupiter can help you find the right words to start a conversation. Just be careful about coming on TOO strong—always a risk when that spontaneous, jovial planet is in the mix. You don't need to hit someone over the head to make your point. See the full week >


Aquarius (January 20 – February 18)
Had enough, Aquarius? Then get ready, get set… to let it go! Today, make-it-happen Mars teams up with candid Jupiter in your twelfth house of closure. You've given it your best shot and stuck it out longer than almost anyone would… and now it's time to end this chapter and begin a new one. You're finally in a place to step away from whatever (or whomever) has been draining your batteries—a toxic relationship, a self-destructive habit, a job that's holding you back instead of advancing you. It's your call whether to simply walk away or clear the air. If it's the latter, this courageous cosmic confab will give you the confidence to speak your peace without defending yourself. You may have the patience of a saint, but that doesn't mean you should play martyr, Aquarius. Don't ignore weird coincidences or feelings of deja-vu. This is how the universe speaks to us: in symbolic language! See the full week >

Pisces (February 19 – March 20)
If you find yourself feeling all rah-rah about your squad today, you can thank a rare mashup of motivational Mars and enthusiastic Jupiter in your eleventh house of collaborations. Brainstorms will come fast and furious, so make sure someone is taking good field notes and that your second-in-command is ready to start implementing them. If you're still assembling your entourage, put yourself out there. Check out different groups until you find the right one. This Friday night out can double as a networking opportunity, so be ready to pitch while you're ordering your drink. The eleventh house also rules technology, and with expansive Jupiter and fearless Mars stoking your personal cyberspace, you could write a post or create a video that goes viral. See the full week >
What do the stars have in store for you this March? Read your monthly horoscope now
Get horoscope updates straight to your inbox! Sign up for The AstroTwins newsletter
The post Daily Horoscopes: March 20, 2020 appeared first on Astrostyle: Astrology and Daily, Weekly, Monthly Horoscopes by The AstroTwins.
Read more: astrostyle.com