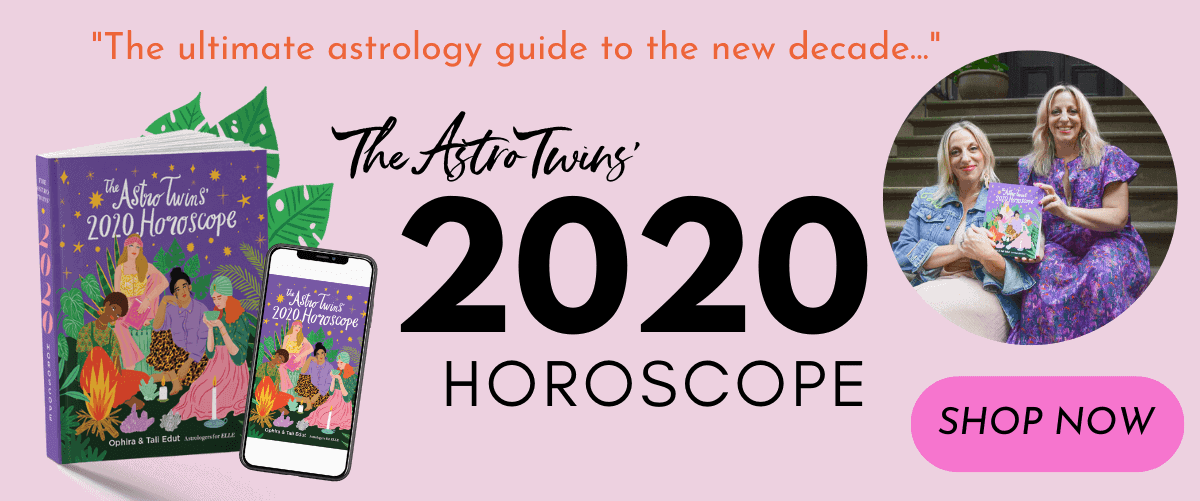 Articulate your recent epiphanies and intuitive flashes at today's clarifying Gemini quarter moon.
Born on a cusp? Please note that dates for the zodiac signs can vary from year to year. To confirm your actual Sun sign, do a free chart here.
Illustrations by Grande Dame


Aries (March 21 – April 19)
You might still be licking your wounds today, due to a recent betrayal. Ouch! Maybe you've even retreated from the social scene, but don't give your nemesis that satisfaction. Luckily, the Gemini quarter moon helps you move past the hurt so you can view the situation from a more balanced perspective. All is not lost. Sure, it still stings, but you've learned an invaluable lesson from the experience. Instead of giddily rushing into things the next time round, you'll make sure that your new amigo actually earns the title of BFF. Try, try again. See the full week >


Taurus (April 20- May 20)
Tired of taking one for the team? We don't blame you, Bull. Today's balancing quarter moon reminds you how important it is to value your time and energy. But before you unload on the so-called slackers, take stock: Is there a chance they stepped back because they figured you had it all under control? If you want support, you may have to relinquish some of power (and the toys). Practice today by letting someone else in your squad organize plans. The venues might not be "perfect," but don't complain. You don't want to clip her wings while she's just learning to fly. See the full week >


Gemini (May 21 – June 20)
Do what's necessary under today's quarter moon in Gemini, but avoid any obligations made out of guilt. Give yourself permission to postpone a few tasks and reschedule (or cancel) stressful plans in the name of following your whims. While you're on this self-focused kick, dust off a creative project you shelved way back when and reflect on what changes you could make to enjoy a more balanced life. No one lives in a vacuum, Twin, so let your colleagues, relatives or roomies know you could use a hand. You can only carry this heavy load for so long before you start to buckle under the weight. See the full week >


Cancer (June 21 – July 22)
Relax, refresh, rejuvenate: The quarter moon in Gemini shines its balancing beams into your twelfth house of healing and escape. Do your current commitments excite you, Cancer, or does it drain you to even think about them? No more guilt! If you want to deactivate your membership in a group or step back from a leadership role, come clean. You don't have to fill every blank space on your calendar. See what happens if you open up more room to just meditate or enjoy unstructured "me time." See the full week >


Leo (July 23 – August 22)
You're a force to be reckoned with, Leo, but just imagine what you can accomplish when you team up with other like-minded powerhouses. If you've been quietly developing a passion project, today's quarter moon nudges you to explore a collaborative approach for the next stage of the game. Reach out to friends for the first round of feedback. Someone in the group could show a keen interest, and synergies could evolve from there. Seek out groups where you could meet kindred spirits. Expand your social horizons by doing something different (and intellectually stimulating) tonight. See the full week >


Virgo (August 23 – September 22)
Are your actions aligned with your aspirations? Today's quarter moon in your tenth house of long-term goals brings a reality check. While this can be sobering to the dreamier Virgos, it doesn't have to be a stopping point. How can you make your mission a little more manageable? Perhaps scaling back for the first phase is the answer. If you refuse to compromise the grandeur of this vision, get clear about what it's going to take to pull it off. This might be your cue to organize a fundraising party or to start looking around for investors. See the full week >


Libra (September 23 – October 22)
If you're going to shoot from the hip, make sure you're using velvet-tipped arrows. Today's quarter moon in your candid ninth house calls for an honest but diplomatic communication style. Fortunately, that's a Libra specialty, so lean in to your natural grace. Do NOT hit "send" after banging out an inflammatory email or rage-typing a text when someone has pushed your very last button. Save it to drafts and then remix it later in the week. Your heart may be in the right place, but your fiery missives will get lost in translation. See the full week >


Scorpio (October 23 – November 21)
Mysterious intensity may be your calling card, Scorpio, but is your enigmatic allure blocking intimacy? Today's quarter moon illuminates your sultry eighth house and encourages you to pull back the curtain… just a bit. You don't need to bare your soul; just a taste will be more than enough to leave 'em clamoring for more. When it comes to romance, this lunar leveling sets the stage for soulful discussions AND a dash of wicked humor. Sexy doesn't have to be THAT serious! See the full week >


Sagittarius (November 22 – December 21)
How balanced is the give-and-take in your closest relationships? Today's quarter moon beams into your partnership sector, revealing where certain connections might be out of sync. If you keep giving (and giving) with minimum ROI, hit the brakes. In your zeal, you may have come on too strong, but all is not lost. Just stand your ground and see if the other party reciprocates. If they're worth their salt, they'll step up. In the meanwhile, have YOU forgotten to appreciate one of your strongest allies? Make up for lost time and treat for dinner tonight! See the full week >


Capricorn (December 22 – January 19)
All things in moderation, Capricorn. Under today's quarter moon in your wellness zone, take a breather from intense, boot-camp-style workouts in favor of yoga flow or a long walk outside. When it comes to nutrition, don't be afraid to add a "forbidden" item or two to your plate. Indulging in a chocolate hot pot doesn't cancel out the nutritional value of the organic carrot-ginger soup and roasted root veggies that preceded it. If you've swung to the opposite extreme, add more movement into your Monday night plans. Cancel your Netflix-on-the-couch plans and go to a dance-based fitness class or do some crunches and stretches while binge-watching. See the full week >


Aquarius (January 20 – February 18)
Should you stay or should you go? That's a tough call, Aquarius. You've been longing for more security from a partner, but at the same time, you know that too much routine can be a real romance killer. Fortunately, today's quarter moon in your electrifying fifth house zaps the boredom factor out of your love life. Whether it's a dress-up dinner out on the town or some frisky fun behind closed doors, devote tonight to playtime. Single? Get off the apps and test chemistry in real time. You could stumble upon a soulmate at an evening meetup. Who knows? A live lecture or trivia night could be swarming with kindred spirits. See the full week >

Pisces (February 19 – March 20)
Does your house feel like a home, Pisces…YOUR home, that is? As today's quarter moon in Gemini beams into your domestic zone, bless your nest with a few updates. If you've already curated the perfect furniture and art, switch around the placement—and maybe even pack a couple "collections" away to open up some whitespace on the walls. (Ahhh, serenity.) With this lunar leveling in communicative Gemini, you could finally have a heart-to-heart with a noisy roommate or nosy relative. Be direct while extending the benefit of the doubt. They might not be aware that they've overstepped a boundary—or exceeded noise levels. See the full week >
What do the stars have in store for you this March? Read your monthly horoscope now
Get horoscope updates straight to your inbox! Sign up for The AstroTwins newsletter
The post Daily Horoscopes: March 2, 2020 appeared first on Astrostyle: Astrology and Daily, Weekly, Monthly Horoscopes by The AstroTwins.
Read more: astrostyle.com