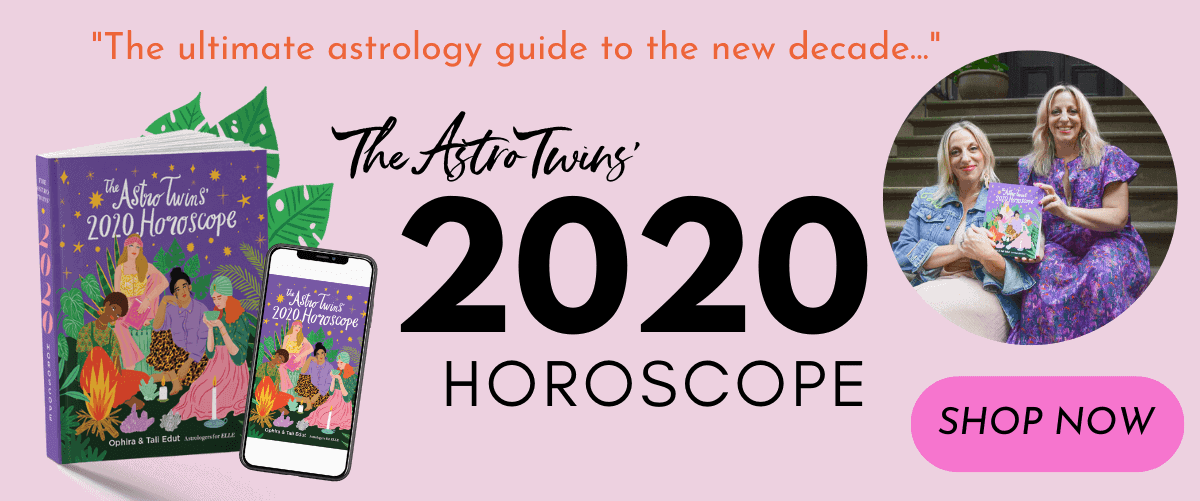 Balance your bonds and perfect your partnerships at today's harmonizing Libra moon.
Born on a cusp? Please note that dates for the zodiac signs can vary from year to year. To confirm your actual Sun sign, do a free chart here.
Illustrations by Grande Dame


Aries (March 21 – April 19)
You're ready to pick up your sword and do battle to land where you want to be. And yet… the moon is parked in peaceful-warrior Libra today, urging you to sheath your weapon. You can accomplish just as much with collaboration as you can with competition, Aries, so no need to worry about who'll wave the white flag first. Want to really throw your rival off their game? Invite them out for a lunch meeting where you put your formidable minds together. You might just win an ally for life. See the full week >


Taurus (April 20- May 20)
Another bottomless coffee order—or a turmeric tonic? Taking a balanced approach to your health will be easier, and far more pleasurable today thanks to the harmonious Libra moon in your sixth house of wellness. Pay attention: Are you making decisions out of habit instead of consciously choosing what's best for you? Bring more awareness to what you consume today and the effect that every meal, social media post and IRL conversation has on your mood. With Mercury ending its three-week retrograde, you will soon be ready to take some bolder steps in your career. That's more reason to energize yourself with clean fuel, Bull! See the full week >


Gemini (May 21 – June 20)
Leave room in your life for a little midweek magic, which could rock your world courtesy of a sensual Libra moon in your fifth house of romance. It's worth your while today to spend a little more time than usual getting dressed…and fussing with your hair and makeup. Even if you don't have anything on the books—yet—something could come up last-minute, and you want to be prepared! Attached? Seize the reins and make a reservation at that chic new bistro you've been dying to try. See the full week >


Cancer (June 21 – July 22)
Don't ignore your moods today, Cancer—regardless of whether they're dark and stormy, light and breezy—or a combo platter! A thoughtful Libra moon is lighting up your sentimental fourth house, so you could be a bit fragile. Don't act tough as steel when you feel like you're made of glass. If you sense you're about to "have a moment," hit pause and do whatever you need: take a walk around the block, brew a mug of herbal tea or maybe have a tete-a-tete with a loved one. See the full week >


Leo (July 23 – August 22)
What CAN'T you accomplish today, Leo? With a pumped-up Libra moon charging up your collaborative, communicative third house, you're a one-lion dream team. Cue up a motivating playlist and motor through your morning tasks. Then tackle your assignments (as you barely break a sweat). Before you dive into the afternoon's hit list, treat yourself to a power lunch at a healthy restaurant. Invite a colleague along to brainstorm, and you might just be able to quit an hour early and get a jump start on those super-social evening plans. See the full week >


Virgo (August 23 – September 22)
Beauty IS truth today, Virgo, so add as much loveliness—and luxury—to your life as you can muster. La luna is paying her monthly visit to your sensual second house, inspiring you to pamper yourself. Normally your first question is, "Can I afford it?" But under today's moonglow, the only thing to ask is, "How will this make me feel?" While we're not suggesting you go into debt, treat yourself to something that makes you feel divine—and if you have the funds, don't even waffle over the price if you know you'll love it forever. See the full week >


Libra (September 23 – October 22)
Winter blues begone! Today is all about YOU thanks to a Libra moon lighting up your sign as well as your life! You get to call the shots, even if you feel like someone left you behind the eight ball. It's all about perspective—and confidence. If yours has been flagging, get it back now by engaging in some of your favorite soul-lifting activities. Take a midday yoga or a sweaty Spin class. Meet a couple pals for lunch or make plans to meet after work. A vibrant new friendship could blossom because you took the initiative to connect. See the full week >


Scorpio (October 23 – November 21)
If you feel like you've been running at full speed but haven't actually gotten anywhere, it's time to give yourself a break! Today's Libra moon in your twelfth house of healing and renewal is the perfect beacon to rest under. Let everyone else toil away in the rat race. You seriously need to recharge your mental, physical and creative batteries. If you can work from home—or at least take an extended lunch hour—so much the better. Once you break the breakneck cycle, your productivity levels will naturally reboot. See the full week >


Sagittarius (November 22 – December 21)
Even your indie-spirited sign appreciates the value of solid teamwork. And today, under a super-collaborative Libra moon in your eleventh house of group activities, you might reach outside your already formidable social circle and tap into some new networks. Aim high, Sag: People will be drawn to your magnetic personality and visionary thinking. The eleventh house also rules technology, so don't limit your outreach to people in your community. The world IS your oyster, so get cracking! See the full week >


Capricorn (December 22 – January 19)
As if your sign weren't ambitious enough, today's Libra moon lights up your tenth house of career goals, lifting you up another rung on the ladder. Of course, you've got big intentions for the quarter—your competitive spirit wouldn't have it any other way. But rather than overwhelming yourself by trying to achieve it all NOW, think in smaller bytes. What's the most important thing you can do to move the needle this week? Get the momentum going there, and you'll score a win to keep fuel in your tanks. See the full week >


Aquarius (January 20 – February 18)
Work, deadlines, responsibility: What are those? Your mind—make that your heart and soul—are attuned to higher callings, Aquarius, thanks to a susceptible Libra moon in your ninth house of travel and adventure. The prospect of putting in another day of drudgery at the office is enough to give you hives. If you have the luxury, cash in a comp day or see if you can work remotely. You NEED a change of scenery, it's a great day to find something mind-blowingly stimulating close to home that can reboot your personal operating system. Can't get away? Switch up your routines and slip out for fresh air as often as you can! See the full week >

Pisces (February 19 – March 20)
Today's deeply connected Libra moon in your metaphysical eighth house makes you a psychic sponge, Pisces, so be careful what you allow yourself to absorb. You almost can't switch off your intuition, which is a blessing AND a curse. And under this sensitive starmap, things might not be as they seem. Better to play it safe and avoid situations that could sap your energy, including (especially!) listening to other people's problems. Give 'em a hug, but let them know that today, the doctor is OUT. See the full week >
What do the stars have in store for you this March? Read your monthly horoscope now
Get horoscope updates straight to your inbox! Sign up for The AstroTwins newsletter
The post Daily Horoscopes: March 10, 2020 appeared first on Astrostyle: Astrology and Daily, Weekly, Monthly Horoscopes by The AstroTwins.
Read more: astrostyle.com