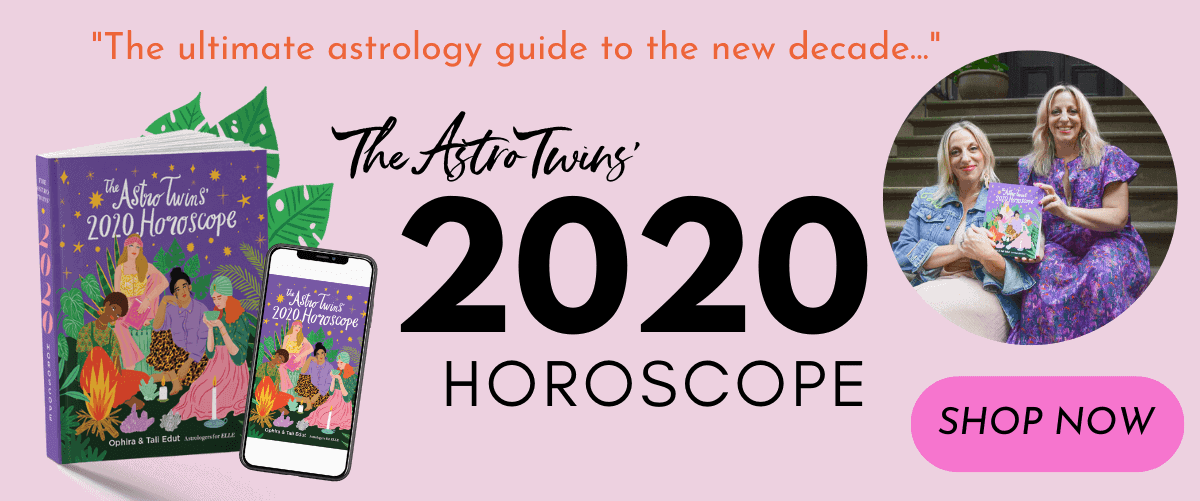 Kind but firm leadership wanted! Capricorn Sun sextile Neptune in Pisces helps us blend compassion and wisdom.
Born on a cusp? Please note that dates for the zodiac signs can vary from year to year. To confirm your actual Sun sign, do a free chart here.
Illustrations by Grande Dame


Aries (March 21 – April 19)
Stop spinning your wheels, Aries. A powerful female can lend an assist today, but it's up to you to reach out to this "womentor" figure. If no one from your social network comes to mind, pick up the autobiography of one of your she-roes in the industry and let her how-I-did-it story inspire you. On the other side of the coin, find ways to avail yourself to a less experienced person in your field. It's all about feeding the chain of good karma. See the full week >


Taurus (March 21 – April 19)
Blurred lines, begone! Today, be crystal-clear about your desires and intentions. This doesn't have to lead up to a dramatic conversation. Focus on the future you want to create instead of carping about what's gone wrong or ruminating about a doomsday outcome that will probably never happen. Most people will happily hop onboard with your plan if you paint an inspiring picture. As for the holdouts who want to go their own way? Just let them. Disappointment will soon be replaced by the happiness when you discover people who are a better fit for Taurus 2020. See the full week >


Gemini (May 21 – June 20)
What's your "value proposition," Gemini? Today, a creative coupling of the Sun and Neptune in your wealth sectors helps you dream up new ways of making bank. Sure, your multifaceted sign could do MANY things to earn a buck—but where does your sweet spot lie? Hint: This may come to you so naturally that you take it for granted. Poll your friends and ask them what they think your greatest talents are. Clever ways to monetize your gifts could be revealed under this cosmic influence. It might feel awkward to charge, but think of it this way: They'd have to pay someone else for the same service, so why not you? See the full week >


Cancer (June 21 – July 22)
A cross-cultural connection heats up today, whether for business, romance or a spicy creative collab. If traveling, you could feel the sparks with one of the locals, or you might get an intuitive hit to contact someone you met during your holiday journeys. Follow the impulse and reach out. Some WhatsApp chatting could lead to actual facetime in near future, an adventure worth pursuing! Coupled Cancers, spend time this evening perusing travel feeds and planning your next getaway. See the full week >


Leo (July 23 – August 22)
Subtlety might not be your forte, Leo, but give it a try today. Drop hints, coyly suggest…and whatever happens, DON'T take charge of the plan and start bossing people around. Today's gentle Neptune-Sun confab calls for a softer touch. Need to get a job done? Call the team in for a hivemind huddle—and give their input more than a surface consideration. In affairs of the heart, it's the little things that count. Instead of sending a text, tuck a love note in your sweetie's work bag or surprise 'em with a homemade dinner of their favorite dishes. See the full week >


Virgo (August 23 – September 22)
Let love be a high-priority item on today's agenda. A succulent angle between the Sun and Neptune makes romantic interactions extra juicy. Baring your soul can be a big deal, but you'll have an easier time opening up if you create the right atmosphere. If the urge to be generous strikes, put together a little care package for someone in your life. Pulling out all the stops could pay off for you, even if you feel a little vulnerable laying your heart on the line. See the full week >


Libra (September 23 – October 22)
As planets activate your inner design star, you may be struck by an overwhelming urge to add some glamorous and comfortable touches to your space. An austere desk is NOT the only option for productivity. Set up a comfy reading (and laptopping) chair. Hang a piece of art and place a few conversation pieces around for when coworkers drop by. If your budget is tight, you can paint an accent wall—or hang wallpaper—to transform the energy. Pro tip: Dark tones can actually make a small space appear bigger. See the full week >


Scorpio (October 23 – November 21)
Today's enchanting Sun-Neptune angle could turn the most reserved Scorpio into an unapologetic flirt. If you're feeling a mutual attraction, make eye contact and hold a longer gaze. If you get a warm reception and the conversation flows, do more than just drop hints about your interest. Extend an invite for a coffee or a drink—or even dinner tonight, with these "seize the moment" planets commingling. Already spoken for? Don't feel guilty about enjoying harmless attention from someone other than bae. Bring that sexy energy home with you and make it a night to remember. See the full week >


Sagittarius (November 22 – December 21)
With the Sun and indulgent Neptune forming a soothing angle, you have a heavenly directive to slow down and nurture yourself. Ignore the text from your crisis-junkie friend and slip off for a spa pedicure during your lunch break. (Odds are good that she'll resolve her "emergency" while you're relaxing in the massage chair.) Before you head home, stop by the grocery store to pick up ingredients for a special dinner. Once you arrive at Chez Archer, slip into your silkiest PJs and enjoy some serious Netflix-and-nesting time—alone or with a soothing plus-one. See the full week >


Capricorn (December 22 – January 19)
As eager as you are to dive back into productivity mode, today's planets tap the brakes—in a good way! The Sun in your sign gets a warm-fuzzy beam from compassionate Neptune, reminding you to put people first. Meander around the office and reconnect with co-workers—and send New Year's notes to anyone you accidentally left off your holiday card list. Check your social media feeds and comment on a few friends' family photos and vacation posts. This isn't just idle chitchat, Capricorn. Your attentiveness could open the doors for discussion with a potential project partner or an enlivening new friendship. See the full week >


Aquarius (January 20 – February 18)
Slow down, Aquarius! Today's Sun-Neptune duet reminds you that the magic is in the details. But you'll miss that enchantment if you rush past the roses instead of stopping for a deep inhale. One subtle tweak can make all the difference on a project. Add an artistic flourish to a work presentation or clasp on a statement accessory. Get a little more personal in conversations, asking colleagues about their holiday celebrations or if any resolutions have come to mind for 2020. A few minutes of convivial chitchat can warm everyone up before you get down to business—and plant a positive stake in the future of these relationships. See the full week >

Pisces (February 19 – March 20)
There's work to be done, Pisces, but before you dive into "Go!" mode today, take time to connect to your people. With the Sun nuzzling imaginative Neptune, you're in your inspirational element, kind of like the Pied Piper of playful productivity. Could your shared mission benefit from a brainstorming session or some team-building time? Break out the whiteboard—and bring snacks! Once everyone's relaxed, you could have a highly productive conversation, and perhaps come up with a smarter way to divvy up duties. See the full week >
What do the stars have in store for you this January? Read your monthly horoscope now
Get horoscope updates straight to your inbox! Sign up for The AstroTwins newsletter
The post Daily Horoscopes: January 7, 2020 appeared first on Astrostyle: Astrology and Daily, Weekly, Monthly Horoscopes by The AstroTwins.
Read more: astrostyle.com