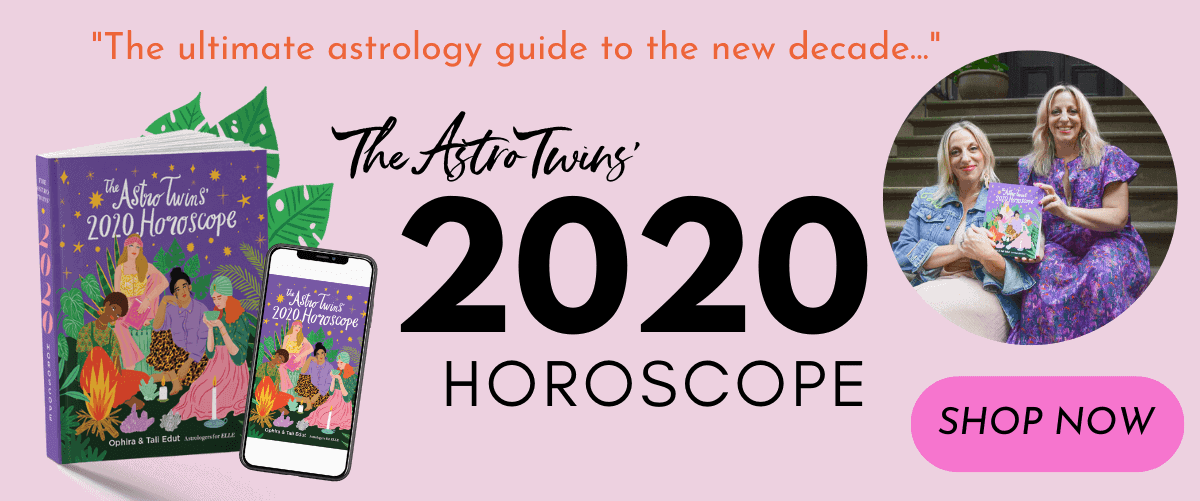 Sat: Plot twist? The moon conjuncts Uranus in Taurus, shaking up those carefully-mapped plans. Think outside the box a little more?
Sun: Sometimes our wounds need to be poked a little to prompt their healing. Today's Mars-Chiron trine could do just that.
Born on a cusp? Please note that dates for the zodiac signs can vary from year to year. To confirm your actual Sun sign, do a free chart here.
Illustrations by Grande Dame


Aries (March 21 – April 19)
Your financial life could get a shot in the arm on Saturday, Aries, but you might need to take a little bit MORE of a risk than you usually would. (And that's saying something.) With a merger of the sensitive moon and game-changer Uranus in your money house, you could hear of a new gig or be invited to submit a proposal for a dream project. In your personal life, take your time in responding to an admirer's texts or calls. Let relationships evolve naturally. Maintaining an air of mystery makes you all the more alluring. On Sunday, things might get a little heated as self-starter Mars, your planetary ruler, forms an energizing trine to Chiron in Aries. This tumultuous energy may mean that you blurt out a few unfiltered opinions, which could land you in big trouble. Remember: Just because you're thinking something doesn't mean you have to SAY it. And whatever you do, don't send that impulsive 2AM email—wait until after brunch, when you're feeling levelheaded. Or even better: Unplug completely and hit the Spin studio to burn off some of that angst! See the full week >


Taurus (March 21 – April 19)
You're no shrinking violet, Taurus—but you may be surprised by your own actions this Saturday as the moon teams up with capricious Uranus in your sign. The wildest and most unorthodox parts of your personality leap up on the stage, which could be a good thing (shaking things up!) or not-so-good if your company for the day takes offense. While your rule-bending sign knows the value of keeping people on their toes, be careful not to take things too far. On Sunday, when healing Chiron forms an energetic trine to spunky Mars, your mind might go into overdrive. Whatever your plans for the weekend, be sure to build in a few peaceful mind-body moments. A yoga or meditation class could be just what you need to make it through the next couple days. Since the twelfth house rules the psyche, a little self-reflection could lead to major revelations. This starmap also points out where you've overextended yourself. If you're drowning in obligations, ask a friend for help or take unnecessary projects off your plate. Sometimes saying no is a very good thing. See the full week >


Gemini (May 21 – June 20)
Drowning in clutter? The time has finally come to take definitive action. Saturday's merger of the moon and shake-things-up Uranus in your twelfth house of closure will give you the motivation to clear your space of all that…what IS that stuff anyway, Gemini? Piles of papers, unopened gifts, junk mail… it's all just distracting you from getting things accomplished. Pull out the bags for garbage, recycling and giveaway, but bear in mind that Uranus can make you a little rash. Give the "maybes" a twice-over before trashing. On Sunday, a fast-moving trine between aggravator Mars and healer comet Chiron could spark a full-on clash. Rather than jumping into the frontlines, remain the observant spectator. Under this transit, you risk coming across as condescending, even though you don't mean to. A frenemy might push your buttons on Sunday, but don't take the bait. Instead, study their behavior and look for ways you may actually be similar. You probably have a lot in common with this person, and you two could end up bonding instead of battling! See the full week >


Cancer (June 21 – July 22)
Get your geek on, Cancer, and bonus points if you can make it chic! Actually, that's not hard for your stylish sign, given your appreciation of all things "cuddle tech." If you've been clinging to your Luddite ways or not making timely software updates, Saturday's moon-Uranus merger in your eleventh house of technology can move your needle. Uranus brings the kind of change you can't resist. If you can't fight 'em anymore, bite the digital bullet and join 'em. On Sunday, a motivating trine between ambitious Mars and deep-feeling Chiron gives you an extra energy boost for that CrossFit class or a much-needed Marie Kondo mission. But pace yourself. You've got a lot going on, and you could easily burn out. Divide your big goals into smaller, achievable tasks, and don't worry if you can't quite finish them all. See the full week >


Leo (July 23 – August 22)
Don't lose your focus just because it's the weekend! Rapid change could come as the moon aligns with changemaker Uranus—and truth is, it's been a long time coming. An unexpected opportunity could land in your inbox from someone who YOU hooked up in the past. These are not coincidences. You've got nothing to lose by following up on them. And there's no time like the present! On Sunday, a flowing trine between sensual Mars and karmic Chiron may draw a captivating stranger into your orbit. No, they might not initially seem like your usual "type," but a thrilling conversation (and who knows what else?) could ensue if you keep an open mind. If you're already attached, spice up your normal weekend routine with a sexy getaway or a romantic staycation. Breaking out of boring habits and exploring new frontiers together is the best way to cement your bond. See the full week >


Virgo (August 23 – September 22)
You know how to make your angels laugh, don't you, Virgo? Tell them your plans. On Saturday, as the moon aligns with game-changer Uranus in your adventure zone, the only thing you can be assured of is unpredictability. It's a great lesson in surrendering, something your sign can always stand a tutorial in. Be poised to react quickly to opportunities that could come out of the blue. You might be Skyping with London or Mumbai before the weekend is through—or even booking a flight for a "too crazy to NOT pursue" long-distance love connection. On Sunday, a Mars-Chiron trine stimulates an important (and past due) dialogue with a relative or a significant woman in your life. Avoid spiteful remarks and move toward a positive resolution. You may be tempted to bond by bitching about someone else, but don't go there, Virgo. That negativity will just make YOU look petty, and frankly, you're better than that! See the full week >


Libra (September 23 – October 22)
How deep is your love, Libra? Hella deep, for some of you! This is one of your best-kept secrets (possibly from yourself), but it'll be out in the open on Saturday, thanks to a meetup of the emo moon and radical Uranus in your house of intense feelings. You could be rolling right along when—whoosh!—the green-eyed monster makes an unannounced appearance or your competitive streak unexpectedly rises to the surface. You may not be able to stifle these things, but you CAN channel them into a healthy pursuit of what's missing in your life. And should a copycat spring up, try to remember that you are often imitated but NEVER duplicated. Sunday's Mars-Chiron trine could provoke a passionate confrontation with a close friend or partner. Stay balanced as you work things out—there's no need to overreact. You can arrive at a peaceful resolution if you just keep your cool. Romance could heat up quickly with someone you meet via Tinder or mutual friends. Enjoy the attraction but know that it might be more of a fleeting moment—and a powerful lesson—than a happily-ever-after. See the full week >


Scorpio (October 23 – November 21)
It may not be the smoothest sailing for the Scorpio Love Boat this Saturday, thanks to a turbulent current of the sensitive moon and explosive Uranus in your relationship house. Before the day is through, you may have to steer your ship through some rocky waters. The trick: your sign's signature diplomacy! Chances are someone's just having a bad day and doesn't need to be challenged. But to see that, you need to hold space for their anger. This could actually improve the union—if you're able to ride out the storm. Sunday's Mars-Chiron trine encourages you to restructure your budget and get your cash flow under control. Download organizational apps or invest in a new gadget to help you streamline. Even if you're the rare technophobic Scorpio, getting data backed up to the cloud and password-protected is a wise idea. See the full week >


Sagittarius (November 22 – December 21)
Losing your mojo for your 2020 fitness resolutions already? You can get it back before too much "damage" has been done if you take advantage of Saturday's starry lineup. The wishful moon aligns with transformative Uranus in your health and fitness zone, performing triage on your motivation. But it's up to you to keep it revving from here on out. Find workouts that will (literally) keep you on your toes, like a barre-fusion class—or how about aqua jog at the local indoor pool? Adding a humanitarian twist, like a charity 5K run, could forge a longer lasting commitment. On Sunday, a positive trine between Chiron and sassy Mars in your sign could lead to some soulful flirtation. Feel free to get vulnerable, but don't lay ALL your emotional cards on the table—yet. This mashup can make you extra impulsive, but being too trusting is your Achilles' heel, Archer. Make sure you aren't projecting qualities onto people that aren't actually there. See the full week >


Capricorn (December 22 – January 19)
On Saturday, Cupid could make an unannounced cameo in the most unlikely of places, maybe when you're in line at Trader Joe's or returning a book you borrowed from a friend. If you're single, follow up with interested (and interesting) parties. Under a spontaneous sync-up of the emo moon and surprising Uranus in your romance sector, a casual connection could escalate into a full-fledged attraction. Single? Make it your mission to swipe right a whole lot more. Attached? A little bit of shock value can be a whole lotta aphrodisiac, provided you don't take things TOO far. On Sunday, a Mars-Chiron mashup may bring some tension into your home. A loved one might call you in a crisis, or a worked-up friend could ping you to complain about an urgent topic. It's important to be supportive while also honoring your boundaries: The last thing you need is to get swept up in the drama. If you can't handle the intense energy right now, pick a day next week when you'll be able to hear this person out. And who knows—by that point, the issue could be resolved! See the full week >


Aquarius (January 20 – February 18)
Saturday is not the day to ignore your texts, Aquarius. Even if you're up to your freshly threaded eyebrows in work, you might be needed by someone in your inner circle. With the sensitive moon aligned with your ruler, unpredictable Uranus, a close friend or relative could send out an SOS, and you want to be able to respond quickly. Note to self: You are not responsible for their self-imposed dramas, especially since you probably warned them about these outcomes, like, months ago. But if they need to talk something out, you can surely find five or ten minutes (but then let them know you've gotta get back to your previously scheduled plans!). On Sunday, an illuminating Mars-Chiron trine could inspire you to venture into a new social circle or connect with some creative kindred spirits. Don't set that schedule in stone, however, because an enticing out-of-the-blue invite could rock the rest of your weekend. See the full week >

Pisces (February 19 – March 20)
You're not the type to shy away from creative self-expression, but you could take it to a whole new level today, Pisces. A grounding Taurus moon is mashed up with innovative Uranus in your communication sector. Whether you have a presentation to make or an afternoon event to attend, don't hold back in the style department. Bold colors and eye-grabbing images? Why not? A bell-bottom pantsuit and colorful faux fur jacket: mais oui! If anyone can pull it off, it's you! Sunday brings a prosperous trine between driven Mars and Chiron, giving you the professional green light to shake your moneymaker. This innovative vibe could bring an unexpected solution to a creative block. Keep the capture tools handy because ideas will be flowing. Don't feel guilty about skipping brunch to work on a painting or your 2020 business plan! This soul-stirring mashup doesn't come around but once every couple years. See the full week >
What do the stars have in store for you this January? Read your monthly horoscope now
Get horoscope updates straight to your inbox! Sign up for The AstroTwins newsletter
The post Daily Horoscopes: January 4-5, 2020 appeared first on Astrostyle: Astrology and Daily, Weekly, Monthly Horoscopes by The AstroTwins.
Read more: astrostyle.com