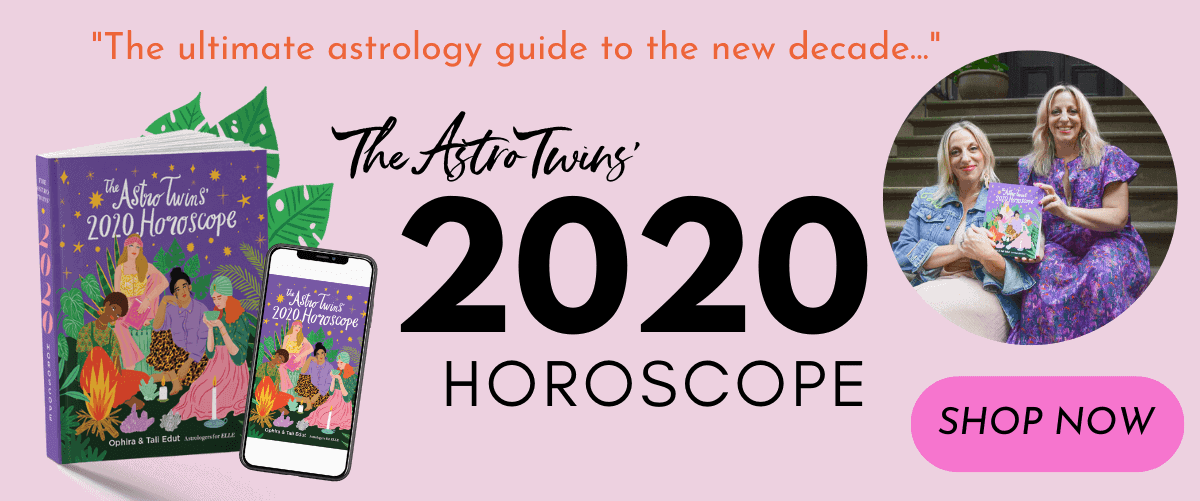 Get your thrills in early while the moon is in Aries, then buckle down later when the moon enters Taurus this evening.
Born on a cusp? Please note that dates for the zodiac signs can vary from year to year. To confirm your actual Sun sign, do a free chart here.
Illustrations by Grande Dame


Aries (March 21 – April 19)
Put the pedal to the metal! You're on a mission this morning and unwilling to let anyone get in your way. Harness this laser-beam focus while the moon lingers in Aries until the afternoon. Other people will slow you down, so set your devices to auto-respond or airplane mode, or at least "ringer off." You'll accomplish much more if you fly solo. After that, you'll have the patience to deal with the practical aspects of your plan, like crunching numbers, returning emails and delegating tasks. Pause to breathe and indulge in a little self-care, like a quickie chair massage or booking a decadent "reward" dinner this evening. See the full week >


Taurus (March 21 – April 19)
There's no rest for the wicked, Taurus, and you've been feeling more naughty than nice for the past couple days. C'est la vie. A few of those stormy emotions may inform your passions and should not be ignored. This morning, you could struggle to get out of that fog or funk. The moon is lingering in your distracted twelfth house, making it hard to rally. But later, la luna soars into your sign, resetting your energy levels. Boom—you're back! Spend the rest of the day making up for lost time before the weekend kicks off. See the full week >


Gemini (May 21 – June 20)
Bask in the company of your favorite colleagues this morning or do a little social media catch-up. With the moon in your breezy and communal eleventh house early in the day, you'll be in no mood to sit still. But don't forget that there's work to be done! An AM brainstorming session could unleash some out-of-the-box brilliance. Hello, breakthrough! Midday, la luna downshifts into your sleepy twelfth house. An energy crash is imminent, so plan a low-key evening to recharge your batteries before embarking on the rest of your weekend plans. See the full week >


Cancer (June 21 – July 22)
An ambitious goal is foremost on your mind this morning, and you might leap out of bed to make headway on it. The moon is lingering in your tenth house of success, putting you in a responsible frame of mind. Midday, a planetary PSA reminds you that there's more to life than just work, work, work. This imbalance disrupts your emotional bonds, and besides, being lonely at the top doesn't really appeal to the relationship-oriented Cancer. As the moon shifts into your teamwork zone this afternoon, start recruiting. A couple of competent, intelligent collaborators will make your mission (at least) a thousand times more enjoyable. See the full week >


Leo (July 23 – August 22)
Shot of truth serum in that latte, Leo? Honesty is indeed the best policy this morning, thanks to the moon lingering in your tell-it-like-it-is ninth house. One caveat: Transparency is not an invitation to rake people over the coals. Opinions are not facts, so when you're presenting your (extremely valid) case, be sure to speak in "I" language, as in "I would prefer to see the logo mocked up in a sleeker font," not "What were you thinking when you used Comic Sans?!" Rewind and be kind. This afternoon, the moon shifts into your tenth house of leadership and goals. Get the tough talks out of the way so you can leap into action after lunch. See the full week >


Virgo (August 23 – September 22)
Retract those claws, Virgo. Your patience has worn thin with people, and you haven't even set one lace-up ankle bootie into the office yet. Take a few minutes to breathe and get centered before leaving your house this morning. A person who pushed your buttons last week—and has likely been a hot topic of tea-spilling group texts with friends—doesn't have to get the best of you today. Reframe this situation as one of life's little tests. Mid-afternoon, a deliciously open dialogue could help the two of you clear the air. Sugarcoating is not advised; just avoid playing the blame game. See the full week >


Libra (September 23 – October 22)
Earth to Libra! You can't help but daydream about—or dwell on—a certain relationship today. This intensifies in the early afternoon, when the moon heads into your playing-for-keeps eighth house. Just be careful not to act on those obsessive thoughts! Your worries could spin out, taking a sweet romantic moment and turning it into fodder for angst. Better to process this with a levelheaded friend than ping the object of your affections for "reassurance." Good things come to those who wait, so don't destroy the courtship dance (or a solid partnership) with needless fears. Chances are, they're based in your past, not the present. See the full week >


Scorpio (October 23 – November 21)
Just the facts, Scorpio. Before you barrel into your ambitious day, review any data to make sure you're working from credible information. With the moon in your analytical sixth house all morning, a little Googling, some follow-up phone calls and perhaps a private conversation or two can open your eyes to what's REALLY going on. On the fence about a joint venture? Your investigative mission could give you the peace of mind you need to forge ahead…or not. When the moon heads into your seal-the-deal seventh house this afternoon, you'll feel more pressure to commit, so getting to the bottom of things is imperative. See the full week >


Sagittarius (November 22 – December 21)
Even if you sashay out the door looking like a supermodel this morning, be sure to pack a gym bag. The early part of the day is ideal for high-powered meetings and selfies of your on-fleek 2020 look. In the afternoon, the moon exits your glamour sector and enters your sixth house of healthy living. Hedonistic impulses give way to healthy habits for the next two and a half days. More reason to make time for stress-busting self-care! Pick up ingredients for green smoothies and book yourself a bike in a favorite Spin class. Then make it an early Friday night in! See the full week >


Capricorn (December 22 – January 19)
With the moon hovering in your domestic fourth house, you're not exactly thrilled to roll out of bed this morning, let alone to deal with the barrage of requests piled up in your Inbox. Rise and rally anyhow, Capricorn. And don't just trudge to work in your Lululemons—at least, not without packing a chic wardrobe change for later. By early afternoon, the moon will sprint into Taurus and your glamorous fifth house, restoring your joie de vivre and passion. You could be swept into an elite event after work or invited on a heavenly dinner date. If you aren't dressed for the part, turn your break into a 911 shopping trip! See the full week >


Aquarius (January 20 – February 18)
Focus will be scarce until the afternoon, so don't bother tackling any monumental tasks until then. Reserve the early part of the day for the social aspects of your job. Take a client out for breakfast, do some team-bonding exercises (like, say, an extended brainstorming session over artisanal donuts). This afternoon, you can slip on the noise-canceling headphones and dive into your projects. An intimate evening is in the stars. Invite one of your favorite confidants over for a home-cooked meal and movie night—but know that you might be too engrossed in conversation to actually watch the flick! See the full week >

Pisces (February 19 – March 20)
This morning, the moon wraps up a two-and-a-half-day stint in your productive second house, so keep your nose to the old grindstone. Use your unwavering focus to clear a project off your plate before the weekend. When the moon swings into your social sector this afternoon, you'll be driven to distraction. Roll with it! Maybe it's finally time to post your holiday vacation photos on social media or check out the 2020 show schedule at your favorite venue. Plan some lighthearted fun with your BFFs after work. You're in a playful and talkative mood—ready to get the weekend started. See the full week >
What do the stars have in store for you this January? Read your monthly horoscope now
Get horoscope updates straight to your inbox! Sign up for The AstroTwins newsletter
The post Daily Horoscopes: January 31, 2020 appeared first on Astrostyle: Astrology and Daily, Weekly, Monthly Horoscopes by The AstroTwins.
Read more: astrostyle.com