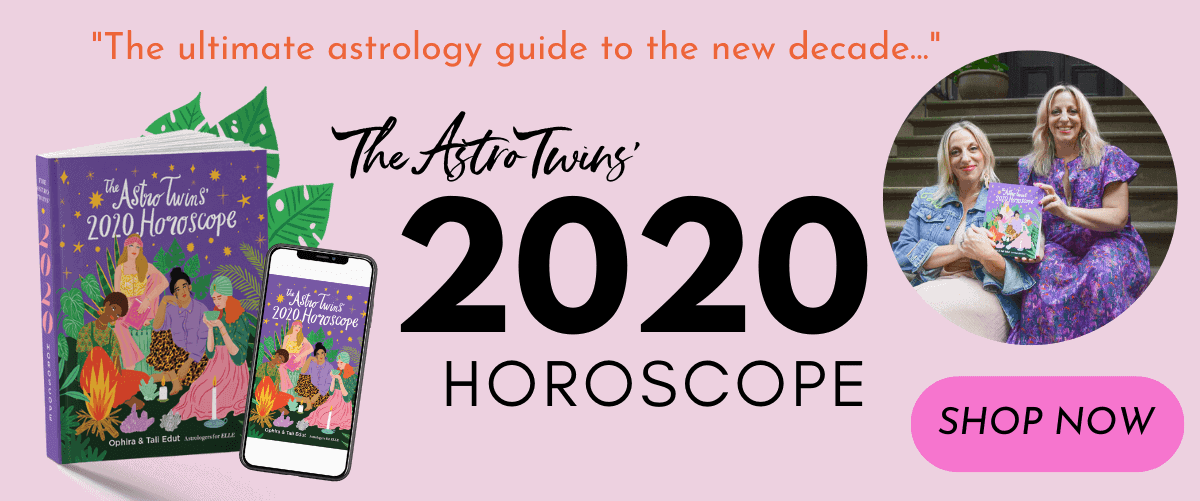 Feel it to heal it. The moon conjuncts Chiron in Aries, helping us look more closely at ourselves and our needs.
Born on a cusp? Please note that dates for the zodiac signs can vary from year to year. To confirm your actual Sun sign, do a free chart here.
Illustrations by Grande Dame


Aries (March 21 – April 19)
No more sweeping a personal issue under the rug, Aries. As the sensitive moon merges with healing comet Chiron in your sign, it's important to advocate for yourself. Stop letting everyone else weigh in. What path is best for you? Only you know. Maybe you want to initiate change, but you can't quite get out of the starting gate. Though friends are cheering you on, a more solid source of support can make all the difference. Find a therapist, sign up for a support group or invest in a life coach. Set up an appointment before the day is through. See the full week >


Taurus (March 21 – April 19)
Toxicity, begone! Holding a grudge is only filling your psyche with negativity, Taurus. Besides, it's possible that the "offending" party simply couldn't meet your sky-high standards. Today's mashup of the emo moon and "wounded healer" comet Chiron helps you release resentment. Let it go, Bull. If forgiveness still feels elusive, the least you can do is stop venting about it and turn your attention to more positive pursuits. See the full week >


Gemini (May 21 – June 20)
Warning: A mutinous team member could strike your very last nerve today, Gemini, forcing you to take action. While you may be ready to show 'em the door, stop yourself from going to extremes. First, see what happens if you pull the agitator aside for a chat. Can you get to the root of their disruptive behavior? It's possible that they're feeling left out or like no one is listening to them. You don't have to condone the rebellion, but can you find some compassion? You might be able to turn this situation around simply by understanding where they're coming from. See the full week >


Cancer (June 21 – July 22)
Are competitors lurking, Cancer—or is your desire to get ahead riling up your own cutthroat tendencies? There's a reason they say that it's lonely at the top, but not for the obvious reason. The higher you rise up the ranks, the more you have to lose, and that can leave you feeling alienated and self-protective. Today, as healer-feeler comet Chiron syncs up with the moon, it can expose this "wounded" part of yourself. True security doesn't come from outside achievements or material resources. For you, Cancer, it's all about nurturing relationships with people who have your back. So don't push your allies away, okay? See the full week >


Leo (July 23 – August 22)
If you've been burying your head in the sand, today's moon-Chiron sync-up snaps you out of ostrich mode. A conflict needs to be addressed—and fast—before it evolves into a major meltdown. Schedule time for a much-needed heart-to-heart. Be it with a family member, a professional contact or a friend, today's compassionate lineup helps you be honest and loving. Don't underestimate the importance of choosing the right time and place for this conversation. Meet for dinner or tea in a quiet atmosphere. It will help smooth out the rough edges of this tough, but necessary, dialogue. See the full week >


Virgo (August 23 – September 22)
A relationship could hit a speed bump today as the moon syncs up with soothsayer Chiron in your intimate eighth house. Under this deep-feeling transit, you're looking for a connection that goes far beyond the surface. Lust won't last unless emotional synergy is also part of the package, and you could find your attraction cooling for someone who's just a pretty face. Coupled? Resentment can be a real romance killer, Virgo. Stop tiptoeing around the pink elephant in your relationship. Maybe you're tired of always being the one to unload the dishwasher, or you're missing some of those gallant gestures from the early days. Get your feelings out into the open, but don't go overboard with the accusations and blame. See the full week >


Libra (September 23 – October 22)
A rocky relationship can find its way to smoother waters today, thanks to a meetup of the emotional moon and healing comet Chiron. This cosmic confab helps you get to the root of the problem. Instead of playing the blame game, take an honest look at your own expectations and demands. Work out a plan where each of you contributes to the areas that you're respectively strong in. Dividing up duties 50/50 may look good on paper, but it doesn't always translate well in the real world. See the full week >


Scorpio (October 23 – November 21)
Add some soul to your fitness goals, Scorpio. As the moon connects with "wounded healer" comet Chiron you won't be satisfied with another boring treadmill run. Start by making yourself a new workout playlist with music that really motivates you. But don't stop there. Add a mindfulness practice to your wellness routines. Mix in some meditative movement, like yoga or a mantra-based spin class. Begin your mornings with gentle stretching and journaling instead of coffee and email. You might not feel a shift immediately, but repeat the practice for a few weeks straight and the transformation will kick in. See the full week >


Sagittarius (November 22 – December 21)
Exhausted from the chase, Sagittarius? You could hit a wall today as the moon connects to Chiron, the wounded healer comet, in your fifth house of glamour, romance and fame. Does it feel like every time you're just about to reach the mark, the target moves? Let that be a sign to step out of the game. Your eager sign doesn't always recognize when people are dangling a carrot on a stick. But once you see what's up, there's only one thing to do: Turn in the other direction! If these folks are worth their salt, they'll start pursuing YOU. If not? Move on to better things! See the full week >


Capricorn (December 22 – January 19)
If your energy is dragging, take a look at your diet. Your sluggishness could be caused by a food sensitivity. Try keeping a food journal for the rest of the week. Write down what you've had for every meal and how you feel 30 minutes after. If a certain substance raises a red flag, try eliminating it from your diet for a couple weeks, then gauge your mood. Stress can also impact your digestive system, so track that too. Today is the day where you might decide to cancel a relationship or obligation that consistently leaves your stomach in knots. See the full week >


Aquarius (January 20 – February 18)
Forget about superficial small talk! As the moon pair-bonds with "wounded healer" Chiron in your communication zone, you could be trading stories about childhood trauma within ten minutes of meeting someone. That's fine in some cases, Aquarius, but go easy on the cathartic chatter with coworkers or anyone you hope to work with professionally in the future. Connecting over a shared "enemy" can also be a powerfully bonding experience, but don't spill all the tea. What you share in confidence could slip out "accidentally" and damage your credibility. Keep the vibe high, Aquarius, even if you have to muffle the funniest drag you've thought up in a while. See the full week >

Pisces (February 19 – March 20)
If money's been a sore spot in a relationship, you won't be able to avoid talking about it today. Maybe you've been feeling overly dependent on someone else's generosity—or you've been offering a little too much fiscal support. As the moon bonds with healing comet Chiron, initiate an open dialogue. Things might feel a little tense initially, but you'll be able to push past it. It's better than allowing discontent to fester. Dive deep: It's probably not only about the cash but maybe how emotionally "invested" you both are. Find a way to restore the energetic balance. See the full week >
What do the stars have in store for you this January? Read your monthly horoscope now
Get horoscope updates straight to your inbox! Sign up for The AstroTwins newsletter
The post Daily Horoscopes: January 29, 2020 appeared first on Astrostyle: Astrology and Daily, Weekly, Monthly Horoscopes by The AstroTwins.
Read more: astrostyle.com