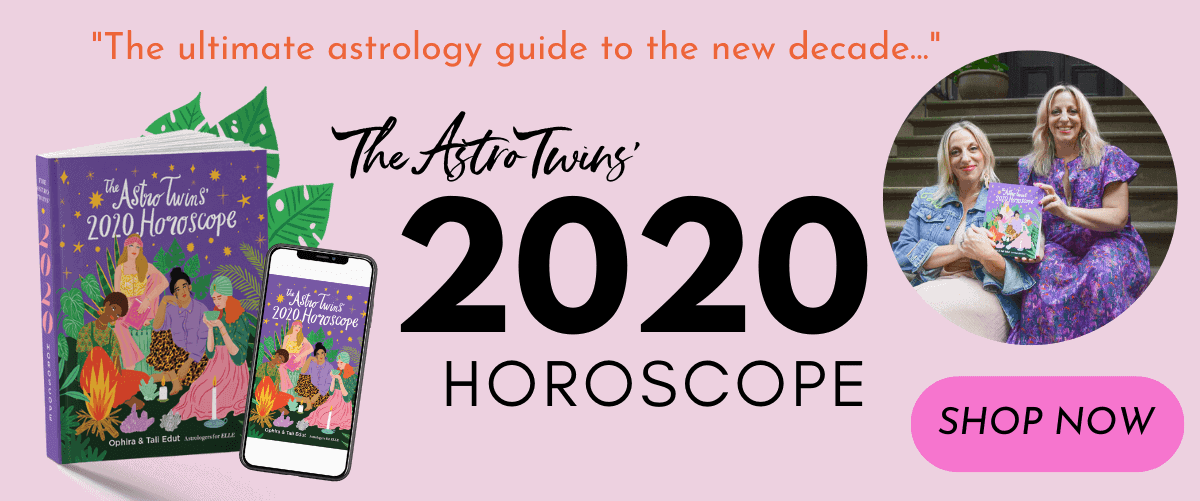 Enchanted romance? Love planet Venus and dreamy Neptune unite in Pisces.
Born on a cusp? Please note that dates for the zodiac signs can vary from year to year. To confirm your actual Sun sign, do a free chart here.
Illustrations by Grande Dame


Aries (March 21 – April 19)
Slip off for a sweet escape—even if you're just ducking out for an afternoon massage or a sexy nooner. Love planet Venus meets up with Neptune in Pisces and your dreamy, poetic twelfth house for the day. Forget the reality checks. You're ready to be swept away in the arms of love, wearing rose-colored glasses with pride. Just don't go into denial, Ram. You can't turn a player into a prince(ss), no matter how charming and incredible you are. See the full week >


Taurus (March 21 – April 19)
Platonic pals…or is something else brewing? Lines could get harder to decipher than a Rorschach ink test as romantic Venus spoons boundary-blurring Neptune in Pisces and your unconventional eleventh house. Someone who's been staunchly in the friend zone could offer up a benefits package worth considering. Single Bulls may also find romance by participating in new groups. Get out and socialize! If you're in a relationship, treat your S.O. with the same curiosity and consideration you'd extend to a new friend. Just when you thought you knew everything about each other, a delicious new dimension could be revealed. See the full week >


Gemini (May 21 – June 20)
Close that Excel window and turn your attention in an artistic direction. Today's alignment of aesthetic Venus and enchanting Neptune brings a dose of divine inspiration for your career. Who are the people, living or passed, whose lives and legacies you most admire? Read their stories and see if you could model your days in a similar way. Who knows, Gemini? With esoteric Neptune in the mix, you might wind up channeling one of these figures in unexpected ways. See the full week >


Cancer (June 21 – July 22)
Good luck finishing up that pitch deck today, Cancer. Thanks to a distracting meetup of hedonistic Venus and wonderstruck Neptune, it's nearly impossible to focus. Before you know it, you've got tabs open for everything from beach house VRBOs to restaurant reviews to a friend's trip photos. Can you take a personal day? Explore fresh terrain, sign up for a guitar lesson or meet a date for lunch (and maybe an afternoon delight). No matter what your itinerary is, stay open to meeting new people. Under these free-flowing stars, a chance conversation could provide a breakthrough insight! See the full week >


Leo (July 23 – August 22)
Quiet and mysterious? Those traits are catnip to a Leo today, thanks to meetup of ardent Venus and esoteric Neptune. You'd be happy to spend the day plumbing the depths with a potential bae. But keep expectations under control. It's too soon to tell if this person is a "lesson" or someone who will be in your life for the long term. You'll need to dig deeper to find out WHY they're so hard to decipher. Are they just introverted, or are they hiding something? Since it's too soon to tell, enjoy the chemistry without getting totally swept away. See the full week >


Virgo (August 23 – September 22)
With romantic Venus and boundless Neptune love-bombing your partnership house, you've got "the future" on your mind. Talks could turn to exclusivity—but you'll be equally excited and apprehensive about putting a label on things. Are you worried that you'll lose yourself if things get TOO serious? Remember that it's up to you to set boundaries. If people can't handle your limits, that's definitely a red flag. But before you raise it, try vocalizing your needs. This is a great day to give a creative collaboration a trial run. Have you met your new songwriting partner or co-star for your future YouTube series? You won't know until you try! See the full week >


Libra (September 23 – October 22)
Astro-aesthete Venus meets "set designer" Neptune in Pisces and your efficiency-loving sixth house. It's time to bring order to your court, but make sure you also pay attention to beauty. Color-code your bookshelves, tuck clutter into matching boxes, create systems that are visually pleasing. At work, focus on nurturing important relationships. Did a colleague recently hook you up? Treat for lunch or drop a little gift on her desk. See the full week >


Scorpio (October 23 – November 21)
Cupid comes a-calling as Venus and Neptune huddle together in your fifth house of romance. No need to jockey for attention or lay it on thick with bae. Under this boundary-free transit, anything more than a small effort could qualify as overdoing it! Your sartorial flair is in fine form, but again, think like a minimalist. This is a good day to follow Coco Chanel's rule of thumb, removing one accessory before leaving the house. Wait an extra ten minutes (or hour) before replying to a text from your Tinder crush. You know that keeping the air of Scorpionic mystery creates dynamic tension and intrigue. Hold back just a little and keep things sexy. See the full week >


Sagittarius (November 22 – December 21)
Today, as Venus spoons languid Neptune in Pisces and your house of domestic bliss, you'd happily stay in your PJs until it's time to climb into them again. If you don't technically "have to" go in, take a remote day. With these aesthetic planets aligned, the interior-decorating bug could bite. Whether you're at Chez Centaur or the office, look around! You'll see new possibilities for your space that are pure genius. Start a Pinterest board and check your budget. Maybe you DO have enough saved up for that reclaimed wood desk, better lighting and a few lush plants to liven things up. Under this romantic planetary pairing, you could redecorate your bedroom or turn a spare room into your creative studio. See the full week >


Capricorn (December 22 – January 19)
Good luck NOT launching a charm offensive today as Venus makes a spellbinding connection to Neptune in your communication zone. Stop rehearsing and speak from the heart! If you tune in to the energy of the moment, the right words will just flow. What you DON'T want to do, however, is make any big promises. Venus and Neptune aren't exactly masters of boundaries—or reality, for that matter. That "incredible opportunity" you say yes to today could feel overwhelming tomorrow you when you remember all the responsibilities that you've already heaped onto your plate. You don't have to rule a good thing out, Capricorn. But before you commit, clear some space in your busy calendar. See the full week >


Aquarius (January 20 – February 18)
Just an old-fashioned love song, please. As amorous Venus makes a quixotic connection to fantasy agent Neptune, you'll be uncharacteristically sentimental. Instead of sexting, why not write a love letter on actual stationery? You don't have to abide by stereotypical gender roles. If you feel like pursuing, do! That said, Venus and Neptune are more skilled at attracting and receiving. It might be fun to play with seduction instead of racing in with bold or obvious moves. Baeless? Romance yourself today. Buy yourself flowers, treat yourself to a massage, listen to a sensual playlist. But get ready because stirring up that energy can make you magnetic! See the full week >

Pisces (February 19 – March 20)
Today, as Venus aligns with dreamy Neptune in your sign, no one's taking off your rose-colored glasses. Your ability to see the best in people is one of your superpowers, Pisces. The problem comes in when you fall in love with people's potential and overlook the hurdles they have yet to overcome. If you find yourself attracted to someone with "scars," test the waters slowly. Everyone has a past, but are they willing to do their inner work? Time will tell. Your own charm is reading off the meters today! While you'll enjoy weaving a fantasy, make sure you're not leading anyone on. See the full week >
What do the stars have in store for you this January? Read your monthly horoscope now
Get horoscope updates straight to your inbox! Sign up for The AstroTwins newsletter
The post Daily Horoscopes: January 27, 2020 appeared first on Astrostyle: Astrology and Daily, Weekly, Monthly Horoscopes by The AstroTwins.
Read more: astrostyle.com