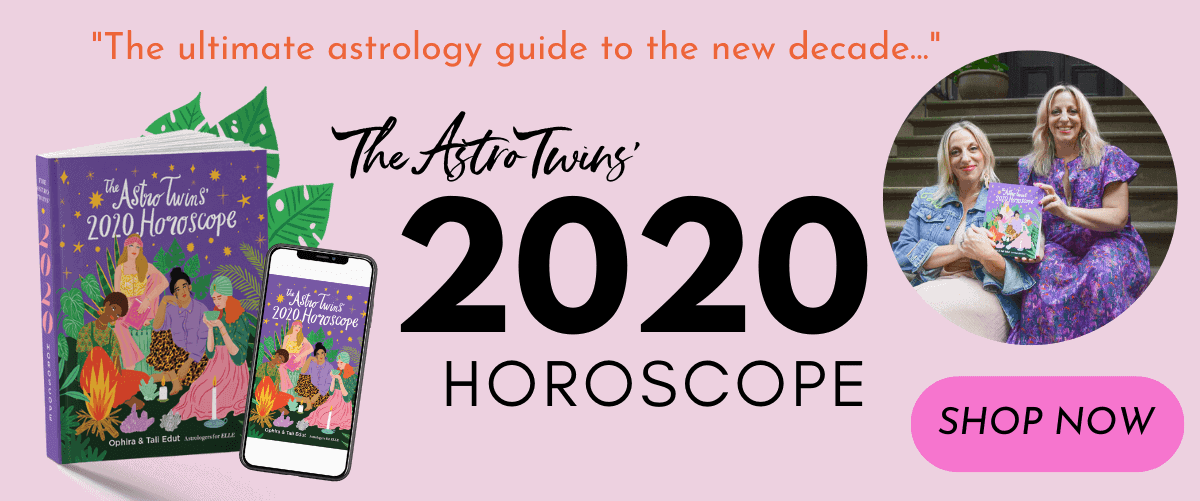 The first new moon of 2020 arrives in Aquarius and ushers in the Year of the Metal Rat.
Born on a cusp? Please note that dates for the zodiac signs can vary from year to year. To confirm your actual Sun sign, do a free chart here.
Illustrations by Grande Dame


Aries (March 21 – April 19)
No one is an island, not even a self-reliant Ram, and today, the Aquarius new moon offers some undeniable reminders. With this fresh-start energy firing up your eleventh house of teamwork and technology, look around and see who on your team is pulling their weight and lending inspiration and who's dragging others down with their cooler-than-thou attitude? Loyalty must be earned; doling it out just because you have a history with someone won't advance your dreams. It may be easier to let that person go if you frame it as moving forward into a new era. See the full week >


Taurus (March 21 – April 19)
You shoot, you score! Today, the only Aquarius new moon of year fires up your tenth house of professional ambitions and could send you skipping breezily to the top of the food chain. That's all well and good, but what, exactly, are you aiming for? You won't be able to measure success if you're not clear on your goals. Over the next two weeks (manifesting time for this lunation), think long and hard about your desires and try to imagine where you'd like to be in six months. Once you have a clear picture, you can start taking the first steps toward your dream. See the full week >


Gemini (May 21 – June 20)
Don't take others' reality checks or acceptance of mediocrity as YOUR mandate, Gemini! With today's Aquarius new moon gunning its engines in your visionary ninth house, you have a rare and empowering opportunity to make good on one of your big dreams. What's the most important thing you can do now—or in the next two peak manifesting weeks—to achieve this? Whether you're itching for a mid-winter thaw in the tropics or have found THE perfect class to advance your skills, do your research, then reserve your seat! See the full week >


Cancer (June 21 – July 22)
Brace yourself, Crab. Today marks the first new moon of the decade, and thrillingly, it lands in Aquarius and your eighth house of seduction, merging and intimacy. Are you ready to take a developing relationship to the next level? Couples may finally feel prepared for the large and looming next step. Go ahead and broach the subject! If you're currently flying solo, you can change that status over the coming two peak manifesting weeks. But you have to make the effort and show the universe—and yourself—that you mean business. See the full week >


Leo (July 23 – August 22)
Your craving for commitment could reach fever pitch under today's Aquarius new moon, which lands with a fanfare in your seventh house of partnerships. As the first new moon of the decade ignites the action, budding romances might burst into bloom without much preamble—music to your merger-minded ears! Single Lions should make a point of getting out more, even if that means bundling up then shedding a few layers once you're in high-flirtation mode. This lunation also bodes well for business deals and creative collaborations. Honest communication is more important than ever. See the full week >


Virgo (August 23 – September 22)
Today, the first new moon of the decade ramps up your initiative, landing in Aquarius and your sixth house of service and self-care. If you've been waiting for an optimal moment to relaunch a healthier lifestyle (cleaner diet, more exercise, less junk food), this is one of the most auspicious days of the year! But ease up on the pressure. The next two weeks are peak manifesting time, so come up with a realistic set of goals and timeline to achieve them, then slowly roll out the changes. See the full week >


Libra (September 23 – October 22)
Your mojo is rising—palpably!—as today's new moon in Aquarius electrifies your fifth house of amour and glamour and makes you the center of attention. Single? Take matters into your own hands with apps that put you in the driver's seat, or start frequenting venues where people who share your interests flock. Let your passion shine through, and people will gravitate to you. Get back into a creative project—the muse will be on call. Don't worry about nailing it out of the gate. "Done" is better than "striving for perfection." See the full week >


Scorpio (October 23 – November 21)
Regardless of what's going on tonight, you may only be interested in heading to home sweet home as quickly as your feet can carry you! Today marks the first new moon of the decade, in Aquarius. And because it heats up your domestic quarters, you might be fixated on spending more time at Chez Scorpio over the next two weeks. Cooking, baking, watching movies or feathering the nest sound like dream activities. No one's saying you have to do any of it alone. With a new moon in social air sign Aquarius, friends might drop in for movie nights and painting parties, or just to enjoy your company. See the full week >


Sagittarius (November 22 – December 21)
If you've been feeling uninspired, today's new moon in Aquarius and your curious third house can bring you back to life. You can bust out of any rut by reaching out to creative, adventurous friends who always know how to have fun. Plant yourself among strangers too! Spending time with inspiring people is contagious for you, Sag, so see who's up for something out of the ordinary. The next two weeks are peak manifesting time to spark up a collaboration. Have purposeful conversations to scout out your ideal kindred spirits. See the full week >


Capricorn (December 22 – January 19)
Today, the Aquarius new moon—the first one of the decade(!)—stokes your second house of money and security, putting you on a mission to increase your bottom line. The next two weeks are extra-ripe with opportunity, but even when lucky breaks do come your way, remember, you still have to act on them. Start putting out the word about whatever you're seeking: freelance opportunities, a new gig, investment advice. You're ready to step up to the next level of prosperity, and as a future-oriented Capricorn, you are innately strategic! See the full week >


Aquarius (January 20 – February 18)
Your personal New Year begins NOW! The annual new moon in Aquarius spreads some major manifesting seeds that will sprout over the coming six months. But don't underestimate the power of this fresh-start energy. While you might only be sowing seedlings today, by the Aquarius full moon on August 3, they could be mighty beanstalks. Over the next two weeks, refine your master plan, revising as necessary. But then be ready to hit the ground running as you pursue this grandiose dream. See the full week >

Pisces (February 19 – March 20)
Downshift, Pisces! You've been barreling ahead at a way-too-manic pace lately, and today's Aquarius new moon in your restorative twelfth house will come as blessed relief. You prefer to mull ideas and really FEEL your way to an answer, and you'll finally get that chance over the coming two weeks. While you're meditating, journaling or taking long, bundled-up walks, think about whether it's also time to let something or someone go. That's the first step before the deep healing process can begin in earnest! See the full week >
What do the stars have in store for you this January? Read your monthly horoscope now
Get horoscope updates straight to your inbox! Sign up for The AstroTwins newsletter
The post Daily Horoscopes: January 24, 2020 appeared first on Astrostyle: Astrology and Daily, Weekly, Monthly Horoscopes by The AstroTwins.
Read more: astrostyle.com