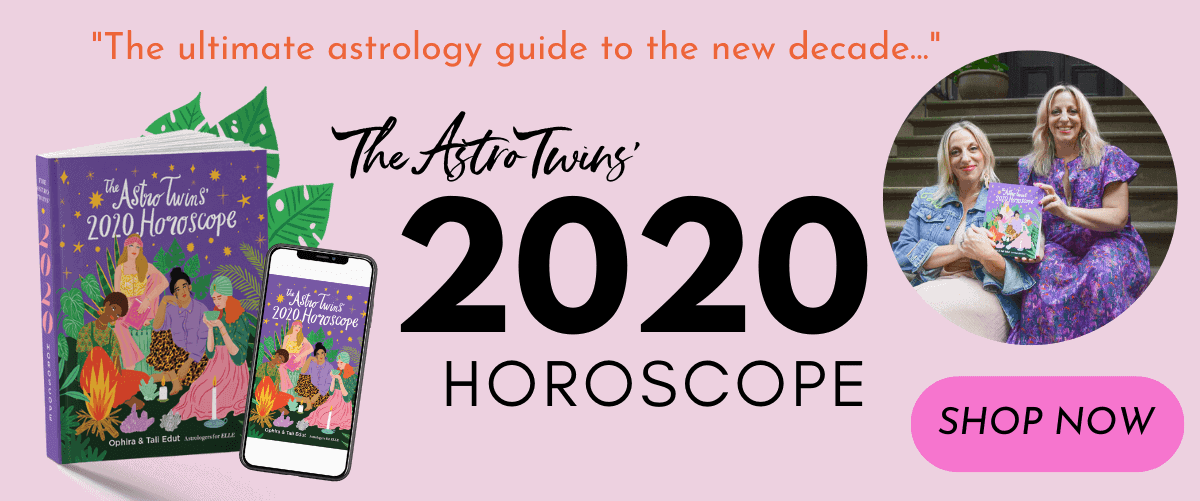 A moon-Uranus trine in earth signs helps us take calculated risks.
Born on a cusp? Please note that dates for the zodiac signs can vary from year to year. To confirm your actual Sun sign, do a free chart here.
Illustrations by Grande Dame


Aries (March 21 – April 19)
Can you step into a power position and still be true to yourself? Absolutely, Aries! Today, the moon is in Capricorn and your tenth house of professional advancement buoys your confidence as a leader. And thanks to a supportive beam from renegade Uranus, you won't lose your quirky edge. Just keep showing up, Aries, and keeping it real. It doesn't sound hard, but honesty and integrity are in short supply these days. Soon enough, you'll solidify your position as an avant-garde leader. See the full week >


Taurus (March 21 – April 19)
Aha! Expect a life-changing, horizon-broadening epiphany today as the moon in Capricorn teams up with revolutionary Uranus. A change of scenery and new experiences could put you in touch with your life's calling. Whether it's a one-day road trip or a shift in your evening plans, you're an eager sponge, waiting to soak up wisdom and discover tools you can apply to make your life more enjoyable. This cosmic coupling could bring the nudge you've been waiting for to do something daring, like kicking off an entrepreneurial venture or signing up for a workshop…in Marrakech or Costa Rica! See the full week >


Gemini (May 21 – June 20)
Shake it up! Your most tender spots—intimacy and money—could get a jolt of inspired change as the moon in Capricorn and your eighth house of joint resources teams up with unpredictable Uranus in Taurus. Maybe a flash of insight leads you to ask a question of your partner (romantic or business) that opens up a previously shut-tight door. Or perhaps you act on a hunch to invest in (or investigate) a potentially lucrative income stream or real estate deal. Your actions may surprise people, but who says a Gemini can't behave out of character every now and again? See the full week >


Cancer (June 21 – July 22)
Today, you could make a move to lighten things up on the relationship front as the Capricorn moon in your seventh house of one-on-one unions gets a nudge from quirky Uranus in Taurus. Perhaps you suggest a less-than-traditional arrangement to your amour du jour, like living separately or being a little more "open." Or maybe you're just craving regular social time with bae or less lazing around with your BFF. Instead of sitting down for a heavy conversation, just get out for a spontaneous night with your favorite plus-one. Actions speak louder than words. See the full week >


Leo (July 23 – August 22)
A lightning bolt of organizational inspiration may strike today as changemaker Uranus beams the Capricorn moon in your sixth house of efficiency. Pay attention to the seemingly mundane details of your daily life. What could you improve or lifehack: maybe a new office system that increases productivity AND brings the admiration of an authority figure? Now you may get a glimpse of your bright future when you keep things profesh. Spoiler alert: It's amazingly peaceful, so be firm. See the full week >


Virgo (August 23 – September 22)
As the Capricorn moon plugs into spontaneous Uranus' electric grid today, you're more likely to follow your impulses than the rules. Go with it, Virgo! A simple act of picking up a paintbrush or seeing an avant-garde gallery exhibit could awaken the muse in you. When it comes to romance, you'll be quite the renegade. Swipe right on someone who breaks from your usual type or lives in a different city (one you've always wanted to visit). Maybe you'll get a dose of courage and wear your big heart on your sleeve, telling someone special how you really feel about them. Roll the dice, Virgo—nothing ventured, nothing gained! See the full week >


Libra (September 23 – October 22)
Time to spruce up your sanctuary? You could feel excited about a home decor project or even a move as the moon in Capricorn and your domestic fourth house forms a supportive trine to changemaker Uranus. A relative could casually mention a house for sale or rent, and boom!—you're packing boxes. Or maybe you'll have a tender moment with a loved one who is more vulnerable than usual. This level of intimacy makes you feel rooted today. Emotional closeness provides its own kind of shelter. See the full week >


Scorpio (October 23 – November 21)
Brainpower times two? A business or personal partner could inspire a profitable idea as the Capricorn moon catches a wave of uplifting energy from innovator Uranus. Have you been bonding more than usual with someone from the hivemind lately? Invite them for a drink and a creative chat. You'll do your best thinking in tandem today—plus, when a brilliant concept emerges, the enthusiasm of two can carry it that much farther. Open up the voice app and hit record or bring along your Moleskine to capture the genius that's flowing. You won't want to miss a syllable! See the full week >


Sagittarius (November 22 – December 21)
How healthy have your fiscal habits been lately? Today, you could feel a sudden urge to take action on your bottom line as the moon in your money zone forms a supportive trine to revolutionary Uranus. Vote with your wallet by supporting companies that share your ethos—and look at where you might be leaking cash. Whether you implement a budget, take on a new income stream or apply for a gig out of the blue, your sudden actions could raise eyebrows. While you don't want to do anything rash (like, say, quitting your day job), you can get creative about spending and earning. See the full week >


Capricorn (December 22 – January 19)
With the moon in Capricorn, your goal-oriented, dedicated ways are on the loudspeaker—and it doesn't hurt that shock jock Uranus is egging la luna on. You might as well roll with the uncensored energy of the day. People will be captivated by your honesty, magnetism and passion. The trick is to use your pulpit to forward a good cause. Direct people toward an inspiring download or a meaningful cause—and make sure you leave the house camera-ready! On a day like this, you could be spotted by someone influential. See the full week >


Aquarius (January 20 – February 18)
Forgive and forget? Today, you could have a sudden change of heart as the moon in your twelfth house of healing and release catches an encouraging beam from forward-thinking Uranus. A conversation with a family member could free you from weeks of emotional angst, allowing you to see an old hurt in a more generous context. Once you open up, an overwhelming appreciation for your entire life—and the people in it—could flood your consciousness. In this warm-hearted mood, you're too busy cataloguing gratitude to engage in petty scorekeeping. Just make sure you don't sweep a legit issue under the rug. See the full week >

Pisces (February 19 – March 20)
Get ready for all kinds of visionary downloads to flow in as the moon pings high-minded Uranus. It's anyone's guess what plans you'll cook up—and you'll be a total ninja when it comes to getting friends onboard with your schemes. Stay open to feedback! An exchange with colleagues, friends or collaborators could ignite a life-changing idea or project. The enthusiastic fires are burning bright, so use this energy to forward your big-picture agenda or an important social cause. Your ability to connect the strategic dots makes you an MVP on any team project. See the full week >
What do the stars have in store for you this January? Read your monthly horoscope now
Get horoscope updates straight to your inbox! Sign up for The AstroTwins newsletter
The post Daily Horoscopes: January 22, 2020 appeared first on Astrostyle: Astrology and Daily, Weekly, Monthly Horoscopes by The AstroTwins.
Read more: astrostyle.com