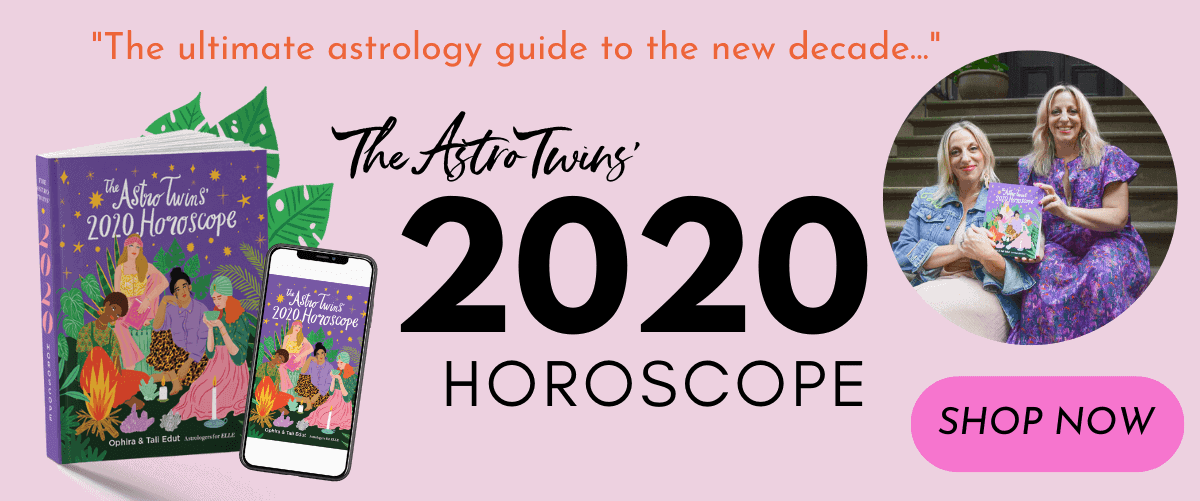 Aquarius season arrives! The Sun moves into the Water Bearer's realm until February 18.
Born on a cusp? Please note that dates for the zodiac signs can vary from year to year. To confirm your actual Sun sign, do a free chart here.
Illustrations by Grande Dame


Aries (March 21 – April 19)
Believe it or not, Aries, there may be a crowd out there that is interesting enough to hold YOUR fleeting attention. Today, the luminous Sun beams into Aquarius and powers up your eleventh house of community until February 18. Dabble in different scenes without feeling obligated to fill out the membership papers. Need a little motivation to leave the house? Treat yourself to a fab faux-fur stole or cozy cashmere wrap (they're going to get a lot of use over the coming months). Some of the socializing may go down at Chateau Ram. If your lair needs a little sprucing up to be dinner-party-ready, use your off-hours this week to power-clean and decorate. While you're at it, see who wants to rent a bungalow…in Bali! See the full week >


Taurus (March 21 – April 19)
Don't worry about the groundhog! Hibernation time may come to an abrupt halt today as the life-affirming Sun blasts into Aquarius, amping up your tenth house of career ambitions until February 18. For Bulls plotting their ascent up the company ladder, this is a time to network strategically or sign up for a specialized training that can boost you to a higher pay grade. Looking to branch out on your own? See how much work you can line up before giving notice. You might be mentally ready for a big change, but you're still a security-loving Taurus. See the full week >


Gemini (May 21 – June 20)
Give yourself over to wanderlust today as the Sun sweeps into Aquarius and your worldly ninth house. For the coming four weeks, your focus will be on far-flung destinations instead of emotional drama or the daily grind (sweet relief!). Widen your viewfinder and take in a scene that's bigger and full of more adventure than you even knew was possible. If you can't get away before February 18, travel in the figurative sense by signing up for a foreign language intensive and mingling multiculturally close to home. Global issues could also capture your attention. What can you do to make a difference, Gemini? See the full week >


Cancer (June 21 – July 22)
Although you rarely barrel straight ahead, when it comes to unfathomable (emotional) diving, you're the zodiac's champ! Get ready to break some new depth levels: Today, the Sun plunges into Aquarius and your intense—and intensely seductive—eighth house. Skip the small talk and gossip. What your soul needs right now (and until at least February 18) are intimate interactions with people you genuinely adore and who sincerely care about you. Cement these important bonds with quality one-on-one time. Under these sultry skies, certain tete-a-tetes could become "clothing optional." See the full week >


Leo (July 23 – August 22)
Make room for two in that lion's den! The Sun beams into Aquarius today, lighting a blaze in your seventh house of relationships until February 18. Under this bright cosmic cycle, all your duos feel more dynamic! (And that makes it easier for you to commit.) If it feels like the obvious next step, turn a solo act into a joint venture. Whether a romance or a promance, you'll triple your power as a tag team. Already found your "Serengeti steady" for prowls through the metaphoric savannah? Sync your calendars and fill the blank spaces with cultural activity dates, fancy dinners and, if finances permit, a winter resort getaway. See the full week >


Virgo (August 23 – September 22)
Ice skates, snowshoes or a strappy tank for Spin class? Whatever your poison, just get moving. Today, the Sun blazes into Aquarius and charges up your wellness and work zone until February 18. Your career calendar is about to get busier—more reason to prioritize stress-busting workouts and keep clean fuel in your tanks for longer days at the office. Before you dive into "Go!" mode, organize your systems. Tackle clutter first, from papers piled up on your desk to your overstuffed inbox. Automate and use apps where you can, from bill payments to grocery delivery. Time is money, Virgo. See the full week >


Libra (September 23 – October 22)
Swap your beanie for a statement-making fedora, and splash some color onto that neutral palette. Today, your inner show pony will gallop back onto the mainstage as the Sun bursts into Aquarius and your fiercely flamboyant fifth house. The holiday season may be in your rearview, but you'll find plenty of excuses to celebrate over the coming four weeks: awards shows, Valentine's Day, because friends just feel happier when wearing sequins. With your ruler, Venus, already in this romance-enhancing position, you're doubly blessed by Cupid for the coming few weeks. Cut ties with the half-steppers and find someone worthy of your final rose! Couples who've been quibbling have one order of business: kiss and make up. See the full week >


Scorpio (October 23 – November 21)
Where do you think YOU'RE going, Scorpio? Today, the Sun nestles into Aquarius and puts down stakes in your domestic fourth house. Home is where your heart—and the heat—shall be until February 18! Feather your nest with all the conversation pieces your aesthetically oriented sign adores; then invite friends over to play. From dinner parties to tarot nights to crafting around the kitchen table, it won't be long until you've all practically forgotten that it's winter. Ready to relocate? You could find your dream address by mid-February. But first, how about a beachy getaway with the family or a few close friends? See the full week >


Sagittarius (November 22 – December 21)
Let the Kodiak bears tuck away in their caves. YOUR winter hibernation plans go on hiatus for a month as the Sun blazes through Aquarius and your ultra-social third house until February 18. Stake out a few local venues and become a regular. Just knowing you can meet your book club at the hotel lobby with the roaring fireplace will be enough to get you out for the commute through an Arctic chill. New friends will pop up everywhere now, and existing connections can become richer. Got an idea for a book, blog or podcast—or maybe a course you'd like to teach? Carpe diem, Sagittarius. See the full week >


Capricorn (December 22 – January 19)
Ready to feel like, well…a Capricorn, again? After a month of rapid expansion (with some hedonism thrown in), life settles back into a rhythmic groove. The bummer? Birthday season is over until December 21, 2020. Raise one more champagne toast to "me, myself and I," then get back to business. As the Sun hunkers down in your sensible (but sensual) second house until February 18, you can see which of your wild hares of the past month are worth developing. Four weeks from now, you might just pull a very profitable rabbit out of your hat! See the full week >


Aquarius (January 20 – February 18)
Stop by the bakery and send out the party invites! Aquarius season begins today as the Sun sweeps into your sign until February 18, igniting a month of self-discovery and celebration. You can hop off the emotional roller coaster you've been riding for the past month and breathe a deep sigh of relief. Don't force yourself to tie up every loose end. Sometimes it's best to just move on—or leave untenable situations in karma's hands. Train your focus on the future, which is always the best view for your innovative sign. Shiny new experiences and people await! See the full week >

Pisces (February 19 – March 20)
And… it's a wrap! Today, the Sun shifts into Aquarius and your twelfth house of healing and closure, giving you a chance to tie up some dangling loose ends. You've got four weeks until el Sol returns to your sign, and we're fairly certain you'll want to kick off your birthday season on the freshest note possible this February 18. Use this transitional cycle to declutter your spaces, detoxify your diet and depart from situations that just aren't lighting your fire. Build room in your schedule for restorative activities like long massages and a daily meditation practice. Now for the hardest part: putting up boundaries with people who have become a little too dependent on you! Practice makes perfect, Pisces. See the full week >
What do the stars have in store for you this January? Read your monthly horoscope now
Get horoscope updates straight to your inbox! Sign up for The AstroTwins newsletter
The post Daily Horoscopes: January 20, 2020 appeared first on Astrostyle: Astrology and Daily, Weekly, Monthly Horoscopes by The AstroTwins.
Read more: astrostyle.com