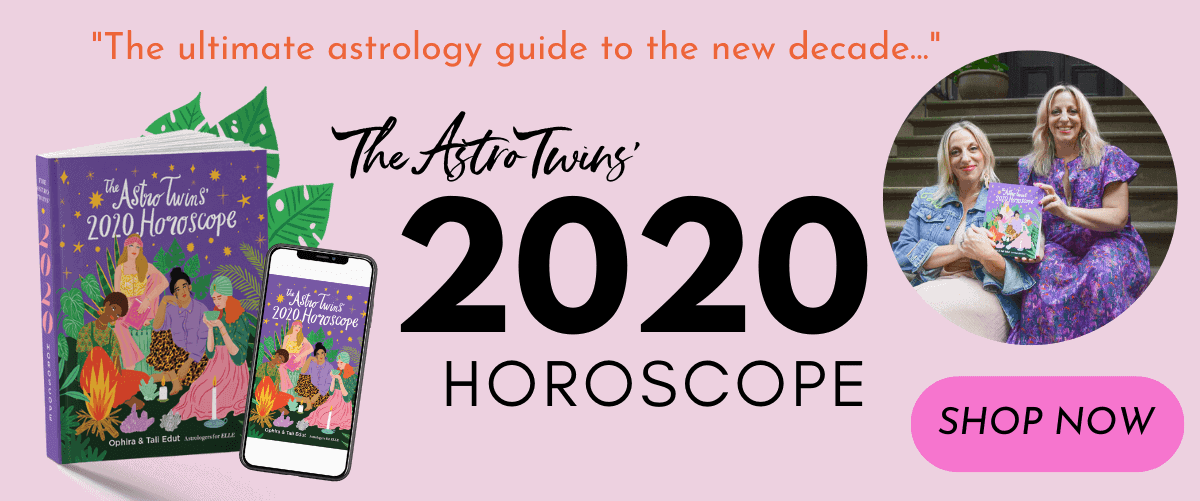 Balance, please! The recalibrating Libra quarter moon helps us regain our equilibrium.
Born on a cusp? Please note that dates for the zodiac signs can vary from year to year. To confirm your actual Sun sign, do a free chart here.
Illustrations by Grande Dame


Aries (March 21 – April 19)
Lay down your sword, oh fierce one. With the waning quarter moon flowing through cooperative Libra, give peace a chance. As the zodiac's warrior, you're fearless when it comes to fighting for a cause or standing up for your beliefs. But you sometimes forget that other people aren't quite as direct as you. Tone down any swagger, and before you assume anything, ask people to chime in with THEIR opinions. The quiet ones will surprise—and delight—you today. See the full week >


Taurus (March 21 – April 19)
Noontime yoga, Taurus? Or how about some sweatworking? With the waning quarter moon in your healthy living sector, take that 3PM meeting on adjacent elliptical machines—or put yourself on mute and listen to that conference call from the treadmill. At lunch, reach for roasted brussels sprouts and mashed sweet potatoes instead of that plate of mac and cheese: The nutrients will do you good. Under these efficient moonbeams, you could knock out annoying busywork that's been cluttering up your calendar. Outsource and delegate wherever you can. See the full week >


Gemini (May 21 – June 20)
Cupid makes a cameo today as the waning quarter moon parks in Libra and your glamorous, amorous fifth house. Forget about broadcasting "live from the couch." Dress up for a fancy lunch date, meet for dinner in the gallery district or indulge in decadent side-by-side massages after work. Single? Get yourself in the mood for love with some pampering, and book your first salon appointments of 2020. A little color and some creative nail art can do wonders to chase the winter blues away. See the full week >


Cancer (June 21 – July 22)
Honor your sensitive spirit under today's emo moonbeams. It's not unusual for you to take things to heart—and today, people's blunt-edged comments could hit a nerve. Reschedule meetings if you're feeling too touchy to take feedback—even the constructive variety. Schedule set in stone? Before you sit down with anyone, call a friend for a little pep talk. That way, your fears won't hijack you when you step into the meeting. See the full week >


Leo (July 23 – August 22)
Today's mission: to make work feel more like play. With a waning quarter moon in lighthearted Libra hanging overhead, it won't be hard to inject some levity into your workday tasks. Play music when you're handling low-concentration busywork. (Office flashmob, anyone?) Motivate yourself with a fun reward system. Every time you ex a bigger item off your task list, treat yourself. You can start with a coconut-almond smoothie and work your way up to those statement sneakers. The fun factor increases exponentially if you turn this into a friendly competition. First one to finish gets treated to lunch! See the full week >


Virgo (August 23 – September 22)
Today's waning quarter moon in your sensual second house whets your appetite for life's finer things. If you aren't careful, you could drift down an online shopping wormhole instead of completing that research your boss asked for by EOD. Oops! Single-task and save the luxuriating for a treat between each mission. There's nothing wrong with feasting your eyes on beautiful objects; in fact, doing so will flood your reward centers with happy chemicals today. Splurge selectively and stick to something small, like a haute sipping cocoa or an 8×10 print of a favorite illustration. See the full week >


Libra (September 23 – October 22)
Optimism: refresh! Today's waning quarter moon in your sign gets your day off to an invigorating start. Is your schedule cluttered with obligations to other people—ones that leave YOUR projects and priorities at the bottom of the list? Reshuffle the decks and devote the day to missions that will boost your public profile. Promote strategically by looking for win-wins: How will your talents or offerings benefit others? Spell it out, and you could set yourself up as an indispensable force in people's lives. See the full week >


Scorpio (October 23 – November 21)
Ease out of the week, Scorpio. With the waning quarter moon nesting in your solitary twelfth house, today is best used for behind-the-scenes work that you can do in private. Keep a few creative supplies handy! The muse could strike while you're tucked away. Build in time to meander off-task and do some open-ended research. If you must interface with others, keep things short and sweet. Pro tip: Write up an agenda prior to any meetings to keep everyone focused. Under these meditative moonbeams, a mid=ay massage or yoga class can help you stay centered and, by extension, more productive. Just go! See the full week >


Sagittarius (November 22 – December 21)
Today's waning quarter moon in Libra energizes your collaboration corner and reminds you of this maxim: Your network is your net worth. Instead of just logging on and losing hours behind your computer, devote the day to people-oriented tasks. Send out pitches, organize conference calls and make sure Team Archer is aligned on Q1 tasks. If certain agreements have slipped between the cracks over the holidays, you may need to refresh your squad's memory with an internal memo. See the full week >


Capricorn (December 22 – January 19)
Go, Speed Racer! With the waning quarter moon hovering in Libra and your career zone today, you're ready to hit the gas on a professional mission, one that got held up by holiday hoopla. But first, review your game plan with fresh eyes. Do you need better data for planning purposes? Is someone missing from your team? Delegate but don't expect other people to keep up with your pace. You may need to blaze the trail as a solo star first, then bring others along for the ride. If you're feeling stuck, reach out to a mentor who can provide the shortcode to success. See the full week >


Aquarius (January 20 – February 18)
Wanderlust hits you hard as the waning quarter moon zips through your adventurous ninth house. Forget about sitting at your desk all day; it's time to get adventures started. You've got people to see, projects to deliver and items to pick up—and this is the day to handle all those tasks that require you to run around town. Cross-cultural connections heat up, so keep your ears perked for intriguing accents while you're on your intrepid voyage. Stuck at the office? Use this lunar juice for visionary work. Your mind is open to every possibility, and this could be the day where you FINALLY break through a creative block. See the full week >

Pisces (February 19 – March 20)
Shield your field, Pisces. On any given day, you're ultra-intuitive, but under today's tapped-in skies, you could feel like an emotional sponge. Be discerning! Not every vibe is worth picking up on, exploring or even being curious about. Steer clear of stressful situations and people who push your buttons—and save your energy for a special someone you've been wanting to get closer to. This intimate energy is the perfect backdrop for bonding: clothing optional. See the full week >
What do the stars have in store for you this January? Read your monthly horoscope now
Get horoscope updates straight to your inbox! Sign up for The AstroTwins newsletter
The post Daily Horoscopes: January 17, 2020 appeared first on Astrostyle: Astrology and Daily, Weekly, Monthly Horoscopes by The AstroTwins.
Read more: astrostyle.com