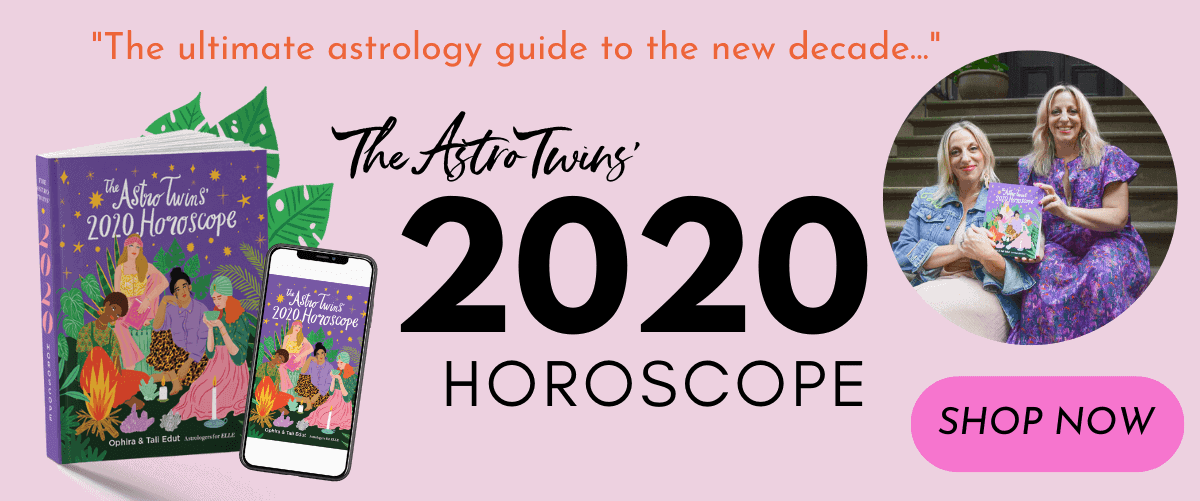 Practical matters come first as the moon splits the day between methodical Virgo and later, decadent Libra.
Born on a cusp? Please note that dates for the zodiac signs can vary from year to year. To confirm your actual Sun sign, do a free chart here.
Illustrations by Grande Dame


Aries (March 21 – April 19)
Starting new projects: check! But today's Virgo moon in your industrious, focused sixth house is cracking the metaphorical whip and insisting you see something through to completion. Make a (to-do) list, check it twice, then put the pedal to the metal—and no shifting out of the express lane, Ram! Later this afternoon, la luna grooves into Libra and your relationship realm. How nice will it feel tonight to have a major accomplishment to toast with your S.O. or BFF?! See the full week >


Taurus (March 21 – April 19)
There's no holding you back today—not with a flirty fifth-house moon unleashing your sensual charms. No one can work a room quite like a Taurus on a mission! But before you go full-metal on them, take the collective pulse and make sure you're not pushing things too far. Strike the right balance, and people will line up to buy whatever you're selling. Late afternoon, la luna downshifts into your organized sixth house. File that paperwork and buy those groceries: It's back to reality for the next two days. See the full week >


Gemini (May 21 – June 20)
Even the social superstar (i.e., YOU, Gemini) needs to stop and rest every now and then. Today, with the thoughtful moon lingering in your private fourth house, you don't need to justify hanging a "Do Not Disturb" sign on your door or turning on your autoresponders. If you can block out the distractions, you will get SO much done! Late afternoon, la luna spins into Libra and your fun-loving fifth house. Take out the earbuds and let the festivities begin! See the full week >


Cancer (June 21 – July 22)
You're firing on all eight cylinders early in the day, so make the most of this power surge! With your cosmic custodian, the moon, lingering in productive Virgo and your multitasking third house, tackle a complex project. If you're stuck on something, call a brainstorming session with the resident creatives—or fly it up the social-network flagpole and crowdsource a solution! But get it done early because this afternoon, la luna checks in to your private fourth house, where maximum capacity is plus-one. See the full week >


Leo (July 23 – August 22)
Today dawns with the ambitious moon lingering in hard-working Virgo and your productive second house. You've got laser-like focus as well as the stamina to see a complicated project through to completion. Don't cut any corners, though—influential people may well be watching! Late afternoon, la luna slips into a LBD when she enters Libra and your social third house. Rally your crew for some evening fun, lively conversation and, if you're single, unabashed flirting! See the full week >


Virgo (August 23 – September 22)
With the moon in your sign for much of the day, you're encouraged to take a step back from that monster to-do list (yes, we know about the list) and shuffle some personal wishes to the top tier. Don't worry, o' responsible one: There's nothing wrong with the occasional self-indulgence. In fact, it can keep your motivation up! Stop and smell the roses—in the local botanical garden—and buy yourself some fresh-cut flowers. A nice dinner out followed by a movie would be the perfect way to wrap the day. See the full week >


Libra (September 23 – October 22)
You may not realize how much stress that unfinished business (or unresolved disagreement) is causing you, Libra. Take a time-out from your work duties and tie up those loose ends—or bury the hatchet. The moon is lingering in your twelfth house of completions and healing until late afternoon, giving you a perfect opportunity to deal with this. You'll feel a hundred pounds lighter once you do. Later, la luna zooms into your sign for the next two days, giving you the "It" factor—a lift you don't want to squander! See the full week >


Scorpio (October 23 – November 21)
With the moon in your collaborative eleventh house early in the day, teamwork will definitely make the dream work! But you may have to loosen your death grip on controlling the situation. (What's that about anyway, Scorpio?) Pick your partners carefully and trust that occasionally they know more about something than you do or have equally brilliant ideas. And how thrilling it is to actually learn or be inspired by others! Later, when la luna shifts into your introspective zone, you won't have to apologize for zipping home to Casa de Scorpio! See the full week >


Sagittarius (November 22 – December 21)
Can't stop, won't stop! With the moon powering up your tenth house of ambition, take a moment to make sure you haven't accidentally shifted into cruise control, Archer. People might turn to you for inspiration today, and you want to be confident in your ability to give clear directions. Late afternoon, la luna spins into Libra and your social eleventh house. As much as you enjoy being the decision maker, now you might be happier having a committee to run things by. See the full week >


Capricorn (December 22 – January 19)
Throw 'em a curveball today, Capricorn—just to see who can think on their feet! With the moon in your ninth house of visionary thinking, put your urge to get things done on hold and inspire people to think WAY outside the box. You don't have to "work fast and break things" to hit on genius new ideas. Just mix things up a little, like taking a meeting in the park instead of the conference room. Commit to NOT shooting down any ideas to get the collective creative juices flowing. See the full week >


Aquarius (January 20 – February 18)
Think twice before making any commitments you aren't 100 percent positive that you'll want to keep when the sheen of newness wears off. Early in the day, with the moon lounging in your hyper-focused eighth house, tunnel vision may obscure your view. But by late afternoon, when la luna canters into Libra and your expansive ninth house, you suddenly see the big picture. Does the full vista look as compelling as that one shiny detail you were fixating on? Take it all in before you commit. See the full week >

Pisces (February 19 – March 20)
A budding partnership could gain ground quickly today as the moon heats up your seventh house of relationships. You love the idea of being half of a dynamic duo with this inspiring person—and in the rosy first blush of newness, everything seems perfect and like nothing could go wrong. But for your protection, before la luna shifts into your eighth house of intense feelings later today, make sure you've clearly discussed all the expectations before you ink a deal—or slide between the sheets. See the full week >
What do the stars have in store for you this January? Read your monthly horoscope now
Get horoscope updates straight to your inbox! Sign up for The AstroTwins newsletter
The post Daily Horoscopes: January 15, 2020 appeared first on Astrostyle: Astrology and Daily, Weekly, Monthly Horoscopes by The AstroTwins.
Read more: astrostyle.com