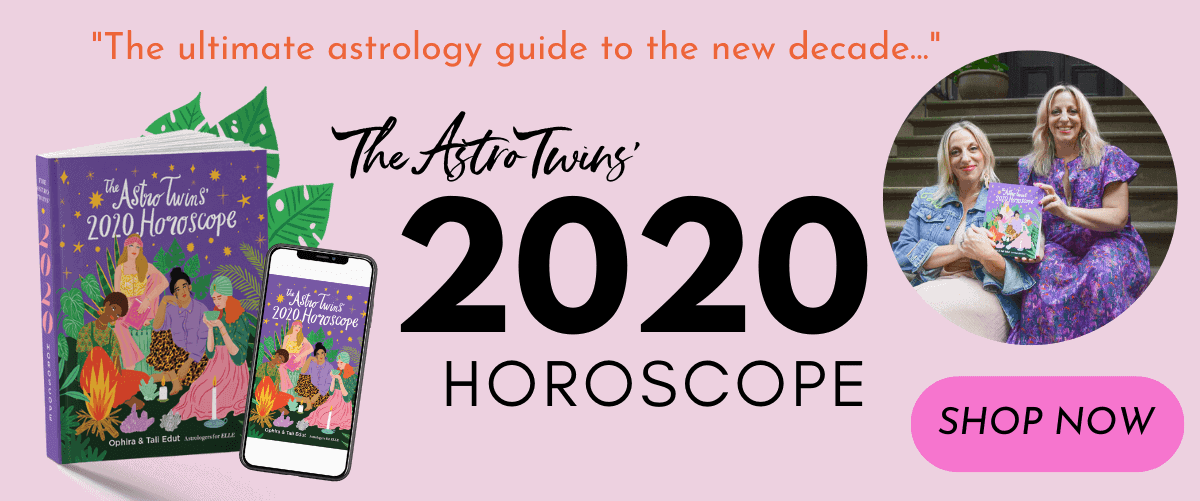 Viva romance! Valentine's Day arrives a month early as amorous Venus enters dreamy Pisces til February 7.
Born on a cusp? Please note that dates for the zodiac signs can vary from year to year. To confirm your actual Sun sign, do a free chart here.
Illustrations by Grande Dame


Aries (March 21 – April 19)
Fairy tales can come true, Aries—especially over the coming few weeks. Today, vivacious Venus swoops into Pisces and your dreamy twelfth house until February 7. Single Rams may spark a soulmate connection. If you're already attached, you might feel like you're finally living happily ever after—especially as the love planet reigns in your fantasy sector. If an old flame resurfaces now, address any unresolved issues so you can finally move on. In three weeks, when Venus glides into Aries and gives you the romantic It factor, you'll be glad you left the past behind. See the full week >


Taurus (March 21 – April 19)
Amorous Venus—your ruling planet—swims over to Pisces today, activating your friendship zone until February 7. Casual hangouts could set the stage for a love connection, perhaps through a mutual friend's introduction. Single? Hop on a new dating app. Upgrade your profile with photos that show your true colors and don't be shy about sparking up conversations with attractive strangers while you're out and about. If you're in a relationship, get cultural activities and double dates on your shared calendar. Socializing as a twosome will only bring you closer. You might even work together to promote a good cause or volunteer at a local charity. See the full week >


Gemini (May 21 – June 20)
Keep things light? Good luck with THAT, Gemini. Today, love planet Venus slides into your tenth house of long-term goals, spotlighting commitments until February 7. If an undeniably fierce attraction stays in the "no strings" zone, however, you may lose interest. Just don't get so focused on your agenda that you rush into something uncertain. Single? You could meet a potential partner through mutual friends or at a work function in the next three weeks. The family-oriented type could also spark your attention. Attached? Set some relationship resolutions as a couple, like renovating the kitchen or planning a trip to Peru. See the full week >


Cancer (June 21 – July 22)
Pack your bags for a romantic rendezvous! Passionate Venus glides into Pisces and your globetrotting ninth house today, bringing added excitement to your love life until February 7. Cupid shows up in the most unexpected places during this three-week cycle. Keep your ears perked for sexy accents or plant yourself strategically under a beach umbrella in the tropics. Traveling together will turn up the heat for coupled Crabs. Close to home, add more variety to your date planning. Try new restaurants, pick up theater tickets, check out experimental art exhibitions. See the full week >


Leo (July 23 – August 22)
Lion on the prowl! Vixen Venus sashays into Pisces and your eighth house, supercharging attractions with extra intensity until February 7. But privacy, please! Keep your encounters low-key for the next few weeks instead of Instagramming every shared tiramisu and dress-up date. If you haven't been feeling like your vivacious self, get your body moving. Exercise builds energy—the hardest part is getting started. After a few Spin or Zumba classes, blood will be rushing to all the right places again. Coupled Leos make more time for bae. Trim a few extracurriculars from your schedule so you can relax into a romantic headspace. See the full week >


Virgo (August 23 – September 22)
Ready to put a ring on it, Virgo, or maybe your honey's spare on your key ring? Venus heads into your seventh house of commitment until February 7, putting you in a more serious headspace. If all that left-swiping has left you jaded, deactivate your dating apps and go mingle at live events. For coupled Virgos, the planet of passion could rekindle some serious sparks. Find new ways to surprise your partner, like a thoughtfully planned date or a romantic night in. Under Venus' social charms, entertaining as a duo will bring you closer, so how about putting together a dinner party for your mutual friends? See the full week >


Libra (September 23 – October 22)
Glow from the inside out, Libra! Beautifying Venus—your planetary ruler—moves into Pisces and your wellness zone until February 7. Add a sensual touch to your salubrious pursuits between now and February 7, like taking daily dance breaks or making a batch of golden turmeric milk (Google it). Social Venus loves company, so get your S.O. or closest friends onboard with your new healthy lifestyle. Buy a pair of fitness-class passes and explore studios in your area or take a nature hike instead of heading to your go-to wine bar. Single Libras could actually meet someone through your healthy activities. To feel your best, invest in a little "athleisure" upgrade: an aerodynamic pair of running shoes or a sexy, strappy sports bra that peeks out from your tank. See the full week >


Scorpio (October 23 – November 21)
Ready to paint the town crimson, Scorpio? January's icy temps do not have to turn you into a shut-in. Today, love planet Venus enters your flamboyant fifth house until February 7, awakening your urge for wilder nights that stretch until the wee hours. Summon the squad for a spa date or do a thorough closet edit and splurge on a couple head-turning upgrades. For the next few weeks, the passion planet will also spice up your love life. Drama could flare with dates if you're single, but at least it will keep things interesting (or make for some entertaining brunch tales). Coupled Scorpios might get more aggressive about "locking it down," but be careful not to pressure the object of your affections. See the full week >


Sagittarius (November 22 – December 21)
Home is where your heart is as Venus drops anchor in your domestic sector until February 7. Drape yourself in cashmere shawls and sheepskin slippers. "Couch couture" could become your new style statement. This three-week cycle is meant for unplugging and unwinding. Even the nomadic Archer needs quality time at Chateau Sagittarius with your S.O. and loved ones, savoring the close-knit vibes. This nesting streak may come as a shock to your adventurous system, but you could use a break to read books, putter in the kitchen and craft some DIY decor. Give the hottie-next-door a chance to woo you—they might be wilder behind closed doors than you're giving them credit for. See the full week >


Capricorn (December 22 – January 19)
Back in the game, Capricorn? Sultry Venus shifts into your flirtatious third house until February 7, ramping up your charm and charisma. Keep things light and drama-free while Venus treks through this lighthearted social sector. And whether you're planning date-dates or playdates with friends, check out what's happening on the local scene. Drop into pub trivia night, join a weekly book or wine club, spend an afternoon at a yoga class with a sound bath. For single Capricorns, this could be the path to finding someone with whom you share common interests. Don't rule out long-distance love! Commuting back and forth between two cities could be an exhilarating adventure! See the full week >


Aquarius (January 20 – February 18)
As an Aquarius, your tastes run to "minimalist," but as indulgent Venus moves into your extravagant second house for three weeks, you'll feel the urge to splurge. That belted cashmere coat beckoning from the shop window could snag you with its siren song. And hey—when WAS the last time you treated yourself "just because?" Give your budget an honest appraisal. Maybe you do have a little extra cushion to add a decadent piece to your wardrobe. A classic piece that makes you happy every time you wear it is justifiable. Let this lavish energy seep into your romantic life over the next few weeks. Pair that new coat with some breathtaking shoes for a night out. Make reservations for a chef's tasting menu, inviting friends out for a dressy night on the town. If your birthday falls before February 7, you have the perfect excuse! See the full week >

Pisces (February 19 – March 20)
As loving Venus glides into your sign today, you'll start asking for what you want—and more importantly, what you need. Venus is here for her annual visit until February 7, helping you lovingly but firmly assert your boundaries. Don't put up with people who aren't pulling their emotional weight. You deserve to be adored and supported, so if your partner isn't fulfilling your needs, rewrite that script. Don't settle, Pisces—even if that means being alone (and therefore available to meet someone who DOES respect and revere you). With the passion planet in your sign, you've got star-powered permission to playfully explore your options. In a relationship? You might ask for a little more freedom and trust from your partner so you can explore your creative pursuits without racing home just as the muse arrives. See the full week >
What do the stars have in store for you this January? Read your monthly horoscope now
Get horoscope updates straight to your inbox! Sign up for The AstroTwins newsletter
The post Daily Horoscopes: January 13, 2020 appeared first on Astrostyle: Astrology and Daily, Weekly, Monthly Horoscopes by The AstroTwins.
Read more: astrostyle.com