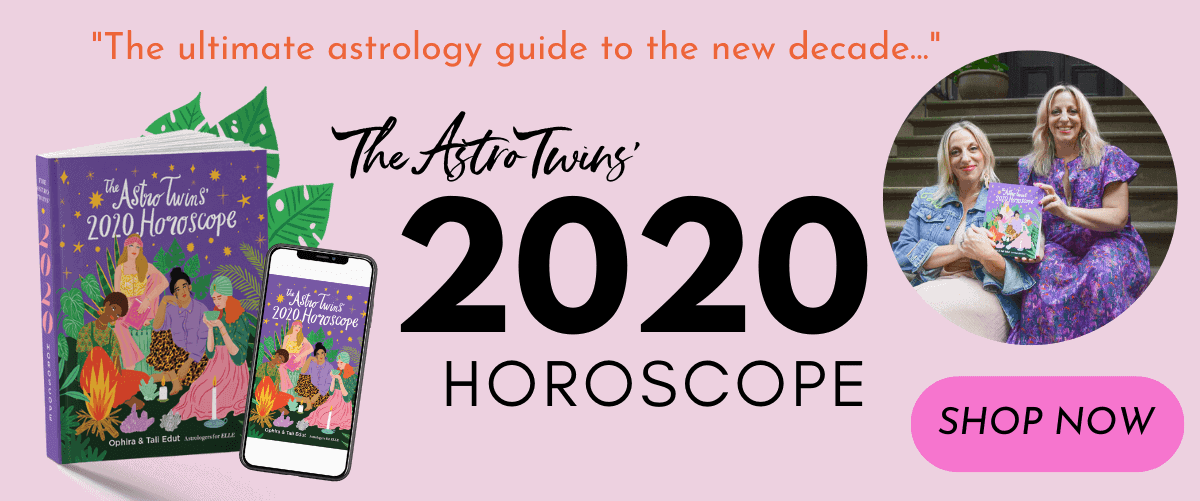 The first full moon of the decade is in Cancer and it's also a lunar eclipse.
Born on a cusp? Please note that dates for the zodiac signs can vary from year to year. To confirm your actual Sun sign, do a free chart here.
Illustrations by Grande Dame


Aries (March 21 – April 19)
As the Cancer lunar eclipse nestles into your fourth house of domesticity, keep things VERY close to home. Besides your boss, no one will be able to pull you out of your nest today. And if you can swing a work-from-home day, do! Should you feel the need to socialize this evening, order takeout and make it a house party. La luna also shines a supportive beam on family matters. If you've been thinking of adding a baby to your brood, this starmap could bring some exciting pregnancy news. Not in that mode? Take all precautions for the coming four weeks. If you've been considering a change of address, this full moon may inspire a life-changing relocation. See the full week >


Taurus (March 21 – April 19)
Flap those social butterfly wings, Taurus. Today's lunar eclipse in Cancer plugs into your gregarious third house, inspiring you to go out into the world and connect! Though you typically love any excuse to stay within the cozy confines of your home, this invigorating influence wants you to step out of your comfort zone. Ride the courageous wave and make new friends. (Hint: They might not be located in "the usual places.") By the day's end, you'll find plenty of people to bond with in a meaningful way. If you've been looking for a creative or business partner, the ideal collaborator could show up within the next two weeks. Start scouting! See the full week >


Gemini (May 21 – June 20)
Focus on your finances today, as the first full moon of the decade—a rare lunar eclipse in Cancer—powers up your money corner. Draw up a personal budget and brainstorm ways to increase (and protect) your revenue streams. Also, update any public-facing platforms you use for work—whether that's your Instagram, Facebook or your personal website. If a new skill set could increase your earning potential, sign up for a continuing-ed class in that area. Been working hard on a major project? Your efforts could earn you a big payday sometime in the next two weeks. See the full week >


Cancer (June 21 – July 22)
Pop the Veuve! Today marks a rare lunar (full moon) eclipse in Cancer, and you're ready to hit some major milestones. If you've been hustling like a boss since the July 2 solar (new moon) eclipse in your sign, all that hard work could pay off within four weeks. And if one of your major dreams recently came true, let the world know! It's okay to wage your own PR campaign every now and again. Draft that victorious Facebook post or summon the squad for celebratory drinks. If they're real friends, they will be happy to toast your incredible achievements. See the full week >


Leo (July 23 – August 22)
Is it time to cut your losses and move on? Today, as the Cancer lunar eclipse sends a current through your twelfth house of completions, you may be forced to confront a difficult situation. Are you having a hard time extracting yourself from a toxic dynamic? Under this lunar surge, you'll be empowered to make some tough calls. Chances are, the writing's been on the wall for a while. End the situation compassionately, and open your heart to the next chapter. See the full week >


Virgo (August 23 – September 22)
The world can't get enough of you today, thanks to a popularity-boosting lunar eclipse in Cancer and your eleventh house of teamwork and tech. If you've got something to brag about, get your social media swagger on! You've worked hard to arrive at this point, and you deserve all the praise coming your way. It's also a great day for signal-boosting any friends or influencers whose work you admire. These moonbeams could awaken your activism. Rally behind a political candidate or an important cause and see who else wants to join you in that. See the full week >


Libra (September 23 – October 22)
Get ready for that victory dance! As a galvanizing Cancer lunar eclipse lights up your tenth house of success, your plans for world domination will get a major boost. If you've been hustling to achieve a goal for the past six months, it could FINALLY start paying off. Still haven't quite hit that benchmark? Keep going. This lunar lift will motivate you to take the next big step. If you've been feeling the need for a major life reboot, you could get serious about embarking on that new path over the coming two to four weeks. Pay attention to where doors are opening, and then bolt on through. See the full week >


Scorpio (October 23 – November 21)
Shake up those routines, Scorpio—we promise it won't hurt. A rare Cancer lunar eclipse supercharges your ninth house of exploration and adventure, drawing you into unfamiliar terrain. If inspiration strikes, don't hold back. You could wind up deep-diving into a whole new system of thought. If you're willing to open your mind to novel experiences, big breakthroughs could erupt. Say yes to that ambitious new project or a potentially life-changing vacation. It could be slightly risky, but remember: You miss 100 percent of the shots you don't take. See the full week >


Sagittarius (November 22 – December 21)
Feelings intensify under today's lunar eclipse in Cancer—and they can run the gamut from jealousy to lust. With your eighth house of sex and secrets getting a jolt from these moonbeams, you could find yourself suddenly keyed up about feelings you didn't even know you had buried. Watch out! Fiery dialogues might erupt with people you love the most. But maybe it's time for the two of you to settle on whether to dive in deeper or go your separate ways. Who knows? What starts as a heated debate could erupt into a passionate lovefest. Coupled Archers may feel ready to take that next step once you've cleared the air. See the full week >


Capricorn (December 22 – January 19)
Commit or quit? The first full moon of the decade is a Cancer lunar eclipse, and it's supercharging your seventh house of partnerships. A moment of truth may cast a relationship in a whole new light. For example, if you've had trouble determining whether your love interest is a keeper, the universe will send an answer over the next two to four weeks. Professional alliances will also benefit from this clarifying lunar lift. Get ready to negotiate! If you're in a long-term relationship, confab with bae about shared future plans. This is your chance to get on the same page before you drift in different directions. See the full week >


Aquarius (January 20 – February 18)
All aboard the detox train! Today's Cancer lunar eclipse hits your health and fitness zone, bringing a jolt of motivation to take great care of yourself. Stock up on organic veggies, renew your Pilates membership and think about booking that yoga retreat you keep checking out on Instagram. This lunar lift can bring your hard work of the past six months to a profitable fruition. If you've paid your dues, Aquarius, it's time to level up. Set up a time to talk to your boss or HR about next steps or a salary increase. See the full week >

Pisces (February 19 – March 20)
Cupid's in the house! Today, a passion-provoking lunar eclipse in Cancer brings a powerful boost to your fifth house of romance, self-expression and fame. If you've been playing it safe in the love game, switch up your strategy, taking advantage of this lunar lift to make a bold and unprecedented move. Single? Right-swipe liberally and set up dates or tell your winter crush just how insanely powerful the attraction is for you. Already in a couple? Spice things up with a sensual night on the town, followed by an equally adventurous romp between the sheets. See the full week >
What do the stars have in store for you this January? Read your monthly horoscope now
Get horoscope updates straight to your inbox! Sign up for The AstroTwins newsletter
The post Daily Horoscopes: January 10, 2020 appeared first on Astrostyle: Astrology and Daily, Weekly, Monthly Horoscopes by The AstroTwins.
Read more: astrostyle.com