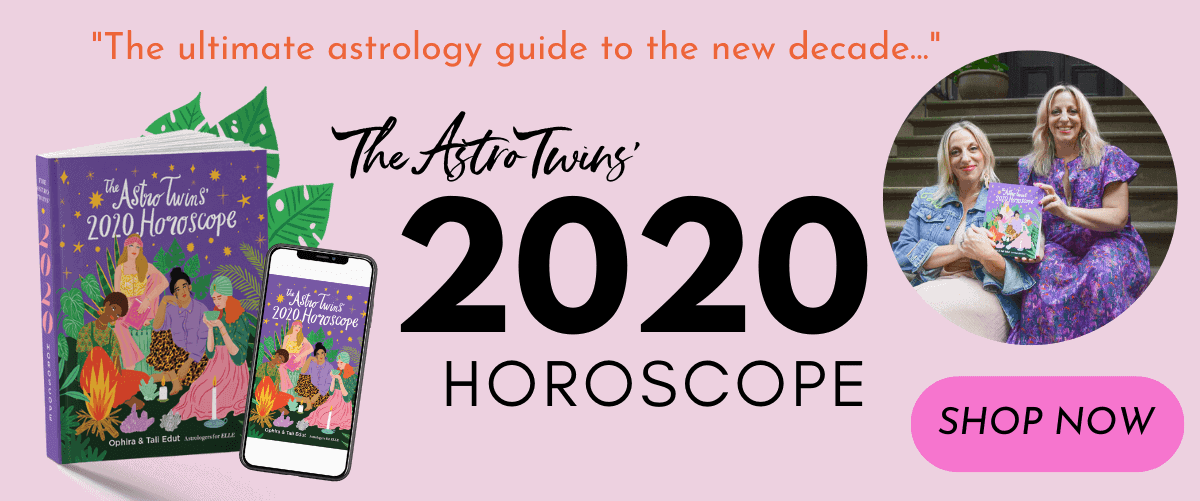 Born on a cusp? Please note that dates for the zodiac signs can vary from year to year. To confirm your actual Sun sign, do a free chart here.
Illustrations by Grande Dame


Aries (March 21 – April 19)
Work the buddy system early in the day. A "you scratch my back, I'll scratch yours" arrangement can bring a big win for both of you…not to mention taking a load off your shoulders. When the moon heads into Cancer this afternoon, tend to the home fires. A close friend or relative may need some extra attention. Step in with support, Aries, but make sure you don't let your own commitments fall off your radar. Getting behind will only stress you out. See the full week >


Taurus (March 21 – April 19)
Penny-wise and pound-foolish? What's the sense of haggling over the price of a Honeycrisp apple if you're going to blow a paycheck on a pair of haute winter boots? Today's planets call for some economical equanimity. Let yourself enjoy a few mini luxuries like organic produce, a gourmet cup of coffee or valet parking. When you stop starving yourself of the smaller treats, you'll be less likely to binge on excess. See the full week >


Gemini (May 21 – June 20)
Pour yourself an extra cup of courage. With the moon hovering in your sign all morning, you're in a peak position to negotiate favorable terms of a contract or to pitch a big idea to someone who can provide funding (or another meaningful form or support). It doesn't hurt that your charisma is off the charts thanks to a trine to the moon from the Aquarius Sun. People will have a REALLY hard time saying no to you. Of course, you also have to walk your big talk. When la luna shifts into Cancer mid-afternoon, settle down at your desk to send follow-up materials. Show that you're a Gemini of your word! See the full week >


Cancer (June 21 – July 22)
Today's recipe for success: float like a butterfly, sting like a bee. While the moon is wrapping up a two-and-a-half-day tour through your soulful twelfth house, apply a gentler touch. Instead of making a direct ask, nurture people with your special brand of TLC. Once you've got 'em eating out of the palm of your gel-manicured hand, you can start laying out your three-point plan—and naturally, requesting support in the form of fiscal resources. There's no better time to unleash than this afternoon, when the moon heads into Cancer, powering you up with courage and charm. Be bold! You might just get more than what you anticipated in the first place. See the full week >


Leo (July 23 – August 22)
All for one and one for all? Yeah, sure, at least until lunchtime. Keep your spirit fingers raised in the air early today, leaving zero doubts about where your allegiance lies. Midday, as the moon dips into Cancer and your solitary twelfth house, you'll have to let the team fend for themselves. Your energy level is down to one bar, and you need to recharge. Since napping under your desk is not advisable, Leo, how about booking a massage—or even taking the afternoon off? You'll be doubly productive once you're given yourself this break. See the full week >


Virgo (August 23 – September 22)
You shoot, you score! With the moon lighting your career zone until the afternoon, you're perfectly positioned for success. Make your power play, Virgo; just try not to scatter your efforts. Keep your focus on the key decision makers—and even more so on the "gatekeepers" who help manage their affairs. The second-in-commands are often easier to access than the VIPs. Sometimes they even have the power to expedite results you thought you'd need to wait months to push through. Forming a genuine connection with these influencers might be the smartest move you can make today. See the full week >


Libra (September 23 – October 22)
More, more, more? That's how you'll like it earlier in the day, but be careful how much you heap on your plate (literally and figuratively). If you keep grabbing everything in sight, you'll fill up on junk food instead of saving your appetite for the high-quality opportunities that are heading your way mid-afternoon. Sate your hunger by taking bites out of one giant goal today instead of stuffing your schedule with time-zapping interactions that aren't really leading you anywhere. See the full week >


Scorpio (October 23 – November 21)
Keep your cards close to your vest early in the day—it's not quite time to reveal your hand. Besides, keeping 'em guessing increases your allure, making people wonder what's really going on behind those penetrating but mysterious Scorpio eyes. Mid-afternoon, the moon shifts gears, moving into Cancer and your honest-to-a-fault ninth house. You've got strong opinions on a matter, and you can't hold them back anymore. Just deploy SOME tact so no one's feelings get injured by your piercing accusations. See the full week >


Sagittarius (November 22 – December 21)
It's smooth sailing for your most important relationships early in the day, but by mid-afternoon, you might hit choppy waters. Turns out your co-captain could be feeling like a second-in-command (or vice versa), and a competitive vibe is creeping in. Take a moment to reset the GPS. If you're both trying to steer the ship in different directions, someone's going to be mighty unhappy. You might have to drop anchor and discuss for a while, but it's better than sailing off while one person stews and maybe even jumps ship!


Capricorn (December 22 – January 19)
Perfectionist that you are, you have no problem pointing out when other people's work is not up to snuff. But are you admitting how much this actually affects you? Today, instead of picking up the slack for the lazy person on the team, ask them to step up. You might have to work together this afternoon to train folks on how you like things done. True, these orientation sessions can be a real time suck…but only at first. Once you've brought them up to speed, you'll have a more reliable, competent collaborator to lean on—a wise investment indeed. See the full week >


Aquarius (January 20 – February 18)
You adore someone with all your heart, but how practical is this relationship, really? Early in the day, you're quite the smitten kitten and it's fun to fantasize. But while you're doodling imaginary hearts with your names inside, recognize that this crush might be better left in the "passing fancy" zone. When the moon shifts gears mid-afternoon, your pragmatic thinking returns. Maybe this person is better kept as a muse or acquaintance than someone you force in the BFF or "happily ever after" category. But hey, you never know…you could also spend the evening doing something "normal" together and see if the sparks still fly. See the full week >

Pisces (February 19 – March 20)
Early in the day, you may be stewing in the moody blues. There's no sense in fighting the feelings, Pisces, not for an emo soul like you. Find an appropriate place to vent so you don't turn a coworker into an unwitting confidante. And don't worry, this too shall pass. Mid-afternoon, the moon beams into Cancer and your passionate, romantic fifth house. Head home for a costume change. Trade that oversized sweater you left the house in for an alluring evening look, and then go meet your crush or fun-loving friends for a dinner date! See the full week >
What do the stars have in store for you this February? Read your monthly horoscope now
Get horoscope updates straight to your inbox! Sign up for The AstroTwins newsletter
The post Daily Horoscopes: February 5, 2020 appeared first on Astrostyle: Astrology and Daily, Weekly, Monthly Horoscopes by The AstroTwins.
Read more: astrostyle.com