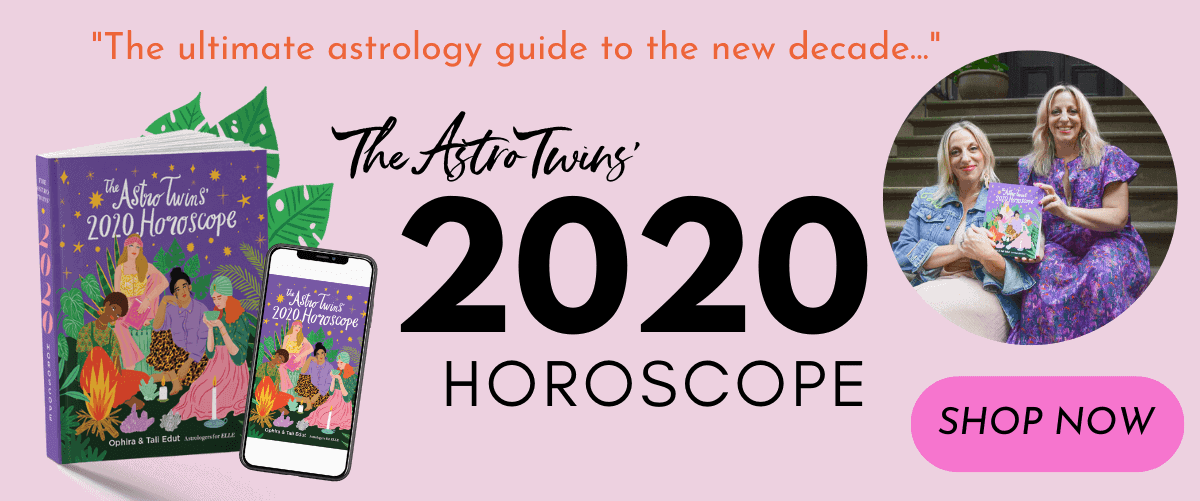 Born on a cusp? Please note that dates for the zodiac signs can vary from year to year. To confirm your actual Sun sign, do a free chart here.
Illustrations by Grande Dame


Aries (March 21 – April 19)
Be inclusive, Aries, even if you'd rather just hang out in the bubble with your squad. Make a point of looping in a new friend with your go-to crew or asking the quiet people in the room to offer their input. If you're going out tonight, head to a venue that can handle a larger capacity. Your guest list may grow unexpectedly as people in your party add a spontaneous plus-one. Don't resist! This is actually perfect since you're primed for a fateful encounter with somebody new. Forget what your mother told you: Today, it's not only safe, but exhilarating, to talk to strangers! See the full week >


Taurus (March 21 – April 19)
The student becomes the master! Today, you can pass along pro tips to a newbie who is tackling a thorny issue you recently resolved. Even if you don't have a success blueprint to unleash, share honestly about your personal experience. The cathartic anecdotes will help the struggling soul realize that they're not alone. And maybe in the process you'll gain a little gratification, knowing that your hard times were not ALL in vain. Tonight, hangouts will double as networking events. Load that Keynote presentation onto your mobile—you never know who you'll meet ordering a drink or while you're checking in at the gym. See the full week >


Gemini (May 21 – June 20)
Are those WhatsApp notifications chiming every two seconds? You're feeling eager to explore some fresh scenery, Gemini—and you know how THAT goes. When wanderlust starts kicking in, you have to scratch the itch. Sure, it's a Tuesday, but could you possibly slip off for an overnight getaway or a two-day jaunt out of town? If you can't leave home base, make like a tourist in your own 'hood. Check out the exhibits or special events you might normally breeze right by. A cross-cultural connection might heat up, too. Before the workweek officially wraps, you could make an important connection with someone in a different part of the world or score a long-distance business contact. See the full week >


Cancer (June 21 – July 22)
Oscar Wilde said that "the only way to get rid of temptation is to yield to it." A seductive alignment of the Sun and moon makes resistance futile today—especially when it comes to a romantic interest. Better to let your heart get a little bent out of shape than to be left wondering "what if?" Even if Cupid is absent, drop your defenses around people you actually care to know better. By sharing a more authentic side of yourself, you'll get a better gauge on the potential these relationships hold. See the full week >


Leo (July 23 – August 22)
Flutter, flutter, social butterfly. Today's Sun-moon trine makes you a live wire AND a bright light. If you found yourself being clingy or cliquey for the past few days, shake that off because it's definitely not going to serve you as you navigate the buzzy energy of the day. Got evening plans? Rather than put restrictions on your inner circle, open your invite list to include new people. The mystery guest in the bunch could turn out to be THE project partner you've been hoping to meet or the lead to your next job. In turn, you might wind up playing matchmaker for some folks you adore. What comes around goes around! See the full week >


Virgo (August 23 – September 22)
Don't quit five minutes before the miracle, Virgo, even if you're running out of steam. Do you already KNOW that your plan is a good one? If so, don't be derailed by outside feedback or someone else's latest Instagram victory. A little more hustle can get you past this momentary lull and back into the action. And even if this game feels like a competition, try to bring the focus back to yourself. Your results are the ones that matter. If it feels like you're swimming against the current, however, you may want to pause for a little recalibration. Maybe it's time to update your strategy instead of doing what you've always done. See the full week >


Libra (September 23 – October 22)
You're at the top of everyone's favorites list today, Libra. Too bad there isn't more of you to go around. As flattering as it is to be admired, save your time (and your final rose) for someone who thrills you in return. Use today's confidence-boosting trine between the Sun and the moon to find what you really want: that heady mix of stability and excitement rolled into one. When you have a minute to text a friend, why not reach out to an overseas amie or a friend on the other coast? You could be spending the coming weekend in a cottage with a roaring fireplace—or boarding a last-minute flight somewhere warm and beachy! See the full week >


Scorpio (October 23 – November 21)
Yawn! The week is just getting started, so how come it feels like you're already running on fumes? Resistance is futile as the Sun and moon get cozy in your home-loving sectors. Maybe you should see if you can finagle a work-from-living-room day—which, P.S., doesn't mean you have to hang out alone. A freelancing friend might be down for a coworking day. Just make sure you enact a no-talking rule while you're trying to be productive. Tonight, queue up the Netflix but don't be surprised if you miss half the movie while canoodling on the couch or drifting into a deep and restful sleep! See the full week >


Sagittarius (November 22 – December 21)
A relationship that's been stuck in neutral could shift into fifth gear under the accelerating connection between the Sun and moon. If one (or both) of you was unclear about your feelings before today, that could change after one stimulating conversation or suggestive "joke." But if you're planning to blur any lines, choose an appropriate audience. Sure, a sexy friend or coworker might be receptive to your flirty advances, but where will that lead your relationship tomorrow…or next week? Unless you see a future worth pursuing, it's best to steer clear of this "yellow light district."


Capricorn (December 22 – January 19)
Have you drifted from someone who once played an important role in your life? Today's Sun-moon sync-up sets the stage for reconciliation, if not a powerful reconnection. Was it you who pulled away, Capricorn? You've got nothing to lose by attempting to make amends. Or maybe you just get honest about how hurt you felt when your friend semi-ghosted you. There's a good chance you'll be able to clear the air and hopefully turn to a fresh page in your co-authored biography. Time will tell if you'll revive your glory days, but either way, it will be a relief to drop the grudge! See the full week >


Aquarius (January 20 – February 18)
You're full of big ideas today, Water Bearer, as the Aquarius Sun gets a galvanizing boost from the moon in Gemini. Under this charmed alignment, your creativity AND ingenuity are working overtime, making you a double threat (at least!). Devote a portion of the day to brainstorming around your most passionate pursuits. If that means pushing back your deadline for a more practical endeavor, do! You only get two days like this every year, so you'll want to open up those floodgates and make way for the current of brilliant ideas begging to rush in. See the full week >

Pisces (February 19 – March 20)
Pisces, we can see your halo! There's no holding you back in the generosity department today as the Sun in your compassionate twelfth house shoots a beam to the moon in your nurturing fourth. You rarely mind taking care of people who are down on their luck, but just make sure you keep some boundaries in place. There are plenty of folks who just need a catalyst. Once they get that initial boost, they'll run with it. By all means, offer support there! But think twice about trying to rescue a lost soul. That kind of mission can be all-consuming, and as you know, it never seems to end well for you. See the full week >
What do the stars have in store for you this February? Read your monthly horoscope now
Get horoscope updates straight to your inbox! Sign up for The AstroTwins newsletter
The post Daily Horoscopes: February 4, 2020 appeared first on Astrostyle: Astrology and Daily, Weekly, Monthly Horoscopes by The AstroTwins.
Read more: astrostyle.com