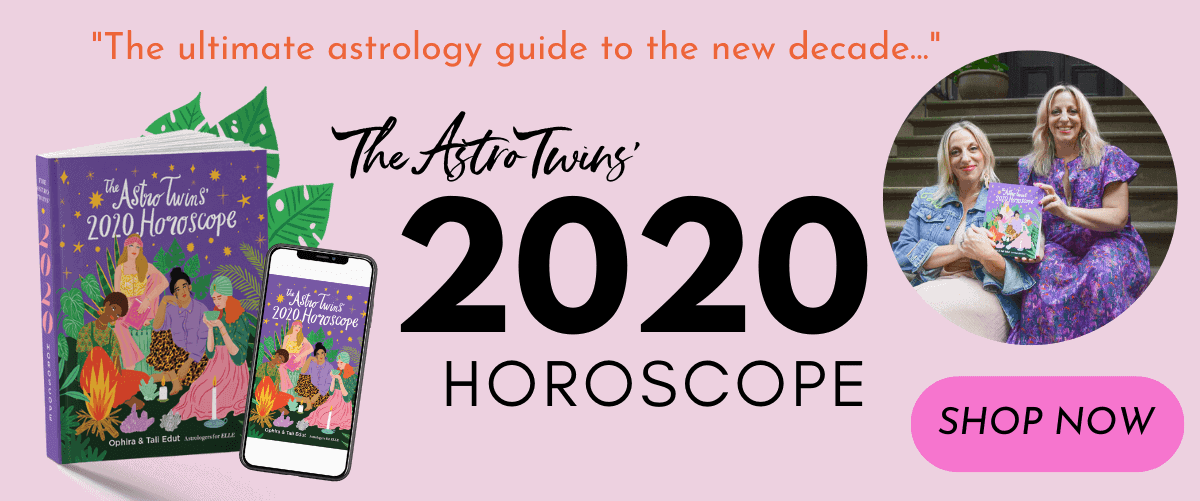 You want it, you got it—the moon and desirous Venus unite in me-first Aries.
Born on a cusp? Please note that dates for the zodiac signs can vary from year to year. To confirm your actual Sun sign, do a free chart here.
Illustrations by Grande Dame


Aries (March 21 – April 19)
Don't just tell them how you really feel; show them, Aries. With the expressive moon and affectionate Venus aligned in your sign, you're encouraged to be more demonstrative with the ones you adore. Give your friends a soulful squeeze, shower people with genuine compliments, initiate some lovin' with your amour du jour. Bottom line: Don't leave anyone wondering whether you actually care. Lavish some of that TLC on yourself too. Slip off for a midday chair massage or blowout and plan for something a little fancier for dinner tonight. You deserve it! See the full week >


Taurus (March 21 – April 19)
Keep on rocking those rose-colored glasses, Taurus. As the moon and your ruler, gilded Venus, meet up in your twelfth house of fantasy, you'll see people's brightest potential today. That doesn't mean you should ignore their flaws; just raise the bar a little higher for them. When challenged to be their greatest selves, certain folks may surprise you and rise to the occasion. And if they don't? Well, at least you can say you gave them the benefit of the doubt before you wrote them off. See the full week >


Gemini (May 21 – June 20)
You're all on the same team… remember, Gemini? Lean in to today's harmonizing connection between the moon and peacekeeper Venus. With both planets firing up your collaborative eleventh house, synergies sparkle at every turn. If you've been squabbling with your squad, lay down your sword and listen to their objections. When you find out WHY they are resisting you, you'll be able to craft a compelling counterargument—or figure out how to meet them halfway. Looking for creative kindred spirits? You could tap into a scene that speaks to the most original parts of yourself. Go mingle! See the full week >


Cancer (June 21 – July 22)
Building strong relationships is one of the pillars of success—and with your innate understanding of emotions, you're a natural "connector" type. Your people skills come in handy today as your ruler, the expressive moon, and enchanting Venus share a flight path through your ambitious tenth house. Use the day for outreach: Is there someone in your field who you'd like to collaborate with in 2020? If you're already familiar with each other's work, set up a coffee date to explore synergies and pitch ideas. Don't have an easy in with this influencer? Break the ice by offering to support one of their existing projects. Your generosity will be a paving stone that could lead to a shared journey. See the full week >


Leo (July 23 – August 22)
You're a natural ambassador today as the articulate moon aligns with gracious Venus in your diversity zone. Mingle multiculturally and reach across those so-called divides. Does that feel daunting? Start with one person. Establishing trust with an individual can be easier than trying to win over a whole group all at once. If people tend to "stick to their own kind" at work, break it up by organizing an office lunch. Piping-hot pizza, we hear, has been known to unite the fiercest factions. (Pro tip: Make sure to order one with GF crust.) This cosmic combo sets the stage for honest dialogues that remain diplomatic. After you've polished off a couple slices, bring up the pink elephant in the room. Fascinating conversations are sure to unfold! See the full week >


Virgo (August 23 – September 22)
Forget the sugar, Virgo. You're 100 percent spice today as the flirty moon and enchanting Venus dance a sultry tango in your erotic eighth house. Who cares if it's only Thursday? This seductive sync-up could keep you in bed a little longer this morning… and we're not talking about oversleeping. When you finally get dressed, add sartorial flair to your wardrobe choices: A vintage accessory or a fedora will serve as a conversation piece with people who share your love of details. Paint it black: You'll smolder in noir, from a leather jacket to a smokey eye. Tonight, you could be up late enjoying cultural activities and deep conversations—which could evolve into a sexy slumber party. See the full week >


Libra (September 23 – October 22)
We don't have to tell you, gracious Libra, that you'll catch more flies with honey than apple cider vinegar. And today, as the verbal moon shares a flight path with your ruler, charming Venus, your sweet-talking ways are the road to peace. Were you about to fire off a heated email or share a critique that was more crushing than constructive? Rewind and be kind. By extending the benefit of the doubt, you might see that people's motives weren't as suspect as you thought. And even if you DO need to address an issue, buffer it in a "praise sandwich," beginning and ending with a genuine acknowledgment of what's good. In love, don't be shy about making the first (or next) advance. See the full week >


Scorpio (October 23 – November 21)
Make it your mission to infuse joy and creativity into your daily routines today, Scorpio. Set an alarm to go off every hour, then pause for a two-minute meditation or step outside for a short walk. Rather than eating lunch at your desk, hit a noontime yoga class or invite a coworker to grab a bite with you. If you pass a flower stand, scoop up a few stems for your desk. Got a little spare time? Make a playlist of non-distracting music that you can listen to while you work. Turns out, the only daily grind you need to embrace is the sound of the barista's espresso machine. See the full week >


Sagittarius (November 22 – December 21)
You're feeling the love today, so go ahead and gush. With a sweet alignment of the moon and romantic Venus, you can't help but wear your heart on your sleeve. This cosmic combo brings a burst of style inspiration. Slip off on your lunch break to try on jackets or to get a pedicure. (Sandal season will be here before you know it, Sag!) This is one of those days when dressing up can elevate your mood and provide the confidence to flirt to your heart's content. Attached? Invite your S.O. to meet you for an after-work date, even if all you have time for is a quick peek into a few galleries or to take a leisurely stroll before heading home. See the full week >


Capricorn (December 22 – January 19)
The week is poised to end on a sweet and sentimental start as the moon and graceful Venus dance through your nurturing fourth house. Dependability and perseverance are two of your most winning traits, but today, let your softer side peek through. Make sure the important people in your life—both at work and home—know how much you appreciate them. Treat for a (device-free) lunch or send a gift to thank a colleague who recently went to bat for you. Making deposits in the emotional bank account keeps your support system strong. See the full week >


Aquarius (January 20 – February 18)
Compassionate communication is the order of the day as the moon and gracious Venus sync up in your expressive third house. Go out of your way to validate people and let them know that you're interested in hearing what they have to say. One great way to do this is the "mirroring technique." Instead of firing off a response (even if you have a witty one on the tip of your tongue), reflect their words back to them. For example: "So if I'm hearing you correctly, you're saying X. Is that right?" This can be especially challenging with the people you know well, yet the effects will be most profound with your inner circle. See the full week >

Pisces (February 19 – March 20)
It's a "show me the money" kind of day, Pisces, as the moon and decadent Venus align in your second house of finances. Don't confuse a high price tag with quality goods. Just because something is nicely displayed or sold at an upscale boutique doesn't mean it's worth the bloated cost. Window-shop, test-drive and do the research before making your final selection. Reading user reviews could save you a costly misstep. Turn on your charm with colleagues and clients. You could easily sell them on backing one of your ideas. And don't be shy about strategically (and publicly) taking credit for your hard work. See the full week >
What do the stars have in store for you this February? Read your monthly horoscope now
Get horoscope updates straight to your inbox! Sign up for The AstroTwins newsletter
The post Daily Horoscopes: February 27, 2020 appeared first on Astrostyle: Astrology and Daily, Weekly, Monthly Horoscopes by The AstroTwins.
Read more: astrostyle.com