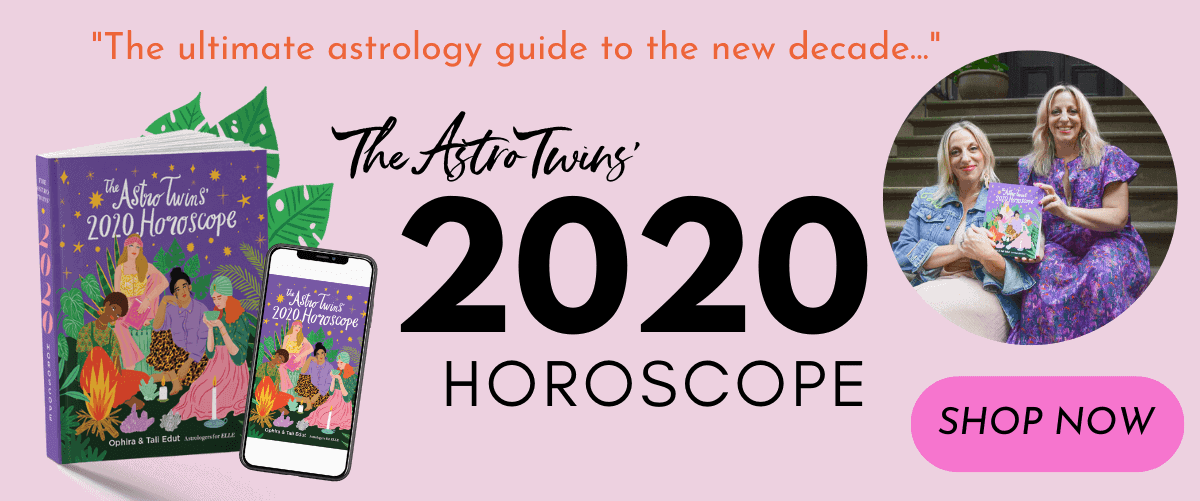 Summon the courage to say what you've held back as the Sun unites with Mercury retrograde.
Born on a cusp? Please note that dates for the zodiac signs can vary from year to year. To confirm your actual Sun sign, do a free chart here.
Illustrations by Grande Dame


Aries (March 21 – April 19)
Seek a healing solution to a painful situation today as a transformative alignment of the Sun and Mercury retrograde in your twelfth house of endings helps you find peace. If you've been locked in an ongoing conflict with a loved one, reach out to this person. Schedule a heart-to-heart where you can air your grievances. Avoid playing the blame game, and try to have a diplomatic dialogue instead. Feeling stressed about this confrontation? Set aside some time for self-care. Filling your tanks with restorative time—and the wise advice of a supportive friend or mentor—can help you work through any difficult emotions that arise. See the full week >


Taurus (March 21 – April 19)
Cut the drama off, Taurus, before it gets any more inflated. Someone with a domineering personality may attempt to push you around as retrograde Mercury and the domineering Sun unite in your teamwork zone. Don't let a big personality derail an important group endeavor. Speak up about any problematic behavior and nip it in the bud, especially at work. One bad apple is all it takes to spoil the whole team dynamic. Have a candid (but professional) conversation with this person and let them know you won't tolerate any aggressive egos on this project. See the full week >


Gemini (May 21 – June 20)
A professional goal you almost gave up on might be within reach today as Mercury retrograde forms a supercharged alignment with the Sun in your ambitious tenth house. Dive into your work with renewed passion and push your project toward the finish line. Still struggling to reach that next milestone? Call a trusted mentor for help. A well-timed favor could give your project a boost. Is there an industry event, like a cocktail party or pitch meeting, you could attend tonight? Get out there and network! With these two tech-savvy planets aligned, you could make strides with a digital venture or a promising contact you make online. Just wait until Mercury turns direct on March 9 before inking any deals. See the full week >


Cancer (June 21 – July 22)
Dial up the diplomacy! Have you been a little TOO candid in your criticism of a loved one or colleague lately? Do some damage control today as retrograde Mercury unites with the illuminating Sun in your high-minded ninth house. Apologize for any overly harsh statements and express your appreciation for this person's presence in your life. Listen with an open mind (and heart!) as they share their feelings about the situation. With some intentional communication, you can set the stage for a relationship that's authentic AND rooted in compassion. See the full week >


Leo (July 23 – August 22)
An impulsive remark could wound someone close to you today as retrograde Mercury gets in a combustible mashup with the Sun in your emotional eighth house. Tensions are running high, so avoid any triggering topics. If you must have a tough conversation, do it without the interference of a third party. You don't need someone else getting in the middle of this—that will only complicate things. This evening, turn on your Leo charm to seduce your S.O. or a potential romantic prospect. Just one warning: With all this passionate energy in the mix, the green-eyed monster could pay you a visit. Fight those jealous feelings! See the full week >


Virgo (August 23 – September 22)
Has a key relationship come to a crossroads? Have a serious conversation about your shared goals today as the Sun backlights Mercury retrograde in your partnership house. Where is this alliance going? Speak up about any reservations you may have about your joint plans. If you've been feeling like your dynamic is off-balance, let this person know. It's possible that you need to redistribute responsibilities. But whatever you do, don't play the blame game! Instead, find common ground and build from there. See the full week >


Libra (September 23 – October 22)
Have you been carrying the load for a slacker lately? Stop enabling their lazy behavior! As the Sun syncs up with Mercury retrograde in your sixth house of systems and helpful people, don't settle for less than you deserve. But before you accuse anyone of underperforming, find out what's really going on. Maybe they're frustrated by technology or need clearer instructions. It might help to have a brainstorming session together and think of ways to improve the overall workflow. A few compliments could also smooth over any awkward tension. Draw attention to the things they're doing right, not just the stuff they're doing wrong! See the full week >


Scorpio (October 23 – November 21)
Cultivate connections! A kindred-spirit bond or romantic spark could reignite today as gregarious Mercury retrograde forms a charged alignment with the Sun in your fifth house of passion and play. Single? Do a little IRL bae-hunting instead of relying on the apps. Today, you need in-person contact to get a clear read. When it comes to your career, a creative collaboration with a person from your past could take your efforts to the next level. Join forces with someone who keeps you hyped about possibilities, but stay realistic about the potential of this union. Is this person a long-term professional partner…or just here for a project-based boost? It's too soon to tell, so take it one step at a time. See the full week >


Sagittarius (November 22 – December 21)
Trigger warning: A provocation might send you spiraling today, but resist the urge to fly off the handle. Engaging in the drama will only create more problems as Mercury retrograde gets spotlighted by the ego-driven Sun in your emotional fourth house. Someone may attempt to get a rise out of you, but don't take the bait. Instead, look inward. Are these fiery feelings actually rooted in a deeper issue? Watch out for the green-eyed monster as well. A prominent family member or close friend's success could leave you feeling inadequate. But why are you comparing yourself? Fight off those competitive feelings and focus on your own journey instead. See the full week >


Capricorn (December 22 – January 19)
Today's volatile mashup of the Sun and retrograde Mercury in your communication house could place you in the middle of a tense power struggle. Resist the urge to engage in office politics or choose sides. Can you broker a compromise instead? Approach any heated issues with the intention to enter into an authentic dialogue. It's possible that you're both working toward the same goal. But before you figure that out, start by exploring ways to de-escalate the tension. Air your grievances and listen (with an open mind!) as everyone else does the same. Even if you don't become best friends, some healthy communication will help you move forward. See the full week >


Aquarius (January 20 – February 18)
Hit the ground running, Aquarius. You'll get a burst of productivity today as the Sun syncs up with Mercury retrograde in your hardworking second house. Just don't get so carried away that you forget to finesse the details. Precision is important: One small mistake could derail your entire project. Have a trusted coworker check any assignments before you submit them for review. Go over any contracts with a keen eye. Then, once you've conducted due diligence, switch into innovator mode and pitch with passion! Your efforts could be rewarded with a big financial win. See the full week >

Pisces (February 19 – March 20)
Get your facts straight, Fish! You've got big ideas, but do you also have the research required to make those ideas a reality? Be prepared for people to question your vision today as the Sun meets up with Mercury retrograde in your sign and puts you through the ringer. It's not that your colleagues don't believe in your plan, it's that they don't believe in it YET. If they have critiques about certain aspects of your proposal, don't get defensive. Instead, take their perspective into consideration. Their notes could actually help you make your overall pitch much stronger. With a little fine-tuning, you'll have a proposal that everyone's excited about! See the full week >
What do the stars have in store for you this February? Read your monthly horoscope now
Get horoscope updates straight to your inbox! Sign up for The AstroTwins newsletter
The post Daily Horoscopes: February 25, 2020 appeared first on Astrostyle: Astrology and Daily, Weekly, Monthly Horoscopes by The AstroTwins.
Read more: astrostyle.com