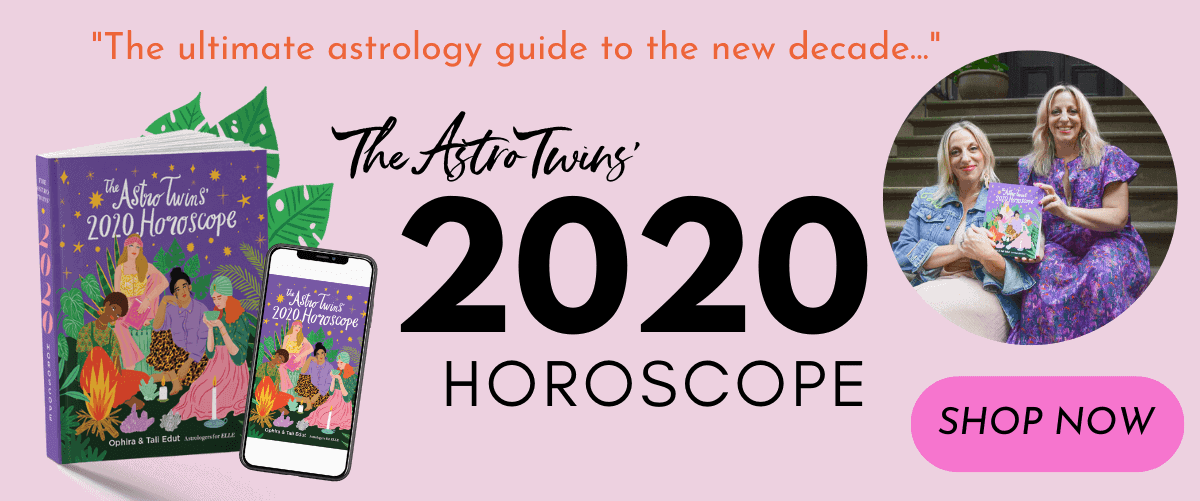 Imaginations run wild as the moon and dreamy Neptune unite in Pisces.
Born on a cusp? Please note that dates for the zodiac signs can vary from year to year. To confirm your actual Sun sign, do a free chart here.
Illustrations by Grande Dame


Aries (March 21 – April 19)
What are you still hanging on to, Ram, and—better question—are you ready to let it go? Today's compassionate coupling of the moon and Neptune in Pisces and your spiritual center may inspire you to finally surrender and release an old hurt or toxic connection. While forgiveness is appropriate in some cases, it may not be in every one. Feel (rather than think) your way through your emotions and decide what makes the most sense to you now. If you're stuck, some open-focused creative visualization could yield a miraculous solution. See the full week >


Taurus (March 21 – April 19)
No matter how alone you feel today, Bull, the fact is, you're actually surrounded by supportive friends and colleagues—but it might be up to you to reach out and ping somebody. It's not that they don't CARE; it may just be that everyone has a case of the Mondays. And with the emo moon aligned with sensitive Neptune in Pisces and your social sector, people will be coming from a heart-centric place. Okay, not maybe everyone, but you know who to call when you're a little down—and who to definitely steer clear of! See the full week >


Gemini (May 21 – June 20)
Break up the boredom today by unleashing some of your classic Gemini wit and wisdom! Your creative ideas will feel like a breath of fresh air, so share your most outre notions freely. Thanks to an inspired alignment of the moon and inventive Neptune in Pisces, your unique thinking will stand you apart from the crowd and maybe, if the right people are paying attention, brand you as a true influencer among your peers! See the full week >


Cancer (June 21 – July 22)
Not getting what you want, Cancer? You might need to work harder on YOUR end with the creative visualizations. And today, as the intuitive moon merges with visionary Neptune in Pisces and your ninth house of big ideas, imagine your creative head off! The ninth house is about all kinds of expansion—from freelance work to education to your worldview—so bypass the low-hanging fruit and grab the truly juicy stuff. Yes, you probably have to stretch a bit out of your comfort zone, but that's when the magic happens! See the full week >


Leo (July 23 – August 22)
If your life isn't overflowing with love, joy and an abiding sense of freedom, you might want to take an unblinking look at what you're doing (or not doing) to create that reality. For starters, do you even believe that you can manifest your desires with the power of your mind and intentions? Today's mystical meetup of the two most sensitive and intuitive planets, the moon and Neptune, in your supernatural eighth house gives insight into your limiting beliefs—plus the confidence to try a different approach. See the full week >


Virgo (August 23 – September 22)
The best way to have a solid relationship and loving partner is to BE one! We realize that's often easier said than done, but it's hardly a mission impossible. Today, as the sensitive and intuitive moon and Neptune align in your zone of dynamic duos, set an intention to be in a union that's ideal for you. If you're single, you may have to put yourself out there. If you're in a relationship that's not fulfilling, either take a step to work on it or initiate a conversation about going your separate ways. See the full week >


Libra (September 23 – October 22)
Today's pampered pairing of the sensual moon and Neptune in Pisces and your sixth house of wellness and self-care sounds the call for finding healthy ways to indulge. You can go all out—with a full day at the spa getting massaged, wrapped, soaked and scrubbed—or you might just decide to upgrade your regular pedicure. The point is giving yourself the message that you're worth splurging on! Vacillating over the premium (versus basic) smoothie? Upgrade, Libra! See the full week >


Scorpio (October 23 – November 21)
Monday it may be, but unless there's an unavoidable reason to rush into "back-to-business" mode, bask in those lingering romantic vibes from the weekend. If you've got some sweet, juicy memories kicking around in that Scorpio brain, indulge them! It may be hard NOT to under the quixotic spell being cast by today's merger of the sensual moon and fantasy-laced Neptune in your passionate fifth house. Nothing to get lost in? Glam up and meet someone you adore (and admire!) for drinks. See the full week >


Sagittarius (November 22 – December 21)
In a perfect world, you could lounge at home (or a waterfront cafe) today, Archer—or wherever your nomadic heart is taking you. But if you must go into an office, find a way to take your creature comforts with you. Under a sweet sync-up of the sensitive moon and sensual Neptune in your domestic fourth house, a few homey touches will go far. Bring a super-soft throw (or your slippers); put some fragrant flowers on your desk. Above all, make a point of actually talking to your coworkers! See the full week >


Capricorn (December 22 – January 19)
Got an important message to get across or a pitch that needs to hit the bull's-eye? Here's a counterintuitive tip: Rather than getting straight down to brass tacks, take the pulse of the room and be chatty—and sincere. Under a tenderizing tryst of the sensitive moon and compassionate Neptune in Pisces and your communication center, you'll catch more flies with honey than with apple cider vinegar. If someone comes to you with a problem, find the time to really listen, even if you don't have a word of advice to offer. See the full week >


Aquarius (January 20 – February 18)
You can tackle a financial issue with ease today, Water Bearer, or sail through the most humdrum tasks—if you set the intention to do exactly that. Under today's shimmering sync-up of the intuitive moon and sensitive Neptune in your pragmatic second house, you can sprinkle some practical magic into your day by not getting bogged down in the details. Focus on how you'll feel when all this is behind you, and just lumber through without editorializing. Celebrate by buying the first round at happy hour! See the full week >

Pisces (February 19 – March 20)
Under today's magical mashup of the emo moon and your ruler, mystical Neptune, in your sign, your intuition is off the charts! It's almost scary how easily you pick up on other people's feelings, desires and moods. If you can use this to everyone's advantage, then it's fine to act on it. But if you have a sense of how YOU can gain an advantage, step down from that. This is a divinely bestowed gift, and to use for anything except the collective good would be inviting bad karma. Don't go there! See the full week >
What do the stars have in store for you this February? Read your monthly horoscope now
Get horoscope updates straight to your inbox! Sign up for The AstroTwins newsletter
The post Daily Horoscopes: February 24, 2020 appeared first on Astrostyle: Astrology and Daily, Weekly, Monthly Horoscopes by The AstroTwins.
Read more: astrostyle.com