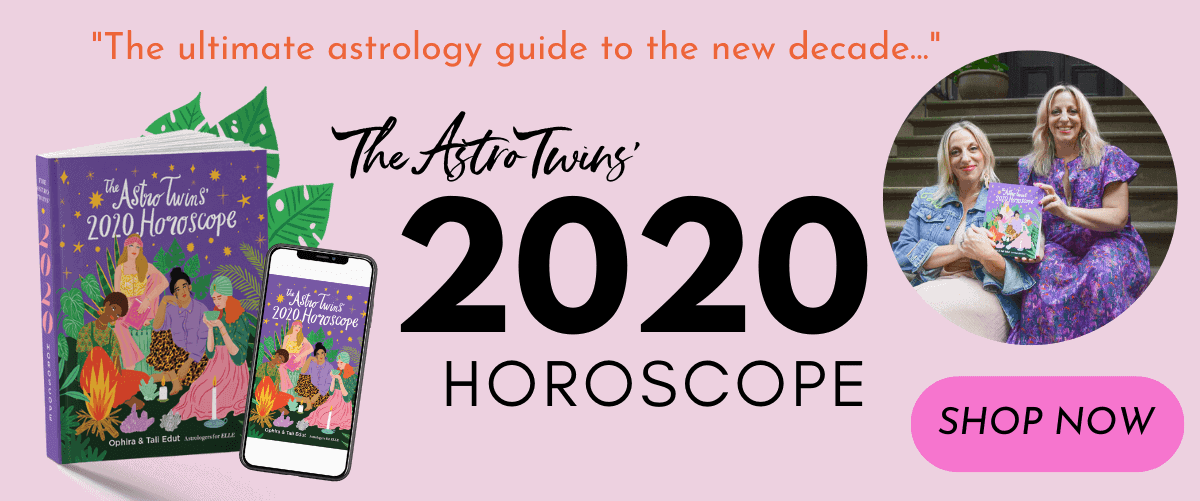 Sat: Relax and detach from any drama (there's been plenty this past week) as the moon hangs in it's-all-good Aquarius.
Sun: Creativity = sparked! Today's Pisces new moon activates our imaginations.
Born on a cusp? Please note that dates for the zodiac signs can vary from year to year. To confirm your actual Sun sign, do a free chart here.
Illustrations by Grande Dame


Aries (March 21 – April 19)
You could have the best and highest intentions this weekend, Aries, but someone might still think you're coming off too self-important or self-absorbed. Try not to take it personally, though: It's probably a reflection of THEIR insecurities or jealousy. You may be picking up some strange vibes thanks to a squirrely square between compassionate Venus and expansive Jupiter in your leadership house. Rather than fight fire with fire, take the "kill 'em with kindness" approach. Sunday's Pisces new moon electrifies your twelfth house of healing and helps you release something or someone that's passed its expiration date. Let it go so you can grow, Aries! This is a perfect time for a fresh start. If you're finally ready to shed that self-defeating behavior or toxic relationship, make a clean break. Take the next six months (until the corresponding full moon on September 2) if you must. Relax, but don't get lost in your meditation cave because ambition is calling! See the full week >


Taurus (March 21 – April 19)
You may have to keep tabs on yourself this weekend, Taurus, or you could get lost in your daydreams. With your ruler, creatrix Venus, in your imaginative twelfth house squaring off with supersizer Jupiter in your visionary corner, you might not realize just how distracted you are. If possible, reshuffle your schedule to make the most of this inspirational energy. Brainstorm, return emails and phone calls, make a vision board, delve into a research project—just don't try to do any quantitative analysis! On Sunday, the year's only Pisces new moon in your eleventh house kicks off an amazingly productive six-month cycle. This realm rules your social and digital life. Talk to marketing-savvy friends for promotional tips or your pals in development to see if your brilliant idea for an app is actually viable. Single? Online dating is perfect now, so check out a new app. Not your cup of matcha? Ask friends to make introductions on your behalf. See the full week >


Gemini (May 21 – June 20)
It takes a bit to rile you up, Gemini, but when someone pushes you to that point, it's hard to rein in your fierce emotions. This weekend, as peacekeeping Venus in sensitive Aries squares off with magnifying Jupiter in your intense eighth house, you're prone to overreacting. An innocent comment could hit you exactly the wrong way, or you might misconstrue someone's actions. Before you go off on them, find out what's really going on and what they meant. This Everest could turn out to be a molehill! You can take big dreams from fantasy to reality on Sunday, Gemini, thanks to the year's only Pisces new moon landing in your tenth house of career ambition and success. Are you ready to launch your 2020 professional plans into orbit? Start taking steps now. Just be sure to tap your patience because it could take until the corresponding Pisces full moon on September 2 for these goals to fully manifest. See the full week >


Cancer (June 21 – July 22)
Protect yourself from toxic, needy people this weekend, by erecting some impenetrable (but healthy) boundaries. Your nurturing sign affords you more than the average level of compassion, but under an uneasy clash between amiable Venus and amplifying Jupiter in your relationship zone, someone else's problems could suck all the air out of the room—and all the time out of your schedule. You don't have to slam a door on them; just let them know you have other obligations and that you have confidence in their ability to work this out for themselves! On Sunday, the only Pisces new moon of 2020 lands in your intrepid ninth house. Where on earth do you want to go next? Spin the globe, Cancer! Travel, adventure, higher education or an entrepreneurial venture could send you off in a whole new direction. By the corresponding Pisces full moon on September 2, your life could look very different. See the full week >


Leo (July 23 – August 22)
This weekend's stars come with a "don't bite off more than you can possibly chew" warning. With expansive Jupiter trekking through your organized sixth house (since last December 2), your productivity has been through the roof. And while you can handle a LOT, Leo, there is actually a limit before you reach the burnout stage. As Jupiter squares off with Venus in your house of lofty goals this weekend, give yourself a reality check. You may have to scale back—or delegate—but in the process, you'll preserve your sanity. You're on fire this Sunday, Leo, as the year's only new moon in Pisces powers up your seductive eighth house. The moon will ratchet up your desires, and it's easy to get carried away with all the choices. But if you're playing for keeps, make sure your other half is, too. Those one-hit wonders will never satisfy you. See the full week >


Virgo (August 23 – September 22)
As you barrel down the Passion Parkway, check your brakes. Strong emotions may overtake you this weekend, and you need to know you're actually in control here. With amorous Venus in your seductive eighth house at odds with magnifying Jupiter in your lovey-dovey fifth, the desire for a partnership or to take a big next step might obscure some bright red flags. Enjoy the ride, but keep an eye on the speedometer—and steer clear of any blatantly bad actors! As for the good eggs? Give them your all this Sunday, when the year's only Pisces new moon lights a fire in your seventh house of partnership, amping up your yearning for genuine commitment. Single? A budding romance could deepen quickly, and you'll know whether this is a keeper or a "one and done" chump. Longtime couples may rediscover the spark that brought you together in the first place. This new moon can also help a fledgling business venture or creative collaborative reach critical mass. Just wait until Mercury turns direct late on March 9 before formalizing any paperwork. See the full week >


Libra (September 23 – October 22)
Don't overload your social plate this weekend, Libra. It'll be tempting to say yes to everything, but under an "eyes are bigger than your stomach" starmap, you won't be at your limit-setting best. With amiable Venus in your people house clashing with supersizer Jupiter in your home and family zone, accepting too many invites and offers could cause you to fall short on some obligations that are less fun than vital. Stop and think before you accept. If you're really torn, see if you can get a raincheck! On Sunday, the only Pisces new moon of 2020 powers up your sixth house of health and fitness and gets you pumped to train. Don't aim for "perfection"; come up with some strategies you can stick with—and enjoy doing. You don't have to give up red wine or everything with gluten or sugar in it. Just enjoy those treats in moderation and make sure your plate is 80 percent packed with the good stuff like lean proteins, superfoods and greens. See the full week >


Scorpio (October 23 – November 21)
Try as you might to restrain yourself, all tact could go flying out the window under this weekend's button-pushing clash between diplomatic Venus, and uncensored Jupiter in your communication center. No one might be terribly interested in teasing out fact from opinion, and once you open up the discussion, it could turn into a free-for-all, with tempers rising and accusations being bandied about with abandon. Even you, the peacekeeper of the zodiac, may be powerless in the face of this melee. Your best bet: Find the nearest exit! On Sunday, the only Pisces new moon of 2020 churns up the energy in your passionate, glamorous fifth house, the best possible news for the zodiac's incurable romantic. The challenge this weekend will be allowing yourself to get a little carried away by someone who seems to have it all—while still doing your due diligence. Attached? Make sure your S.O. shows appreciation for you. If not, offer a refresher course. See the full week >


Sagittarius (November 22 – December 21)
It's easy to get carried away this weekend, Sagittarius—with anything and everything! Agreeable Venus is rocking your fifth house of passion and romance, putting you in the mood to do whatever is suggested—as long as it dangles the prospect of fun. Yet Venus is getting zapped by your ruler, magnifying Jupiter, which can cloud your judgment and spur you to rash action. Get more info before you make any decisions. Under this blurry mashup, things probably aren't exactly what they seem. On Sunday, the year's only Pisces new moon turns up the heat in your cozy fourth house—possibly on a pot of homemade chicken noodle soup. Use the weekend to reconnect to your domestic side. Breakfast in bed? Yes, please. If your abode is a noisy den of activity, find at least a corner you can make all your own. You may be inspired to feather your nest or break up the stagnant chi in your space. Rearrange and configure the rooms to suit YOUR 2020 lifestyle. How about a podcasting studio or a writing nook? See the full week >


Capricorn (December 22 – January 19)
Are your four walls closing in on you, Capricorn? This weekend, expansive Jupiter locks horns with peaceful Venus in your home zone, spurring you to do something radical to your living space. But before you make any sweeping changes, stop and reflect. What feels like claustrophobia is probably happening INSIDE you rather than outside you. Avoid doing something regrettable by doing some soul-searching first. If there's an interpersonal issue that needs attention, focus on THAT—not remodeling your bathroom. Still looking for your kindred-spirit crew? Narrow your search radius this weekend. Sunday's Pisces new moon falls in your third house of local socializing, and it could point you toward intriguing new people. Get to know them before you become a card-carrying member of the squad, though. If you're thinking about working together, test the waters with a trial project. It could hit pay dirt by the corresponding full moon in September. See the full week >


Aquarius (January 20 – February 18)
Watch your words this weekend, Water Bearer—but even more importantly, mind your manners! Under an edgy square between tactful Venus in your communication zone and uncensored Jupiter in your unconscious realm, your message could come out snarkier or less compassionate than you intend. Even some helpful, supportive suggestions might sound like criticism if you're not careful. And if YOU'RE feeling a little more sensitive under these thin-skinned stars, don't get sucked into a discussion or debate that you know will bruise your ego. The only Pisces new moon of 2020 falls in your second house of finances this Sunday, kicking off a six-month cycle of upward mobility. Of course you've got goals, but how specific are they? It's not enough to want "a well-paying job." Write down the amount you want to be earning by the end of the year. Then create a step-by-step plan that will lead to that objective. Leave room for the universe to work its magic, though! See the full week >

Pisces (February 19 – March 20)
Read between the lines and closely observe people's body language this weekend, Pisces. Someone is talking a good game but might actually be pushing a self-interested agenda. Thanks to a sketchy square between trusting Venus and an uncouth Jupiter in your friendship zone, you could feel some uneasy vibes or out-and-out competition within a group. The best thing you can do is stay out of the fray and not let yourself get sucked into "he-said-she-said" debates. Better yet, steer clear of the crazymakers and do your own thing. Sunday could feel like a bonus New Year's, courtesy of 2020's only Pisces new moon. This lunar lift kicks off a super-charged six months—and one opportunity after another for fresh starts. The sky's the limit, Pisces, but it's up to you to chart a course and steer your spaceship in the direction you want to sail. Focus on your dreams, and don't let anyone tell you they're not realistic. By the Pisces full moon on September 2, you'll be ready for a ribbon-cutting ceremony to debut your work. See the full week >
What do the stars have in store for you this February? Read your monthly horoscope now
Get horoscope updates straight to your inbox! Sign up for The AstroTwins newsletter
The post Daily Horoscopes: February 22-23, 2020 appeared first on Astrostyle: Astrology and Daily, Weekly, Monthly Horoscopes by The AstroTwins.
Read more: astrostyle.com