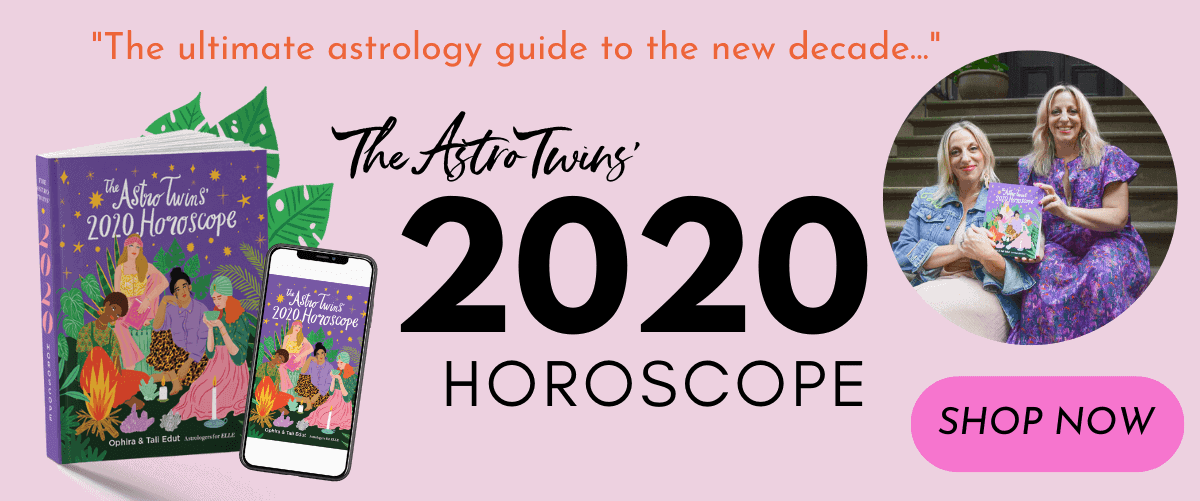 Fast action and volcanic power erupt as mighty Mars trines changemaker Uranus. Things could catalyze…or combust!
Born on a cusp? Please note that dates for the zodiac signs can vary from year to year. To confirm your actual Sun sign, do a free chart here.
Illustrations by Grande Dame


Aries (March 21 – April 19)
Today brings a prosperous trine between driven Mars (your ruler) and spontaneous Uranus, giving you the professional green light to shake your moneymaker. This innovative vibe could bring an unexpected solution to a creative block. Keep the capture tools handy because ideas will be flowing. Don't feel guilty about talking shop during social moments or bringing business cards to happy hour. This fortuitous mashup provides good reason to pass a few around. See the full week >


Taurus (March 21 – April 19)
Things might get a little heated today as self-starter Mars forms an energizing trine to unpredictable Uranus in Taurus. Under this tumultuous energy you could blurt out a few unfiltered opinions that don't go down so well with your audience. Every thought doesn't have to be vocalized, Bull. Wait until you're feeling levelheaded before hitting send on any emotionally charged messages. Even better: Unplug completely and hit the Spin studio to burn off that angst! See the full week >


Gemini (May 21 – June 20)
Unpredictable Uranus forms a fast-moving trine to spunky Mars today, causing your mind to charge in overdrive. No matter how packed your schedule is, set aside a few moments for internal processing. A yoga or meditation class could be just what you need to get back to center—but if you're too busy, make sure to stop and just breathe when you start spinning out. Since the twelfth house rules the psyche, a little self-reflection could lead to major revelations. This starmap also points out where you've overextended yourself. If you're drowning in obligations, ask a friend for help, or take unnecessary projects off your plate. See the full week >


Cancer (June 21 – July 22)
Watch what you're stepping into, Cancer! What begins as a minor disagreement can blow up into a major feu thanks to a fast-moving trine between agitator Mars and erratic Uranus. Rather than jumping into the frontlines, remain the observant spectator. Under this transit, you risk coming across as condescending, even though you don't mean to. A frenemy might push your buttons, but don't take the bait. Instead, study their behavior and look for ways you may actually be similar. You probably have a lot in common with this person, and you two could end up bonding instead of battling! See the full week >


Leo (July 23 – August 22)
You might not wake up in the mood to exercise, but once you've had a few sips of coffee, try warming up with some gentle movement. A motivating trine between athletic Mars and electrifying Uranus gives you an extra energy boost. By midday, you might be up for that cardio sculpt class or a much-needed office cleanup. But pace yourself. You've got a lot going on, and you could easily burn out. Divide your big goals into smaller, achievable tasks. Then pinpoint a few that you can tick off by the end of the day. See the full week >


Virgo (August 23 – September 22)
A happy trine between sensual Mars and rebellious Uranus may draw a captivating stranger into your orbit today, Virgo. No, they might not initially seem like your usual "type," but a thrilling conversation (and who knows what else?) could ensue if you keep an open mind. If you're already attached, spice up your normal routine by making plans for a sexy getaway or a romantic staycation. Breaking out of boring habits and exploring new frontiers together is the best way to bond. See the full week >


Libra (September 23 – October 22)
Are you still avoiding THAT conversation, Libra? Today's Mars-Uranus trine stimulates an important dialogue with a relative or a significant friend. It's been heavy carrying around all your feelings about this, so give yourself the gift of unburdening your soul. But as you do, avoid making cutting remarks or blaming accusations. The point of this is to move toward a positive resolution. You may be tempted to bond by gossiping about a mutual "enemy." That negativity will just make YOU look petty, and frankly, you're better than that! See the full week >


Scorpio (October 23 – November 21)
As firebrand Mars gets a dose of "lighter fuel" from combustible Uranus, your stinger is out! Easy does it. This mood you're in could provoke a passionate confrontation with a close friend or your romantic partner. Stay balanced as you work things out—there's no need to overreact. You can arrive at a peaceful resolution if you just keep your cool. Your feelings for a friend could suddenly take a turn in an amorous direction, but that's not a green light to act on the attraction. With these two impulsive planets in the mix, you could wake up stewing in regret. Willpower, Scorpio! See the full week >


Sagittarius (November 22 – December 21)
Money could literally slip through your fingers today as impulsive Mars gets egged on by spontaneous Uranus. As these planets form a free-flowing trine in your financial districts, you'll have a raging case of "shiny object syndrome" but zero willpower to counter it. A better use of this energy would be to restructure your budget and get your cash flow under control. Since Uranus governs technology, download organizational apps or invest in a new gadget to help you streamline. See the full week >


Capricorn (December 22 – January 19)
Some high-impact encounters could rock your Friday, thanks to a fierce trine between rebellious Uranus and lusty Mars in your sign. At work, you won't take kindly to anyone trying to dominate a project—but that won't stop YOU from taking charge, and the horn-locking could get fierce. Tonight, feel free to get your freak on, but don't lay all your emotional cards on the table—yet. This mashup can make you extra impulsive, and you might just want to chalk up a heated encounter as a "moment" instead of turning it into anything bigger or more defined. See the full week >


Aquarius (January 20 – February 18)
Tension in your inner circle could go from a simmer to a boil today as combustible Uranus gets a boost from flame-thrower Mars. A loved one might call you in a crisis, or a worked-up friend could drop by to complain about an "urgent" topic. It's important to be supportive while also honoring your boundaries: The last thing you need is to get swept up in the drama. If you can't handle the intense energy right now, pick a day next week when you'll be able to hear this person out. And who knows—by that point, the issue could be solved! See the full week >

Pisces (February 19 – March 20)
Venture out among a new group of people today as spontaneous Uranus trines fearless Mars and elevates your courage to a bold new high. YOU might think you're being "socially awkward," but other people are likely to find it endearing…or downright adorable. And if you let your passion lead the way, you will connect with some creative kindred spirits. Don't set your schedule too firmly in stone, however, because an enticing out-of-the-blue invite could rock your evening. Friends may be slightly upset when you cancel last-minute, but by now they know: It's a Pisces' prerogative to change your mind. See the full week >
What do the stars have in store for you this February? Read your monthly horoscope now
Get horoscope updates straight to your inbox! Sign up for The AstroTwins newsletter
The post Daily Horoscopes: February 21, 2020 appeared first on Astrostyle: Astrology and Daily, Weekly, Monthly Horoscopes by The AstroTwins.
Read more: astrostyle.com