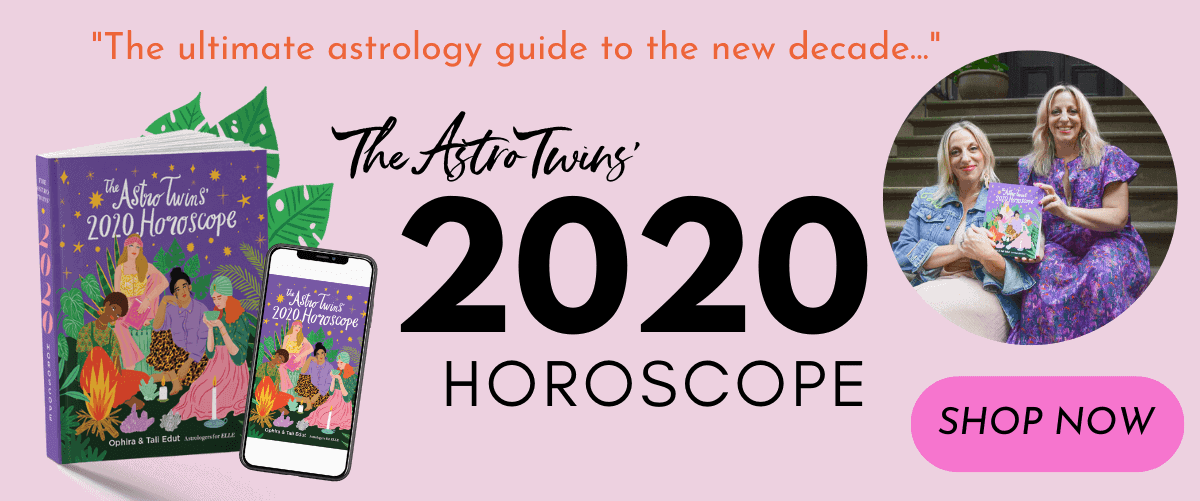 Dream it, believe it, achieve it! Optimistic Jupiter sextiles magnetic Neptune. Follow your gut and pay attention to signs.
Born on a cusp? Please note that dates for the zodiac signs can vary from year to year. To confirm your actual Sun sign, do a free chart here.
Illustrations by Grande Dame


Aries (March 21 – April 19)
Having friends in high places can work to your advantage, but you need to ask for favors sparingly. Today, as abundant Jupiter in your career corner pings enchanted Neptune, you can call on an influencer in your network for a little bonus support. Having them put in a good word on your behalf or retweet you can make a world of difference. Don't know anyone in the "baller" category? Start making moves to build your contact database. You might have to volunteer some hours to get a Doc Marten in the door, but that's the price you pay to join the winner's circle, Aries. See the full week >


Taurus (March 21 – April 19)
It's easy for your fixed (and stubborn) sign to get stuck in an old operating system—even if it isn't truly benefiting you. But today's friendly alignment of boundless Jupiter in your global ninth house and tuned-in Neptune in your collaboration corner helps you break down those walls and deepen your intellectual and cultural perspective. The fastest way to widen your range, Taurus? Expand your social network! Seek out people who can connect you to fascinating information, new systems and groundbreaking approaches to problem-solving. See the full week >


Gemini (May 21 – June 20)
Are you playing it too safe when it comes to career and finances? Today, venturesome Jupiter in your investment zone swings into a friendly alignment with Neptune in your tenth house of work, public image and professional success. Take a chance and reach out to someone who can be beneficial to your professional life. Whether they're a mentor or potential client, dare yourself to make the first move. But no need to come in with the hard sell, Gemini. Making a friendly connection is the best way to grease the wheels for a future collaboration. See the full week >


Cancer (June 21 – July 22)
Your deep-feeling sign doesn't skim the surface when it comes to your emotions, but today's profound pairing of philosophical Jupiter and sensitive Neptune might reveal how bottomless your love can be. There's no reason to struggle to maintain a calm, cool facade—at least not with one special relationship. In fact, if you've been holding back, that might be limiting where this could go. Take a risk, Cancer, and let this person see the full depth of your sentimental nature! See the full week >


Leo (July 23 – August 22)
No one will be able to accuse you of being melodramatic today, Leo! Things truly are intense for you as you try to surf tsunami-sized waves on your personal emotion ocean. Larger-than-life Jupiter may be in grounded Capricorn, but it's connected to bottomless Neptune in your eighth house of forceful feelings. The overpowering current of your own sensitivity may surprise you. But all the "talking yourself down" in the world won't make this go away. Let the people in your life know what you're going through. Open up to a compassionate friend who can listen objectively without making you feel "crazy" for having these outsized emotions. See the full week >


Virgo (August 23 – September 22)
Single Virgos will have a field day as abundant Jupiter in Capricorn and your passion house teams up with fantasy-fueled Neptune in your relationship corner. The flirting opportunities will be epic—and the cast of potential characters limitless—but if you're looking for someone with "keeper" potential, quickly rule out anyone with "player" or "taken" all over them. Trust your gut—but remember that a Google background check never hurts. See the full week >


Libra (September 23 – October 22)
You may not start the day expecting to play therapist to half your office, but that might be the case under today's sympathetic starmap. Jupiter in your sensitive fourth house is cavorting with empathic Neptune in your healing zone. Like it or not, yours are the deltoids everyone wants to cry on. Two important cosmic directives: Because you have your own work to get done, limit people to five minutes at a pop (until tonight)—and don't wear anything that could stain from all those tears! See the full week >


Scorpio (October 23 – November 21)
Guard your heart, Scorpio! (As IF we have to warn you to do that.) Actually, you might be slightly off your game today as a susceptible-to-sweet-talk sextile between Jupiter and gullible Neptune occurs in your houses of communication and passion. You'll be prone to believing what people say, and a manipulative smooth talker could win you over with too much flattery. Enjoy the temptation, but keep your wits about you. Simultaneously, make sure that YOU aren't embroidering the truth with a skein of sparkly thread. Leading people on could get you tangled up in weeks of drama that's so not worth it. See the full week >


Sagittarius (November 22 – December 21)
Your generous sign tends to give without thinking about the bottom line, which is (one of) your many great qualities. But today's planetary lineup flashes a warning sign when it comes to being a little too open-handed with your hard-earned cash. With your ruler, Jupiter, in cautious Capricorn synced up with boundary-challenged Neptune, you might confuse caring with sharing. You don't have to pay someone's way to show your affection. And if they try to guilt you into it, pause to consider whether they're as good a friend as you think. See the full week >


Capricorn (December 22 – January 19)
Don't resort to "truth embroidery" to impress a colleague or seal a deal. It's never a good idea to enhance the facts, but under today's hazy Jupiter-Neptune alignment, you might not even realize what you're doing. If you find yourself getting a little carried away with a sales pitch, interrupt yourself and stop! Whether you're trying to sell a customer a questionable new product or persuade someone to come over to your way of thinking, you want to be sure you can stand behind it 100 percent. Less than that, back down! See the full week >


Aquarius (January 20 – February 18)
No matter how busy your schedule is today, Aquarius, it'll be worth your while to carve out a little time to take care of a financial issue. If one of your insurance payments went MIA or there's a mystery charge on your credit card statement, don't put it off. As truth-seeker Jupiter aligns with Neptune in your money zone, you can sniff out the facts. But it could require some patience, so make sure you have some work to do while you're waiting on infinity hold as the agent tries to reach a supervisor. See the full week >

Pisces (February 19 – March 20)
If you've been hoping to break into a new social group or become an official member of an elite organization, today's the day to take action! Empathic Neptune in your sign is aligned with lucky Jupiter in your eleventh house of group activities. Your sensitive nature will be apparent to everyone, as will your quiet charm and wit. You may have to work up your nerve, but you'll be able to drift from one group to another and blend in seamlessly. Any "outsider" feelings you may have are totally in your head! See the full week >
What do the stars have in store for you this February? Read your monthly horoscope now
Get horoscope updates straight to your inbox! Sign up for The AstroTwins newsletter
The post Daily Horoscopes: February 20, 2020 appeared first on Astrostyle: Astrology and Daily, Weekly, Monthly Horoscopes by The AstroTwins.
Read more: astrostyle.com