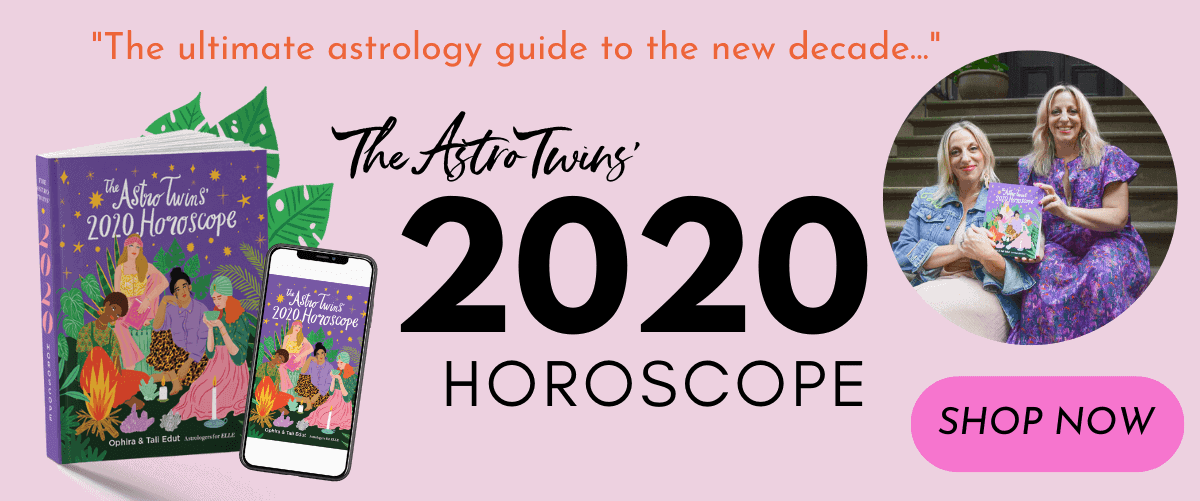 Never satisfied? The moon in somber Capricorn squares Venus in impatient Aries.
Born on a cusp? Please note that dates for the zodiac signs can vary from year to year. To confirm your actual Sun sign, do a free chart here.
Illustrations by Grande Dame


Aries (March 21 – April 19)
Is all that gravitas really necessary, Aries? A situation in your personal life feels heavier than it needs to be. Rather than fueling the panic and drama, ask a levelheaded friend to help you map out a practical plan. Lean on the rational people in your life; their "just the facts, Ram" approach will cool you down and help you get your head on straight again. Don't forget your sense of humor! See the full week >


Taurus (March 21 – April 19)
People-pleaser alert! Today finds you saying yes when you'd rather say no—and this creates a tremendous burden for you. Although you don't want to disappoint anyone, you also shouldn't let them emotionally manipulate you. Give yourself a moment to get centered by answering, "let me check my calendar." If anything, you can negotiate a compromise that allows you to give without depleting yourself. See the full week >


Gemini (May 21 – June 20)
Life may feel like a giant popularity contest today, and it'll be hard not to get caught up in the madness. But if you try to keep up with the Joneses, feelings of "I'm not good enough" could bubble up in your psyche. Today's challenge: Stay true to yourself, even if that makes you feel different somehow. At the end of the day, you'll score more points for being authentic than for mindlessly following the flock. See the full week >


Cancer (June 21 – July 22)
You may be feeling pressure to plan a high-stakes memorable moment with your sweetheart today, Cancer. But be careful not to put so much stress on the idea itself that you wind up starting a lover's quarrel. If Cupid's arrows have yet to reveal your 2020 amour, make a date with other single friends. Love comes in many forms, and dressing up and celebrating with your dearest pals can be wonderful—plus it provides a perfect excuse for a little apres-work shopping. See the full week >


Leo (July 23 – August 22)
Today's planetary PSA: Love your body through thick and thin. A square of Venus and the moon could find you eyeing your reflection with criticism, comparing yourself to an impossible ideal. No good can come of this, Leo. While you may be ready to make some healthy changes, it's also important to accept yourself as you are right now. Self-hatred breeds self-hatred; self-love breeds self-love…why not choose the latter? It's a far more fulfilling option, and the best foundation to start at if you DO decide to make some get-in-shape resolutions. See the full week >


Virgo (August 23 – September 22)
"It is not love that is blind, but jealousy," wrote British novelist Lawrence Durrell. The green-eyed monster could obscure your vision today, Virgo, causing you to overreact to another person's actions (or inaction). Before you start reading between the lines, find out what's really going on. A straightforward conversation might reveal that you've misread cues, but be patient. If you can't get the object of your affections on the line until later this evening, please don't obsessively Google-stalk or text. See the full week >


Libra (September 23 – October 22)
Are you giving to get, Libra? Purify your motives before you make any offers today. Benevolence with expectations does not really count as generosity. In fact, it can put undue pressure on a relationship. Hold back a bit and let others pony up. On the flip side, who in your circle has been lavishing YOU with kindness? If you've been taking this person for granted, show your appreciation today. See the full week >


Scorpio (October 23 – November 21)
Rewind and be kind. Today's moon-Venus square could afflict your delivery style, but that doesn't REQUIRE you to come across terse, annoyed or cranky. Team Scorpio could get mutinous on you if you approach them this way, or, worse, you could lose an important ally. Take a deep breath, summon your compassion and re-explain the way you'd like things done. Write out the instructions while you're at it. Verbal agreements never really stick. See the full week >


Sagittarius (November 22 – December 21)
Bring some order to your court today, Sagittarius, but do it with style. Whether it's your office or bedroom closet that needs shaping up, grouping related items together (e.g., receipts with tax documents or circle skirts with midis) can help you find that must-have file or perfectly fitted blazer without hours of searching. On the romance front, things may appear to cool down or move at a slower pace than planned. Be patient and don't overreact. Instead, increase your desirability by giving bae space to come to you. See the full week >


Capricorn (December 22 – January 19)
Soften your stance today, Cap. The "steel-magnolia" shtick is not helping your cause very much, and you need to stop being so intimidating. Rule of thumb: You'll catch more flies with honey than hydrochloric acid. Make an effort at personal chitchat and let your warmth be palpable. The truth is, you care deeply for people (when you allow yourself to), and today's planets signal that it's safe to drop your guard… for a select few souls at least. See the full week >


Aquarius (January 20 – February 18)
They love you, they love you not…grrr! Step off the emotional roller-coaster ride today, Aquarius, and get your hands back on the wheel of your own life. You've given someone else's opinion of you more weight than your own—well, no wonder things don't seem to be working out. Although it's hard to detach, pulling back and remembering your own greatness will produce one of two results: The MIA person will either start chasing you like mad, or you'll manifest a much better option. See the full week >

Pisces (February 19 – March 20)
Money is a touchy subject today, but don't sweep it under the rug. Have you picked up the tab once too often? Are you waiting for people to finally repay you for those group-rate tickets you bought for a holiday event this past December? Time to be firm and upfront, Pisces. Play Collection Agent if you must. Long before the dinner check arrives, be clear that you need to split the bill this time. There may be a few less drinks and appetizers on the table after your announcement, but c'est la vie. See the full week >
What do the stars have in store for you this February? Read your monthly horoscope now
Get horoscope updates straight to your inbox! Sign up for The AstroTwins newsletter
The post Daily Horoscopes: February 19, 2020 appeared first on Astrostyle: Astrology and Daily, Weekly, Monthly Horoscopes by The AstroTwins.
Read more: astrostyle.com