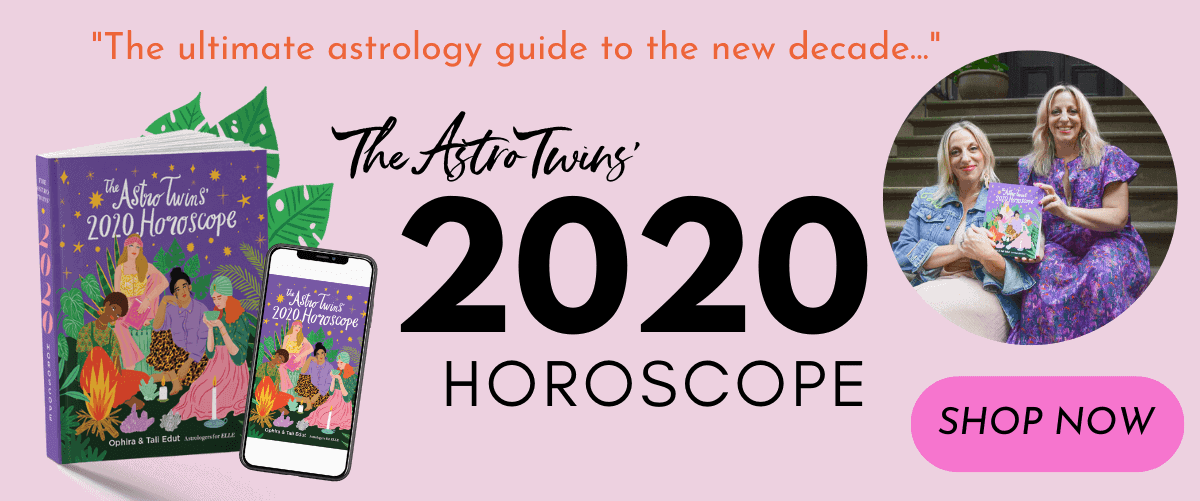 Pisces season is here! The Sun leaves airy Aquarius and swims with the Fishes for the next four weeks.
Born on a cusp? Please note that dates for the zodiac signs can vary from year to year. To confirm your actual Sun sign, do a free chart here.
Illustrations by Grande Dame


Aries (March 21 – April 19)
Pajama dressing could be your favorite style statement for the next four weeks as the Sun slides into Pisces and your restful, healing twelfth house. Slip under the radar until Aries season begins on March 19, and don't worry about losing your edge. Now's the moment to start a yoga or meditation practice, make art, go to bed early. Since your subconscious will be especially active, pay attention to your dreams. They could contain powerful messages and creative bursts. When you do have energy to spare, tie up loose ends and give your storage spaces a thorough "Konmari" treatment. Releasing old stuff opens up physical AND psychic space. See the full week >


Taurus (March 21 – April 19)
The Sun beams into Pisces today, setting off a social month that's perfect for networking, collaborating and having fun for fun's sake. Instead of gravitating to the usual places, scene-hop to find new crowds that suit 2020 Taurus. Invite the thought leaders in your squad to join forces on various projects. Online searches could yield unexpected delights, so don't forget to circulate online, whether you're looking for a job or a supportive community for your wellness goals. If you have something to teach or share, it might just be "lights, camera, YouTube" time! See the full week >


Gemini (May 21 – June 20)
Set your sights on a lofty goal as the Sun begins a month-long trek through Pisces and your ambitious tenth house tonight. You've spent the last four weeks checking out new possibilities and avenues. Now you're ready to pick the most promising—and profitable—plan and direct all your energy there. Under these successful skies, you're poised to make a power move. Play publicist and find your angle, then craft a compelling "brand story" that puts your name on everyone's lips. If you want to ascend to the top, you've got to act like a contender! See the full week >


Cancer (June 21 – July 22)
First order of the week: Pour yourself a mug of matcha and start perusing the travel feeds. Today, the energizing Sun blasts into Pisces and your jet-setting ninth house, putting you on an extended winter break until March 19. Suddenly nothing sounds more appealing than heading to a place where the accents are mellifluous and nobody knows your name. This is a highly independent solar cycle, Cancer, so if your go-to travel buddies can't join, a solo sojourn could be in the cards. Bonus if it has an educational or athletic component, like a painting workshop or surf camp. You'll revel in your own company while meeting plenty of inspiring new people along the way. See the full week >


Leo (July 23 – August 22)
For the next month, your "sign" might switch from Leo to "Do Not Disturb" as the Sun slips into Pisces and your intimate eighth house. You'll certainly crave more private time between now and March 19—and more sexytime with a special plus-one. Slip off the radar to make art OR love. The urge to merge could lead to talks of engagements, business deals, even a shared bank account. While you're in such a focused mode, why not do a little tax planning or debt consolidation, or check on the health of your 401(k)? A large sum of money could come in—or go out—in the next four weeks, and a little fiscal savvy will go a long way. See the full week >


Virgo (August 23 – September 22)
Have you neglected your favorite people in your quest for achievement? Partnerships become a priority again as the Sun heads into Pisces and your seventh house of relationships until March 19. If you took your S.O. for granted, make amends—in a very demonstrative way. Single? The next month is ripe with opportunities to meet a keeper who shares your vision of love. Business and creative collaborations will also thrive under this solar spell. Why struggle alone, Virgo, when pairing up is so much sweeter? See the full week >


Libra (September 23 – October 22)
Blow the dust bunnies off those dumbbells. The Sun leaves your indulgent fifth house and powers into Pisces and your sixth house of healthy, efficient living. For the next month, you're focused on sharpening the fuzzy edges of your life, getting your schedule, finances and fitness back into fightin' shape—and maybe even cutting out sugar, dairy or adult beverages for a monthlong detox. Beware the tendency to be a perfectionist about it all, though. It's one thing to have high standards for yourself; it's quite another to become obsessive. See the full week >


Scorpio (October 23 – November 21)
Missed the Valentine's Day boat—or just longing for another cruise around Heartthrob Harbor? If Cupid passed over your port, fret not! The Sun sails into Pisces and your lovestruck fifth house, doling out a month of magic moments. Single Scorpios could warm up the winter with an affair to remember—and some passionate PDAs. (Get a room!) If you're in a relationship, el Sol will revitalize your attraction. Spice things up with cultural events, dress-up dates and fun nights on the town. Cast off the winter blues with a glamorous style upgrade. How about adding some splashes of color to your signature noir wardrobe? See the full week >


Sagittarius (November 22 – December 21)
Accessories of the week: a retro apron and a pair of oven mitts. As the Sun exits your social third house and nestles into Pisces, domestic affairs take precedence until March 19. Has your life been a marathon of meetings and brainstorming sessions? Hang up your thinking cap and pause to integrate all this new data. Don't confuse quiet time with slacking, Sagittarius. Letting an idea gestate in solitude and serenity is like planting a seed in fertile soil. A month from now, something truly genius could sprout. See the full week >


Capricorn (December 22 – January 19)
You've been an industrious Sea Goat for the last month, and now it's time to mix it up. Today, the Sun moves into Pisces and your third house of communication, welcoming a light and social energy into your life. Power down the laptop and ramp up the networking efforts. Circulating among vibrant, interesting people will strengthen your contact database when you're ready to get back to business. Partnership opportunities will pop up at every turn—and even in unexpected spaces, like the checkout line or a casual hangout. Time to connect and collaborate! See the full week >


Aquarius (January 20 – February 18)
Birthday season officially ends tonight (le sigh) as the Sun departs Aquarius. It's been a fun month, but there are important missions waiting to be accomplished. Settle into this grounded energy with a morning workout and an afternoon clean-and-organize mission. Did you make lofty wishes when you blew out the candle on your cupcake? Until March 19, the Sun lingers in Pisces and your house of practical magic. Map your brainstorms into tangible action steps. One of those offbeat ideas could turn into a profitable winner when you put structure behind it. See the full week >

Pisces (February 19 – March 20)
Order the cake and chill the bubbles! Pisces season begins tonight as the Sun moves into your sign until March 19. After a sleepy and sluggish month, you're getting a solar-powered reset of your energy stores. A personal project could move to front-burner status, and you'll feel especially motivated to share your ideas and dreams with the world. The squeaky wheel gets the oil, so if you want something, don't wait around—make it rain! In all areas of life, you'll need more breathing room. Don't forget: Absence really does make the heart grow fonder. See the full week >
What do the stars have in store for you this February? Read your monthly horoscope now
Get horoscope updates straight to your inbox! Sign up for The AstroTwins newsletter
The post Daily Horoscopes: February 18, 2020 appeared first on Astrostyle: Astrology and Daily, Weekly, Monthly Horoscopes by The AstroTwins.
Read more: astrostyle.com