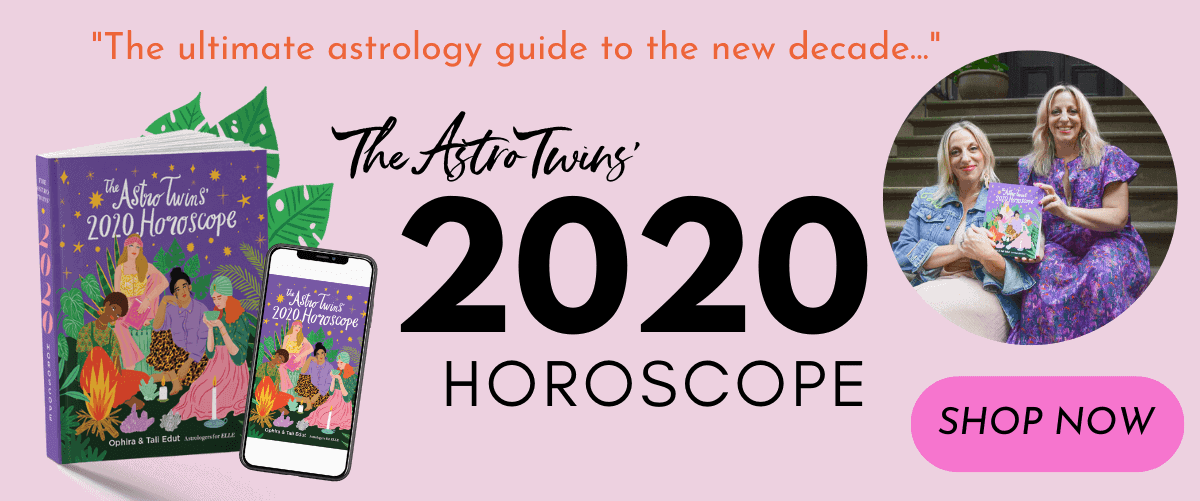 Reality check, anyone? The moon in overconfident Sagittarius squares dreamy Neptune in Pisces.
Born on a cusp? Please note that dates for the zodiac signs can vary from year to year. To confirm your actual Sun sign, do a free chart here.
Illustrations by Grande Dame


Aries (March 21 – April 19)
Putting your grand plans into motion could prove tricky today. Sure, you may be keyed up and ready to get the show on the road—but have you REALLY thought through all the details? Don't push your agenda before a firm foundation is in place for its launch. Besides, what's wrong with letting your ideas percolate over the coming week? Activate your subconscious by journaling, meditating or making a vision board. This could generate a major aha moment that reveals a missing piece of the puzzle. See the full week >


Taurus (March 21 – April 19)
You need to get something off your chest today, but who can you trust? With hazy Neptune at odds with the moon, you don't want to take any chances. The closest person within earshot is probably not a safe bet. And pay attention to who else is in the room before you start whispering to a confidante. You could arouse the curiosity of an undercover gossip who's just waiting for a juicy morsel to shoot to the grapevine. Keep the discreet vibes going when making evening plans. This might be the perfect evening to book some bodywork or just stay in and snuggle up to a sexy costar. See the full week >


Gemini (May 21 – June 20)
Should you keep your nose to the grindstone or take some time off for yourself? You're of two minds today, thanks to conflicting agendas from the moon and Neptune. Although you're craving quality time with a special someone, you won't be able to focus if you don't get THAT task off your plate. Stay at your desk a little longer and tie up loose ends. When you connect with your evening companion, declare work chatter off-limits and don't start venting about your coworkers. Change the subject and let the good times roll! See the full week >


Cancer (June 21 – July 22)
Trying to keep everything under control could backfire under today's muddling moon-Neptune formation. Perhaps you've raised the bar a little too high for your own sanity? If you're trying to kick sugar or break some sort of addictive pattern (like cyberstalking your ex's social media), by all means steel your resolve. But get real about your emotions! Wrestling these beasts takes willpower—especially if you're giving up something that once soothed you. Reach out to a supportive listener and be honest about your struggle. You don't have to "fix" anything, Cancer; simply talking about it can bring relief. See the full week >


Leo (July 23 – August 22)
You knew they were trouble when they walked in—and that's exactly what sparked the attraction in the first place! Look out, Leo. Playing with fire could leave you burned today as undercover Neptune pings the moon in your passion precinct. Resist that tempting offer to meet you-know-who for drinks or to show up "coincidentally" at the same event tonight. You just won't have the best impulse control under this transit, especially if they ply you with compliments! When out with friends, be willing to share the spotlight. But if one of them starts openly competing with you, put them in check. See the full week >


Virgo (August 23 – September 22)
Comfort food and binge-watching—or maybe a little Netflix and chill? Whatever way you choose to spend your Monday night, keep the vibe low-key. With the Sagittarius moon nesting in your cozy fourth house, it's going to be hard to lure you out of your cave. But oh, how people will try! Someone from your inner circle might even try to guilt you into coming to an event. Resist, Virgo! If you need a time-out to recharge, take it. Of course, if it's a special occasion, dress up and make a cameo without feeling any pressure to stay too long. See the full week >


Libra (September 23 – October 22)
With the Sagittarius moon fluttering through your intellectual third house, you won't be spending tonight deep-conditioning your hair. But make plans with a purpose! As soulful Neptune in your service and wellness sector elbows Lady Luna, you can do something more meaningful than getting lit at a random bar. Is there a benefit concert going on or a talk being given by an activist? Or maybe a yoga class with a gong meditation and sound bath? Lead the way, Libra; your friends will enjoy these eclectic entertainment options. See the full week >


Scorpio (October 23 – November 21)
Have you been a little too strict with yourself, Scorpio? Today's moon in your sensible second house gets a nudge from dreamy Neptune. Now for the challenge: figuring out how to loosen up without losing ground on the progress you've made. By all means, stick to your guns when it comes to your resolutions. But add a more playful element to your processes. For example, cardio workouts CAN take place on the dance floor. Just stay hydrated with water instead of cocktails tonight. See the full week >


Sagittarius (November 22 – December 21)
Your spirit wants to fly free today as the moon hovers in Sagittarius. But with crisis-junkie Neptune working at cross-purposes, you may need to carve out time for a friend who's going through a rough patch. How to satisfy these dueling demands? Set aside a couple hours to play "support staff"—but only after you've had a block of time for yourself. Go straight from work to that yoga class or hair appointment. You'll be far more available and compassionate once you've filled your own tanks. See the full week >


Capricorn (December 22 – January 19)
After a few days of leaning in, what you need is to lean ON someone else's sturdy shoulders. Make lunch plans with a supportive coworker or friend—someone who will just listen without trying to solve your problems or "therapize" you. Head straight home from work so you can get into your PJs as fast as possible. If your body is aching, ease into the week with a massage or a hot bath with Epsom salt. A little rejuvenation will have you back in the game in no time. See the full week >


Aquarius (January 20 – February 18)
It's still Aquarius season for one more day—and that means the next 24 hours are like a bonus celebration for you. But balling on a budget may be necessary as fuzzy Neptune in your financial sector throws a curveball to the moon in your communal eleventh house. Get on the same page as the rest of your entourage…before people start ordering appetizers and drinks with wild abandon! You don't need to get stuck with everyone's bill, Aquarius—or, conversely, cause friction with friends because YOU ordered top-shelf selections on the shared tab. See the full week >

Pisces (February 19 – March 20)
Responsibility can feel like a double-edged sword today as your ruler, free-flowing Neptune, gets into a tangled angle with the Sagittarius moon in your authoritative tenth house. On the one hand, you'll enjoy being large and in charge. It means you can set the tone for an important mission! But having all those people depending on you can be a lot of pressure for your sensitive soul. Perhaps it's time to bring in a co-leader or an adviser you can call on when you feel overwhelmed. If you've been waffling on whether or not to step into a power position, remember that being the boss can be liberating—as long as you remember to delegate instead of DIY-ing! See the full week >
What do the stars have in store for you this February? Read your monthly horoscope now
Get horoscope updates straight to your inbox! Sign up for The AstroTwins newsletter
The post Daily Horoscopes: February 17, 2020 appeared first on Astrostyle: Astrology and Daily, Weekly, Monthly Horoscopes by The AstroTwins.
Read more: astrostyle.com