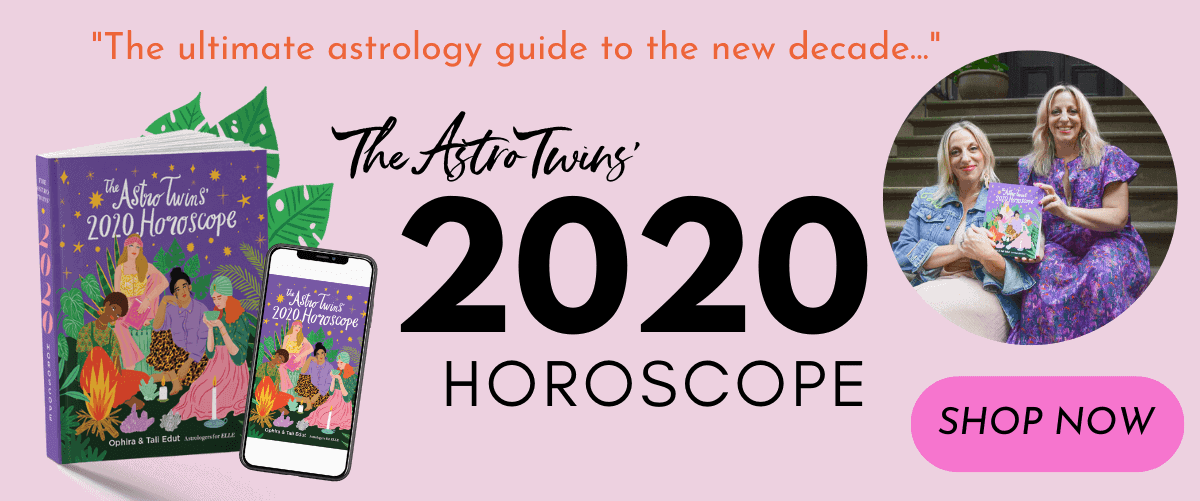 Sat: Refine your supersized plans sparked by the February 9 Leo full moon, as today's Scorpio quarter moon helps you evaluate with a detailed eye.
Sun: Major day! Mercury turns retrograde until March 9 and fiery Mars moves into its "exalted" sign of Capricorn.
Born on a cusp? Please note that dates for the zodiac signs can vary from year to year. To confirm your actual Sun sign, do a free chart here.
Illustrations by Grande Dame


Aries (March 21 – April 19)
"Sort of in a relationship…I guess?" is not the kind of status you can abide by under Saturday's quarter moon in all-or-nothing Scorpio. While your edgy sign doesn't necessarily need conventional labels like "girlfriend" or "business partner," you still like to know where you stand. Think of it as a co-created conversation; you could wordsmith a new relationship category like "exclusive playmates" or "part-time collaborators." On Sunday, your cosmic custodian, driven Mars, arrives with a bang in Capricorn and your tenth house of professional ambition until March 30. You won't have patience for the old "slow and steady wins the race" and might just burn up the track on your ascent to the top. You could be publicly recognized for your accomplishments or offered a position with more responsibility out of the blue. But with Mercury turning retrograde on Sunday (until March 9), perfect your plan behind the scenes and hold off on any big launches until after then. You'll garner much more support that way! See the full week >


Taurus (March 21 – April 19)
Weigh in on your closest connections as Saturday's quarter moon in Scorpio lands in your seventh house of partnerships. Have your dynamic duos started to feel more like solo performances? If one person is doing more giving and the other the bulk of the taking, balance things out. Do less if you're feeling stretched thin—or, if you're the slacker, apologize and get back in the game. These moonbeams offer a chance to tweak your romantic criteria. Don't abandon your traditional side, but make sure it isn't crowding out a worthy contender who is a little more unconventional than your usual type. Your maverick streak could make a rare appearance starting Sunday as fearless Mars steamrolls into Capricorn and your global ninth house. Suddenly your earthbound sign is eager to take wing and experience new people, places and things. This Mars cycle, which lasts until March 30, could inspire a very long-distance trip, possibly to study (or teach) abroad. The only catch? Mercury flips into a signal-jamming retrograde from Sunday until March 9, stalling plans. In the meantime, whet your appetite with some virtual exploration—of destinations and programs—with some deep online research. See the full week >


Gemini (May 21 – June 20)
Saturday's quarter moon in Scorpio brings a gentle nudge back toward the wellness wagon. Where did you kick off your cross-trainers last, Gemini? Search under the piles until you find them, then check out the class schedule at your gym—and commit to going to one before the weekend's over. Energy is kinetic, Gem, and once you get moving, the feel-good rush of endorphins WILL be habit-forming. On Sunday, passionate Mars blasts into Capricorn and your eighth house of intimacy and eroticism until March 30, giving you more incentive to get back in touch with your bod. If you've been more of a dabbler than a committer, your status may change over the coming six weeks. A small, calculated gamble in the game of love could bring a rewarding payday. Attached? This is a beautiful time to go deeper and bring your bond into the perma-zone. Initiate a talk about next steps, whether that's meeting each other's relatives, getting a place together or even doing some family planning. Alas, Sunday also features a retrograde from your ruler, Mercury. Until March 9, you could struggle to align around future goals. Demands at the office could keep you away from your beloved for longer hours than you'd prefer. Enrich the QUALITY of your time if you can't do anything about the quantity. See the full week >


Cancer (June 21 – July 22)
Those rose-colored glasses look cute on you, Cancer, but don't forget to switch lenses and check out the unfiltered view. Saturday's quarter moon in Scorpio lends its balanced perspective and helps you see things both as they are AND as they could be. Instead of glossing over potential trouble spots, accept them as part of the package. No situation or person will ever be "perfect," after all. The question is, are these issues deal breakers, or can you live with them? Assess honestly and fearlessly, then make the move that feels right for YOU. On Sunday, passionate Mars jets into Capricorn and your seventh house of relationships until March 30: sweet harmony! All kinds of partnerships get a little extra juice, so don't hide out in hibernation mode or DIY those projects that could benefit from an extra pair of eyes and hands. Single? Be open to different types. The old "opposites attract" rule will be in effect during this cycle. For couples, excitable Mars can bring some fresh energy into your bond. Note: It can also churn up friction, so be careful not to let simmering resentments turn into active volcanoes—especially since Mercury is turning retrograde in your candid ninth house until March 9. Watch your temper for the next three weeks. The truth hurts, so deliver it gently. See the full week >


Leo (July 23 – August 22)
Family demands weighing on you, Leo? Saturday's quarter moon in Scorpio helps you find a better way to support the ones you love. Draining your reserve tanks to show that you care is unhealthy—and seldom is it appreciated. On the flip side, you don't have to avoid people because you're afraid you can't give enough. Find a happy medium, and be honest about your parameters. If people are overly reliant on you, start training them to fend for themselves. On Sunday, energizing Mars zips into Capricorn and your salubrious sixth house, sending you on a wellness quest until March 30. But don't do it the "extreme" way—that will lead to one big push that's followed by a longer hiatus (or injury!). Experts say it takes 21 days to establish a new habit, so think in terms of small, sustainable steps. Renew your yoga studio membership, give up gluten for the six weeks of this Mars cycle—but don't totally deprive yourself. Follow the 80/20 rule: Eat healthfully 80 percent of the time and give yourself permission to indulge in between. With Mercury turning retrograde from Sunday until March 9, a mindset shift might be the key to your wellness breakthrough. Check your limiting beliefs—and don't get swept back into the distraction (and destruction) trap of an ex! See the full week >


Virgo (August 23 – September 22)
Saturday's quarter moon in Scorpio beams into your friendship zone and calls for a crew review. Who ARE the people in your entourage? Think of relationships as investments: Which ones are bringing a rewarding return, and which are underperforming? Prioritize people who give as good as they get. If your inner circle has grown a little too insular, invite someone new to tag along for lunch or an evening hangout. If you set a welcoming tone, your older friends will follow suit. On Sunday, passionate Mars jets into Capricorn and your romantic, creative fifth house until March 30. Peel off the power suit (or level up to a leather jacket or blazer with a fur collar), kick off those sensible shoes and let the Virgo vixen out to play. Amour is definitely on the docket now, whether that means keeping your S.O. close to your side or roaming free and sampling the options. Whatever your fancy, this is a time to explore and go deeper. Mars CAN bring up jealous or combative feelings, so stay tuned in and address growing tensions before they explode—extra important since Mercury is turning retrograde from Sunday to March 9. See the full week >


Libra (September 23 – October 22)
Give yourself a performance review when Saturday's quarter moon in Scorpio lands in your second house of income. If you've outgrown certain aspects of your job, don't keep grinding away at it. Time is money! Small shifts—like investing in a virtual assistant or automating with software—will free up hours for more profitable tasks. Do you see opportunities to grow within a company or to better serve a client? Be proactive and schedule a meeting to lay out your vision. On Sunday, hyperkinetic Mars blasts into Capricorn and your domestic fourth house, inspiring some big changes at your humble abode between now and March 30. What have you been dreaming of lately, Libra: a music room or workout space? A modernist pendant light in the dining room? A completely new address? Narrow your focus and concentrate on manifesting the shifts you want to see. But don't start jackhammering or calling realtors in a haste! Pesky Mercury turns retrograde on Sunday which could stall developments until March 9. Maybe it's a good thing: Big changes like these are best done with careful planning and foresight—right? See the full week >


Scorpio (October 23 – November 21)
How are those 2020 resolutions coming along? If your wide-eyed enthusiasm started waning, don't worry! Saturday's quarter moon in Scorpio brings an encouraging reminder to keep on keeping on. Review your goals from a levelheaded POV. Maybe you'll run a 5K instead of a triathlon or travel abroad to one city instead of doing a multinational tour. A dialed-back plan can still be epic—and best of all, it can actually be done. On Sunday, your co-ruler, thrill-seeking Mars, rolls into Capricorn and activates your outgoing third house until March 30. Before you know it, your calendar will fill with dinner parties, Tinder dates and networking events. Reach out to old friends and get caught up on the last few months—or years! With Mercury turning retrograde from Sunday until March 9, reunions might just be the safest social bet anyway. But not necessarily with an ex, since this backspin moves through Pisces and your romance house for most of the time, until March 4. In the final five-day lap of the retrograde, you could reconcile with a family member or have an eye-opening realization about what you need in order to feel "at home." See the full week >


Sagittarius (November 22 – December 21)
How many times are you going to swear off sugar (while munching on a cupcake) or tell your friends (over drinks) how eager you are to get back to the gym? Unhealthy habits that crept in over the holidays have been hard to kick in 2020. But with Saturday's quarter moon in Scorpio firing up your detoxifying twelfth house, you may finally be fed up with that sluggish feeling. Start realistically: If time is tight, use a workout app and resistance bands for days when your living room has to substitute for the gym. On Sunday, go-getter Mars swings into Capricorn and heats up your second house of finances and security until March 30. Although the red planet will no longer be firing up your sign, you'll be thankful to have your steely focus back. Roll up your sleeves and start producing all those big moneymaking ideas you've been cooking up since early January. But don't rush into expedited launch mode! Mercury pivots retrograde on Sunday, backing up through your domestic zone until March 4, then through your communication sector before correcting course on March 9. Household and family duties could demand your attention—or maybe it's time to set up a proper home office so you can nail the work-life balance thing. See the full week >


Capricorn (December 22 – January 19)
Your social life has expanded, Capricorn, but Saturday's quarter moon calls for a crew review. Stop chasing after the unresponsive cool kid and drop the chronic canceler from your invite list. Of course, it goes both ways: Have YOU been the one who is constantly "too busy" to hang out? Friends will tire of hearing "no" from you. If you don't want to be left out of the fun, take the initiative to organize a happy hour or a field trip this weekend. On Sunday, unstoppable Mars blasts into your sign for the first time since March-April 2018 and pours rocket fuel into your tanks. Between now and March 30, your personal goals could really take wing! Easy though: Speed demon Mars might cause you to jump the gun. To avoid false starts, read the fine print and make sure you have SOME sort of project plan (and budget) in place. Pacing yourself is essential, too, since trickster Mercury will be retrograde from Sunday until March 9, insisting that you research everything with extreme vigilance. Looking for a fresh direction? Turn to the past for cues and clues. It might be time to revive one of your greatest hits. See the full week >


Aquarius (January 20 – February 18)
Are business hours creeping into social time—or vice versa? Draw a sharper line during Saturday's quarter moon in Scorpio. Log off social media when you're concentrating on work. If you're out with friends, keep your phone tucked in your bag so your quality time isn't interrupted with a stressful request that you can't do anything about in the moment anyway. Try making this your new discipline for 2020—you'll be more productive and connected! Unexpected blessings could reveal themselves beginning Sunday as high-achieving Mars checks into your esoteric twelfth house until March 30. You'll be motivated, yes—but your focus is more likely to be inward than outward (or should we say, more metaphysical than physical?). Free up your schedule and lighten your workload to the degree possible. You need to conserve your energy during this biannual cycle of recharging your psychic batteries. It's also a good time for gentle healing modalities, like energy work, therapy and meditation. But don't confuse the office with an ashram, Aquarius! Mercury is turning retrograde from Sunday until March 9, backing up through Pisces and your money zone until March 4, then rounding out the regression in your sign. Watch what you spend on AND what you say. Little slips can necessitate major repair work. See the full week >

Pisces (February 19 – March 20)
Come on out of your comfort zone as Saturday's quarter moon in Scorpio activates your wanderlust: No plane fares required! Under this gentle lunar lift, major shifts can occur while you're being a tourist in your own town. Detour away from "the usual places" and extend yourself to people from different cultures and backgrounds. Before the day is through, you could tap into an exciting new scene, sans passport! On Sunday, your giving spirit wakes up in a big way as energizing Mars rolls through Capricorn and your eleventh house of high-minded activities until March 30. Embrace the role of social director. You can steer your crew in a rewarding new direction by organizing outings that have some kind of altruistic mission. Volunteer for an event, help paint a mural, plan a charity auction. You feel your best when you exercise your generosity in a big way. Besides, it might be best to stay active instead of getting lost in your thoughts since Sunday kicks off the first Mercury retrograde of the year, which lasts until March 9. Moreover, the signal-jamming backspin is mainly taking place in YOUR sign (until March 4, then into Aquarius until March 9). Since this could make even the most well-intentioned sentiments come out sideways, put off heavy talks during this cycle—or bring them to a great therapist or coach who can help you find an enlightened perspective. See the full week >
What do the stars have in store for you this February? Read your monthly horoscope now
Get horoscope updates straight to your inbox! Sign up for The AstroTwins newsletter
The post Daily Horoscopes: February 15-16, 2020 appeared first on Astrostyle: Astrology and Daily, Weekly, Monthly Horoscopes by The AstroTwins.
Read more: astrostyle.com