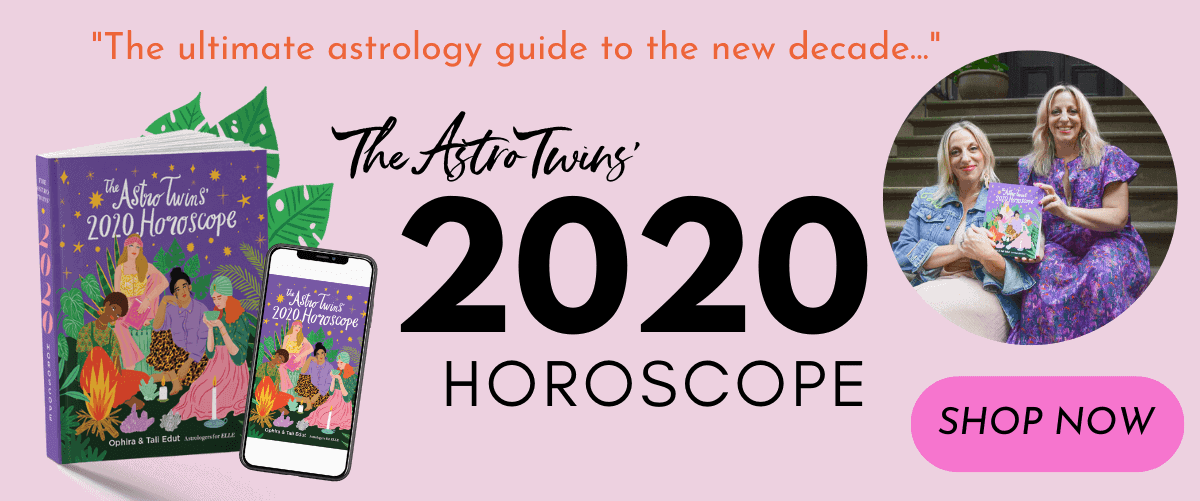 Cupid gets steamy action this V-Day, as the moon in sexy Scorpio trine Mercury AND fantasy planet Neputne in enchanting Pisces.
Born on a cusp? Please note that dates for the zodiac signs can vary from year to year. To confirm your actual Sun sign, do a free chart here.
Illustrations by Grande Dame


Aries (March 21 – April 19)
Unleash your sensual side this Valentine's Day as the moon hovers in alluring Scorpio and your erotic, mysterious eighth house. And with Mercury chiming in from your poetic twelfth house, you won't need conversation hearts to make your attraction known. Warning: The green-eyed monster could creep in if you're forced to share your S.O. This could be the year to celebrate the holiday in private, with a tantalizing tryst for two. In an introspective mood? Don't let the pressures of this Hallmark holiday lure you out. Staying in to make a vision board and do a love ritual might be a better use of your time than showing up at some cliche singles event. See the full week >


Taurus (March 21 – April 19)
You're on Cupid's favorites list this V-Day, thanks to the moon dancing through Scorpio and your seventh house of partnerships. While it won't take much to rev up romance, social planner Mercury is parked in your "the more, the merrier" eleventh house. Too much twosome time could get stifling fast, and you might just want to round up some of the lonely hearts in your crew for a group dinner. If bae objects, meet up later for a night of dancing after you've had your intimate candlelight moments. Single? Sparks could fly with a friend of a friend: Good reason to venture out this V-Day and not stress over being dateless. See the full week >


Gemini (May 21 – June 20)
Pamper thyself, Gemini! Cupid endorses an indulgent day of self-care, whether you're baeless or bae'd up. With the Scorpio moon in your wellness zone, you can shake off all the pressure of this Hallmark holiday with some yoga or some bodywork (or both). Or how about meeting your Valentine for a sound bath—then opening up a bottle of champagne as you share a bubble bath? Side-by-side massages are always an option, too! With your ruler, talkative Mercury, pinging the moon, leave time for your favorite aphrodisiac: arousing conversation. The fastest way to your heart IS through your mind, after all. See the full week >


Cancer (June 21 – July 22)
Be your bold and beautiful self this Valentine's Day as the moon shimmies through Scorpio and your fifth house of amour. You don't need a date to strut down the street like it's your runway, Cancer—but by the time you've sashayed to your destination, don't be surprised if you get a few offers or dinner tonight. (Under these spontaneous skies, you might actually say yes to one of those invites.) Coupled up? With Mercury in your unfiltered ninth house, talk with bae about that big romantic milestone on the horizon. Perhaps you're ready for real estate or a ring, or just enlisting more emotional support for one of your personal goals. See the full week >


Leo (July 23 – August 22)
Don't feel like braving the V-Day madness? Keep it cozy at home as the moon nestles in Scorpio and your intimate fourth house. Cooking dinner with bae can feel particularly sweet and special, especially if you pick up a decadent dessert and a special bottle. Single? Invite friends over to your place for a V-Day potluck and some classic romcoms. There's absolutely no reason you have to be alone on Cupid's big day, even if you're just sharing some supportive vibes with your inner circle. Love comes in many forms! Don't shy away from the subject of relationships, though. This is a great night to visualize the kind of partner you'd like to call in next. See the full week >


Virgo (August 23 – September 22)
Show appreciation for your Galentines as the Scorpio moon beams into your laid-back and friendly third house. By all means, go forth with romantic plans if you've got 'em. Just don't forget to share a little love with your BFFs. If your 2020 Valentine doesn't mind, you might merge plans into a double date or even a relaxed configuration of singles and couples. Who knows? You could earn some karma points playing matchmaker for a pair of friends. Single? Tag along on a group hang. A pal's platonic plus-one could spontaneously emerge as your new Valentine—if only for a fun evening. See the full week >


Libra (September 23 – October 22)
You don't need a date to luxuriate, Libra, but DO make sure you've got something decadent lined up for your V-Day. With the Scorpio moon in your sensual second house, splurging on a spa package could feel like your direct line to divine love. Do you have enough saved up for a few extras? Upgrade to the rose-petal bath and sugar scrub along with your 90-minute massage—and think about treating your sweetie to a side-by-side treatment if you both love being pampered. Coupled Libras: How about a night at a posh hotel where you can sip champagne in bed, order room service and ravage each other in uninterrupted style? See the full week >


Scorpio (October 23 – November 21)
Congratulations, Scorpio! You're at the top of Cupid's favorites list this V-Day as the moon spends the day in your sign, bringing a wave of amorous confidence and romantic glory. Single? Turn up your goddess-given charm and play the field! You'll have no shortage of admirers, and today is all about enjoying the attention. Or spend the Hallmark holiday out on the town with friends, striking up a conversation anytime a stranger catches your eye. If you're coupled up, have a "state of the union" with your S.O. to discuss what's next for your dynamic duo. With expressive Mercury in your fearless fifth house, you could make a bold proposition (and get a yes) before the night is through. See the full week >


Sagittarius (November 22 – December 21)
With the Scorpio moon in your twelfth house of fantasy this Valentine's Day, there's no telling where Cupid's arrows could lead a lovestruck Archer. Be warned, however, that this rose-tinted transit can skew your ability to read people. And boundaries? Um, what are those? In some ways, it's all perfect since this surrendered state makes it hard for you to hide behind intellect and humor. But on the other hand, if certain lines blur, there could be a big clean up tomorrow. Attached? You may feel a bit adrift from bae, especially if you've been together for a while. If you want to generate sparks, don't default to "old-marrieds" mode. Pick up a pair of tickets to a show or experience that is totally new for both of you. See the full week >


Capricorn (December 22 – January 19)
Celebrate ALL forms of affection today as the Scorpio moon shimmers in your eleventh house of friendship and group activities. Coupled? If bae's cool with it, turn part of your evening into a collective hangout. Meet up for drinks or a show after you've had time to get frisky and feed each other pasta. Single? This rebellious lunar energy could inspire an anti-Valentine's Day theme. Ironically, you might just meet someone as soon as you swear off Cupid! With your tech sector lit, see who's swiping right on you. A very impromptu V-Day date could emerge just because you peeked at Tinder while you were out with friends. See the full week >


Aquarius (January 20 – February 18)
Hopefully you have an elegant Valentine's Day planned, Aquarius, because this year the moon is in Scorpio and your status-loving tenth house. And if not? Utilize the mogul mojo of this transit to give your February 14 an executive upgrade, stat! Splurge on a fabulous celebration, whether you're spending the evening with bae or your entire squad. Even if you're not dressed to the nines, you'll get a rush from scoring a killer reservation and a pair of show tickets—and yes, documenting the whole thing as an Instagram Story. See the full week >

Pisces (February 19 – March 20)
This Valentine's Day, the moon shines in sensual Scorpio and your ninth house of travel and adventure. Book a staycation at a local hotel or start planning a luxurious weekend jaunt. Don't have time to get out of town? Dine at an experimental fusion joint, check out a mind-expanding art show and think about booking a night at a boutique hotel for a sexy staycation. Single Pisces could feel the sparks with someone from a very different cultural upbringing. While you no doubt share plenty of common ground, you'll love the spirit of discovery that flows between you. Stay open! See the full week >
What do the stars have in store for you this February? Read your monthly horoscope now
Get horoscope updates straight to your inbox! Sign up for The AstroTwins newsletter
The post Daily Horoscopes: February 14, 2020 appeared first on Astrostyle: Astrology and Daily, Weekly, Monthly Horoscopes by The AstroTwins.
Read more: astrostyle.com