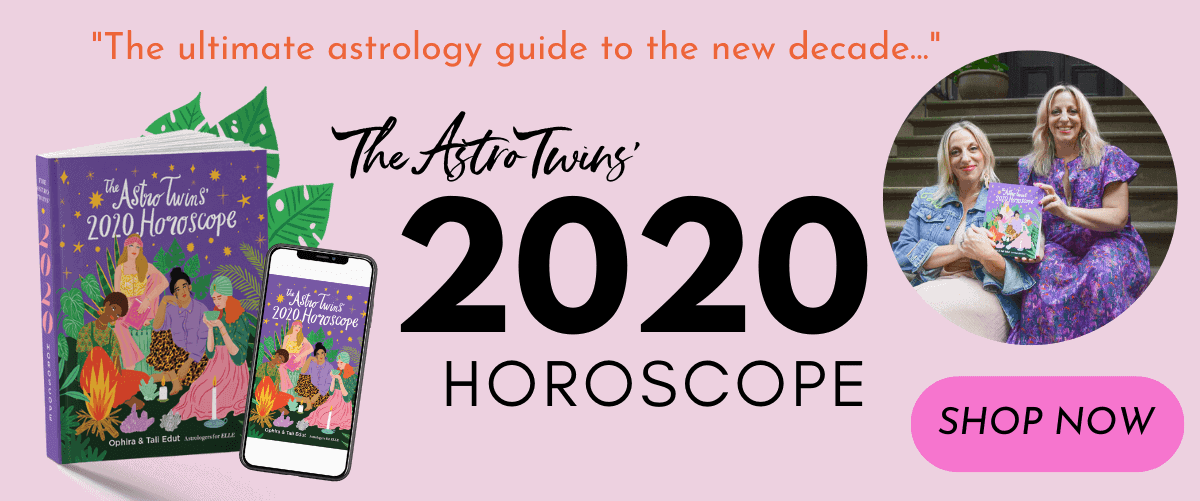 Too much of a good thing? Check your decadence at today's moon-Venus opposition.
Born on a cusp? Please note that dates for the zodiac signs can vary from year to year. To confirm your actual Sun sign, do a free chart here.
Illustrations by Grande Dame


Aries (March 21 – April 19)
Opposites attract as the Libra moon positions itself across the table from romance planet Venus in Aries. Inexplicably, you may be drawn to someone who's rubbed you the wrong way in the past. Don't overthink this sudden pivot, Aries. If you're not crossing any lines, explore this a little. Rams thrive on change and excitement, be it in love or friendship…and you're feeling SOME sort of sparks. There's no hurry to categorize this connection, however. Just enjoy what it's providing you today. Instead of fixating on the relationship's potential, see what happens if you move the conversation in a more personal direction. See the full week >


Taurus (March 21 – April 19)
Today, a moon-Venus opposition could cloud your better judgment when it comes to amour. You're smart enough to recognize the inherent problem with taking a charmer's flattery to heart. And still, you might find yourself lapping up every single word. What's more, this cosmic confab leaves you susceptible to romanticizing, so make sure you aren't hoisting people up onto a pedestal they haven't earned. Text a trusted confidante if you need someone to talk a little sense into you. While it's fun to flirt, this is NOT the day to let yourself get totally swept away. See the full week >


Gemini (May 21 – June 20)
Today's stars summon your inner culture vulture. Don't let your day be hijacked by acquiescing to a friend's choice of a cheesy comedy or the crew's decision to grab dinner at the local diner. Take control and offer suggestions, like a table for eight at a seen-and-be-seen fusion restaurant, perhaps followed by an indie film or a fresh exhibit on the history of pop art. And keep the invite list open! A sexy surprise guest could light your fire (and vice versa!), making you happy you kept it an all-inclusive affair. See the full week >


Cancer (June 21 – July 22)
Work-life balance isn't just some enigmatic concept today—you might actually nail it! Creatrix Venus is powering up your career zone, bringing a downpour of "Wouldn't it be amazing if…" ideas to the table. But an opposition from the Libra moon will call your attention back to home base. By all means, have the brainstorming session, Cancer. But how about hosting a second one around your own kitchen table and letting your family weigh in? Your inner circle knows you best, and chances are they'll love being included in the exciting professional developments you have cooking. See the full week >


Leo (July 23 – August 22)
Today, you can't help but be frank—even if that means moving into oversharing territory. The people you click with best are those who love your larger-than-life (and yes, sometimes loudmouthed) Leo ways. So go ahead and cross the TMI line if you know you're in trusted company. Your adventurous spirit could take the helm, luring you away from those spreadsheets and off to check fares to a tropical destination. But a floating hut in Bora Bora isn't a requirement. Any change of scenery would do you good, including reconfiguring your office to get a view out of a new window. See the full week >


Virgo (August 23 – September 22)
Budget configuration is in order as the moon sails through your income zone and vectors across from value-obsessed Venus in your investment house. You're quite the curator, Virgo, and when you decide to splurge, you can really make a dent in your savings. Think long and hard about what you really need as opposed to what you simply want. Heed the cosmos' call and incorporate some delayed gratification into your quarterly plan. Put your practical side at the helm and set up a savings schedule for one meaningful purchase, whether a limited-edition bag or a shiny new electric vehicle. See the full week >


Libra (September 23 – October 22)
If your relationship forecast has been stormy or hazy lately, the skies could clear today. As your cosmic ruler, Venus, faces off with the Libra moon from your partnership house, you'll see clearly what's "mine" and what is "yours." Have you been giving someone else too much power over your emotions? Taking on their problems as your own? The only person who is truly responsible for your happiness is you and you alone, Libra. And it goes both ways! Sure, you can make an impact on other people's lives, but unless they're an underage child you gave birth to, you aren't responsible for securing their futures. So how about letting yourself off the hook? See the full week >


Scorpio (October 23 – November 21)
How realistic are your expectations, Scorpio? As the moon gets into a dynamic dustup with romantic Venus, you might see things in a new light. It's great that you have crystal-clear boundaries, but have you also established unrealistic standards? If you've set the bar too high, it's no wonder you can't seem to get past the icebreaker stage. And if you're really being honest with yourself, have you been more of an interrogator than an open book? Instead of writing off a slightly disappointing first date, give 'em the benefit of the doubt and try a "take two." You never know: Giving someone a second chance could uncover a keeper—or maybe a worthwhile future friend. Coupled? You could find yourself needing more support from your boo than usual today. Don't be passive-aggressive about it—simply state what you need! See the full week >


Sagittarius (November 22 – December 21)
Flattery might not get people EVERYWHERE with you, but under today's obfuscating moon-Venus opposition, a charmer could gain more traction than they deserve. It feels great to be seen, Sagittarius, especially when you've been hustling so diligently behind the scenes. Enjoy the attention and the acknowledgment—which is no doubt genuine. Just stop short of negotiating any deals or even making a promise that goes beyond setting up a meeting at a more convenient date, perhaps after Mercury ends its February 16 to March 9 retrograde. Today, however, you could overvalue other people and, by extension, sell yourself short. See the full week >


Capricorn (December 22 – January 19)
Work-from-home day, Capricorn? No matter where you park to get productive, create a cozy atmosphere for yourself. Under the spell of today's luxuriating moon-Venus opposition, there's no point in trying to hustle to any finish lines or crush the competition. As a matter of fact, you might even bury the hatchet with a so-called nemesis. As these "make nice" planets pull back and give you an objective view, you may wonder what took you so long to team up in the first place. But enter these conversations with cautious optimism so you can make sure everyone's motives are pure—and that you safeguard your intellectual property! See the full week >


Aquarius (January 20 – February 18)
It's a rare moment when we have to suggest that you, limber Aquarius, loosen up a little. But today's standoff between the emo moon and romantic Venus could find you clutching tightly to a sense of control. With your money houses feeling the push-pull of their opposition, you could have an "irrational" freak-out about your financial situation or fly off the handle about a shared expense. But be careful not to swing to the opposite extreme. Under this "see it, want it" transit, you could just as easily blow half the rent check on an item SO luxurious that you can't even justify it as a birthday expense. See the full week >

Pisces (February 19 – March 20)
There are many paths to prosperity, Pisces, and today's could involve using one of your greatest assets: your vivid imagination. As the moon and creative Venus cha-cha into a dynamic opposition, you could be struck with a cool idea for an Etsy store or boldly market your talents on social media, letting people know that you're available for commissions. Eliminate scarcity thinking from your mind, Pisces—but don't be afraid to use a little bit of that approach in your own marketing. Position your offerings as "limited edition" or "short-time availability," and you may get some eager customers wanting to book you ASAP. See the full week >
What do the stars have in store for you this February? Read your monthly horoscope now
Get horoscope updates straight to your inbox! Sign up for The AstroTwins newsletter
The post Daily Horoscopes: February 12, 2020 appeared first on Astrostyle: Astrology and Daily, Weekly, Monthly Horoscopes by The AstroTwins.
Read more: astrostyle.com