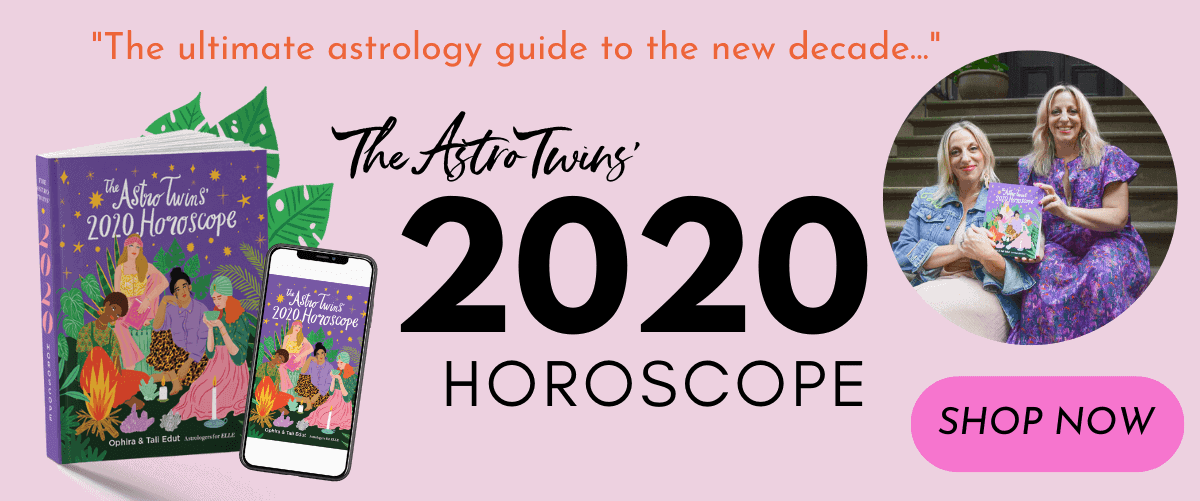 Handle details early as the moon lingers in Virgo, then shifts into luxe Libra for the next three days.
Born on a cusp? Please note that dates for the zodiac signs can vary from year to year. To confirm your actual Sun sign, do a free chart here.
Illustrations by Grande Dame


Aries (March 21 – April 19)
Anyone can criticize, Aries, but constructive feedback always goes down easier. Early today, the moon finishes its two-plus day run in analytical Virgo and your detail-minded sixth house. If you've got something to say, make sure you coat it with a little honey—or at least strip off the harsh acerbic finish. Later in the day, when la luna shifts into diplomatic Libra and your partnership corner, you'll see firsthand how many more flies you'll catch this way—and how much nicer that is for YOU. See the full week >


Taurus (March 21 – April 19)
Are you speaking your truth, Taurus—or openly dragging people with your judgments? Even if the raised eyebrow is technically "deserved," sitting on that perch can be perilous. If you're forced to admit you're playing Judge Judy again, it might be best to abdicate the gavel…before your own humanity makes you a hypocrite. (Glug.) Later in the day, when la luna shifts into balanced Libra, you'll find a more appropriate way to express your feelings without raising other people's blood pressure—and trying to convict them of some social "crime" they may have innocently committed. Maybe a correction IS needed here, but can you deliver it with compassion? See the full week >


Gemini (May 21 – June 20)
Don't be fooled by the slow, sleepy start your morning gets off to. The moon changes signs today, shifting from a mellow, domestic-bliss kind of vibe into a nonstop celebration that won't quit until Thursday. If you left the house in athleisure, you may find yourself rushing home for a glamorous costume change before the evening. Hit that buzzed-about artist's gallery opening or log some facetime at an industry event. On the romance front, whether you're single or spoken for, the moon's move into partnership-powered Libra could bring some meaningful moments of connection. See the full week >


Cancer (June 21 – July 22)
Don't put all your eggs in one friend basket, Crab. No one can satisfy all your needs—nor should you expect them to do so. There's a reason you have a variety of people to ping from your friend list. The perfect festival buddy might not be the one who's going to wake you up in time for sunrise yoga twice a week. Early today, while the moon is still in your social third house, enjoy that diversity! Reach out to a few different connections and make plans for the rest of the week. Get to know the newbie at work by inviting them to lunch. Later in the day, Chez Cancer is where it's at. Group-text your inner circle, put a leaf in the table and throw a spontaneous potluck. See the full week >


Leo (July 23 – August 22)
Tie up loose ends and get things in order, Leo. Early in the day, the moon spends its last few hours of the month in your hardworking second house, prodding you to get things done efficiently. Later, la luna beams into Libra and your social third house, rousing your inner bon vivant. Round up the troops for a movie night or see who might be willing to host an impromptu dinner party. Pro tip: Keep things chill instead of trying to produce an "outcome" from this gathering. Every hangout doesn't have to turn into a mastermind group or project-planning meeting. A little break in the action will revive creativity later this week. See the full week >


Virgo (August 23 – September 22)
With the pressure to make a decision on you, you may have found yourself opinion-polling your network. But that strategy can be a double-edged sword! Sure, input from one or two close friends is generally helpful, but letting the Twittersphere chime in on your personal life can easily spin out of control. Now it's time to cordially thank everyone for their feedback and let them know you can take it from here. (And maybe hide or delete that comment-heavy Tweet.) Perhaps the lesson here is to make a change in smaller increments instead of trying to leap into the unknown without a parachute. See the full week >


Libra (September 23 – October 22)
Something stuck in your craw, Libra? You can pick—and pick and PICK—at it, or you can make an executive decision to let it go for once and for all. Don't get caught up on who's in the right here. Even if it's unequivocally YOU, isn't peace of mind more important than scoring that final point? Take the high road and extend the olive branch—or just make a pact to respectfully disagree. You'll feel lighter and happier and in the mood to celebrate later in the day when la luna moves into Libra for the next few days. Hello, independence! See the full week >


Scorpio (October 23 – November 21)
Catch up on your emails and return those phone calls early in the day while the moon is in your collaborative eleventh house. You've still got bandwidth to deal with other people (and their issues)—but you may not by the end of the day, when la luna shifts into Libra and your restful, meditative twelfth house. If you've signed on for a group dinner, find a gracious way to bow out. Then make some calls and see which of your favorite spas can squeeze you in for a hot-stone massage…before you head home and have a date with Netflix. See the full week >


Sagittarius (November 22 – December 21)
Keep on keepin' on, Archer! You've still got some fuel left in your tanks, so while the moon finishes its tour of hardworking Virgo and your career corner, push a project through to the finish line! You'll feel SO much better once you've cleared this mission off of your plate. Later in the day, when the moon changes signs into gregarious Libra, round up any colleagues who look ready to blow off steam, or call some friends to meet you at the local pub's happy hour. Keep the guest list open. You never know which fresh face could be your next creative partner—or new amour! See the full week >


Capricorn (December 22 – January 19)
It's a fine line between being the squeaky wheel that gets the oil and being perceived as high-maintenance. But that's a tightrope you may have to walk early in the day, Cap—unless you're willing to have your needs ignored by those in a position to fulfill them. With the moon in your candid ninth house, it's worth speaking up and letting your voice be heard. (Quietly and with tact, mais oui!) If nothing has changed later in the day, ask a friend in a high place to help you out. The night is ideal for rubbing shoulders with industry insiders. Rehearse that elevator pitch and be ready to recite it with a glass in your hand! See the full week >


Aquarius (January 20 – February 18)
There's a reward in store for riding out the morning's stormy emotional waves, Aquarius. Later in the day, the moon leaves your intense eighth house, cruising into lighthearted Libra and your fun-loving ninth house for two and a half days. Nothing will cure your case of wanderlust—except actually yielding to it. Even planning a trip for the weekend will keep you psyched and make the drudgery a little less soporific. If you can't get away, widen your horizons culturally or intellectually with a foreign film or engaging lecture. See the full week >

Pisces (February 19 – March 20)
Two for the road? Your mind is on all kinds of partnerships today, Pisces, thanks to the moon's tour of your seventh house of unions. Later in the day, that emphasis only strengthens as la luna cranks it up a notch by flowing into your intense eighth house. Emotions could get heavy, with an accompanying urge to merge, so be careful not to lose yourself in a strong person's field. Ground yourself in your own life and passions and stay mindful of where you're leaking energy. See the full week >
What do the stars have in store for you this February? Read your monthly horoscope now
Get horoscope updates straight to your inbox! Sign up for The AstroTwins newsletter
The post Daily Horoscopes: February 11, 2020 appeared first on Astrostyle: Astrology and Daily, Weekly, Monthly Horoscopes by The AstroTwins.
Read more: astrostyle.com