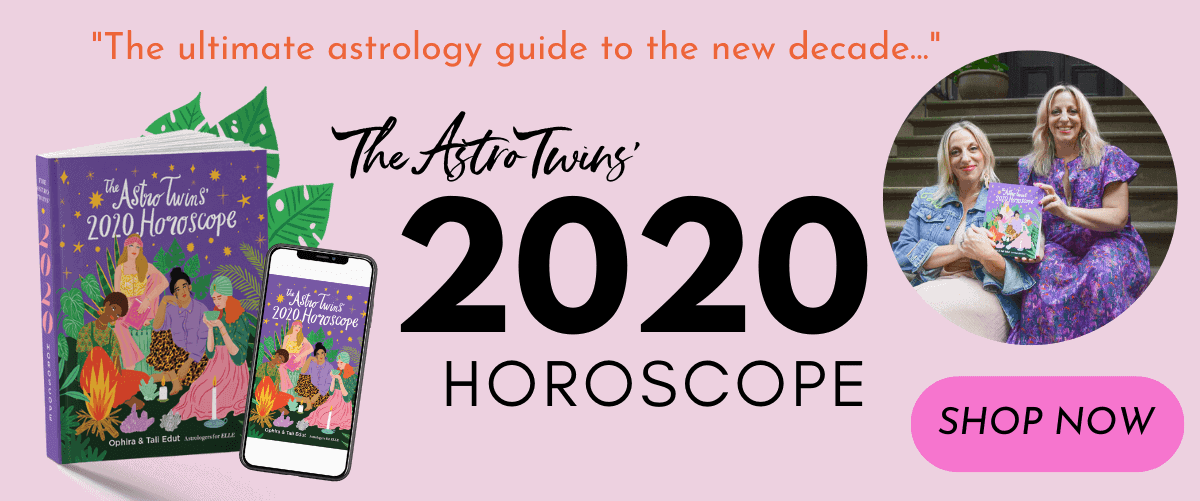 Sat: Quarter moon in Taurus conjunct Uranus could disrupt business as usual…for the better!
Sun: Taurus moon trine Pluto in Capricorn helps us set goals with soul for the week ahead.
Born on a cusp? Please note that dates for the zodiac signs can vary from year to year. To confirm your actual Sun sign, do a free chart here.
Illustrations by Grande Dame


Aries (March 21 – April 19)
Pause before you pull out your plastic, Aries! Saturday's mashup of the moon and impulsive Uranus in your money house could tempt you to indulge in retail therapy. A little shopping can be good for the soul, but not if it breaks your budget or leads you to buy things you already own. (How many black ankle boots do you really need, Aries?) If your bank balance could use some padding, indie planet Uranus could draw in a job on the side or freelance gig. If you're willing to work for it, you can sate your love of luxe. Your intense enthusiasm and willpower are your greatest assets on Sunday, and others will be inspired by your conviction. Don't be afraid to show that you're really into your job or out to realize a particular ambition. Not feeling that connected to anything? Find a goal worthy of getting out of bed in the morning. We all have a purpose in life, and it's time to go after yours. No holding back, Aries! See the full week >


Taurus (March 21 – April 19)
Courting controversy? Saturday's alignment of the moon and impulsive Uranus in Taurus puts you in a feisty mood. You can smell a debate from miles away, and if there's none to be had, you might even make a point of rocking the boat. While it might be an attempt to gain the upper hand, you could end up tarnishing your name. Channel this cosmic energy proactively by taking a gutsy gamble on a personal goal. But get ready: If you want to say bye to those winter blahs and make a massive change in your life, you'll have to "go big or go home." What do you want for the long haul, Taurus? On Sunday, set your sights directly on that vision. It will take more than a little faith—both in yourself and the universe—but if you start to visualize yourself already IN the circumstances you desire, you'll fire up the universal attraction engine. Even better, go experience those conditions to whatever degree you can. Always dreamed of staying in a certain five-star hotel? Go have a drink in the lounge. Wish to meet a certain author? Buy her books or fall asleep to her audiotapes. See the full week >


Gemini (May 21 – June 20)
Lock that door and throw away the key, Gemini. The moon and unpredictable Uranus merge in your twelfth house of completions this Saturday, urging you to close the book on a situation that's done and dusted. Clinging to something from the past only keeps the old pain alive. Saturday's transit helps you make a commitment to put it behind you, once and for all. Start by focusing on the future you want to create, and you're halfway there. On Sunday, your psychic and intuitive powers are especially sharp. Trust your instincts when you feel guided in a certain direction. And if you have a bad or "off" feeling about something, investigate. It may be your imagination, or much more insignificant than you suspect. But likely, something is out of energetic alignment here, and you're sensing that. Look deeper. This is also a great day for research or artistic work. Listening to music will stimulate your creativity. See the full week >


Cancer (June 21 – July 22)
Where do you belong, Cancer? Saturday's moon-Uranus merger in your eleventh house of groups attracts kindred spirits, either online or off. Stay alert for a crew that appreciates your brand of thinking. You might even join forces to produce a socially impactful event or art project that shapes public opinion. If you're feeling bored, you may simply be out of touch with your ability to make a difference. Volunteering and activism work can bring a meaningful dimension back into your life. On Sunday, be careful not to push your partner or a close friend away. They may be delivering some direct feedback, but it's coming from a good place! While you might feel a bit vulnerable or exposed being seen so clearly, stop resisting. Could it be that they're simple taking a stand for your happiness? Even if you disagree, remember: You're on the same team, Cancer! See the full week >


Leo (July 23 – August 22)
Your highest calling comes a-knocking under Saturday's alignment of the moon and changemaker Uranus in your career sector. Perhaps you want to make a positive impact on society or help the vulnerable people in your community. If you're not already doing that, don't rush to resign from your day job. (Careful: Uranus can be impulsive!) Open your mind to out-of-the-box approaches, and you'll get where you want to go. Sunday is the day to declutter, streamline and systematize, Leo! That doesn't mean you have to make your space boring, though. Au contraire. Take a page from your Leo sister Martha Stewart's playbook. Get a few "good things" for organizing, adding your own flair for color or a crafty touch. You'll always have way too many irons in the fire, so the key for you is to have "zones" for your stuff, perhaps grouped and color-coded by interest or topic. See the full week >


Virgo (August 23 – September 22)
Antsy, much? You can barely sit still, thanks to Saturday's moon-Uranus mashup in your expansive ninth house. You're hungry for knowledge, inspired to create, motivated to dream big. Carve out time to let your imagination run wild. If you could use a shot of inspiration, top your tanks by catering to your inner culture vulture: listen to new music; peruse an outsider-art exhibit. With wanderlust activated by this transit, scout out the destination of your next major getaway. Sunday's stars turn on your creative high beams, and your inner genius is ready to paint a masterpiece! You can be so self-censoring, Virgo, but you need to let it all pour out. It's not really about YOU—it's about letting a divine source be expressed through your body, mind,and soul. What if you were simply a channel for the universe? Adopt this humble position if it helps you get over your blocks…and show the world how talented you are! See the full week >


Libra (September 23 – October 22)
Overreaction alert! Saturday's alignment of the emo moon and impulsive Uranus in your intense eighth house could churn up supersized emotions in no time flat. The green-eyed monster could make an appearance, or you could kick into hypersensitive mode. Resist being reactionary: Give yourself a time-out, or bundle up and take a walk around the block to gain some perspective. This comic pairing could also ignite potent sexual chemistry. Revel in every attraction, whether it can go anywhere or not! On Sunday, the branches of your family tree could be fruitful in your own self-discovery. How much do you know about your ancestors, Libra? Dig up stories of an inspiring female predecessor in your lineage. Or look at photos, especially if you're being hard on yourself about your body or image. Connecting to the people who came before you will give you a strong sense of rootedness in the world. See the full week >


Scorpio (October 23 – November 21)
Your inner rabble-rouser could make an appearance on Saturday as the moon merges with unpredictable Uranus in Taurus, your opposite sign. Playing devil's advocate may even be appealing! Just don't deliver any low blows so you can be in the right. Coupled? Instead of picking a fight to fend off boredom, try something adventurous and new to both of you. Single Scorpios could get struck by Cupid's arrow in a totally unexpected way. P.S. Resistance is futile! You need to clear the air with a tight friend (or bae) this Sunday, and you know what? Discussing the elephant in the room will actually bring you closer together. Your observations can make a huge difference, like pointing out a blind spot that's been causing someone you love to suffer or feel stuck. If you see something, say something. See the full week >


Sagittarius (November 22 – December 21)
Drowning in the details? Saturday's mashup of the moon and unpredictable Uranus in your sixth house of health and organization may throw you a task (or three) that derails your concentration. Don't succumb to the panicky vibes. Take some deep breaths, and get your priorities straight. While you may be busy, you need to put self-care on your list of to-dos. Burn off your frustrations with a power walk, go to your favorite cardio class or book a session with a healer. Don't take everything at face value this Sunday. Your success comes from a combination of hard work, being organized and believing in miracles. Sounds like a paradox, but that's how life is! You've got to deal with the facts while allowing a greater universal design to unfold—and trusting that life has your back. As Einstein said, "Reality is merely an illusion, albeit a persistent one." Even if current circumstances feel frustrating, remember that so much more is possible for you!


Capricorn (December 22 – January 19)
You may be feeling feisty, but don't forget your filters this Saturday, Capricorn. The emo moon and impulsive Uranus merge in your passionate fifth house, pumping up your outspoken nature. Pause before you blurt out something too direct and consider how your strong opinions may be received. You may need to adjust your message according to your audience. Romantically, this experimental mashup may inspire you to take more risks. Single? An electric attraction could materialize out of nowhere. If you're coupled, a little extra effort can go a long way in stoking the fires with bae. Your star is shining this Sunday, so go ahead and accept the accolades when others sing your praises. If you feel like you've been passed over, it's likely because you've hidden the best parts of yourself. Open up and let people see your soul. Talk about what you love, desire and get excited about. Connect on a more personal and passionate level. See the full week >


Aquarius (January 20 – February 18)
What's the climate like at Chateau Aquarius? Saturday's alignment of the moon and changemaker Uranus in your domestic fourth house can disrupt the status quo. You could find yourself pondering all kinds of possibilities, from uprooting to expanding your family. As Uranus tends to be impulsive, resist the urge to make any rash decisions. Button-pushing alert! A relative's rebellious streak could hit one or two of your sore spots. Don't take the bait! If you're feeling a bit down in the dumps, a woman in your world may motivate you to make a radical change. Go for it! Trust your intuition on Sunday, especially when it comes to a family member or loved one. Your supportiveness is needed, so give it generously. Your "maternal instincts" (even ones you didn't know you had) are also in high gear, and you can sense if someone needs a hug or a little boost. Reach out, ask if everything's okay or say something that will put a smile back on that person's face. See the full week >

Pisces (February 19 – March 20)
Them's fighting words, Pisces. Saturday's meetup of the moon and impulsive Uranus in your communication sector gives a razor-sharp edge to your opinions. Think before you blurt or you could incite an out-and-out war without evening realizing it. Be thoughtful before posting inflammatory Facebook updates or trouble-making Tweets. If you hit "send," be prepared to take ownership of your offenses. A better use of this transit? Get your radical perspectives onto paper or strike up a lively debate with someone who won't take your controversial commentaries to heart. Be a leader within a group this Sunday. You don't have to be a loudmouth ego-tripper to shine—that's so not your style, Pisces. Express your power today with quiet authority, and by presenting a completely different way of looking at things. Albert Einstein was a Pisces, and your genius is much like his. Don't be intimidated by people whose vision is so much smaller than yours. See the full week >
What do the stars have in store for you this February? Read your monthly horoscope now
Get horoscope updates straight to your inbox! Sign up for The AstroTwins newsletter
The post Daily Horoscopes: February 1-2, 2020 appeared first on Astrostyle: Astrology and Daily, Weekly, Monthly Horoscopes by The AstroTwins.
Read more: astrostyle.com