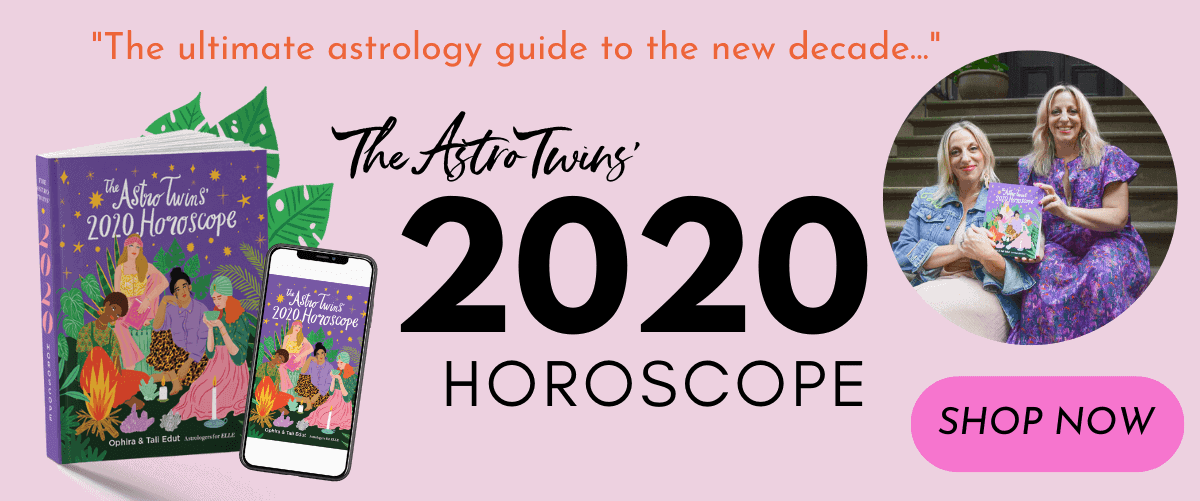 Say it loud and proud! Chatty Mercury enters outspoken Sagittarius until 12/28.
Born on a cusp? Please note that dates for the zodiac signs can vary from year to year. To confirm your actual Sun sign, do a free chart here.
Illustrations by Grande Dame


Aries (March 21 – April 19)
Discussions about an entrepreneurial venture could heat up today. Thank loquacious Mercury, who flits into Sagittarius and your independent ninth house until December 28. Ideas will roll in so fast and furious you won't be able to keep up with yourself. But don't be a gambler, Aries. Research carefully before you invest. Multicultural merging and travel could figure into your master plan. See the full week >


Taurus (March 21 – April 19)
Ole, Bull! If you've been slacking, this is your wakeup call. It's not too late to motivate, so pick a project and give it your all. This might be a sanity saver as messenger Mercury rolls into Sagittarius and your intense eighth house until December 28. Your inner circle could shrink—and only the people who have truly earned their loyalty points will make the cut. Plunge into the depths with the people you adore. This intimate cycle is ideal for cementing bonds. See the full week >


Gemini (May 21 – June 20)
Expressive Mercury flits into Sagittarius and your partnership zone today until December 28. Couples have the opportunity to deepen their level of communication. If you haven't been sharing your innermost thoughts, hopes and fears, this cycle could rekindle the relationship. Single? Chemistry is essential, but nothing will turn you on more than stimulating conversation. See the full week >


Cancer (June 21 – July 22)
A collaborative project could be ready for its big reveal within the coming weeks, so put the finishing touches on it and start planning your launch party. You'll get some help with those bells and whistles from messenger Mercury, which will wing its way through your systematic sixth house until December 28. The devil is in the details, from the fonts you choose for a presentation to the food you put on your plate. Prioritize all things clean, green and serene. See the full week >


Leo (July 23 – August 22)
Upgrade! In the coming few weeks, you might get wind of an executive position opening up, or you could finally have the guts to strike out on your own. Toot your own horn, which won't be hard starting today, as mouthy Mercury kicks off a journey through your expressive and passionate fifth house. For some Leos, this involves literally being onstage while for others it represents assuming a leadership role or engaging in creative pursuits. Whatever your forte, from now until December 28 the universe will coax you to put those talents on display. See the full week >


Virgo (August 23 – September 22)
Today, your ruler, messenger Mercury, puts you in a family-friendly state of mind. Until December 28, the communication planet will be zipping through your sentimental fourth house, nudging you to reconnect with your innermost circle BEFORE the holidays. Clear the air and nail down hosting and travel plans so you can sail through the season stress-free. See the full week >


Libra (September 23 – October 22)
What's the big change you want to make in your life, Libra? Starting today, you can successfully start a buzz on your own behalf as messenger Mercury sails into Sagittarius and your communication house until December 28. Words seldom fail your articulate sign, so start crafting your pitches and appeals. If you can seal that one huge deal or snag that dream client in the next few weeks, you'll be way ahead of the game. For Libras who've been burning the midnight oil, here's your chance to unplug and catch up with your crew. See the full week >


Scorpio (October 23 – November 21)
"Get it in writing to erase all doubt" is an especially important mantra starting today, when persnickety Mercury lands in Sagittarius and your second house of money. Until December 28, it's got your balance sheet in the crosshairs, and the message is "save, don't splurge." No, that's not exactly the best timing with your birthday and the holidays. But if you think of your purchases as investments, you'll wind up with things you LOVE rather than piles of random clutter. See the full week >


Sagittarius (November 22 – December 21)
Today, messenger Mercury sharpens its wit with you as a whetting stone. Until December 28, it'll embark on an extra-long voyage through Sagittarius. If you have something important to verbalize, post or publish, you've got a green light to speak your truth. You could also tweak your personal style or branding during this time. Aim for polished sophistication with a colorful edge—and don't be afraid to brag a little more. See the full week >


Capricorn (December 22 – January 19)
The fairy-tale vibes are getting strong today as Mercury plunges into Sagittarius and your dreamy, introspective twelfth house until December 28. But while you're looking one way, the winged messenger could be reaching deep into your emotional closet and start rattling some old bones. You're ready to be done with these for once and for all, so invest in your healing. Journal, meditate and reach out for support from wise experts. Epiphanies ahoy! See the full week >


Aquarius (January 20 – February 18)
Your collaborative sign will really be in your element today, when superconnector Mercury springs into your eleventh house of teamwork until December 28. Widen your reach and rally people around a humanitarian cause you believe in. 'Tis the season to give—and give back. Tap into the strength that's found in numbers and organize your own charitable holiday event. See the full week >

Pisces (February 19 – March 20)
From today until December 28, garrulous Mercury buzzes through Sagittarius and your prestigious tenth house. Conversations that start on a casual note could quickly turn to shared career aspirations. And should you find yourself seated next to the CEO at the holiday party, be prepared to flip the switch and be on! It is also a great time to seek out kindred spirits and see what creative or charitable ventures you can cook up together. See the full week >
What do the stars have in store for you this December? Read your monthly horoscope now
Get horoscope updates straight to your inbox! Sign up for The AstroTwins newsletter
The post Daily Horoscopes: December 9, 2019 appeared first on Astrostyle: Astrology and Daily, Weekly, Monthly Horoscopes by The AstroTwins.
Read more: astrostyle.com