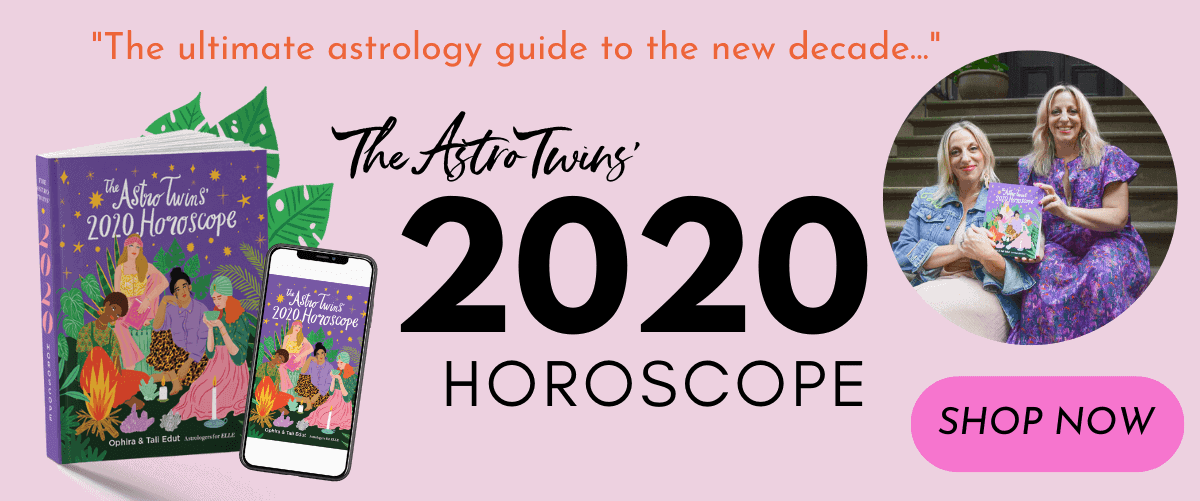 Today's Aries moon squares off against Jupiter in Capricorn. Don't rush to implement those plans, no matter how excited you are.
Born on a cusp? Please note that dates for the zodiac signs can vary from year to year. To confirm your actual Sun sign, do a free chart here.
Illustrations by Grande Dame


Aries (March 21 – April 19)
Go boldly, Aries! The moon is in your sign, and it's getting a nudge from expansive Jupiter. You know exactly what you must do to make your dreams come true. Whether you've decided it's time to buy a hybrid hatchback, launch a company or go vegan, today's a great day to visualize your path toward making it happen and steeling that famous Ram resolve to stay on it. Try not to overthink things as you forge ahead with securing car financing, finding angel investors or signing up to receive recipes from your favorite food blogger. If you start to feel overwhelmed by it all, step away for a quiet walk—without your phone. See the full week >


Taurus (March 21 – April 19)
A sentimental mood may hit you today, as an Aries moon in your twelfth house of positive transformation and intuition tugs at your heartstrings. The world is full of tragic news, but remember that there's plenty you can do to make a difference—and your efforts don't have to be huge. Consider donating to a cause you believe in, spending a morning making sandwiches for homeless teens or planning a volunteer trip to plant trees as part of a reforestation project. As Anne Frank wrote in her famous diary, "How wonderful it is that nobody need wait a single moment before starting to improve the world." See the full week >


Gemini (May 21 – June 20)
Do you know how your people are doing, Gemini? Sometimes in the whirlwind that seems to always be your life, you forget to check in with your besties. If you still haven't caught up with your sister since her summer vacation, it's a great day to hop on the phone and ask for the highlights people that wouldn't share on social media. Instead of texting to set up a lunch date for next Wednesday, call and have a real conversation. (You don't even have to talk about how long it's been.) Nothing is sweeter—or more recherche—in our digital age. See the full week >


Cancer (June 21 – July 22)
Had enough? For the most part, you take on the role of mentor in chief or mother hen with grace and aplomb. You don't mind that people rely on you because that's just part of the game, but there are days when their demands and complaints can become a bit too much—and today could be one of them. An Aries moon in your boundary-enforcing tenth house might have you wondering why you put yourself out there for people who never give back. If you're giving more than you're getting, you have permission to pull back. See the full week >


Leo (July 23 – August 22)
Sister Elizabeth Kenny, a formidable Australian nurse in the early 19th century, said, "It's better to be a lion for a day than a sheep all your life." You, lucky Leo, were born as and always will be a lion—and if somehow you've forgotten that, an Aries moon in your expansive, adventurous ninth house is here to remind you. It's a great day to do something that scares you a little, whether it's applying for a business license or posting your profile on a hip new dating site. You, more than most, know what easy prey sheep become when they refuse to leave their comfort zone. See the full week >


Virgo (August 23 – September 22)
Overloaded? Socrates warned of the barrenness of a busy life, and spiritual teachers will tell you that if you don't have time to sit in silence for one hour a day, you should sit in silence for two. You'll never score points—spiritual or otherwise—if you always have too much to do. As an Aries moon lands in your eighth house of intuition, deep transformation and privacy, today would be a great day to give yourself a break from the daily commotion. You'll be amazed at how your powers of concentration are renewed when you step away from the endless chatter and sit with yourself, even briefly. See the full week >


Libra (September 23 – October 22)
If Rihanna's "wild, wild thoughts" hook is playing in your head today, you can blame it on an Aries moon giving your seventh house of relationships a special glow. Is there someone in your life who could take your dreams and desires to another level? Have you been waiting for the right time to tell your sweetheart that you scored tickets to a sold-out concert by their favorite artist? If things have been off-balance, it's a good day to talk about everyone's needs. Under these moonbeams, you could be pleasantly surprised at how easy it is to compromise. Negotiating? The stars make it a fortuitous day to sign a contract or finalize a business deal. See the full week >


Scorpio (October 23 – November 21)
Get busy, Scorpio! With an Aries moon in your sixth house of service, you have what it takes to tackle a big project that you may have been neglecting or putting off. Still feeling daunted by the scope of it? Use that famously penetrating Scorpio brain to break the enterprise into manageable parts. Remember, your mind can't focus when it's fried, so be sure to take care of yourself physically while you're thinking this intensely. Step away and take a short walk—without your phone—as often as you can. See the full week >


Sagittarius (November 22 – December 21)
Ooh la la, Sag, are you ready to play? The moon is tangoing in your flamboyant fifth house, unleashing your inner Josephine Baker. You don't have to wear a girdle made of 16 bananas like she did, but you do have the means to channel the entertainer's and activist's sophisticated power as you step into the limelight today. Be bold, and you'll find yourself highly sought-after under this starmap. If you're attached, invite your lover to join you for some decadent delights. Single? Your fearless moves could attract an admirer or three. See the full week >


Capricorn (December 22 – January 19)
Find yourself wishin' and hopin' and thinkin' and prayin' today? An Aries moon in your fourth house of home, roots and emotional well-being puts you in sensitive spirits. Feeling nostalgic and sentimental isn't your M.O., but there's nothing wrong with honoring your powerful nesting instincts and calling in the flock for an intimate dinner at yours. You're great at letting your friends know how much they mean to you without being mushy. Under this moving moon, don't resist getting a little bit vulnerable. Believe it or not, they'll love you even more for your raw edges. See the full week >


Aquarius (January 20 – February 18)
Feeling a little shortchanged in the LOL department these days? You're in luck. Today's Aries moon in your third house of levity and humor should have you letting out deep guffaws—real ones, not emojis—and engaging in conversations that flow with the grace and elegance of Audrey Hepburn in black silk chiffon. Hepburn herself said that laughter cures a multitude of ills and called it "probably the most important thing in a person." Now that it has returned to your repartee, you might feel free to clear the air about important matters. See the full week >

Pisces (February 19 – March 20)
Running on empty, Pisces? Of course, you WANT to oversee your company's office renovation and organize your squad's next group vacation. But you already have so much on your plate! Newsflash: You can't do anything well when you're overloaded. Today's moon in your practical second house gives you the motivation AND the mindset to shed a few obligations that aren't serving you. Use the day to prioritize your personal, business and financial commitments. As one of our favorite Pisces, Albert Einstein, said, "Out of clutter, find simplicity. In the middle of difficulty lies opportunity." Make this your mantra today. See the full week >
What do the stars have in store for you this December? Read your monthly horoscope now
Get horoscope updates straight to your inbox! Sign up for The AstroTwins newsletter
The post Daily Horoscopes: December 5, 2019 appeared first on Astrostyle: Astrology and Daily, Weekly, Monthly Horoscopes by The AstroTwins.
Read more: astrostyle.com