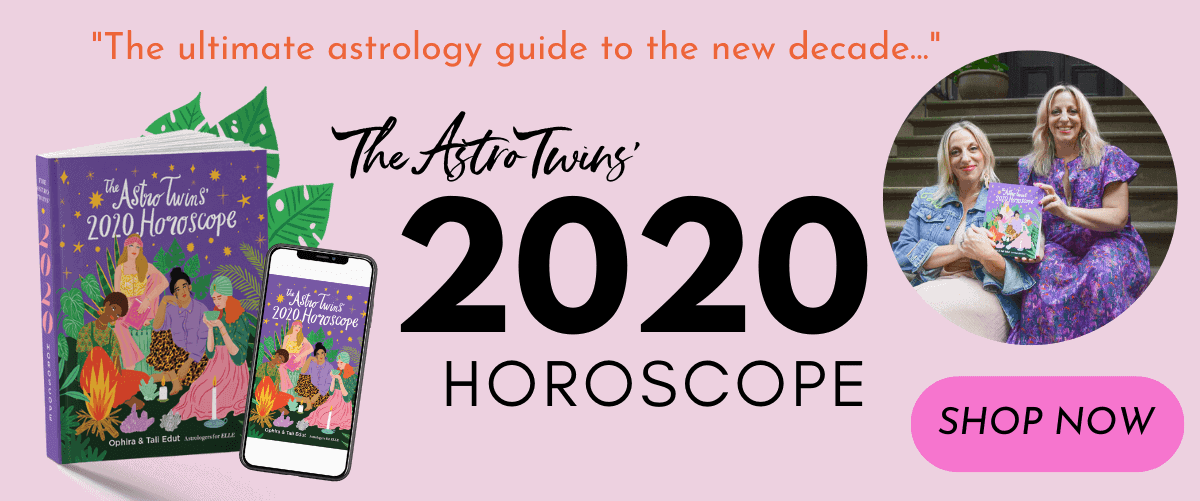 Today's balancing quarter moon in Pisces helps us feel and heal.
Born on a cusp? Please note that dates for the zodiac signs can vary from year to year. To confirm your actual Sun sign, do a free chart here.
Illustrations by Grande Dame


Aries (March 21 – April 19)
Don't throw out the baby with the bathwater, Aries. The quarter moon in your transitional twelfth house calls for cuts—but not losses. An aspect of your aspirational plan may be a little too lofty to achieve, at least on such an ambitious timeline. Scale back. Your plan will have plenty of life in it, even if it lacks a few bells and whistles. On the personal front, make a point of being more compassionate and less critical when people come to you carping about their problems. You don't have to solve anything—just give them an understanding nod and a validating "I'm so sorry! I know how that feels." See the full week >


Taurus (March 21 – April 19)
You're a loyal team player, Taurus, but are the others in the group pulling their weight? No need to let your sturdy shoulders get overloaded. Today's quarter moon lands in your collaborative eleventh house, calling for equality and fair play. If you've been the weak link in the chain, step up your game and let your teammates know that you're on-board. This quarter moon also helps you give your technology and gadgets a once-over. If it's time to upgrade, don't wait for Santa to blow into town. Your life could be so much easier with a few more gigabytes. See the full week >


Gemini (May 21 – June 20)
Is your hard work paying off, or does it feel like you're spinning your wheels? Review the facts and figures under today's quarter moon. If your results aren't hitting the mark (as in bringing job satisfaction or money in the bank or, ideally, both), what can you tweak? Maybe your professional image could use some polish, or you need to take a specialized training to bump your skill set up to 2020 standards. A modest investment could pay off handsomely. Sign up for that Squarespace site, online class or sessions with a coach. See the full week >


Cancer (June 21 – July 22)
You're as compassionate as they come, Cancer, but there's a limit even to your ability to be understanding—especially when people are feeding you nonstop excuses. Under today's quarter moon, you won't be able to hold back your honest feedback. Nor should you! It's time to call someone on the carpet for their insincerity. You can still do this "playfully" with some truthful teasing, but make sure they know that you're onto their game…and that you're not going to put up with the same bad behavior. See the full week >


Leo (July 23 – August 22)
In your eagerness to transform an area of your life, have your tactics become a bit "extreme"? If so, today's quarter moon helps you tone it down so that you can actually reach your lofty goal. Rome wasn't built, decorated or renovated in a day. Now's the time to remind yourself that slow and steady growth is the kind that lasts. Revise your plan so that you don't burn out before you see the first signs of progress. If it takes a little longer to reach the finish line, so be it. At least you know that you'll get there! See the full week >


Virgo (August 23 – September 22)
Relationships can't be all fireworks ALL the time. The quarter moon in Pisces reminds you to appreciate the subtler, more enduring qualities that people have to offer today. You may have overlooked a strong, silent supporter who's been in your corner all along, or maybe someone has been subtly trying to get your attention, and you finally realize it. Exploring the connection's deeper potential doesn't bind you to each other. Don't overthink it; just see where a conversation can lead you two. See the full week >


Libra (September 23 – October 22)
You've been steadily expanding, Libra, but have you stretched a little too far too fast? Today's quarter moon helps you balance your idealistic views with some practical measures. If you want to get your grand plans up and running, you might need to reel in your ambitions for the first phase of development. Map out a realistic plan that covers the basics and won't break the bank. Remember: The journey of a thousand miles begins with a single step. See the full week >


Scorpio (October 23 – November 21)
You're not big on the sappy stuff, Scorpio, but today's sweet-talking quarter moon could find you gushing unabashedly. Don't fight the feelings—or censor the sentiment. Under this revelatory energy, a stalled relationship can advance along the game board at long last. On the other hand, if you feel like you've been working too hard in your relationships, switch it up! Instead of chasing, let yourself be pursued. A little cat-and-mouse game can keep the magic alive. See the full week >


Sagittarius (November 22 – December 21)
Even you, the zodiac's nomad, need a cozy place to hang your hat—not to mention entertain the squad when you feel like preparing a decadent feast. As the quarter moon in Pisces brings balance to your domestic life today, spend a little time feathering your nest. Modest touches can make your space feel more like a sanctuary than a stopover between your various expeditions. If you haven't had enough room for yourself, create it! Maybe it's time to bring in a desk for a writing nook or reclaim an area that was supposed to your home office but somehow turned into communal space. See the full week >


Capricorn (December 22 – January 19)
Let yourself off the hook, Capricorn—it's not your job to rescue capable adults. Today's quarter moon in Pisces helps you find the balance between enabling and empowering. You don't have to turn your back on a friend in need, but you should set clear limits on how much you can give. If it seems like YOU are more concerned with people's well-being than they are, you've definitely slipped into savior mode. Take off the superhero's cape. Simply offering a sympathetic ear and a few words of wisdom is enough. See the full week >


Aquarius (January 20 – February 18)
Did you recently dole out tough love to someone who was simply trying to please you? Your heavy-handed approach could have taken the wind out of their sails. It's never too late to apologize and let people know how much you actually appreciate their effort. As the quarter moon in Pisces tugs at your heartstrings, you might realize that a more profuse apology is in order. How about offering to treat for brunch or a show? See the full week >

Pisces (February 19 – March 20)
What's missing from the winning formula? YOU, Pisces. With a quarter moon in your sign today, it's time to stop hanging back in social settings or being overly accommodating at work. What good has all this modesty done? Sure, you may have helped a few other people shine, but they've missed out on your creativity, friendship and input. Step back into the foreground, Fish, and don't be shy about promoting anything that you've been working on behind the scenes. People will be eager to celebrate you and get a taste of your true talents. See the full week >
What do the stars have in store for you this December? Read your monthly horoscope now
Get horoscope updates straight to your inbox! Sign up for The AstroTwins newsletter
The post Daily Horoscopes: December 4, 2019 appeared first on Astrostyle: Astrology and Daily, Weekly, Monthly Horoscopes by The AstroTwins.
Read more: astrostyle.com