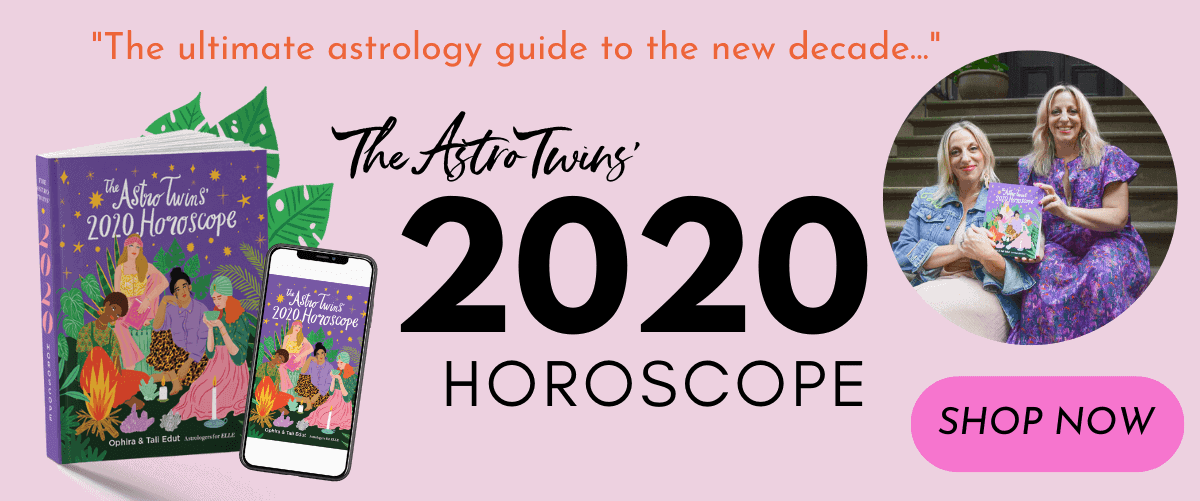 Enchanted end to the decade? The moon and Neptune align in Pisces as we bid adieu to 2019.
Born on a cusp? Please note that dates for the zodiac signs can vary from year to year. To confirm your actual Sun sign, do a free chart here.
Illustrations by Grande Dame


Aries (March 21 – April 19)
You've got more to say goodbye to than just 2019. As the Pisces moon aligns with sacrificial Neptune in your twelfth house of endings and healing, a window opens, helping you release something substantial. Forgiving and forgetting is not easy for your sensitive sign, but what do you gain from hanging onto that grudge? Refusing to release it may be preventing you from moving forward, Aries. Take a bit of time before jumping in on the festivities to make a "Letting Go List": all the things you will release at the stroke of midnight. Under these soulful stars, a candlelight meditation or sacred ceremony could be the perfect pre-game warm-up to dancing until dawn. You'll start 2020 with a lighter load—and some major inspiration! See the full week >


Taurus (March 21 – April 19)
With the Pisces moon twerking alongside dance star Neptune in your gregarious eleventh house, you're like the Pied Piper of the NYE festivities—and if you're not careful, your party size could swell to the point that it's hard to wedge everyone into the same venue! Be open to a couple of last-minute guests and tagalongs all the same. The wild cards could be the ones who totally make the night. Just make sure you don't get stuck with any high-maintenance friends who can't handle themselves independently at a party. You'll be kicking off your heels as 2020 approaches and grooving to the middle of the dance floor to cut loose. Social babysitting will be the LAST thing on your mind! See the full week >


Gemini (May 21 – June 20)
Transfer extra funds into your entertainment account, Gemini. With the moon and no-limits Neptune holding court in your elite tenth house, this is a splurge-worthy NYE! Make a whole event out of prepping: get your hair blown out and give a nail artist creative license on your digits. And yeah, we know those VIP tickets are expensive, but under this elite cosmic influence, you'll be happiest hobnobbing with the influencers. (Of course, there's always a possibility one of your well-connected friends will put you on the comp list…) Spring for a driver so you're not left shivering in the cold or limited in your wardrobe choices by the weather! Start with dinner, even a black-tie affair, and don't forget to Instagram every leg of the journey. Hey, when you look THIS good, you might as well document it! See the full week >


Cancer (June 21 – July 22)
Ready to do something unconventional for NYE? The Pisces moon joins numinous Neptune in your spiritual ninth house, drawing your attention to the metaphysical. You could be inspired to participate in a candlelit meditation ceremony focused on world peace, or perhaps host a gratitude ritual with friends before you shimmy into your tux or velvet gown. Even if you find yourself with a champagne flute in hand at midnight, your conversations are bound to be deep and free of small talk. Bonus points if they take place somewhere outside of your home zip code. Keep a small bag packed, just in case! See the full week >


Leo (July 23 – August 22)
Ironic sequined ball gown or borrowed-from-the-boys tuxedo? Whatever you don, don't be afraid to show your sartorial flair. (And feel free to post that #thirsttrap photo once you're styled and wardrobed.) With the moon and no-limits Neptune glimmering in Pisces and your seductive eighth house, intimacy is on the menu as 2019 wraps. Already have plans to ring in the New Year with a group of people? Reserve a bit of time before you head out for some one-on-one with your lover or BFF. Unattached? Your allure is irresistible under this lunar light, so remain open to those mystery midnight snoggers. A sexy stranger could woo you—or the object of your affection could reveal a mutual attraction. Already have a permanent plus-one? Start planning your NEXT big adventure as the confetti rains down. See the full week >


Virgo (August 23 – September 22)
Reserve your NYE for that one special someone, Virgo—or just be open to meeting a person who fits the bill. The stage is set for romantic bonding as the Pisces moon flows through your partnership sector. Be it a black-tie affair or a live DJ set, this lunar light can help deepen your bond with your mate as you ring in 2020. You might even keep the party size to two—or four, should you double-date with another couple—and cozy up for a night of close connection. Unattached? Steer clear of Ryan Seacrest, and go brave the throngs. You could end up locking lips with someone who'll keep you warm during the cold of winter. See the full week >


Libra (September 23 – October 22)
With compassionate Neptune and the Pisces moon whirring in your ultra-organized sixth house this NYE, the onus may fall on you to pull everyone into an organized plan. (But there's no one better than you, Libra, the zodiac's entertainment director, to turn a dull New Year's Eve into a spontaneous festivity.) Get all the details lined up: Does everyone have a ticket? Do they know the dress code? Should you hire a driver so that no one has to shiver in the cold waiting for Lyft or play DD? If current plans are mediocre, get researching! Keep it simple and just pick one venue for celebrations, be it a club, karaoke bar or loft party. The sixth house rules selfless service. Before you get dolled up, pay it forward with a volunteer shift for a local charity. See the full week >


Scorpio (October 23 – November 21)
Wardrobe! Styling! Today, sparklepony Neptune throws a rager with the Pisces moon in your festive and fierce fifth house, getting the celebrations off to an early start. No basic black dresses for you this NYE. Do a pull of all your maximalist prints, sequins and sky-high heels and try on a few different outfits until you find one that sings. With the moon twerking in this romantic position, single Scorpios could sync up with the perfect plus-one for your midnight kiss. Whether you find them on Tinder or when the tinsel is raining down, pucker up! Already attached? You could RING in 2020 (wink wink) with an upgraded relationship status—and it might be you who initiates it! See the full week >


Sagittarius (November 22 – December 21)
Chill the bubbly and pull together some playlists—and maybe an elegant menu for a dinner party, too. Home is where the Sagittarius heart is this New Year's Eve as glamorous Neptune and the moon warm your domestic fourth house. But staying in doesn't mean falling asleep before 11:59! This social energy lends itself well to entertaining. Spend the day zhushing your space with festive decor and shopping for ingredients. Close female friends and relatives will be your favorite company, so get them in on the planning process. Don't feel like spending the night in? Opt for a chill celebration, like a good friend's house party—or make a late dinner reservation and dress up for an elegant feast at a table for four. If you DO hit the party circuit, stay in a tight huddle with close friends and ring in 2020 with a deep appreciation of your bond. See the full week >


Capricorn (December 22 – January 19)
A fun-filled New Year's Eve is in store as the moon hovers alongside no-limits Neptune in Pisces and your garrulous third house. Local venues are likely to be plenty exciting for your celebrations, whether you're painting your hometown starburst red or visiting friends who want to take you on the grand tour of their favorite hotspots. The only thing that can dampen your festive spirit? Getting stuck tending to a socially awkward or insecure friend. It's not like you lack empathy, but it's New Year's Eve, for crying out loud—and you need to ring in 2020 like a #boss. Make plans with people who vibrate at the same social frequency as you, or keep it simple and party-hop with just one independent-yet-responsible pal. (That's a lot less rustling up to do.) But get ready: You're going to make some new friends along the way—and maybe even kiss a total stranger at midnight! See the full week >


Aquarius (January 20 – February 18)
Keyword for New Year's Eve 2019: luxuriate! With the Pisces moon and glamorous Neptune purring in your sensual second house, you're in your elegant element. Treat the whole weekend like an extended celebration. Breakfast in bed on Saturday, followed by mani-pedis and shopping for some last-minute accessories for Sunday night. Spare no expense on your NYE itinerary. Spend a little (okay, a lot) more on the party you WANT to go to instead of wasting money on the cheaper but mediocre affair. A black-tie party or upscale event might suit your mood. If you're not feeling like the life of the party, how about a multi-course chef's tasting menu and a late-night theater performance? Chill a bottle of vintage bubbly to uncork and raise a toast to a new year of abundance! See the full week >

Pisces (February 19 – March 20)
Talk about wrapping up the year on an energetic note! With the moon in Pisces clinking glasses with your ruler Neptune, you're in your fun-loving element and ready to make a fresh start. But before you go mapping out a mile-long list of resolutions, take stock of everything you've achieved in the past year. Relationships and close friendships may have been the catalyst for this period of maturity, whether you're still together or not! No matter your status, celebrate your independent spirit and joie de vivre. Don't let anyone pressure you to stay in or attend a quiet house party. You need to be out and about with the party people! Go ahead and host some pre-festivities cocktails at your place. But DO enlist your crew in purchasing tickets to a club, concert or another special event. You want to be entertained! See the full week >
What do the stars have in store for you this December? Read your monthly horoscope now
Get horoscope updates straight to your inbox! Sign up for The AstroTwins newsletter
The post Daily Horoscopes: December 31, 2019 appeared first on Astrostyle: Astrology and Daily, Weekly, Monthly Horoscopes by The AstroTwins.
Read more: astrostyle.com