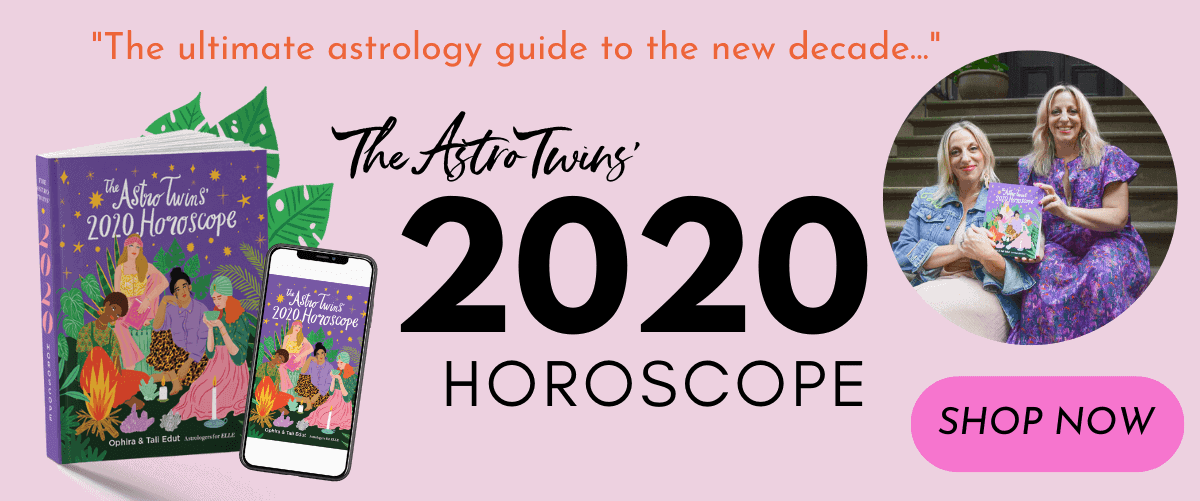 Mercury-Uranus trine in earth signs helps us think outside the box but still make a viable plan.
Born on a cusp? Please note that dates for the zodiac signs can vary from year to year. To confirm your actual Sun sign, do a free chart here.
Illustrations by Grande Dame


Aries (March 21 – April 19)
Today's recipe for success is simple: Stop thinking about all the things you have to do and start DOING them, Aries. It's easy to slip into a state of overwhelm when there's too much on your plate and then you wind up doing nothing. So today, as the mental powerhouses Mercury and Uranus align in your professional houses, you can zoom in on your most important tasks and put everything else out of your mind. To finish the decade strong, tackle one thing at a time, and don't worry if your methods are unorthodox. Those can be the most genius! See the full week >


Taurus (March 21 – April 19)
You're the rock of the zodiac, Taurus, but today's stars could take you and your big ideas to a new level of genius. Cerebral Mercury in your free-thinking ninth house aligns with pioneering Uranus in your sign, lighting up your mind with one illuminating brainstorm after another. AND thanks to this mashup, you may not be able to repress the urge to act on these thoughts. But one step at a time, please! You don't want to get so far ahead of yourself that you lose steam before you reach your cruising altitude. See the full week >


Gemini (May 21 – June 20)
Say what? With messenger Mercury in your intimate eighth house synced up with unpredictable Uranus today, the most casual banter could evolve into something surprisingly deep. Don't be shocked if someone confesses a secret desire or feelings they've been keeping close to their vest. Single and looking? You'll be total clickbait on the dating apps, so it might be worth logging in. Attached? Today, skip the group hangs in favor of a one-on-one adventure. See the full week >


Cancer (June 21 – July 22)
You'll enjoy inspiring conversations at every turn as communicator Mercury aligns with capricious Uranus in your social sectors. Single? A connection could light sparks with a new face or a platonic pal. The trick is staying open-minded and not limiting the possibilities. The chemistry may be mostly intellectual—but that's a huge turn-on for your brainy sign. Coupled Crabs: Stoke those, er, 50 shades of grey matter with a cultural activities date. See the full week >


Leo (July 23 – August 22)
Don't give up on a work problem that keeps eluding you, Leo. Today's skies feature a rare and inventive alignment of cerebral Mercury and pioneering Uranus in your professional houses. This is an invitation—practically a mandate!—to ignore everything "tried and true" and think way outside the box. If you're still stuck, take a walk, look at things you never notice, talk to people you seldom interact with. This can activate your neural pathways so that when you return, the solution could strike you like a lightning bolt! See the full week >


Virgo (August 23 – September 22)
Romance is lurking in the most unlikely places today, Virgo, so if you're in the market, make a point of going out and being highly visible! With the flirtatious messenger planet, Mercury, sparking up your amorous fifth house AND canoodling with unpredictable Uranus, the world is your dating pool. Keep things light and playful and watch people flock to you. Attached? Make tonight about having fun, whether that's going to a comedy club or silencing your phones and setting off some indoor fireworks. See the full week >


Libra (September 23 – October 22)
Privacy, please! The workday can't end soon enough for you, Libra. Even if you have after-work plans you can't get out of, don't feel the need to overstay your "welcome." Thanks to a mashup of expressive Mercury and unpredictable Uranus—both in your internal houses—you may be happiest being home on your own (or with one special someone) doing…not much. You've been going at full speed, and now you finally have a chance to downshift—if not pull off the road altogether. Make the most of it. See the full week >


Scorpio (October 23 – November 21)
How early can you quit work today, Scorpio? You may have itchy feet and be raring to do anything—anywhere—to satisfy that burning desire for novelty. It's hardly surprising given the rare and provoking alignment of quicksilver Mercury and spontaneous Uranus. Did you recently meet someone you can't get out of your mind? You don't have to stand on ceremony. Pick up the phone—or send a text—and suggest getting together for a cup of coffee or cocktail. Even if you don't get the response you'd like, at least a definitive answer will take the anxiety out of the equation. See the full week >


Sagittarius (November 22 – December 21)
Don't get too locked into any plans for later today, Sag. Spontaneity is your ticket to a fun evening (and day!), if you're prepared to shift on a dime. Today's skies feature a rare mashup of quicksilver Mercury and capricious Uranus, which can conjure incredible situations out of thin air. And when you can stay open to spur-of-the-moment opportunities, there's no telling what fun you can get up to. Since these planets are firing up your career-related houses, this might be more of a professional than social nature, so keep your antennae up at work, too. See the full week >


Capricorn (December 22 – January 19)
Downtime, what's that? You may have to postpone that relaxation session you've been looking forward to, Cap—at least for another day. Hyperkinetic Mercury in your sign teams up with restless Uranus in your creative, amorous fifth house, putting the spurs to your outgoing side. Somehow, even as you felt you were running on fumes, you'll get a second wind and be ready for another wild adventure. By all means scratch that itch, but don't be afraid to call it a night if you're starting to fade! See the full week >


Aquarius (January 20 – February 18)
Today's rare assemblage of mental Mercury and transformative Uranus in your most intuitive and introspective centers can be a blessing OR a curse. You'll be tuned in with people and able to download divine messages almost effortlessly (all you need is some quiet time and space). This can lead to a brilliant breakthrough or give you the support you're seeking. At the same time, however, this mashup can leave you emotionally vulnerable—not a familiar state for your pragmatic sign. Stay aware of what you're feeling, and remember that you have the power to make your own decisions. See the full week >

Pisces (February 19 – March 20)
Don't get so stuck in your tunnel vision that you overlook incredible serendipitous moments! This is a special day for Pisceans as groundbreaking Uranus teams up with communication planet Mercury in your social sectors. Fixated on a problem? Turn to the hivemind for creative hacks. Take a few moments here and there through the day to connect with people, even if it's just a quick check-in. Synergy is where it's at, and by pooling your ideas and resources, you'll be unstoppable! See the full week >
What do the stars have in store for you this December? Read your monthly horoscope now
Get horoscope updates straight to your inbox! Sign up for The AstroTwins newsletter
The post Daily Horoscopes: December 30, 2019 appeared first on Astrostyle: Astrology and Daily, Weekly, Monthly Horoscopes by The AstroTwins.
Read more: astrostyle.com