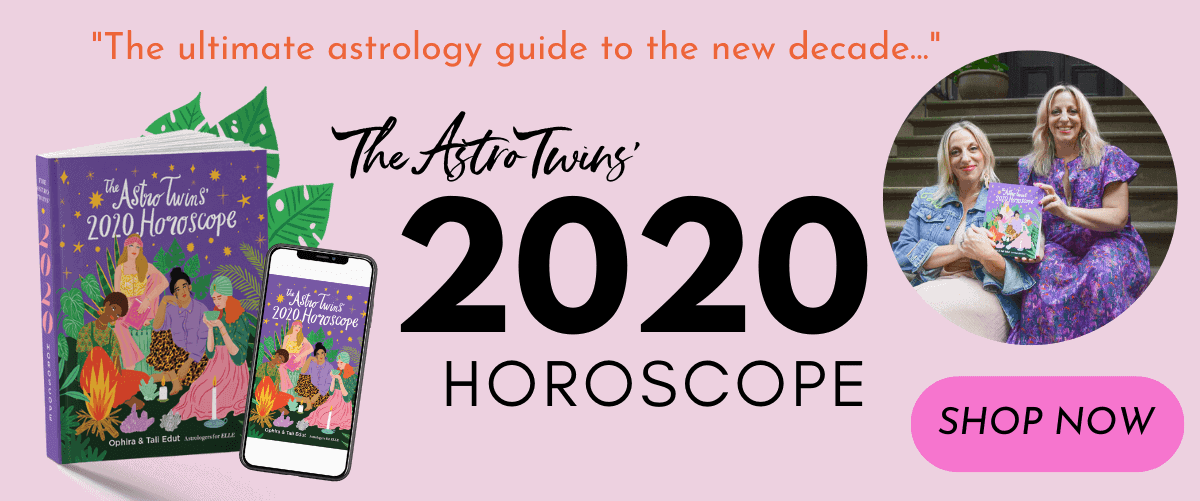 Pisces moon trine Venus in Scorpio brings a dreamy and romantic day. Open up about your feelings.
Born on a cusp? Please note that dates for the zodiac signs can vary from year to year. To confirm your actual Sun sign, do a free chart here.
Illustrations by Grande Dame


Aries (March 21 – April 19)
You could make it obvious, Aries, but where's the fun in that? Under today's seductive mashup of the moon and dream-weaving Venus, a dash of mystery amps up your allure. You can use this tactic anywhere from the bedroom to the boardroom. Drop hints, pique curiosity—but don't show your entire hand. Should an intriguing soul capture your attention, pursue without being overly eager. Holding back a bit will leave people wanting more. See the full week >


Taurus (March 21 – April 19)
Being generous doesn't have to mean buying a Chloe bag for every GF in your squad (but wouldn't it be nice if one day you could…). Today, find other ways to express your charitable spirit, like supporting a friend's fundraiser by buying tickets and spreading the word about the cause on social media. Organize an office-wide donation of food, clothing or toys for a community drive. Even smaller actions can make a lasting difference. How about bringing over tea and a plate of holiday cookies to a lonely, elderly neighbor or volunteering for a couple of hours at a homeless shelter? See the full week >


Gemini (May 21 – June 20)
Talking to strangers, flirting with strangers, even hooking up with "strangers": Ahhh…these are a few of a Gemini's favorite things. What can you say? Variety is the spice of your life, and frankly, you bore easily. People are attracted to your upbeat energy, so be open to the wide range of people you come into contact with today. If you sense unspoken heat, launch into a conversation with a compliment. Make a point of rubbing shoulders with the power players at the office or an after-work industry shindig. When you turn on that Gemini charm, it's never long before you're setting up time to "do lunch." See the full week >


Cancer (June 21 – July 22)
Variety is the spice of your love life under today's sultry moon-Venus trine—and you're not averse to blurring a few lines in the name of exploring an attraction. Brace yourself for "whatever" because chemistry could bubble up anywhere from the mailroom to the matcha latte joint. If you're single and looking, don't default to your regular hangouts. A fresh scene can bring a bumper crop of unexplored options. Coupled? Same deal: A change of scenery can be a potent aphrodisiac. See the full week >


Leo (July 23 – August 22)
Draw your loved ones closer today, as the intimate eighth-house moon nuzzles up to Venus in your home and family sector. If you'll soon be gathering for a holiday celebration, you can already start drumming up excitement. Get a group thread going about the dishes you're going to prepare. And how about the entertainment? Lean in to your leadership skills and assign (or shall we say, "inspire people to take on") tasks. Who's in charge of the playlist, kids' games and so on? Today's healing vibes can dissolve the tension between you and a rival relative. Set aside the competition and cooperate instead. See the full week >


Virgo (August 23 – September 22)
Would you care to add a benefits package to that friendship, Virgo? Chemistry could get downright exothermic with a platonic pal today—and good luck resisting that magnetic pull! Let yourself flirt "for the fun of it," and if you think there's a chance to explore more, suggest a one-on-one hangout, like dinner or a weekend movie date. Don't kid yourself, though: If this person is already otherwise engaged (or notoriously commitment-shy), keep a healthy boundary in place—and go take a cold shower if you must. Momentary lust isn't worth breaking the bonds of trust. See the full week >


Libra (September 23 – October 22)
Healthy relationships aren't always the ones that excite you initially, but if you let yourself explore the slower-burning heat (as opposed to the instant fireworks), you are likely to reach the same exciting temperature soon enough. Energy flows where your attention goes, Libra. See what happens when you direct your focus to people who have their lives together instead of the hot messes who always have someone bailing them out of their self-destructive chaos. If a person you're already involved with gets in a jam today, don't rush to play fixer. Give them a chance to work out a solution first! See the full week >


Scorpio (October 23 – November 21)
Enjoy beauty in all its forms today, from a gorgeously crafted handbag to a perfectly plated meal. And yes, feast your eyes on those physically attractive human specimens too. (You're not a Scorpio for nothing!) Today, sparks could be flying all over the place with someone you consider a total hottie. But before you start plotting your shared future, find out how available they truly are. Sure, you could lure 'em in with your seductive powers. Trouble is, you've never possessed a talent for detaching your emotions from your sexual encounters. Avoid difficult dalliances with people who aren't really on the market, and maybe channel that lust into a cathartic creative project—or someone who actually IS eager to engage on a deeper level. See the full week >


Sagittarius (November 22 – December 21)
Today's sentimental fourth-house moon conspires with peacekeeping Venus, paving the way for heart-centric healing. If you've been locking horns with a close friend or relative, use this graceful, diplomatic energy to lay the conflict to rest. Did a minor infraction blow up into a bigger deal than it should have? Let bygones be bygones and use humor to melt the frost. This evening, rally your squad for some lowbrow entertainment that allows you to let your hair down and laugh. (Karaoke or a rom-com, maybe?) As a fringe benefit, you're most approachable—and attractive!—when you're having unbridled fun! See the full week >


Capricorn (December 22 – January 19)
Your powers of persuasion are at their peak today, Capricorn. Heck, you could hawk peppermint mochas to a Starbucks barista! No need to hard-sell anyone, however; just present them with facts and figures so that they can make the right decision for themselves. If you believe in what you're offering, it shouldn't take much more than that to seal the deal. Your authentic confidence will be the clincher, but check your body language just the same. Keep your shoulders back, your head held high, and make direct eye contact with people when you're talking AND listening. See the full week >


Aquarius (January 20 – February 18)
Liberally apply both elbow grease and creative juices today, as a motivating moon-Venus trine spurs a project to the finish line. Some midnight oil might also be needed, so let your friends know you might be a little late for cocktail hour—or that you'll have to catch up with them another time soon. You want this mission to sizzle, and that means thoroughly testing, editing and reviewing every important detail. You've worked long and hard on this, Aquarius, and you might as well bring it to a fantastic finale! See the full week >

Pisces (February 19 – March 20)
Your cup of cheer is more than half-full today, as the Pisces moon basks in the rosy glow of Venus in Scorpio and your optimistic ninth house. Release perfectionism and try to see a recent misstep as a crucial learning experience instead of something you'll live to regret. If you overstepped your bounds, apologize instead of beating yourself up. People worth keeping in your life will understand that we all make mistakes. And it goes both ways: Have you been unreasonably hardcore with someone who hurt you out of sheer naivete? Defrost that cold shoulder and have a heart-to-heart. See the full week >
What do the stars have in store for you this December? Read your monthly horoscope now
Get horoscope updates straight to your inbox! Sign up for The AstroTwins newsletter
The post Daily Horoscopes: December 3, 2019 appeared first on Astrostyle: Astrology and Daily, Weekly, Monthly Horoscopes by The AstroTwins.
Read more: astrostyle.com